If you don't like to sit in your room but prefer to mix and mingle, you're a coveted customer for hotel brands. Many are trying to 'activate' their lobbies for multiple functions, even if that's sitting alone with your iPad.
Forget generic hotel rooms and empty lobby spaces. Hotel brands are working to breathe new life into staid designs to appeal to a younger generation of travelers.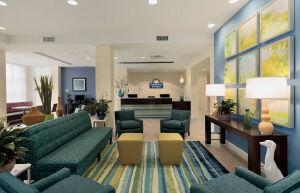 Most hotel companies have built a solid business on "older" generations—seniors, boomers and Generation X. Those core groups still represent the majority of today's customer base. But the emerging millennial or Generation Y is continuing to account for a bigger share of that business and hotel companies are working harder to figure out what makes them tick.
Millennials are typically defined as those teens, 20- and 30-somethings born in the early 1980s through the early 2000s. 
"Across the industry, all of the hotel brands from all sides of the market—from the mid-level select service all the way up to the upper-scale properties—are looking to stay in front of the younger traveler, stay on top of the technology and figure out what's next," says Kristin Mayle, a design project manager at Gettys One in Chicago, a firm that specializes in design and procurement for branded hotel programs. "They seem to be reinventing all of their brands toward that younger traveler."
The 20- to 30-something demographic is noted for its love of smartphones, social media, sustainability and social responsibility, as well as a desire to create a healthy work/life balance. The same behavior and values also are evident across older generations, at least to some degree, most notably Gen X and baby boomers. "From a behavior perspective, I think the millennial generation is a lot wider. It includes older generations that behave like millennials," says Javier Rosenberg, COO for Radisson and Radisson Blu in the Americas.
That shift to target the younger generation, or younger philosophy, has been ongoing for the past few years. However, those changes are now increasingly visible across existing and new brands. Hotel firms have launched a number of new flags that target younger travelers. Some examples include Edition by Marriott, Starwood's Aloft and IHG's Hotel Indigo. 
Radisson recently announced plans to open its first Radisson Red in 2015. "It is a brand that targets a younger traveler, not necessarily in age but in behavior," says Rosenberg. The upscale, select-service concept features "artistic and energetic" design and details and is focused on the customer experience. Creating spaces for people to work, play, work out and mingle is the priority. 
Adapting to demographics
Common themes emerge among the changes hotel brands are implementing. Many are trying to activate their lobby space and make them multi-functional. The younger travelers don't want to sit in their room. They want to open their laptop or use their iPad in a comfortable space, whether with a cocktail or a cup of coffee, says Mayle. "While I don't think that is a new concept within our industry, hotels are really taking a new approach to that and finding new ways to engage all different demographics and bring the traveler down into the public spaces of the hotels," she says.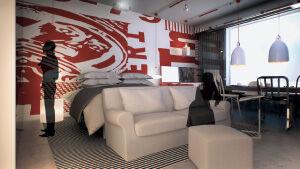 There also is bigger focus on bringing food and beverage amenities into hotels that reflect that local experience. Older travelers tend to walk into a hotel and want to know what to expect from the brand. Younger travelers are looking more for a unique environment, such as bringing in local craft beers to the bar or restaurant. "They are really taking into account that the younger traveler is looking to experience the regional culture rather than just stay at a generic hotel," says Mayle.
Three years ago, Days Inn determined it needed to give its franchisees a better model. They hired Rockville, Maryland-based Jonathan Nehmer & Associates to produce a new prototype. "Brands do that all the time. What we were really looking at is how in the exterior and interior design we could have this be something that was relevant to a younger generation," says Clyde Guinn, president of the Days Inn hotel brand.
One of the changes is creating more community space in its lobby and breakfast room. "We really took a page from Starbucks," says Guinn. Starbucks has different types of seating, such as two-tops, leather chairs and communal tables. The coffee chain has built a reputation for its ability to attract people at all hours of the day who are working separately or together at tables, and not minding being at a table in close proximity to other people. "We want to use our lobby space the same way," he adds. 
The efforts go beyond just the physical space to technology, amenities and overall brand image. Last year, Radisson introduced its "Radisson Reimagined" pilot program. Some of the key initiatives of that program focus on technology, sustainability and social responsibility. 
For example, "Check-in Choice" allows guests to check-in to their room on the web and pick-up keys remotely without having to stop by the front desk. They also launched iConcierge, which is a mobile app that replaces the traditional service directories in hotel rooms. Guests can now do things such as order room service, request an extra pillow or order a taxi all on the mobile app. 
Spread the Love is a charity program where each hotel identifies a local charity. "That really connects us to our local communities and the local experience, which I think is very relevant today," says Rosenberg. 
Radisson also changed its line of bath products to Rituals, a quality product that is 100 percent biodegradable. Initial results show the pilot helped to boost customer satisfaction, and Radisson has officially launched the program in 2014. The company hopes by the end of the year 90 percent of these programs will be implemented in all of the Radisson hotels in the Americas. 
Rosenberg credits the changes for boosting customer satisfaction. Last year J.D. Powers recognized Radisson as the most improved upscale brand. Another measure of the positive results is that 2013 was a record year of growth for the brand. The company opened nine new Radisson hotels and 11 new Radisson Blu hotels. "That is a sign where you see franchisees and developers excited about the changes and the innovations," says Rosenberg.