Sphinx, the largest casual-dining chain in the country, targets smaller-town franchisees who know their local market. Domino's first sub-franchisee, meanwhile, plies his trade in the dense apartment bloks of Warsaw. 
The first restaurant officials I meet in Poland this spring look younger than expected. Amir El Malla and Mateusz Cacek are probably in their late 20s or early 30s. The three of us sit below a silent TV in Sphinx, an American-style, casual-dining eatery, in Warsaw's Galeria Mokotów. Two of the upscale mall's 30 restaurants (including the one we're in) are operated by their company, Sfinks Polska.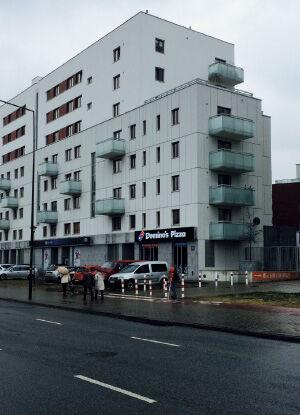 El Malla, chain development manager, and Cacek, son of the company chairman, have agreed to talk to me about franchising in a country with a population of 38.5 million and the ninth largest economy in the European Union, which it joined in 2004. Later, I'll meet with new Domino's Pizza sub-franchisee Jakub Stepien in his Warsaw store. I want to learn more about the strategies both employ to do business in Poland, whose once-vibrant economy has hit a sluggish patch.
Retail sales, for instance, grew only 2.3 percent in 2013 after rising 5.6 percent in the previous year, reports the Ministry of Treasury. Wages are stagnant and the country's unemployment rate is 10 percent. (A report from the International Monetary Fund last December, however, noted an economic recovery is slowly taking place.)
Careful monitoring
Sfinks, incidentally, ran into trouble about a year ago when the government fined the publicly traded company $153,362. The Office of Competition and Consumer Protection charged the company hadn't provided franchisees with pricing flexibility since 2000. Company officials vigorously deny the allegation and have appealed the fine, insisting the charge is "not based on facts." The case is pending.
The agency (known as UOKiK) is more carefully monitoring franchisors for infractions than in the past, according to attorney Katarzyna Manteuffel, an expert on competitive law at Baker & McKenzie Krzyzowski in Warsaw. Poland, which has no franchise law per se, takes the same approach with regard to franchise agreements as the EU since transitioning to a market economy in 1990. "The franchisee is an independent undertaking. You cannot establish minimum or fixed retail prices on them," she advises. "This is what European law says, and it's the same as the Polish law." Her firm is not involved in the case.
Franchising nonetheless remains a robust activity, with the number of franchise systems swelling to 930 from 512 in 2005, reports the Polish Franchise Organization. The biggest growth has been in foodservice.
U.S.-style casual dining 
Sphinx is the largest casual-dining chain in Poland, boasting 93 units. The parent company also owns 10-unit Chlopskie Jadlo, which offers traditional Polish food, and a six-unit Asian chain called Wook. Founded in 1995 by Tomasz Morawski, Sfinks had a fraught financial history until Sylvester Cacek, a banker and investor, became the largest individual shareholder after buying roughly 19 percent of the stock in 2009.
Last year, annual revenue climbed 3 percent, to 176.6 million zloty ($58.4 million), say company officials. Gross earnings grew 16.5 percent, to 11.8 million zloty ($3.9 million). 
Today, El Malla is attempting to help Sphinx regain momentum by recruiting franchisees in Poland's smaller cities. To date, 13 franchisees operate 13 Sphinx restaurants. The company limits franchisees to two restaurants while encouraging them to find an operating partner for the second. "We don't want investors as franchisees, and franchisees can't operate another business," he says, adding the company expects to open 10 restaurants in 2014.
"Our strategy is for franchisees to open restaurants in small towns with 60,000 people minimum," El Malla explains, adding they better understand those markets because they live there.
Company markets are the big cities: Warsaw, Krakow, Gdansk, and Poznan—all of which have populations of about 500,000 or more. "We'd also like to put a restaurant on Monte Christo Avenue in Sopot," El Malla says, referring to the main drag of the popular resort town on the Baltic Sea.
Slightly more than 60 percent of Poles live in urban areas, the government reports.
Finding franchisees capable of financing and operating restaurants isn't easy. The economic slowdown that began in 2012 has made bank financing difficult. Whitney Myrus, managing director of Fransmart Europe's new European office, has been recruiting among Polish émigré enclaves in London and Chicago. "In Poland, mom-and-pop operators wanting to franchise one or two restaurants don't have the financial resources. You need to look for more sophisticated operators," he maintains.
El Malla admits as much. "It is difficult to find franchisees who understand the financial model," he notes. The franchise fee for a Sphinx is PLN 25,000 ($8,323) while it costs PLN 300,000 to 450,000 ($99,134 to $149,815) to build the restaurant. The royalty fee is 7 percent.
This may explain why Sfinks, which already operates a Sphinx in Prague and Budapest, and licenses one in Romania, is developing a master-franchise model.
The delivery game
Since last October, the red, white and blue logo and large sign of a Domino's Pizza outlet has been easy to spot from the Mtociny station exit on Warsaw's subway line. The compact unit, on the ground floor of a large apartment building, has so far delivered pizzas to residents in 200 of the 350 occupied units, claims sub-franchisee Jakub Stepien.
Stepien's trade area, like much of Poland's capital, is filled with tall apartment buildings (called bloks in Polish) like the one he's in; there's not a rooftop in site. The density is a boon for a delivery business. Yet it's also a problem. Under Communism, Poles were assigned to apartments regardless of occupation. Now even 25 years later, Stepien explains, doctors might live next to plumbers, maids next to professors.
While such disparities make it difficult to judge which buildings are the most lucrative, it doesn't dampen the young Pole's enthusiasm. "We can deliver to 50,000 households," he boasts when we meet at the store in March. "And within our 'golden mile' there are 20,000 households."
Stepien, at 28, is a Domino's veteran. His career with the company began as a driver after he emigrated to Great Britain nine years ago. He quickly rose through the ranks to shift leader and then to manager for a large franchisee, eventually managing three units in England before joining London-based DP Poland, the master franchisee for the country. Returning to Poland in 2010, Stepien helped train some 36 managers in the dozen units that quickly opened in Warsaw 2011. 
"The idea was to get to a critical mass to afford marketing," says CEO Peter Shaw of the rapid rollout in a phone call from London. Budgets for the 1,300-square-foot stores ran about $250,000. Shaw eventually discovered units required only about 900 square feet to operate profitably.
Stepien's store (the S2 format in company lingo), for example, is just 914 square feet. "When this location came up, I looked at the layout and knew it could make money very soon," Stepien says.
Think locally
He opened the store with a loan from the company, says DP Polska Managing Director Maciej Jania, who joins us for the interview. Stepien, DPP's only sub-franchisee so far, is already planning on operating a second Domino's in Warsaw, which could mean taking over an existing corporate unit.
He has also been juggling prices in an attempt to drive business. He dropped the price, for example, of a loaded pizza from 44.90 zloty ($14.80) to 39.90 zloty ($13.17). It hurt margins but dollar volume increased, he says, as customers responded.
Declares Jania: "We give freedom to franchisees to think locally."