Allen Dikker had the offbeat vision to build an empire entirely based upon the humble potato—the starchy vegetable that's typically a supporting actor rather than the headlining star.
As far back as Dikker can remember, he wanted to create his own brand. The industry was irrelevant compared to the glamorous thought of dreaming up his singular creation.
The tumult of the Great Recession provided that opportunity in 2011, following several dark years struggling to keep his New Jersey-based outdoor advertising business afloat. After his company slipped under the waves and he laid off the last of his employees, he began a soul-searching endeavor that led him toward food: a familial passion shared with his father and uncle, both chefs by trade.
He loved cooking elaborate sauces from scratch—perhaps red pepper, garlic aioli or chipotle ketchup—for his wife, Galina, and two young sons. With gears turning, he reasoned that nearly all fast-casual restaurants start with a starch-based foundation: rice, bread, tortilla or pasta. But what about the potato?
On every continent
As the world's fourth-largest food crop, eaten on every inhabited continent, Dikker saw an opening in the crowded fast-casual space. Thinking of infinite ways potatoes could be prepared and accessorized, including topped with his homemade sauces, the idea for the first Potatopia was born—a restaurant based on the nearly infinite permutations of the potato.
"I didn't want to do anything that's been done before—I don't want a pizza place or a salad concept or a burger concept," he said. "If I'm going to do this, I'm going to do something completely different and unique and I'm going to take the risk as well, because it could very well flop."
Dikker started dreaming up recipes, aesthetic concepts and the ideal flow for a kitchen designed to quickly turn out an array of potato options that ranged from light-and-healthy snacks up to the more traditional, loaded baked potatoes.
Jumping on the customizing trend, and also as a way to showcase fresh ingredients, his concept would allow customers to build their own sweet or savory potatoes with toppings that include mushrooms, veggies, cheeses, a wider range of Dikker's sauces, and proteins like shrimp, chicken and bacon.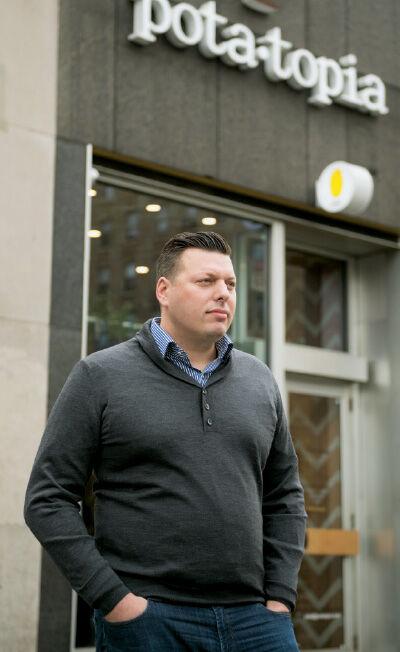 "The biggest challenge," he said, "was understanding how to execute every single order in an assembly line format with zero experience in this industry and zero experience in food prep and cook times."
Before opening the first Potatopia, Dikker considered what it would take to scale up the concept to multiple locations. He decided the variety of a mall would be the ideal testing ground to analyze who would like his potato-based concept.
After nearly three years of planning and research, while cobbling together financing with his own resources and some family money, Dikker opened his first 375-square-foot Potatopia location in Edison, New Jersey's Menlo Park Mall in December of 2011.
Fledgling franchise system
With the goal of quickly expanding the concept, Dikker brought on two financial partners, Alex Fleyshmakher and Dimitry Meksin, six months after starting operations. Fleyshmakher is a silent partner, while Meksin assists in a flexible role that includes general operations, management, catering, ordering and accounting.
Gaining steam, the next Potatopia opened in August 2013, a standalone restaurant in a dramatically different environment: the heart of New York's Greenwich Village, adjacent to New York University. The fourth went into the Staten Island Mall the following July. Both are company-owned.
At the start of 2015, Dikker and his team were opening the first franchisee-owned Potatopias at malls in Jersey City and Garden City, New York.
By the end of 2015, he hopes to have a total of 10 locations, seven of which will be company owned. Dikker said he has no plans to sell the concept to a bigger fish, and that his long-term vision is to grow Potatopia to 100 locations.
'Everybody eats potatoes'
William Bulmer, president of Progressive Financial Planning Services in Melville, New York, and an informal adviser to the brand, said he thinks Dikker and his team are doing everything right, and believes the Potatopia concept could "go fairly big" with its novel concept that particularly appeals to millennials.
"That generation is always looking for what's unique and different from the old standbys," Bulmer said. "Allen's concept fits that niche extremely well. You spend seven or eight bucks and you'll be stuffed when you leave. It's inexpensive, cool and something you can talk about with your friends."
Clyde Gilfillan, of Synergy Restaurant Consultants in Newport Beach, California, was hired to assist the Potatopia rollout last fall, and helped the team refine its flavor profiles, as well as grouping its signature items into clearly marked, protein-based offerings to provide greater customer clarity.
He's bullish about the future of Potatopia, but sees two challenges to overcome: a heavy reliance on malls, which he sees going extinct within a decade or two, as well as the fundamental confusion of a restaurant built entirely around potatoes.
Even so, he added, its versatility and ubiquity give the concept a unique factor that appeals to a wide array of cultures, ages and tastes. "The strength for him is the uniqueness of the product and the uniqueness of the flavor profiles. A subset of that is the edgy, irreverent style of brand that he has," Gilfillan said.
"The potato is a much loved food product," Gilfillan added. "Everybody eats potatoes."
---
How do you pronounce it?
Think compote. POTE-uh-TOE-pia.
That's how founder Allen Dikker pronounces his somewhat awkward brand name, with the last three syllables conjuring Utopia and the first just suggesting a spud.
He acknowledges it doesn't roll off the tongue, and he doesn't care. "I want to be disruptive because in today's marketplace you have to be. A name that's hard to pronounce goes against Marketing 101," but he thinks customers would sit in the store and have a conversation about how to pronounce it.
"That's more branding power than anything else, because now they're talking about the brand. Every time I walk into my stores, I hear customers saying, 'How do you pronounce the name?' It's great, because that's exactly what I wanted to accomplish."