Eight years ago Shirin Behzadi was recovering from surgery to remove a life-threatening brain tumor. During a rehabilitation process that took two years, Behzadi had to learn to walk again, to speak and, as she tells it, to take ownership of her life and help others do the same.
In the years since that 10-hour surgery, Behzadi, the CEO of Home Franchise Concepts, has helped lead the company through a period of exponential growth, a private equity acquisition and, most recently an initiative to bring HFC's three home services brands under one umbrella and aggressively grow each one.
It was a harrowing experience, recalls Behzadi, 52, of the surgery and subsequent recovery but also one she credits with significantly changing her perspective about life—and ultimately helping to guide the decisions she makes on behalf of Budget Blinds, Tailored Living and Concrete Craft, HFC's three direct-to-consumer brands.
"You know if you've been working since 17, you're just reactively living life and this turned the tables to me claiming life," says Behzadi, noting later her most recent MRI was clear. "I also think that it made my career and what I want to do more meaningful because it became a choice—I want to do these things. That's why for me, personally, it's of great significance to define something about Home Franchise Concepts that's beyond what seemingly most organizations focus on, which is the dollars or you know, net income or growth."
Those things, Behzadi believes, are "gifts" that come as a result of making the right decisions.
"I've learned through my journey that when you focus on the right value systems, then even though some things are difficult to deal with in life, you come through them that much better as opposed to not having the right values to rally around," she says, adding, "I want to feel like there's some contribution we're making to this world to give people the opportunity to claim their own lives, to have more independence, to have more flexible hours so they can spend time with their families. It's one thing to say it, it's another to actually feel it."
Moving on up
Home Franchise Concepts isn't short on the dollars or growth, either. Systemwide sales for Budget Blinds alone reached $500 million in 2017, with sales for Tailored Living and Concrete Craft bringing that number close to $600 million for HFC as a whole. For 2018, HFC's systemwide sales are on pace to reach a record $700 million.
The franchisor, which celebrated its 25th anniversary in 2017, also reached its goal of 2.6 million Budget Blinds window-covering installations for the year. In April HFC moved from its dated office outside Anaheim, California, to a new 38,000-square-foot headquarters in Irvine featuring management offices, interactive product displays and a new franchisee training and support facility.
For a brand that operates with more than 1,100 franchise territories across 10,000 cities in the U.S., Canada and Mexico, Budget Blinds is the most well known of HFC's businesses, both to consumers and franchisees. Looking to capitalize on that brand recognition but also more clearly define the positioning of each franchise within HFC, the company in 2017 embarked on a major multi-year marketing and growth initiative.
"First and foremost, we sharpened our pencils and got very good, in my opinion, at national advertising, using our national advertising dollars," says Behzadi. "Although we had been doing national advertising for a long time we really zoomed in on every vehicle and really thought through how to best get our voice out of the clutter."
HFC created brand bios for itself and each of its franchises, which it then used as a foundation atop which to build everything from individual concept messaging to integrated local area marketing programs. Behzadi, who had also been serving as interim chief marking officer since 2015, then brought in Gayle Milling to take over that role in March 2017.
---

 Left: Budget Blinds is all about window coverings—blinds, shutters, shades, drapes and more—while Tailored Living offers custom storage solutions and even garage flooring.
 Right: Whole home organization, including specially designed walk-in closets, are among the services Tailored Living franchisees offer. Originally launched as Closet Tailors in 2006, HFC restructured the brand as Tailored Living after acquiring the assets of PremierGarage.
---
A former marketing exec at McDonald's and Bally's who also developed the global digital strategy for Oakley, Milling says she was excited to step into a position where her job wasn't to save a sinking ship.
"A lot of times when you come on as CMO it's, 'Everything's broken, you need to fix it.' Business isn't good, you've got an 18-month runway," says Milling. "The tenure of CMOs isn't very long because they look for you to come in and fix it. And here it's double-digit growth and it was a how high is high conversation versus we're in a desperate state of repair."
With 80 percent of all consumer research starting online, Milling created what she calls a "surround sound digital ecosystem" with consistent messaging across all marketing channels, along with platforms that enable franchisees to connect with their local customers. Then there's "freedom within the framework," an approach Milling says she learned at McDonald's and allows franchisees some freedom and flexibility within each brand's larger marketing plan. It's also a way to position each 'zee as the local expert.
"Be it local information, local offers, visuals, things that are really important to them, yet you provide a really strong framework leveraging the power of a national system," says Milling. "Negotiating the best rates for them, providing the best vendors for them that they can plug in."
Budget Blinds, Tailored Living and Concrete Craft each launched revamped, responsive websites earlier this year, and HFC also updated its franchisee-facing online presence to reflect a cohesive menu of opportunities under a single franchisor. Social media was yet another opportunity Milling identified.
"We've really enhanced and dialed up our social media presence nationally, both paid and organically," she notes, adding video integration with before and after video stories has proven effective in showcasing each home service brand.
"We're a highly visual brand, so making sure that we have a presence visually in that connected ecosystem" is important, Milling continues. "So not just ramping up social, it's dialing up and doing pay-per-click really well, in addition and parallel to doing social media really well."
As Milling helps franchisees drive sales on the consumer side, she's also keen on ensuring the lead generation pipeline is full from a franchise development perspective, two things she says aren't mutually exclusive.
"At the end of the day, we're all consumers," says Milling. "What happens is we find that all sides of the business rise when we speak about our brands, so we see it unintentionally cross-pollinating."
That's where a key strength of this marketing initiative lies, points out Behzadi, as HFC aims to bolster the connection among all three brands with the goal of cross referencing and providing referral opportunities for each.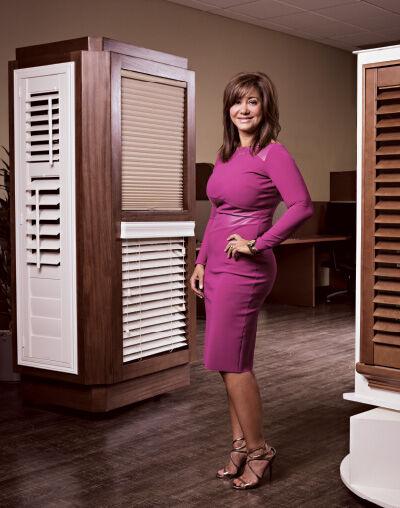 Founders out, private equity in
Five friends—Chad Hallock, Todd Jackson, David Lewis, Brent Hallock and Tony Forbes—founded HFC's flagship Budget Blinds brand in 1992, which they steadily grew, later adding whole-home organization franchise Tailored Living and decorative concrete brand Concrete Craft. The brands were all successful, says Behzadi, and "we weren't short on capital, we didn't need cash to sustain the business by any means." And yet conversations between Behzadi, then the CFO, and the founders inevitably turned to the future and just how far HFC could go on its own.
"Prior to officially starting down the road of looking at private equity partners, we looked at each other and asked ourselves, is there appetite to grow this beyond where it is today and if there is, it sounds like we need to bring in folks who've been there, done that," explains Behzadi.
There's only so much an entrepreneur can do to grow a company organically, she points out, and it soon became apparent the founders wanted to exit.
Enter Trilantic North America, a New York City-based private equity firm whose investment focuses are in the business services, consumer, energy and financial services sectors. Trilantic acquired a majority stake in HFC in late 2015, along with a board seat for partner Charles Fleischmann. At the same time, the founders exited and then-CEO Chad Hallock joined the board while Behzadi took over as chief executive.
"It was just the perfect fit because I had been so engaged and involved in the company as a whole," says Behzadi, who'd been in the CFO role since 1999. "It made sense. Everything in this company either I set up or have helped set up or helped make those decisions. I've been around long enough and we operated very fluidly as a group. So it just made sense."
HFC considered about a dozen different private equity firms before selecting Trilantic—"We had the luxury of choosing our partner," says Behzadi—and is using the firm as a sounding board and for research and data as HFC evaluates future acquisition opportunities of its own.
"As we get our existing brands to work more synergistically together with referrals back and forth we believe there's a lot of strength in bringing in other models that are as synergistic in different ways," says Behzadi.
For its part, Trilantic saw in HFC a franchise platform with a successful track record and a strong opportunity for growth, both by reinvesting in existing brands and further building the franchisor infrastructure to support new brands, says Fleischmann.
"Our goal is to provide the HFC management team with strategic guidance, through board level support and access to human and capital resources, in order to help the management team run the business more effectively and continue to scale," says Fleischmann.
Fleischmann calls Behzadi a "unique leader," one who, as he puts it "on the one hand has a deep understanding of the history, culture and entrepreneurial roots of the company, and on the other, embraces new ideas and change to drive further growth for franchisees and the platform as a whole."
From cashier to CEO
Behzadi emigrated from Iran with her parents as a young girl, getting her first job at a gas station as a cashier. Though in Iran her father had run a customs warehousing company and was a highly paid executive, translating that to the United States wasn't an easy task "especially because of all the chaos and commotion" that was going on in Iran at the time.
"You know, the sky fell," says Behzadi, recalling Iran's 1979 Islamic Revolution. "So we went from that fast track to where I had to work when I was 17 to pay my way."
Behzadi worked all through college and earned her degree in accounting, which led to an internship and eventual full-time job with Ernst & Young's financial services group in Los Angeles. She later served as CFO of an Orange County mortgage bank before starting her tenure at what was then simply Budget Blinds in 1999.
Now as CEO, Behzadi believes her job is to foster growth throughout the entirety of Home Franchise Concepts, which she says means giving everyone, "whoever they are, an executive, an employee, a franchisee, the platform where they can shine where their strengths are."
"I always tell my executives, my ultimate job is like I'm a conductor," she says. "Everybody has their instrument to play. What my job is is to make sure everybody zooms in on their instrument effectively and I help them play well together, in concert, to make the most out of it."
Rising to the C suite in the male-dominated industries of finance and franchising, Behzadi says she always tries to focus simply on bringing value to whatever role she's in and looks for those on her team to do the same. "If there's a project to be done, step up and do it. If there's a decision to be made, step up and do it."
"I've never looked at myself and said, I'm a woman and these are all men. I'm ethnic and they're not," she says. "I do acknowledge that oftentimes for women, our voices aren't heard as easily. So maybe that sense of out-accomplishing was one that helped me."
More than anything, Behzadi is focused on helping HFC's franchisees find success and says she balances every decision with what's in their best interest. It can certainly be tough at times, she acknowledges, but returning to that philosophy has proven valuable as each brand accelerates its growth. Equally important, she stresses, is letting franchisees define what success means to them.
"That's why we never say we want all our franchisees to sell as much as we like them to," she explains. "We say we want them to be as successful as they want to be. Let them define success, let us be the support system to help them get there, whatever their success is. If it's flexible hours, let us foster that … if they want to be, and we do have lots of multi-million dollar producers, let us provide them with the opportunities to do that."
At the franchisor level, being able to translate profitability to supporting nonprofit groups is part of how Behzadi defines success. Veteran causes, in particular, have been a focus, with HFC recently renewing its partnership with Home For Our Troops, which builds specially adapted, custom homes for injured veterans. Wounded Warriors Canada and Working Wardrobes are two more organizations HFC supports with national partnerships and local efforts.
"It's in our DNA to give back," says Behzadi. "To do well in the world, you've got to do good in the world."
For someone who turned a life-threatening situation into a life-changing one, it's a statement that rings true instead of trite. 
---
Outlandish (but true) facts
■  Since its inception, Budget Blinds has installed enough window coverings—25 million—to nearly circle the world.
■  Concrete Craft franchisees have installed enough decorative concrete to cover 52 football fields.
■  Tailored Living has organized 225,000 lives—enough to fill four Dodger Stadiums.
---
The brands of Home Franchise Concepts
Budget Blinds
■  1,104 franchise territories in the U.S., Canada & Mexico
■  Total investment ranges from $110,140 to $235,870, including an initial fee of $89,950
Tailored Living
■  204 franchises
■  Total investment ranges from $156,930 to $297,295, including an initial fee of $74,950
Concrete Craft
■  25 franchises
■  Total investment ranges from $112,940 to $190,570, including an initial fee of $57,450