A former investment banker and hedge fund manager, John Clancy knows how to size up a business opportunity, and in Smoothie King he found "a company that's moving in the right direction."
"We looked at a bunch of different models," said Clancy of evaluating other restaurant concepts in the healthy lifestyle space as he looked for a brand to complement his Planet Fitness locations. Smoothie King stood out, he said, because of its Cleaner Blending initiative and a re-branding that's firmly positioned the company in the fast-growing health and fitness industry.
With Cleaner Blending, Smoothie King is removing added sugars from its mixes and eliminating all artificial flavors, colors and preservatives, along with genetically modified fruits and vegetables. That's something consumers are looking for, noted Clancy, and to him signifies that Smoothie King's leadership team is setting the brand up for success.
Clancy and his Smoothie King Midwest group signed an agreement to develop 60 stores in Ohio, Kentucky, Indiana and central Florida. The first unit is planned for the Indianapolis suburb of Carmel, located near an LA Fitness, which Clancy said is ideal to capture business from the "fitness-minded population."
"I'm more on the real estate and site selection side, I understand real estate," said Clancy, who has 27 Planet Fitness gyms in Ohio and Florida and sees an opportunity to further strengthen Smoothie King's fitness appeal.
Smoothie King CEO Wan Kim made that brand positioning a priority since buying the company in 2012, and Kim's leadership, along with that of Chief Development Officer Kevin King, impressed Clancy.
"It comes down to leadership," said Clancy. "They have a great product, but I'm so confident in the leadership team."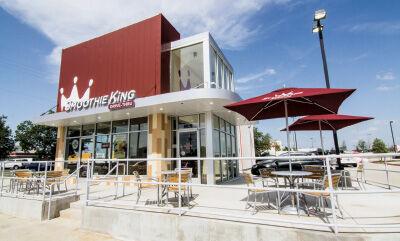 Strong unit economics don't hurt, either. U.S. average unit volumes have increased from $361,000 to $495,000 in the last six years and Smoothie King's had five consecutive years of same-store sales growth.
---
Quick Hits
Cousins Subs signed a development agreement with multi-unit, multi-brand franchisees Amit and Kalpesh Patel to develop 40 restaurants throughout the Chicagoland area over the next several years. The Patels come from a family that has owned and operated more than 50 franchises throughout the Midwest since the '90s, including Dunkin' Donuts, Rosati's, Wingstop and a number of gas stations.
Twin Peaks signed an area development agreement with JEB Food Group to bring seven restaurants to Cincinnati, Columbus and Dayton, Ohio, over the next four years.
Stratus Building Solutions, a commercial cleaning and janitorial services franchise, signed a master franchise agreement for Georgia with Gary Graves.
Blink Fitness signed a multi-state deal with Seritage Growth Properties. The multi-property lease agreement will bring 17 corporate and franchisee-owned gyms to major metropolitan areas across 10 states.
Mountain Mike's Pizza signed a development agreement to open more than 40 locations in Southern California over the next seven to 10 years with longtime multi-unit franchisee Robby Basati.
B2B fleet-washing franchise Fleet Clean USA is adding two locations in the Ft. Lauderdale and Miami markets in Florida through an agreement with new franchisee Matt McIntosh. The brand also signed a multi-unit deal with Bo Garrison for the franchise territory in greater Denver, Colorado.
Fitness franchise Crunch signed a 10-unit agreement with Jorge Roldan, CEO of Team Roldan, to build clubs in several southeastern states.
Sharkey's Cuts for Kids has multi-unit agreements on the books in California and Texas. Shipra Butail signed a two-store deal for Alameda County, California, while Adam Rowland will open three units in Harris County, Texas.
Deal Tracker is the place to find news of multi-unit development agreements, brought to you by Managing Editor Laura Michaels. Want more? Sign up for the semi-monthly e-newsletter at franchisetimes.com/e-newsletter. To share your brand's multi-unit deals, email details to lmichaels@franchisetimes.com.