Three tough-looking dudes are mugging for the camera just before the lunch rush in the original MOD Pizza store in downtown Seattle. Sam Mendez, general manager of the store, crosses his meaty arms. Tony D'Alioa, known as Tony D and newly promoted to district manager from GM, lifts his chin and pops his tattoos. Kory Harp, training manager for the entire 195-unit-and-growing fast-casual pizza chain, cocks his head and tries to look fierce.
But the truth is the only thing ferocious about all three is their undying love for their employer and their determination to instill that trait in every employee and franchise partner across the chain, now numbering north of 3,000 and nine, respectively. They talk little about tough love and much about building up their people, and they sound like kindly schoolteachers rather than the burly drill sergeants who traditionally rule in the restaurant business.
"Everybody wants to hear you are doing a good job and I'm proud of you," says Kory Harp softly, in an interview after the photo shoot. "If you treat people like they matter they will do anything."
All three men are in their 30s now and considered "carriers of the culture" for MOD, as Ally Svenson calls them. She is co-founder of the Seattle-based chain along with her husband, Scott, which had expanded to more than 160 corporate and 34 franchised stores by the end of 2016 in one of the most competitive—many would say over-hyped—categories in restaurants.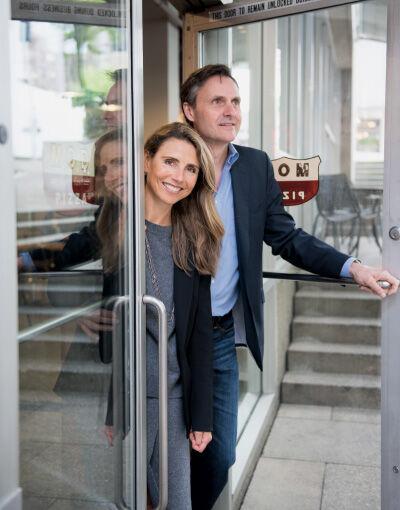 The men came to MOD in their 20s, after drug arrests and prison terms left them low on chances, and have now risen to the forefront at MOD and to experiences they could not have imagined.  Harp brought in Mendez and Tony D and many others, who formed a tight-knit team called the MOD Squad, with the kind of employee engagement other companies of all kinds only dream about.
Tony D came to MOD half-a-dozen years ago, on work release from jail and in need of a favor. "At the time people with college degrees were working at McDonald's," he said, but he got the nod after his GM spoke with his parole officer. "Five years later I'm still here." Last January Tony D found himself in front of a classroom of corporate executives from all over the country, taking questions when MOD Pizza was the subject of a Harvard Business Review case study. The high-powered CEOs were intensely interested "in structuring their companies to copy MOD. That was cool to see," he marveled. "We're just this little pizza place but we're doing something special here."  
He says the culture is "top to bottom," starting with the Svensons, the husband-and-wife founders who are visiting the store on this day in May as they often do. "It holds up strongly because people see it with their own eyes and ears. It's not a piece of paper on the wall."
Mendez is antsy to finish the interview so he can pump up his team behind the counter when the customers start coming, something he does every day with a bellowing voice and a hands-on style. He pauses to enjoy how far he's come. "I was in prison several times, many felonies. So now I run the very first store" MOD opened, he said proudly, and he was selected to be part of the photo shoot and interview today. "I would have said no way—they're going to look at me and say keep him away from the camera."
He believes in taking each employee under his wing. "When you learned how to ride a bike did you have someone there to help you? Then soon you're flying down the road and having fun," he explained. "Would you have done that if no one was there to help you when you fell?"
Kory Harp himself, the original MOD Squadder in need of a second chance, came to his job interview in 2009 wearing a monitoring device on his ankle, and then-General Manager Heidi Durfee decided to give him a shot. "I'd been in jail. I just needed a job, and I fell in love with the company," he said, although he's really sick of that story line—when will he ever be able to leave the past in the past, he wonders, yet he's well aware of everything he owes to MOD and the other way around.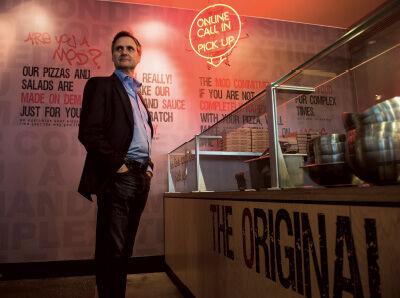 Harp expresses the group ethos this way, and is fiercely determined, in each store he visits, to keep the flame going. When he trains new franchise partners, which are signing on to MOD all over the country, he sometimes expresses frustration if they don't feel the love as intensely as he does. "My whole life is different," he said. "It's because MOD gave me one chance and now I will do everything it takes to make the values here last."
Scott and Ally Svenson had a dilemma in the late 2000s. They had already started and grown one restaurant chain, Seattle Coffee Co. in London, to 65 company-owned stores before selling in 1998 to none other than Starbucks Coffee Co. Starbucks used the Svensons' firm as its entry into the European market, for a reported $20-million pay day.
True story: Ally and Scott are Seattle natives, and when Ally followed husband Scott to London in the early 1990s for his investment banking job there, she was dismayed to find not a single place to get her daily latte fix. "After three years of complaining, our friends said you better start one," Scott recalled with a laugh.
More seriously, Ally added about the hard work of building a brand: "Everything we've done we've done together. When you're starting from scratch you have to be all in." That includes the kids. Their oldest son was born right before their fourth Seattle Coffee store opened. "We took him there from the hospital," Ally said. Two years later their second son was born, "right before we sold to Starbucks."
Next the Svensons helped to develop and launch Carluccio's in the U.K., an Italian deli-café concept, which went public in 2005 and was subsequently sold in 2010, for a double dip into the payout well. In other words, the husband-and-wife team who dated since high school and whose sons attended the same school as they in suburban Seattle, did not need the money ("It kind of creeped our boys out," Ally admitted with a laugh, about their sons attending their old school.)
But upon returning to Seattle they had started a pizza chain, MOD, which stands for Made On Demand and in 2008 was a pioneer in the space, with one price for all pies, a high-heat oven and thin crust that makes pizza a top choice for lunch, and a choose-your-own-ingredients model that was to become all the rage. Today Blaze Pizza, Pieology, PizzaRev, Pie Five and many more are fighting for dominance, but then MOD's five stores were mostly on their own, growing quietly in a sleepier Seattle.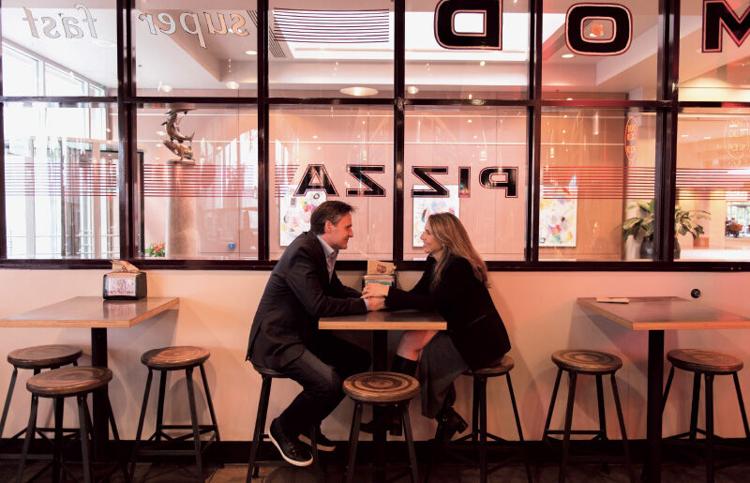 It was 2008, with Scott working for a wealth management advisory firm in Seattle that didn't speak to his soul, and Ally starting the small chain, with her usual flair for branding. "We were having a big conversation about what do we do next. It was 2008, the week that Lehman failed," Scott recalls about the storied investment banker. Ally uttered what to her is a truism, but what other restaurateurs may call blasphemy. "The last thing the world needs is another pizza place," she said.
"We started to think about things in a radical way," Ally said, like keeping the prices low and paying decent wages. Meanwhile, the general manager in one of their stores, Heidi Durfee, who today is vice president of people, started taking a chance on new hires like Kory Harp, and creating the genesis of the fiercely loyal culture that defines MOD today. "We loved the platform it developed," Ally says about the growing chain of stores. She still believes the world doesn't need any more pizzas.
"But what was happening with our employees—the world needs gobs more of that."
They began to think of their company as a platform for developing people, giving them a chance when perhaps no one else would, creating what Scott calls today "wide boulevards and high curbs," so people have leeway to make their own decisions but know the boundaries they shouldn't cross.
"For us it was, what is the purpose of the business?" Scott said, but in the early days they didn't write down or clarify what that might mean. Rather, "we brought a group of people together who started to own MOD." He acknowledged it doesn't always work—people make mistakes and do the wrong thing, but in his view they do the right thing much more often if they are unshackled from rules and criticism. Their goal is to "build a company based on principles rather than policies."
MOD Pizza has more than 160 corporate stores now, including five in London, and about a year ago hired a vice president of franchise development, John Dikos, who had been at Qdoba for the huge run-up and subsequent pull-back at that chain, to begin a franchising effort. Scott's idea was to bring on "only the number of franchise partners that can fit around one table," about 10, in other words, and they started building corporate stores in large markets where they had good contacts—Chicago, for example, and then signing a franchise partner to build out nearby Detroit and Michigan—in this case Mark Schostak, who helms the Schostak family empire of multi-unit brands.
Schostak said he had been following the fast-casual pizza space, just like everybody else in the franchise business. "We liked the model, and in particular the customization opportunity with do-it-yourself pizza," he said. He also likes MOD's one-price model and what he calls the higher quality than in Pizza Hut, Domino's and Little Caesar's, the traditional pizza joints. Plus with thinner crusts and higher temperature ovens, "all of a sudden it puts you in the lunch business."
Schostak also appreciates that Dikos and other MOD executives are "people who had not only done it before but were in some concepts that had stubbed their toe. I thought to myself he's hiring a first-class team that knows how to roll it out."
The Schostak family had many Burger King franchises and sold them in July 2015, and now operates Applebee's restaurants, Del Taco and Olga's Kitchen along with MOD. "We needed to get involved in the fast-casual space, and the only way to get involved is to pick an emerging brand," he said, and everyone was after him to take a look.
"We were like being bombarded," Schostak recalled. "I decided, I need to get on the plane with the president of my restaurant group, and we're going to California and visit all of them," for four days eating the pizza, studying the culture and researching the management and business model.
When they landed at MOD in Seattle, everything clicked, particularly MOD's penchant for building company stores, unlike the others, he says. "When it's a brand new brand, you want your franchisor to be shoulder to shoulder with you when it comes to making investments in restaurants, running the P&L, because they share your success and they share your pain," Schostak said.
Scott and Ally Svenson, age 50 and 49 and graduates of Harvard and Wellesley, respectively, are immensely approachable, enviably attractive and seemingly laid-back, especially as they come across in local newspaper articles—they're described as the couple next door who just wanted to build a little restaurant chain where they could feed their three hungry boys, now between ages 12 and 20, a number of articles say.
But don't buy the aw-shucks story—these two are Pacific Northwest-style tycoons, with two successful companies under their belts, a significant capital raise from private equity firm Perella Weinberg Partners backing MOD, a high-powered board of directors including the CEO of TOMS shoes, and plenty of competitive edge.
"We consider ourselves to be business athletes and athletes want to win," Scott said, sounding like the polished Harvard grad he is. Later, he grumbles like a street fighter, "I get pissed off when I see 'Flour Power' on the walls" of a competitor—a slogan he says MOD used first only to be copied by Blaze Pizza.
(Blaze, the other fast-casual chain in the running with MOD for first place, returns the competitive jabs, putting out a press release recently listing average unit volumes above $1.3 million for franchised stores open more than a year, while stating that MOD doesn't release such numbers. What is MOD trying to hide, the press release implies.)
MOD Pizza planned to build 80 company stores last year and 25 franchised stores, with the first store in the United Kingdom opening in June 2016. By 2020 they plan to be north of 700 stores.
"It's hard not to like them unless you're extremely jealous of them, let's face it," said Jim Alling, a MOD board member, early investor and CEO of TOMS, with a laugh.
"They're a good-looking couple, they're nice, their kids are great. Let's pinch them and see if they're out of central casting.
"But make no mistake, they are sharp. And Scott is not as good without Ally as he is with Ally, when it comes to business decisions. She has tremendous marketing insights…that early group of people would not have had the soul if Ally wasn't part of it. These two together, they are a great yin and yang, but they're both extremely approachable. That's why they're so relatable to the people on the front line."
Alling said Scott, who is CEO, has come to embrace his managers' bets on people who need second chances more than in MOD's early days or in his former corporate roles. "In the past he probably took a safer route, but now he said no, we are about creating a great environment that we are proud of. I think he's more willing to embrace some of those uncomfortable choices that his direct reports are willing to make, and he's very open to learning from it."
Scott is the first to admit not all decisions have worked out. "Building a culture is a contact sport," he said, adding the company's next step is to analyze whether their employment practices really have an effect on things like turnover and productivity and labor costs, key factors in the restaurant business. But on the philosophy end he's all in. "What's most important to us is the soul of what we're doing," Scott said. "The most important thing is our ability to make an impact in the lives of our MOD Squad."
Heidi Durfee is the vice president of people at MOD Pizza—"you can call me the Veep of Peeps," she declared with a hearty laugh—and the person most responsible for making early decisions to take a chance on people and to develop the unique culture that today makes MOD, well, MOD.
She's also the point person in making sure that culture lasts. Everyone asks her the same thing, as I do when we sit down after the lunch rush in that store No. 1, where our interviews had happened earlier that morning. "Even when we had 30 stores last year to over l00 now, everyone asks: How can you keep the culture? I think you have to be really optimistic and believe in your core values," she said. "Our big belief is culture is so important when it comes to treating people fairly, and allowing the culture to develop in each store."
Today she's proud of professionalizing her staff, such as adding recruiters and a large training staff. She is most proud of MOD's All-Star program, whose members are nominated by their general managers.
But when she was first asked to move from general manager to director of training and hiring, she was devastated. "I cried. I said, did I do something wrong?
Because I was in operations," and she loved running her stores and was very, very good at it.
Durfee credits Scott and Ally Svenson for taking a chance on her, when she graduated from the Art Institute of Seattle and couldn't get a job in graphic design, her major, or restaurants, either, where she had worked before and during college, and she is keen to pay it forward. "Everyone keeps telling me no but they're not giving me a chance," she recalled thinking when getting out of college.
Today she sits on a human resources roundtable in Seattle, where HR execs much her senior want to hear what she has to say. "Everyone wanted to talk to me because MOD is a rock star," she says, adding she maybe took an unconventional approach early on because she was never formally trained in HR. "It was more about, does it feel good?" she says. "I'm a huge Cubs fan. I admire the Cubs coach and his new dress code is: 'Do you feel sexy in it?' I love that," Durfee says.
She thinks of her son, too, now nine, who has Asperger's Syndrome and has an individualized education plan to ensure a child with a disability under the law receives specialized instruction and services. "My fear as a mom is that people will judge him on what's in his folder" someday, and that's something she vows not to do with people who come to her looking for work.
For every feel-good story like Kory Harp and Tony D and Sam Mendez, there are some failures, like the assistant manager who went back to drugs and alcohol and she had to fire him. "He passed away two years ago," she said, but adds she "gets teary" and feels proud when she thinks of all the people who have taken their chance and run with it.
"There's going to be sad stories. The stories of people having success—I'd take a few losses along the way for those stories." Count Durfee, then, as one of MOD's original and fiercest defenders of the front line.
---
THE MOD SQUAD'S RULES OF ENGAGEMENT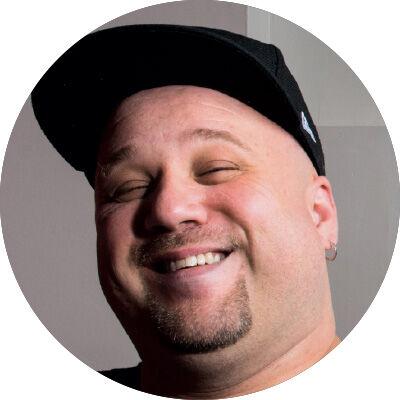 KORY HARP
"If they don't come to work, I'm screwed. They don't work for me, I work for them."
"Everybody just wants to hear you are doing a good job and I'm proud of you."
"If you have more than two people that have a bad attitude, that's not them, that's you. You have to lead from the front."
"If I show him that I care about him, he will want to work not for MOD but for me, and it's all the same thing."
---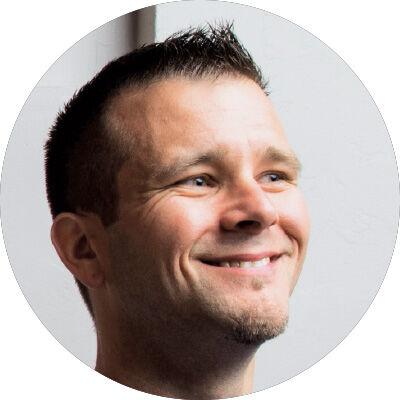 TONY D
"We don't care if you're here for six months or six years, if you give us 100 percent while you're here we'll give you 100 percent."
"The most fulfilling thing is to take someone under your wing."
"The values that we live by are top to bottom. I think there's a breakdown in a lot of companies, but for our company there is no breakdown anywhere."
"It holds up strongly because people see it with their own eyes and ears."
---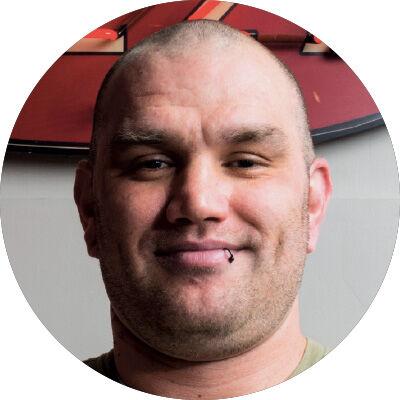 SAM MENDEZ
"It's all on your lap and where do you want to go. Our culture is based on our people and allowing someone to decide."
"If you do the job right and care about the guests we will teach you every single thing. That's the best thing I've done here is totally build people up."
"When you learned how to ride a bike did you have someone there to help you? Would you have done that if no one was there to help you when you fell?"
"We don't just send them down a hill."
---
Harvard makes MOD's case for BBX
It's not often a franchisor attracts a prospect by being the subject of a Harvard Business School case study, but that's what happened for Seattle-based MOD Pizza.
BBX Capital signed on as a franchisee last summer, with plans to develop 50 or more of the fast-casual pizza chain's restaurants across central and southern Florida over the next seven years.
"My first introduction we had to MOD was I read an HBS case study" about the brand, said BBX President Jarett Levan. He knew MOD's co-founder and CEO, Scott Svenson, through membership in the Young Presidents Organization. "I immediately called Scott and told him that I wanted to be considered" as a franchisee, "just based on the 35-page case study."
Most CEOs only dream of their company being the subject of a Harvard case study. For Svenson, a Harvard alum, it was a heady experience, especially because he brought two of his staff members, the vice president of HR Heidi Durfee and the district manager Tony D, along to the presentation.
The attraction for BBX Capital was the culture, which co-founder Ally Svenson described on the top of that case study, published in September 2015, this way: "Competitors can copy our store design and our pizza, but not our culture."
BBX Capital is an unusual restaurant franchisee, in that it has never operated restaurants. The company ran a 60-year-old commercial bank with 100 locations, among other businesses. "We understand how important the brand is, and how important the culture is. Competing with the behemoths, you had to be consistent with the culture to be successful," Levan said.
What BBX Capital does know is real estate, with many relationships with shopping center developers in the region, and they've executed three letters of intent already on locations, after signing the deal with MOD this past fall.