Job training can be a real bear, and I have the proof: C-C-C-O-B-B-B-E-T. It's a clumsy mnemonic device I created to memorize every ingredient of a Cobb salad at the Rainforest Cafe during two arduous weeks of training when I was a younger member of the restaurant jungle. I'm not proud of bailing after just two shifts on the floor, but I was lured to greener pastures, with fewer animatronics, screaming children and outrageous menu tests that required more studying than any journalism school midterm.
Fifteen years later, the employment crisis has heated from a simmer to an angry boil as the U.S. unemployment rate has continued falling below 5 percent—historically considered full employment—for three consecutive years. At this point, retailers, restaurants and almost anyone else dependent upon lower-experience employees realizes that retention and attraction requires constant, creative thinking lest your new hires take one look at your training regimen and high-tail it for the exits.
One example of magical HR thinking comes from 1Huddle, a New York-based firm that's pioneering the gamification of training gruntwork. Turning store or restaurant training into actual games with prizes attached is helping employers provide less soul-crushing forms of onboarding and recurring education through an entertaining, competition-based app on their phones.
You might think such an idea comes from a parent who tricked the kids into cleaning, but 1Huddle's founder and CEO Sam Caucci is the former director of franchise sales and marketing at the Parisi Speed School, which explains part of his company's focus on franchised enterprises.
Put a game on it
At California-based Dog Haus, a hotdog brand with 32 units and more opening this year, bringing new franchisees and hires up to speed was an increasing challenge as it extended its tentacles, now as far afield as Bethesda, Maryland.
"I just felt like what we were doing was really archaic," said Dog Haus partner Hagop Giragossian about the employee training materials. "We would print out a pamphlet and hand it out to a bunch of people and stand in front of a crowd—you're delivering this information in a very old-school way, so I set out to find something that was going to be more interesting."
With 22 days of franchisee training, and then two full weeks of new store training, he had more than his fair share of exposure to both channels of training as the head of Dog Haus operations. Whether it's menu items or corporate culture, education and reinforcement is now done through the 1Huddle app, which employees have found addictive and gives the franchisor a live look at employee engagement that's juiced by prizes and rotating game themes like "Another Night in Bangkok"—which is a bratwurst menu item with curry, peanut sauce, Haus slaw, crushed peanuts and gourmet sausage—B-C-P-S-P-G, if you're taking notes.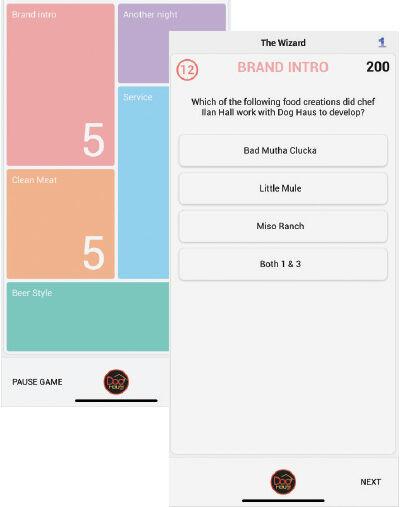 "You're learning things so you can get a better score and you're competing amongst all the different people in the company," Giragossian said. "It's a really extensive amount of information, but it's turned into a game and we rolled it out brand-wide as a week-long competition with a $1,000 cash prize at the end."
Citing a specific employee who was determined to win every week and said one week's prize made a huge difference to his young family, Giragossian added that the end result for the company is employees knowing more about the brand and its backstory, the finer points of its culture, details about the menu items and increased camaraderie, even among employees in different markets.
"It's going to make that person's job easier because they're more prepared to do the job, and it's going to make the franchisee's life better because they're going to operate their stores better—it's really interesting and I'm kind of obsessed," he said.
At Hand & Stone Massage and Facial Spa, Cindy Meiskin is the vice president of brand experience who has also dabbled in gamification for training. With some of its locations being "more difficult than others," the brand created a game with 1Huddle to train estheticians, as well as provide ongoing education that is required for massage therapists.
While app-based training is in addition to an extensive in-house learning management system, Meiskin said even using prizes like a $25 gift card can motivate employees to find joy in training, rather than despair.
"It's just an open forum for sharing ideas and best practices," and because she oversees the games, "I see what goes on in there," she said. "They feel connected to one another even if they're across the country, which has really helped make us a preferred place to work and the education we offer for free … is second to none."
Creating new games to reengage existing employees is a simple process, she added, which begins by providing a spreadsheet of questions and answers that are sent to 1Huddle and return as fully-baked multiple-choice questions that employees can swipe through and tweak in a handful of minutes.
Diving into the demo
Liking the sounds of playing a game while I'm on the clock at my own job, I had the 1Huddle folks set me up with an account and a demo game to try out the software. Getting started was easy—the blocks of questions went by quickly, as you are given what feels like a fast 15 seconds to choose an answer to move ahead. In no time, I had achieved Level 1 rookie status as I moved through basic demo questions.
As a representative example, I was asked what I must possess to achieve long-term goals, be it a short-term memory, a limit, a raise or vision. Perhaps it's my nature as a word man who dislikes multiple-choice questions, but I would have enjoyed more time to weigh the various options as the timer ticked down. It's worth noting that players are given the ability to report a question, if something was written in error or they have any other concerns.
I asked 1Huddle about the time requirement that turned me off, and CEO Caucci replied that "the struggle" is part of the key to promoting faster learning and increased retention. "This has a real impact on a franchise business," he added. "Increased sales, reduced on-boarding time and lower turnover."
At the 182 Hand & Stone locations using the game software, conversion of prospects to members and comp sales have consistently risen, which reassured the company that the training is effective.
Putting myself in the shoes of a franchisee or franchisor training scads of new people on any given week, gamifying the process is likely better than dog-and-pony shows like putting the founder in a dunk tank or something along those lines. I also fear a future where I'm asked to score points or beat a stranger in pong before the ATM spits out my cash or the dentist begins filling a cavity.
As a crusty old man in training, there could be other reasons why Rainforest Cafe wasn't for me, but this industry could certainly benefit from happier employees who know more about their jobs, products and/or service offerings. While conventional wisdom says to hire fast and fire slow, perhaps a better mantra is game hard and keep the prizes flowing. Who couldn't get behind that?