Siblings' shared vision has grown one Taco Bell unit into a choir of brands that continue to resonate with their rural communities.
When the Bell tolled for siblings Krystal Peterson Burge and Mark Peterson, they were both in college. They had applied to be franchisees after hearing about the concept from their father's law clients who were Taco Bell operators. The two were being proactive, they just didn't expect to be taken up on their application so quickly.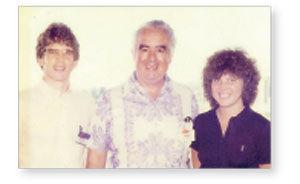 "Our family history has been entrepreneurial," Burge says. "We were looking for a business, not a job."
This was 1982, and "at that time, Taco Bell really wanted franchisees," Peterson, who was 19 at the time, adds.
Burge—the older sibling by a year—and Peterson chose the Kingman, Arizona, area, because it involved a single store, rather than multiple stores. Remember, these were two kids who were leaving home in Mesa, Arizona, to relocate to a new city to start a business.
Financing was relatively easy. Their grandparents had set aside money for their college fund and allowed them to tap into it, along with loaning them $40,000. The loan, however, had to be paid back with interest.
Twenty-nine years later, the decision turned out to be a wise one. And no one can say the brother and sister didn't get an education. They now own and operate 117 restaurants, including 40 Pizza Huts just recently purchased from the franchisor, YUM! Brands. The remaining 77 units are Taco Bells. While fast food is their main course, the Desert de Oro Foods Inc. franchise company also set a place in the world of full-service dining. Under Fork in the Road Inc., they own five independent restaurants, including the Dambar & Steakhouse in Kingman, and Murphy's Restaurant and the Gurley Street Grill in nearby Prescott, Arizona.
Both sides of the family contributed to the siblings' work ethic. Their maternal grandparents owned a successful men's clothing store in the Midwest, while their father's family operated a farm, growing corn and soybeans, in Nebraska. On the day we visited their office in Kingman, Burge had an invoice on her desk for a combine. Their father, Dean Peterson, may have left the farm because it wasn't big enough to support two families, but the farm never left his side of the family. Dean Peterson eventually opened a law practice with his wife as his paralegal.
The Petersons are a family that can not only work together, but enjoy it. When asked for any stories about sibling rivalry growing up or hot disputes in the business, Burge and Peterson just looked at each other and shook their heads, coming up blank.
"We're always supportive of the other's views," Burge says, adding, especially in public.
"We have a huge amount of respect for each other," Peterson says. "There's give and take, no pettiness." Burge is the financial whiz, while his forte is operations, and they both handle the people and community involvement aspects of their multiple companies. "We operate 23 companies out of this building," Burge says. Which is why headquarters is moving down the street to a 19,000-square-foot building that's three-times the size of their current one.
Perhaps the reason the two knew they could work together was because Taco Bell wasn't their first joint venture. When they were 15 and 16, the two invested in a rental property, using Burge's babysitting money and Peterson's lawn-mowing profits. Their parents thought this would be a good project to teach them responsibility—and business. It also taught them partnership.
Time to make the tacos
Running a business at such an early age could have been challenging all on its own, but Burge and Peterson started in the fast-food business at a precarious time. "Prime was 20 percent," Burge says, and unemployment in Kingman was at that same high figure, thanks to the largest employer in town, a mine, closing. "It was a worse economic time than today," she says, adding, "We were coming out of the (President) Carter years."
And they were selling 59-cent tacos.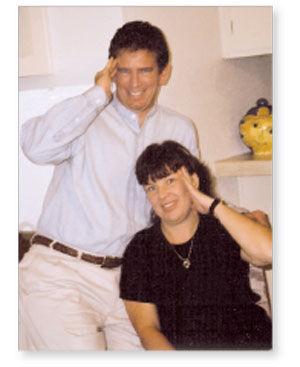 While other kids their age were debating which fraternity to pledge or where the next kegger was being held, Peterson worked the day shift, while Burge took over at night—seven days a week. Their employees were the same age they were. "We had to be the leader without the knowledge," Burge admits. But they weren't stranded in Kingman all alone—Taco Bell, after all, is a franchise. "We have a high regard for their systems," she says. Corporate sent a team to help open the store and to train them, and the young owners picked it up quickly. "We learned a lot," Peterson says. "There's a lot of smart people out there (willing to help)."
One thing that may have helped the two is that they weren't afraid to make mistakes. If their judgment call was a bit off, they didn't dwell on it, they made adjustments and moved on.
The community also was supportive and kept their restaurant, and the first Taco Bell drive-thru in Arizona, busy enough to weather the recession.
Peterson contends they've come a long way in the personnel department since that first crew was hired. "In the beginning, we managed everyone the same," he says. "We've learned to adjust for differences in people." There's no one-management-style-fits-all, although "recognition is really big," he adds.
Three years later, the brother-sister team was ready to expand, first to Bullhead City and then Lake Havasu City. Most of their restaurants, which include multi-brand units with Long John Silver's, Pizza Hut and KFC, are rural. Their latest acquisition was 40 Pizza Hut restaurants, including the real estate for six of them, in the Phoenix area.
The goal is 200 stores and sales of $200 million by 2020.
Going from two to three units was the biggest adjustment, Burge says, because it's at that point that you have to be able to let go "and let people produce results for you."
"We're in the business to continue to grow," Burge says.
"Growing means creating more opportunities for more people," Peterson adds. "And we want to grow the right way."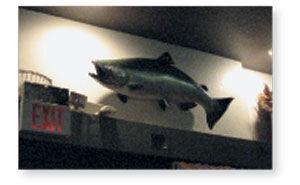 For instance, although they receive numerous emails and calls from brokers for other concepts, they remain true to their master plan—location, both the street address and the community, drive the decision. "We have a plan that goes out 30 years," Burge says. And while it's not exactly carved in stone, it is posted on the wall at headquarters for all to see.
AuspexCapital is their advisor and sounding board. "They understand our vision," Burge says. And Regions Bank, which financed their recent Pizza Hut acquisition, "is a great partner," she adds.
Real estate is Burge's forte, according to her executive assistant Lisa Beauchamp. "She has this built-in sense of when to sell and when to buy," she says. "If the stock market would pay attention to her, we'd all be wealthy. She was born to do what she does."
What both Burge and Peterson claim to be passionate about is the business, not the profits. Fast food provides a significant number of people with their first jobs, and the opportunity to train them, not only in the skills of the job, but in how to work, is gratifying. So is having past employees report back to them on where they've ended up in life.
Burge's management skills are evident at home also. She shares about the time her teenage daughter told her she wanted to fly a plane like her father and uncle. Burge says she calmly asked: "How are you going to do it?" "Here's my plan," her daughter replied, handing her a schedule. She took her first solo flight at 16.
Whether her three children or Peterson's three will join the business one day is still up in the air. "Mark and I would love the kids in the business, but we'd like them to do other things first," she says.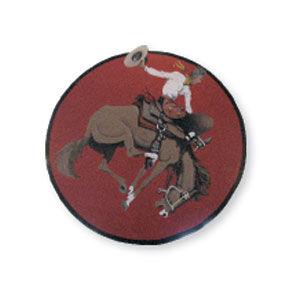 Look up in the air….it's a plane
Because their properties are spread out in Arizona, southern Utah and southeastern California, traveling between the stores could be a pain, but Peterson is a pilot. "I was spending 20 hours a week on the road before the plane," he says. Now he can visit any restaurant and still be home for dinner. Since the units are located for the most part in small towns, landing fields aren't a problem. They run a flight company as a separate business, Burge says.
It's not the norm to find a large, multi-unit franchisee with several independent restaurants in their portfolio. "We weren't sure how much growth we'd have with Taco Bell, so we looked at that (their independent, full-serve restaurants) as a growth vehicle," Peterson says.
"Lots of moving parts in full-service restaurants," he adds.
Their first foray into finer dining was the Dambar & Steakhouse located on historic Route 66. The restaurant was a landmark for the city and when Burge and Peterson bought it, they did their best to keep up the traditions of the restaurant. There's sawdust on the floor and mounted fish and animals heads, some of which were contributed by Burge and her daughter, on the walls.
The lure of Route 66 means tourists from other countries, as well as locals, stop to visit.
The story behind the name, Burge says, is that the owner's wife, upon hearing that her husband was going to open a bar, pronounced, "I don't want a damn bar." Whether the story is true or not, Burge says, smiling, it adds a little folklore to the tourist spot.
Another reason to have full-service restaurants, Peterson says, is that they're great places to bring clients to dinner. Although, it's a busman's holiday for him, since he can never visit one of his restaurants without assessing how they're doing.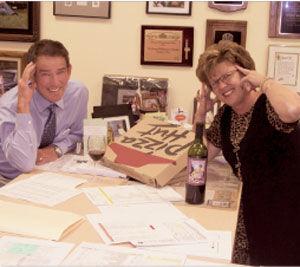 Perhaps that's the secret to their success.
Both sister and brother are passionate about the business. And they're passion extends to the communities they serve. Both are involved with the local charities and schools. Burge is on numerous committees, as well as boards for the local municipality. Bookshelves are filled with large three-ring binders that contain the notes and agendas for all the volunteer and professional work she does.
Peterson takes on the corporate role. He sits on several regional and national boards with Taco Bell. He currently chairs the chain's FranMAC (marketing advisory committee), which is a peer-elected position. "Mark's a long-standing member (of the power group)," says Bob Fulmer, vice president of franchise business management for Taco Bell.
He's known as an operator's operator, Fulmer says, because he's not only a skilled listener, but also capable of quickly digesting problems, finding  solutions, and influencing appropriately. He's fair to both sides, Fulmer points out.
It's Peterson's integrity, and his easy manner, that most impresses, Fulmer. "He cares more about you than about himself," he says.
Serving on FranMAC is also a big time commitment, unpaid task for people with full plates.
That old adage—If you want something done, ask a busy person—could apply to both Peterson and Burge.
As all good franchisees know: Proving you're local is key to driving customers to your counters—or filling your chairs.
It's been 29 years and yet neither one is looking to slow down. New stores are on the drawing board as well as remodels and teardowns.
As Burge's assistant Lisa Beauchamp says: "No day's the same and just when you get caught up, they  buy new restaurants."
---
Yo Quiero Taco Boy    
One day he's water skiing and decades later he's storage material. Such was the fate of the Taco Bell boy until he surfaced online at eBay.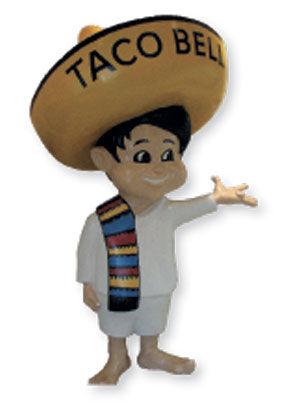 Krystal Burge remembers painting a smaller version of the statue for one of her father's legal clients, a Taco Bell franchisee, when she was a child. Now that she's a Taco Bell multi-unit owner, she wanted her own.
Lisa Beauchamp, Burge's executive assistant, was put on the trail of finding one, and she did. Much to her surprise, however, he turned out to be almost 8-feet tall, and one of only two in the country. At the time, he was living in the attic of a franchisee in Florida.
They also uncovered old newspaper photos of Glen Bell, the founder of Taco Bell, placing the Taco Bell statue on water skis and pulling him around the Florida bay as a publicity stunt.
The statue, which now resides in the lobby of Desert de Oro Foods in Kingman, Arizona, has the damaged feet to prove he was the one on skis.
Beauchamp is constantly on the lookout for Taco Bell memorabilia. So anyone with an adolescent Chihuahua that talks get ready for an offer of a better home for your pet.