Failure is a subjective term for Hao Lam. The founder and CEO of Best in Class has had life-changing failures—10, he says—including running from gunfire and being sent to a Vietnamese prison on several occasions.
His admitted failures and missteps culminated in one glorious success, when, after surviving a seven-day journey on a fishing boat bound for the Philippines, Lam finally landed in Palawan, ready to start a new life.
So, when it comes to running a tutoring business here in the United States, Lam and his fellow employees say he really isn't afraid to fail as an entrepreneur.
"His story of coming over definitely influences him as a CEO; he's not afraid to take big risks," said Stephanie Zhu, Best in Class' VP of business development and finance. "For him, that's a minor risk on a relative scale."
Lam was born in South Vietnam during the height of that country's Civil War that raged from 1955 to 1975, his father fighting alongside the U.S. military when North Vietnam took over Saigon near the war's end. Lam knew he had to get out, as he had no intention of fighting for Communist North Vietnam.
In his final escape attempt in 1988, Lam left Vietnam in a 50-foot wooden fishing boat, with 140 other refugees—including his future wife. Lam spent seven days on the ocean with mere capfuls of water and almost no food.
After they finally landed in Palawan, Lam was a refugee in the Philippines for a year, where he received a sponsorship from his uncle in Canada. He dutifully studied English for 12 to 14 hours a day, and finished high school in two years.
With his diploma, Lam taught math classes in Canada, eventually leading standing-room-only tutoring classes though he spoke little English. "I fell in love with teaching during that time," Lam recounted.
After he graduated from the University of British Columbia, Lam bought the licensing from Brain Child Education Center and opened his first location in Seattle.  Hao Lam turned the business into Best in Class in 1995 and started franchising in 2010. Today, the company has 43 units in eight states across the U.S.
Lam ran the business by himself for the first few years, and he was the only teacher and worker at the office. "It had a similar atmosphere now where it was kind of a fun place to learn, and it wasn't a really rigid classroom. He kept it very light and fun, but still very educational," said Zhu, one of Lam's first students at Best in Class.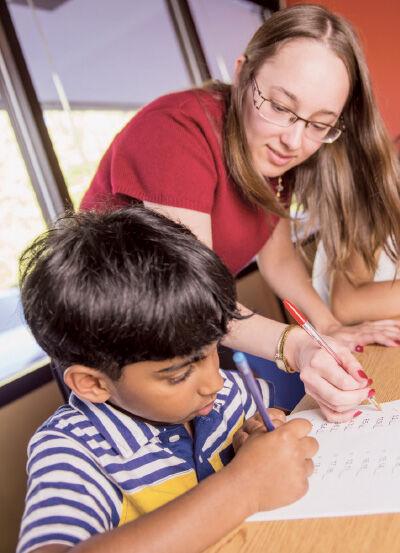 The company's operations platform has changed a lot since Lam and his franchisees opened his first store; especially in regards to technology.
Texas franchisee Ira Giri remembers the days when she had to use a paper binder to look up an answer key for the assignments. "Now we have it a lot easier," using the computer and the tablet that "can print everywhere," she said.
Lam's creativity has shown throughout the years: The company experiences a dip in traffic in the summer months, when attendance drops as kids go on vacation for the summer. Lam had the idea for his San Francisco franchise to have a special all-day enrichment camp for the summer.
The commitment for Best in Class franchisees is also significantly less extensive than many other franchises, Lam says. For a single center, Lam only expects his franchisees to work 12-20 hours per week. Seventy percent of the locations are owned by multi-unit owners, so most Best in Class franchisees work more than part-time.
In their expansion efforts, the company has struggled to work around peak enrollment times. The company is only willing to open locations 6-7 months out of the year to deal with holidays and the slow summer months, a sizable obstacle for the growing company.
Regardless of the obstacles, Lam says it's hard for business issues to keep him up at night after everything he's been through. "Every time we hit a wall, I look at my wife and ask her one question. I ask, are we gonna die? She says no," Lam said. "Then what's the problem?"