A slew of franchises aretaking on ice cream by offering everything from light soft serve to rice pudding. But how do you overcome the challenge of selling just one product?
When a company offers 100 flavors of anything, some of those flavors aregoing to be a little odd, but pickle juice? On shaved ice?
"It's geared toward the youth," said Blake Buchanan, co-founder of Bahama Bucks, the shaved ice franchise that offers Pickle Juice among its flavors. "They're really into this sour stuff. It's amazing."
Say what you will about frozen desserts but they're never static, which makes the $23 billion industry an incredible challenge for franchisor and franchisee alike. There is an almost constant stream of new products and concepts that can quickly gain popularity with a fickle dessert-eating public.
The companies are offering a wide array of new dessert products, including shaved ice, Italian gelato, a light ice cream made popular by TV's "Sex and the City" and even that throwback from the 1980s, frozen yogurt. The chains are banking on franchising to grow them into household names.
Still, turning a single product, however popular, into a sustained nationwide chain is not without its meltdowns. While dessert franchises can have a low investment and operations cost, the challenge is sustaining enough sales to allow franchisees to pay the bills after the buzz wears off.
And, when the company's product does become popular enough to sustain sales over the long term, it often attracts a competitor from a large chain with a broader menu – like McDonald's has recently done with snacks, dessert and coffee. "There's a bunch of balancing points for a unit or a concept to be strong enough to expand as a regional or national chain," said Dennis Lombardi, a restaurant consultant with WD Partners. These chains nevertheless are attracting customers, franchisees and even influential investors.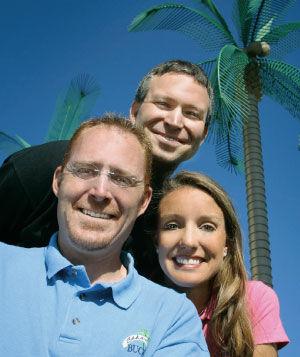 It's tasty, but what is it?
Tasti D-Lite's soft-serve is dairy based but it isn't ice cream. It's not frozen yogurt either.
Now it has deep-pocketed investors and an experienced franchise team, led by its new CEO, Mail Boxes Etc. veteran Jim Amos.
Founded 20 years ago in New York City, Tasti D-Lite has earned a loyal following and has made appearances in television shows like "Sex and the City." The lure is its caloric content. It was once advertised as 40 calories per four ounces – though that had been publicly debunked in 2002 by The New York Times – and today the company says its four-ounce servings range from 70 to 100 calories.
A private equity group, SPG Partners, bought the 75-unit chain just more than a year ago and immediately promised to turn it into a 500-unit system within five years. Since then the company has been preparing for that expansion by changing from a license system to a franchise.
This summer two new prototype stores in high-visibility locations in New York, one next to the Trump Tower, the other in the Empire State Building, will open. And it is working on deals to take the chain international.
Amos believes the lower calories will be Tasti's main selling point. The product is not easily replicated – it was developed by a food scientist – and lite products are leading the strong growth of the frozen dessert market. "It's a great tasting product, and it's a healthy product," Amos said. "There is a lot of concern over health. Baby boomers like me are viewing and changing their eating habits. Eating healthy is no longer for health nuts."
Italian invasion
Gelato has a much longer history than does Tasti D-Lite, but few people in the U.S. know much about it. Ugo Ginatta wants to change that.
Ginatta, an Italian businessman who received his MBA from the University of Denver in 1969, moved with his wife to the U.S. in 2000 with a single goal: To spread a gelato franchise across the country. In the U.S., franchise rules enable a chain to spread much quicker than it can in Europe, he said.
And, he believes the U.S. is ready for gelato. "It's an underserved niche," Ginatta said. "Americans when they come to Italy eat it four or five times a day. People love it." So far, it appears he's right: Paciugo, his chain, has opened 14 locations in the Dallas-Fort Worth area and has 42 units overall.
Gelato is similar to ice cream. It is made with milk and sugar and has much less butterfat. It's frozen while stirred and has a smooth texture, because like premium ice cream it has less air.
But is it a good business? Paciugo uses all natural ingredients, some local, some imported, such as the key ingredient to make its unusual Mediterranean Sea Salt Caramel (for more on Paciugo's unique flavors, see page 44). 
The ingredients could make for a high supply cost, especially with rising commodity prices. Ginatta said the strength of the euro is making life difficult, and his company is reviewing the prices.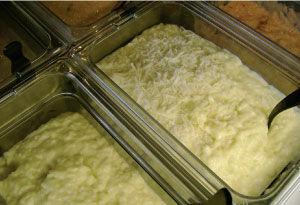 Rice is nice
Not all of ice cream's competitors are frozen.
Miami Rice Co., based in New Jersey, has received considerable attention for its contribution to the dessert market, rice pudding. The product is served in various sizes, beginning with a 3-ounce cup for $1.95, and comes in dozens of flavors that rotate seasonally – pumpkin in the fall, candy cane around the holidays.
Ken McEvoy, a former police officer who founded the company more than two years ago with his wife, said each store has 14 flavors on hand every day. A test kitchen developed the flavors, and the pudding, he said, is much better than what most people are used to: "It's different than what grandma used to make. It doesn't have that heavy texture." His company now contracts with a kitchen that makes 90 percent of the pudding, then ships it to stores.
But does this work as a franchise? While Miami Rice sells other products, including smoothies, soft-serve ice cream and frozen yogurt, rice pudding is its main product – and rice pudding is unproven in the U.S.
Nevertheless, McEvoy said his product is difficult to replicate, and the chain's unit economics work in franchisees' favor – a store can be as little as 550 square feet, cutting down on rent prices. That also cuts down on the initial investment, which is as low as $65,000.
Some people are buying it. The chain has two stores, including its first unit in Danville, New Jersey, but as many as five more could be open by the time this edition of Franchise Times goes to press. And the company even has a deal for 10 units in the Middle East by the end of the year.
McEvoy said his first store is an indication of how well the pudding can do. "We opened on a side street in Danville in a store that had been empty for years," he said. "But people found us. We back up to one of the biggest ice cream stores in the city and we hold our own."
Shaving daily
It's safe to say that shaved ice is easier to make than gelato – or frozen
yogurt or ice cream, for that matter. Take a block of ice, shave it, pour some flavoring and hand it to the customer.
And perhaps that's a reason why a number of shaved ice concepts are making their move, including the category leader Rita's Water Ice, which has 400 stores and plans for 1,500 by 2010.
 "Snow is a little cheaper than ice cream, custard and dessert," said Blake Buchanan, founder of Bahama Bucks, which has 23 units and another 18 sold.
Buchanan started Bahama Bucks in Texas while he was in college in 1990. It was a big success – crammed into a 240-square-foot building with a drive-up window that frequently backed up into the highway.
The owners admit their early foray into franchising wasn't successful. "To be frank, we jumped into franchising way too early," Buchanan said. The company regrouped and has been working with the consulting company The Findley Group for the past year.
As the first store demonstrated, Bahama Bucks can go into a variety of locations, providing the chain with real estate flexibility.
The company says its shaved ice is a healthier alternative to ice cream and it has a product called Thin Ice with no calories or carbs. 
As the name would imply Bahama Bucks has a definite Caribbean feel, with thatched roofs and a tropical decor. But perhaps its biggest draw is its flavors. The chain has more than 100, including the aforementioned pickle juice as well as strawberry cheesecake, creme brule and toasted coconut. "We've taken the old snow cone to the next level," Buchanan said.