With every acquisition, Flynn Restaurant Group demonstrates that in franchising, there seems to be no limit to what smart operators can do.
With the purchase of 368 Arby's restaurants, the entire portfolio of seller U.S. Beef Corp., Flynn reaches $2.3 billion in annual sales. That makes the company the first privately held franchise operations company to crest the $2 billion mark.
Founder, chairman and CEO Greg Flynn has a distinctly breezy Californian disposition. And even while discussing this historic feat, he's slow to brag. For him, this is a notable deal, but despite the size and complexity, it's just how the company operates.  
"Without sounding too immodest, I think we have charted a course that others are following with consolidation. And we've shown that large operators can be good operators. And this is just more of that," said Flynn.
There's a lot to like in the deal that adds $400 million in sales to the company. It means having the sophisticated and successful ownership group of private equity firm Roark Capital and Inspire Brands leadership as close allies. Roark Capital owns Inspire Brands, and Inspires Brands owns Arby's.
And it means diversification for Flynn beyond the 400-plus Applebee's he owns in casual dining, the 135 Panera locations that represent fast casual and the 280 Taco Bell units at the value end of quick-service restaurants.
"QSR is much bigger than the other segments. I think it's 70 percent of the entire industry," said Flynn. "If we are trying to create a portfolio and diversify between the segments and mirror the segments, it was logical for us to have a bigger footprint in QSR."
Of course, it's also good money. As "great operators," as Flynn calls them, U.S. Beef reached an average of $1.08 million for each of the U.S. Beef Arby's locations, and the new restaurants perform slightly better than the typical $1 million seen across the Arby's system.
"QSR economics are very good, they're better than the other segments," said Flynn. "The volumes are a little lower but the margins are a little higher, so you make really good money." He said the deal pushes Flynn Restaurant Group beyond $200 million in income.
---

---
And the final key point: Like his other brands, he believes Arby's doesn't have any direct national competition.
"It's a very differentiated concept, almost like a category of one. Like Taco Bell or Panera, neither of those two face any direct competitor that does just what they do that forces them to compete on price," said Flynn. "There is no one that basically sells the core products Arby's sells, and there is a large body of people out there—core customers—that love Arby's and love the food."
That puts him in the enviable position of rising above the brutal value wars endemic among QSR burger players right now.
"I love being able to understand who that guest is and how to speak to them and how to give them what they want without it being this competitive head-bashing all the time," said Flynn.
So how has he reached this lofty position and remained so relaxed about it? It all comes down to what he calls the unique corporate structure known as the "state and federal system."
"That allows them to run independently with support from our 150-person office in Cleveland and our financial strength and our purchasing power and stuff like that," said Flynn.
All of the nearly 1,250 restaurants are broken into geographic clusters of 20 to 40 restaurants in a market with its own "general autonomy" to make operational policy, employment and investment decisions.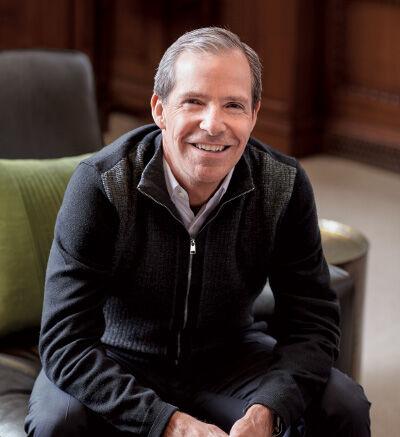 "The person who runs a market for us is a market president. It's a unique position in our company, it's the most important. It's really where we focus our support and our financial resources, too," said Flynn.
"The whole idea is that it is difficult and ineffective to run multiple restaurants with central command and control. It's too complicated and there are too many local factors, competitive differences, employment issues and customer characteristics. Local operators are in a better position to understand those differences and make better decisions on how to compete."
He said there are a lot of successful multi-unit operators out there, taking advantage of all the benefits of scale from a single back office that takes care of everything from HR to real estate, IT, training and more. But they're limited by the traditional hierarchical structure that puts one person in charge of every single restaurant.
"The standard in the industry for multi-unit, multi-market restaurant operating businesses is that command-and-control pyramid, where there's the one guy, usually the guy who started it, and the whole pyramid exists to implement his or her decisions," said Flynn. "That's a very rigid structure and very unlikely that that guy sitting wherever he is sitting is making the best decision for every market. He can't."
Instead of dictating what has to happen in every market, Flynn says his role is to facilitate knowledge-sharing between markets and empower those market presidents to make the right decisions for their "state." And while there is certainly some market-to-market competition, Flynn said all the market presidents also share in the "federal" pie.  
"We try to align our interest financially with profit sharing, so we skew much more heavily toward direct profit sharing. But more importantly, we also have equity sharing," said Flynn. "So our market presidents are equity partners alongside me. That's one of the reasons that they cooperate with each other, because they realize the big prize is growing the equity of the business, and we're all in it together for that."
He said there are no plans for another acquisition, but wouldn't shy away from a good opportunity for deal No. 21 at the company. Even at north of $2 billion, he sees no restrictions.
"I've been asked many times what's the limit to your growth. I don't see why there should be any limit," said Flynn. "We can do more."
---
About this project
Franchise Times Dealmakers is an editorial project and awards event designed to highlight excellence in buying and selling franchise companies to drive sustainable growth. Franchise Times calls for nominations the fourth quarter of each year, and presents the finalists to a panel of judges. The award winners are featured in the April issue of Franchise Times and will be honored at an awards luncheon in May. Nominations for next year's project open October 1 at www.franchisetimes.com.
---
About the judges
We thank the Franchise Times Dealmakers judges, invited to serve because of their expertise in franchise finance, who evaluated nominations and helped to select winners.
Left to Right: Stuart Adair, City National; Amy Cheng, Cheng Cohen; Kevin Combs, Fifth Third Bank; Dru Garcia Richardson, Manufacturers Bank; Anish Gandhi, Brookwood Associates; Matthew Gruenberg, DLA Piper; Navin Nagrani, Hilco; Kimberly Savilonis, First Tennessee; Mike Vallorosi, CIT Group; Paul Westra, Capital One