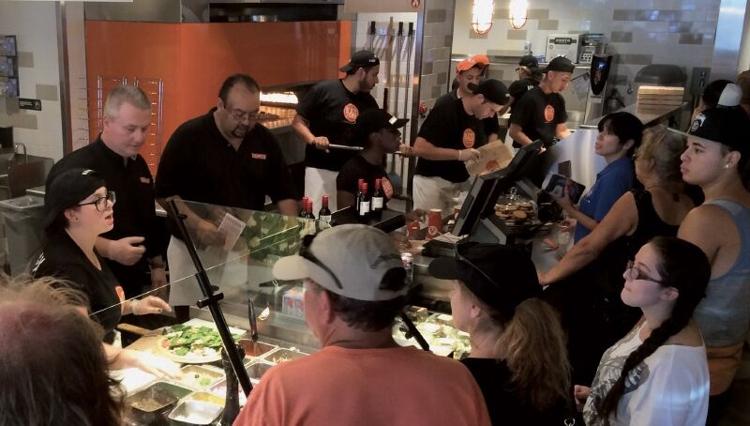 Operating partner Walt Christenson, with gray hair, and GM Adrian Hernandez to his right, run a Blaze store in California.
Photo by Cheryl Stein
---
Winner: Blaze Pizza
Finalists: PizzaRev, Uncle Maddio's Pizza, Your Pie
Many players crowd the fast-casual pizza space, those choose-your-own ingredients restaurants with high-heat ovens that make pizza an option for lunch. But it's surprising how few publish detailed financial information on profitability at the store level—which helped us quickly narrow the list to four finalists.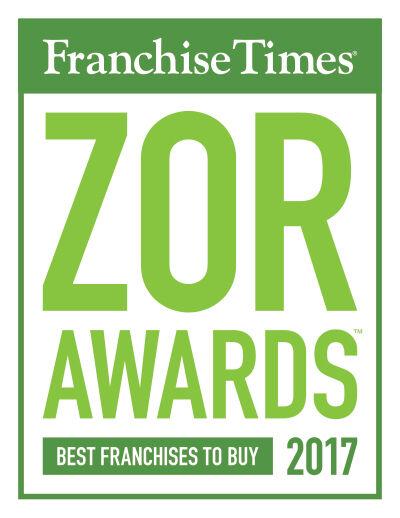 Blaze Pizza came out on top in our analysis of return on investment, with one measure being a remarkable zero closings from 2013 to 2015 compared to 100 openings in that time frame. Average unit volumes at franchised stores topped $1.3 million, with a reasonable royalty fee of 5 percent and a modest marketing fee of 2 percent.
"That struck us, because if you're paying your 5 percent royalties, you want to make sure you're getting something out of it," he says. How can prospects find out what kind of infrastructure exists at corporate? Pay attention during discovery day, Stein advises, when prospects are brought in to meet the team, especially taking note of the caliber of people. The head of real estate for Blaze, Stein notes as an example, had 30 to 40 years of experience in the field.
Stein and his business partner, Rick Fortman, both know franchising from the other end—Stein was CFO at CKE Restaurants, the operator of Carl's Jr. and Hardee's, and at El Pollo Loco, among others. Fortman was VP of operations for CKE, responsible for running hundreds of corporate-owned stores. Stein embodies a type of franchisee that we call a corporate refugee—he was used to big executive salaries and large staffs, but decided in his early 50s to try his hand at owning the joint.
The switch should not be downplayed—Stein says he "absolutely" misses the perks and pleasures of corporate life, particularly those guaranteed paychecks twice a month, and he advises others to do extensive financial analysis to make sure they can eventually replace that income.
Stein advises a detailed analysis of every brand's FDD, of course, but also conversations with as many existing franchisees as possible, whom Stein says are usually more than happy to share profit margin and other critical information. His financial background and Fortman's operating chops allowed the pair to do their own analysis, but Stein advises those without such backgrounds to hire or partner with others who do.
In fact, that's Stein's biggest piece of advice for prospective franchisees: Do a self-assessment. "The perfect franchisee, they're an expert in operations, and an expert in training, and in real estate, and in finance, and in marketing…" he says, naming a number of other areas as well. "Now how do you find that in one person?" You can't, of course, so figure out your strengths and weaknesses. "How do I find someone to partner with or bring in, so this can be successful," he advises.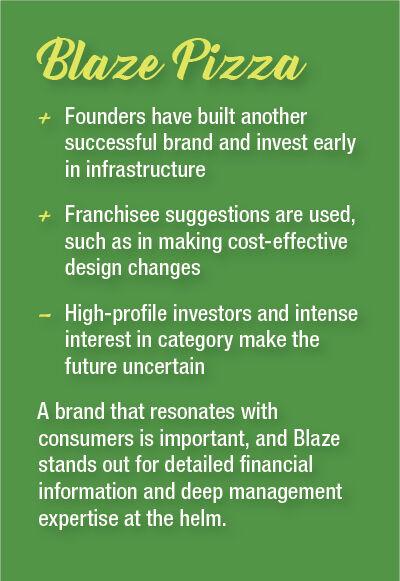 Stein quit the corporate world in 2010, then wrote a book about innovation, then did some consulting work, such as helping Habit Burger with their franchise documents. When Fortman, also semi-retired, came calling to check out Blaze Pizza and all the other fast-casual pizza brands out there—the two did their due diligence and then quickly scratched their entrepreneurial itch.
"Rick and I said if we're going to do this, we want to have fun," says Stein. And how is that going? "So it's been a lot of fun so far. At the same time it's been more work than I thought."
The partners have six restaurants open and two under construction, plus another three leases signed. Stores cost $600,000 to $800,000 to build out, and they're hitting the 30 percent return on cash investment they stated as their goal at the outset. Their best store, in Riverside, California, is hitting $50,000 in sales per week, a feat he credits to a stellar GM. "It's a $40,000 a week store" on paper, "but our general manager Adrian Hernandez makes it a $50,000 a week store because he runs it so well." That $2.6 million a year is far higher than the average for Blaze, which is of course a pleasure for the partners.
But the bottom line lies elsewhere for Stein, and other corporate execs yearning for the independent life: "Having complete control over what you do every day…and knowing that the ultimate responsibility is in Rick and my hands." Even though Stein is a numbers guy with a very sharp pencil, he just might call that priceless.
—Beth Ewen
---

---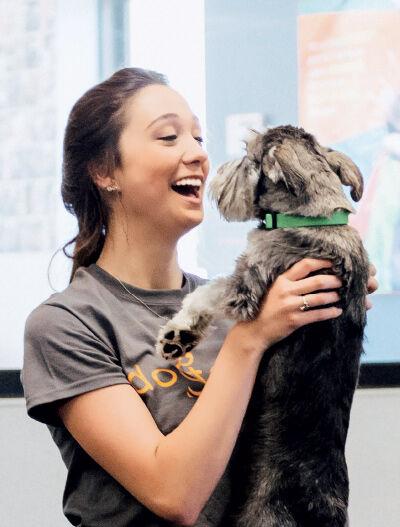 Winner: Dogtopia
Finalists: Camp Bow Wow, Fetch! Pet Care, Wag 'N Wash
Although Amber Sutton Donohoo did work at NASA, she is not the former rocket scientist that a Dogtopia executive purported her to be. "My background is actually on the business side of NASA," she says with a laugh when reached by phone, but it turns out her financial analysis background helped her more than rocket science ever could when evaluating pet care franchises.
Dogtopia is the winner among the pet concepts we analyzed, with sophisticated branding and substantial online buzz, more detailed financial data available than some of the contenders, and a solid return on investment metric—although a 9 percent royalty plus marketing fee puts it on the high side.
Donohoo notes a significant ramp-up time at Dogtopia—plan for at least 18 months before taking any money out of your store, she advises, although she adds corporate is working to cut down that time period. She has two stores now, both in northern Virginia, with her first opening in 2008 and her second in 2012. Today she can work a more "normal" schedule, she says, than in the early days, "and take vacations and enjoy my husband," whom she married two years ago.
But in between there was a lot of hard and heavy work—something she believes animal lovers like her should think hard about before they get seduced by the franchising dream.
It was eight years ago, when she was 34 years old, that Donohoo decided to quit her NASA job and become the first multi-unit franchisee for Dogtopia. She was volunteering at cat and dog shelters on the weekends, and had dreamed as a child of becoming a veterinarian. But she knew the pay was too low at shelters, and the sick animals at veterinary clinics just made her sad. "Truthfully, I think dog daycare is the only place where it's a Disneyland for dogs," she says.
So she set to work evaluating dog daycare concepts, including Camp Bow Wow, one of our finalists, but found it too "rustic" for her taste. "I like the Nordstrom feel of Dogtopia," she says, and she also could relate to the founder, Amy Nichols, who has since left the brand after new investors came in a few years ago. "We were about the same age, and she did the switch also from making a lot of money in the corporate world to being with dogs every day," Donohoo says.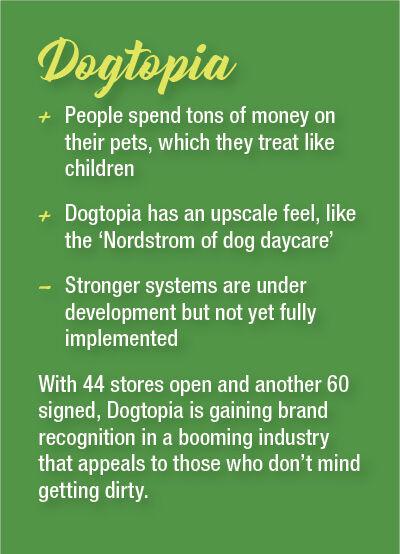 (That's another hazard for prospective franchisees to note: Young, founder-led brands, especially, are prone to changing investors and changing management teams, yet often-times prospects don't even think about that when signing. When ownership changes, she says, "the franchisees are really shaken. It's the not knowing part, is this going to be better or worse?") She believes new management is taking the brand in the right direction, especially putting in more systems, but believes they have a ways to go.)
Did she also dig into the financial disclosure documents that every franchise is required to file? "Probably not as much as I should have to be honest with you," she admits, but she did looks at the profit-and-loss statements, or P&Ls, in the FDD. "You have to know how to read a P&L," she insists. "Luckily I already had a business background and I knew what I was looking for, so that's a hint: If you don't know what you're looking for, find someone who can help you."
Not much data was available at Dogtopia when she signed, but she did put together her own pro forma by talking to other store owners, finding out how many dogs would visit each day and estimating the revenue and expenses. She also had a friend who owned a franchise in another sector, education, and relied on that friend for practical advice.
Matt Moss is a Dogtopia franchisee in Clarksville, Maryland, who came in through another route. He started working in the store at age 19 while in college, planning to go into hotel management. In 2011, he began managing the store, and then in December 2015 the owners approached him to buy it.
"I know this business like the back of my hand, and once I dug into the P&Ls and all the financial side that I didn't have an opportunity to see, I knew this was worth the risk," he says, so at age 28 he is now an owner.
Donohoo and Moss took separate paths to Dogtopia ownership, but they both emphasize it's not for an operator who wants to be hands-off. "This business is probably the grossest business ever," Donohoo says. "Dogs go to the bathroom and there's a lot of it so things happen. I just got in the car and I had stepped in some…it's everywhere."
But for owners who don't mind when, um, stuff happens, this category deserves a close look.
—Beth Ewen
---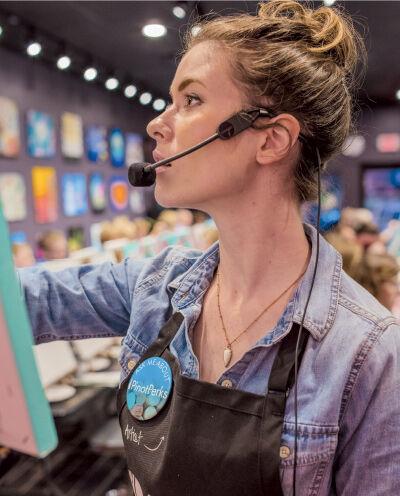 Winner: Pinot's Palette
Finalists: Just Between Friends, CruiseOne, CPR Cell Phone Repair
The alcohol-infused painting party. It's a concept that's booming and for owners one that combines creativity, customer service and, operators expect, return on investment.
Pinot's Palette rose to the top of our "cheap seats" category, in which all brands examined had initial investment ranges under $100,000, through an analysis of that ROI. Its low unit closures stood out. The Houston-based franchise opened 77 studios from 2013 to 2015 and closed just two in that time frame. Average gross sales for all franchised units in 2015 was $408,409; and because Pinot's Palette's franchise disclosure document separates by range of performance the sales of its operators, we learned those 'zees in the top 25 percent averaged $724,759. That's in contrast to relatively low investment costs compared to many franchise opportunities in this category and elsewhere.
Pinot's Palette has a minimum capital requirement of $30,000 and total initial investment range of $76,600 to $196,600. The company gives potential 'zees a mobile studio option as well, to service corporate and off-site events, with that total investment topping out at $36,000.
For Cherisse and Scott Lockerd, the conversation to get in on the "paint and sip" industry, as it's called, didn't begin with money talk but in the midst of a blizzard. Scott, whose career in geology had him traveling six to eight months out of the year, was driving through a storm in Wyoming when he pulled over to send a text to his wife. It read: "Let's open a wine and painting place."
Living in Denver at the time, the couple had taken a class at non-franchised Canvas and Cocktails and after a little research soon discovered that market was saturated with various similar concepts, including Pinot's Palette. The Lockerds took advantage of that proximity and visited Pinot's Palette in nearby Fort Collins to see if the concept that had thus far stood out on paper was really as good as it seemed.
"It was far and away above the others," said Cherisse, who noted tables are set in advance with customer names and Pinot's uses real wine glasses, not plastic. "And just the design of the studio—it was really high class." A proprietary software system was another plus, allowing operators to manage customer scheduling and inventory levels, and also collect and analyze customer data.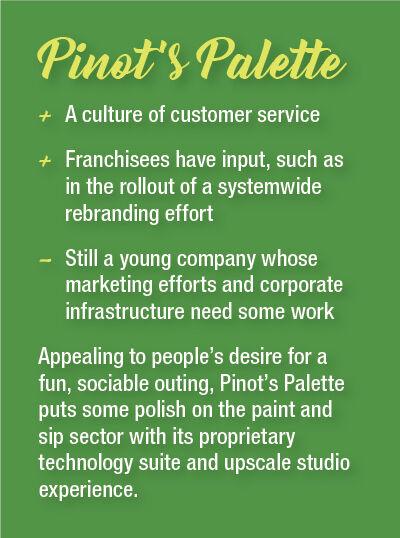 That visit, and a series of additional phone calls, also served to remind the Lockerds that if they were serious about moving to Cherisse's home state of California where paint and sips were still emerging and there was opportunity for growth, it was going to involve a lot more than an enjoyment of wine and art.
"It was a little bit of a wakeup call," said Scott of talking to existing franchisees to get a better sense of what it takes to run the business. "And you're only going to get out of it what you put in." They advise prospective franchisees to take a deliberative and analytical approach when reviewing concepts and not to skip that important step of the due diligence process.
"We spend hours and hours and hours each week in the studio, in front of customers, answering the phone every time it rings," said Cherisse, who added Pinot's Palette is anything but an absentee ownership franchise. "It's the little things that are the big things."
When the Lockerds opened their Tustin, California, location in 2014, they brought just the third Pinot's Palette to the state and experienced firsthand some of the growing pains of a young concept that began franchising in 2010.
"It's a whole different ballgame in California," said Scott. "There's a lot of homework we didn't know to do. It's not a restaurant, we're not an education service—a whole new classification of permits had to be created."
The lesson: Research local regulations first, particularly if the concept is new to the area.
The Lockerds quickly found their footing, and their studio was the second highest grossing unit in the system in 2016. Both said that success has everything to do with the people they've hired and instilling the culture of customer service that, from the beginning, "was really hammered in to us as that's what's going to make or break this thing."
"We really make sure our employees have that buy in and that they'll answer a question the same way we would," Scott explained. "You have to instill that culture in everyone."
"Our employees see us in there, cleaning toilets, mopping the floor. They see everyone pitches in and that something I'm really proud of," said Cherisse.
Pinot's Palette undertook a rebranding effort last year, a process Cherisse said not only reaffirmed the franchisor's commitment to the brand but also served as an example of how the leadership listens to franchisees.
As a member of the franchise council, Cherisse was there for the initial unveiling of the brand makeover, which was to include a new logo and redesigned studios with little wiggle room for franchisees to choose how they implemented the new look.
"As a result of our feedback, the corporate team completely redid how they were going to roll it out, giving the franchisees more choice in what they were being asked to do," said Cherisse. "Originally it was a hard line in the sand, and we said, you're going to have a mutiny."
From that experience and others on the council, Cherisse said she learned just how seriously co-founder and CEO Craig Ceccanti and the corporate team take the opinions of franchisees. And, while "they didn't always change their mind, they always listened."
In 2016 the franchisor also launched a new mobile responsive website and a rewards program along with the new brand. These three initiatives in concert are expected to boost systemwide sales by an additional 8 to 12 percent annually, the company said.
"It's been a lot of work and a lot of hours but we both love it," said Cherisse, adding that "love it" part is crucial to building the business. "We come home every day having made people happy. Even if it's something little, we make people smile."
"And I don't have to take 13-hour trips to Nigeria," added Scott. "I'll miss the adventure, sure, but there's no doubt" they made the right call.
— Laura Michaels
---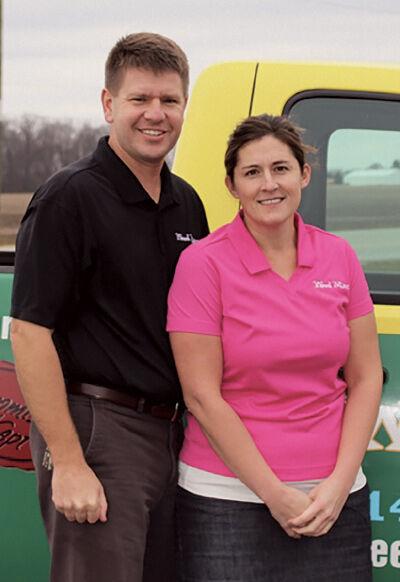 Winner: Weed Man
Finalists: Fish Window Cleaning, Mosquito Squad, Mr. Handyman
While Corbin and Audrey Schlatter's duties as franchisees have drastically changed throughout the years, Corbin still remembers the days where he'd have to take over lawn care jobs himself.
"It was more day-to-day work," Corbin said about his initial duties as a franchisee. "A day in the life then is doing sales calls. Providing the actual work as far as providing the lawn care service."
After Corbin sold his landscaping company for a franchising opportunity with Weed Man in 2005, the spouses started working out of their home in Columbus, Ohio, turning their garage into a call center. Audrey took over as head of the sales process, while Corbin hit the road, training doorknockers and hiring new employees.
Audrey departed the business for six years to continue her nursing career, but after returning in 2015, business has boomed for the couple's franchise. They recently won the Weed Man Award of Excellence this year after exceeding $2 million in sales in 2016. Now the two run things from the management side with a larger staff that covers day-to-day operations.
With an initial investment of $68,000 to $85,000, it doesn't cost much to get into the Weed Man system compared to the higher entry costs of some other players in the "hands-on" category. But those who join generally don't have a lot of money backing them, so they usually aren't able to hire a management team immediately. The couple stresses that a hands-on management style, especially in the first few years of operation, is important to starting a franchise with Weed Man.
"The best thing to do is you're going to have to get your hands dirty and get into the grind for the first 2-3 years," Corbin said. "And if you do that you're going to have a foundation.
And once you have that foundation it's going to be a lot easier to take off."
The franchisee work schedule is a bit different than most other franchise opportunities. While the "production season," where franchisees offer their lawn care services, runs from March to November, there's still plenty of work to be done in the offseason. The Schlatters say that while December and January are generally more relaxed in terms of workload, the winter months bring recruiting, planning, and a variety of office work as the franchisees prepare for the upcoming chaos.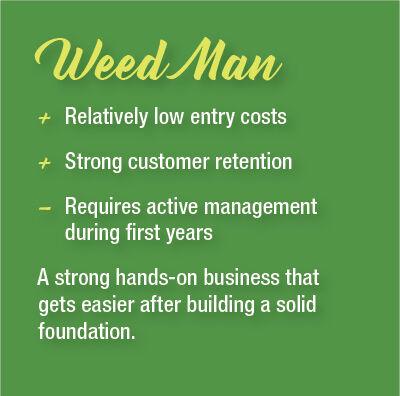 The Schlatters say the foundation of customers and reliability is something they have worked to cultivate throughout the years as franchisees. Around 75-79 percent of their business on a year-to-year basis involves returning customers, as they've carved a reliable niche in the Columbus area.
They stress that communication is key to gaining a client's trust in the sometimes-unpredictable lawn care industry. "It's a partnership. We're going to provide this service but we need communication because things are going to arise. We try to be realistic, and definitely always honest," Audrey said.
It isn't all green pastures for Weed Man franchisees who are looking to gain market share in their respective area. Lawn care businesses like Weed Man still face a lot of competition throughout the U.S., especially in the Columbus area, which was the original site of lawn care giants ChemLawn and Scott's.
But Corbin says that the couple's adherence to the Weed Man system helped them build a footprint and develop their business to what is now 12 units. The two say they have stuck to the operating system recommended by Weed Man, and on a management side, it's something they constantly stress to their workers.
"We saw that there was a system in place that could help both of us…When people don't utilize that as a partnership and they think that Weed Man is just going to give them all these sales, it doesn't happen that way," Audrey said. "We never really thought that, so we believed in the system and asked questions when we needed to."
But when it comes to building the successful base as a Weed Man franchisee, the two stress that it all comes back to "being a part of the grind."
"If you come into it expecting in three or four years to be running this multi-million dollar operation, and you're just kind of sitting back and managing it, it's probably not going to happen that way," Corbin said.
— Alex Van Abbema
---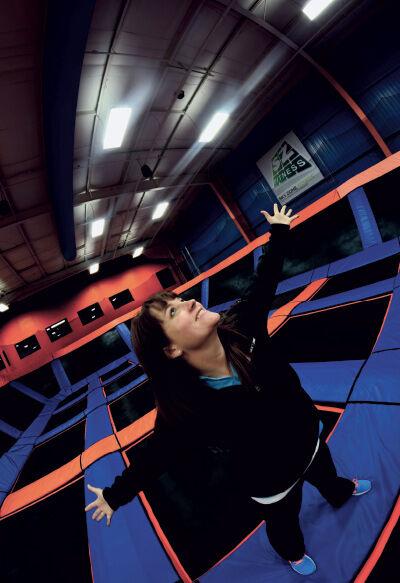 Winner: Sky Zone Trampoline Park
Finalists: School of Rock, Rebounderz, Pump it Up
When Carrie Snyder was pondering her next career move, the single mother thought of becoming a teacher, getting her MBA or starting some kind of business. But when she brought her kids to a Sky Zone trampoline park, she said, everything came into focus.
"We just had such a blast," said Snyder. "We were all smiling and nobody had their head down in a screen. As soon as I left, I thought, 'That's it right there.'"
Since the franchise launched in 2004, it has been on a growth explosion, reaching more than 165 locations across North America and expanding into Australia and New Zealand as well.
After that trip, Snyder said she got to work immediately, quitting her job to write a business plan and learn more about the brand.
"I wasn't thinking very big at the time. I was thinking if I could make $70,000 and support my family that would be super," said Snyder. "But my dreams got a little bit bigger, we went to Minneapolis for a discovery day. Every step of the way we saw that this was a great brand and these were great people to be with, and financially it seemed to be worth the risk."
Snyder now owns park No. 36 in Fort Wayne, Indiana, No. 101 and No. 102 in Toledo, Ohio, and 125 in Mishawaka, Indiana."I can't imagine doing anything else," she said.  
For prospective franchisees who are looking for some revenue as opposed to a transformative experience, Sky Zone provides there as well. On average, corporate locations bring in $2.3 million in revenue, but that number is dependent on capacity. Parks that can hold under 135 people at a time average $1.8 million and those with capacity over 185 average $2.8 million. After all the costs of goods, that translates to average earnings before interest, taxes depreciation and amortization (EBITDA, or gross earnings) of $596,922, according to the Sky Zone franchise disclosure document.
Royalties come in at 6 percent and advertising comes in at 2 percent. Those fees are just a hair above average for franchising as a whole, but lower than many of the kid-focused brands out there, sending more of that strong average unit volume (AUV) to  the bottom line. Snyder said they certainly earned that additional point above the franchising standard by being partners throughout the opening and giving strong support afterward.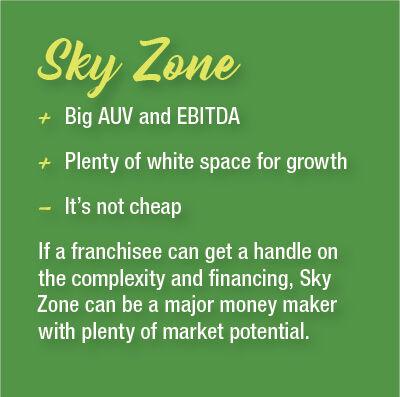 "You're never on this island, you're never alone," said Snyder, recalling her early days. "I think if they had been short or didn't return your phone calls, or weren't gracious, I might have thought twice about it."
She said they also helped her talk with existing franchisees and get to know the brand at a very deep level before signing anything.
It's a strong AUV, but one tricky part of being a novel industry like trampoline parks is financing. Snyder said she had a lot of trouble convincing a bank to buy into her bulletproof business plan. As the trampoline park industry continues to grow, that's getting easier, but she said it was definitely hard to get financing. For new franchisees, securing the $1.2 million to $2.9 million required to get a 15,000 to 40,000 square-foot Sky Zone park off the ground may prove difficult. She ultimately found a silent partner that was looking to diversify to help.
"If we had to do it again, we would have brought all those bankers to a Sky Zone to see what it was all about," said Snyder.
After financing was secured, she said costs were well within her target and the FDD's range. Once open, the money started flowing in.  
"When we opened there was an 'if-you-build-it-they-will-come mentality;' which is true to an extent," said Snyder. "But as the market as a whole gets saturated with more trampoline parks, we know we have to focus on guest experience, we know we have to make connections with our schools to be profitable long-term. We have to get into our community."
Touching on another point that might prove difficult for new franchisees, there is a lot of managing at a Sky Zone  park.
"You're managing 80 teenagers, so that can be scary for some people, but honestly it's one of my favorite parts," said Snyder.
She said her own experience shows that park-level management is critical.
Her advice for prospective franchisees is preparing to do a little bit of everything—it's not exactly a hands-off operation.
"I think that you have to be involved, I think you have to have a positive, can-do attitude, and I think you have to be willing to ask the questions to other franchise partners, to the corporate team and you have to be able to crazy-organize a million things at once," said Snyder.
—Nicholas Upton
---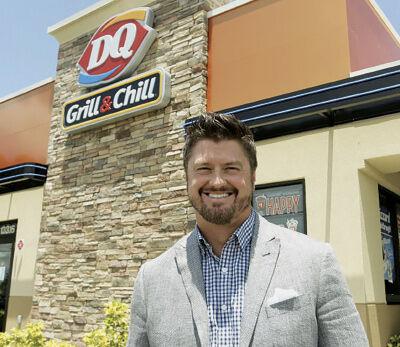 Winner: Dairy Queen
Finalists: Dunkin' Donuts, Sonic Drive-In, Church's Chicken
Tra Williams isn't a typical franchisee, but he knows more than most about how to evaluate, select and grow a franchise operation. His best advice: identify a short list of parameters and then examine as many brands as possible to see how well they match.
"We literally began with every franchise in America. We laid out a handful of parameters that said here are the go's and no-go's for us," Williams said. "We're a faith-based organization and we're particular about who we align ourselves with because we want to have some cultural consistency."
As the vice president of Pensacola, Florida-based Lakeview Associated Enterprises—a division of Baptist Health Care—Williams is an institutional franchisee running the healthcare provider's franchise arm that was launched to bring more revenue into the company in support of its lifesaving and community service operations.
A graduate of Georgetown University's franchise management program and a certified franchise executive, Williams dug into his search with a scientific precision and ruling out any brands that weren't a cultural fit for the organization.
He joined Lakeview three years ago, starting with a long list of franchise brands to consider, and ultimately selected Dairy Queen four to five months later, signing a multi-trade agreement for Florida in the beginning of 2014. Fast-forward three years, and the company just opened its third Dairy Queen in the Sunshine State, with several more in the planning stages.
As the winner in the Zor Awards "drive-thru classics" category, Dairy Queen stood out on paper to our financial researchers for its 4 percent royalty rate—very low, especially for the QSR category—as well as a detailed FDD and Item 19 that includes yearly sales and a detailed listing of openings and closings. In each year we examined, the openings far outweighed the closings.
The initial investment for the brand ranges from just over a million to $1.84 million, which compares favorably, albeit on the higher end, for the other drive-thru classics contenders.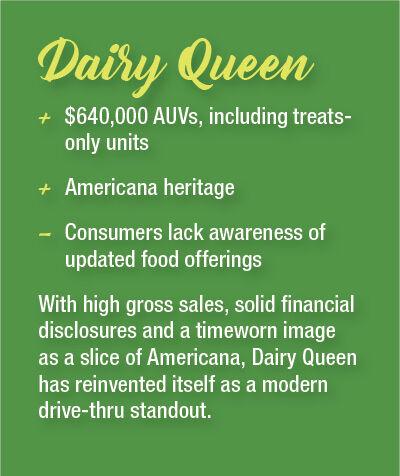 Asked what he found most revealing during his own research of Dairy Queen, Williams zeroed in on the brand's lofty average unit volumes, especially in the larger Grill & Chill restaurants that include food in addition to treats.
"We wanted to speak with a brand that had a million-dollar AUV or higher to make it scalable for us—anything under that would require that we open more units than physically possible in order to hit our goals," he said.
Beyond profit potential, Williams added that cultural alignment was imperative for his partnership. In conversations with other franchisees and staff at the franchisor, he quickly felt like DQ was a natural fit for Lakeview.
"The culture is fantastic, like a Norman Rockwell painting—it really is," he said. "Dairy Queen is a little strip of Americana, and you're not going to find anything like it anywhere else in the world."
As it scales up its DQ portfolio, with a goal of hopefully opening dozens of locations, Williams said real estate has been his biggest challenge, especially since they have ruled out converting existing Dairy Queen locations or leasing buildings from a landlord.
"We are a buy-only organization, so we have to find dirt or a building we can tear down on dirt that meets all of Dairy Queen's parameters," he said. "We aren't interested in hitting base hits, we want homeruns."
Aside from real estate, which is a challenge for most brands in the competitive franchised restaurant space, Williams said his organization worries about the perception that Dairy Queen is only about desserts. Its recent baked program that includes hot desserts and artisan-style sandwiches has gone a long way toward changing that perception, but he added that much of that marketing work falls on the franchisee's shoulders.
With plans to open two more DQ locations during 2017, Lakeview has accelerated the build-up of its in-house franchise team, but said the stress is nullified by his personal enjoyment of the model and knowing that the dollars they make through franchising support the brand's overall lifesaving and community service missions.
Williams added they apply the same standards in hiring restaurant staff as they do in other arms of the organization.
"Our individual success is based around the fact that we hire the same way we would hire for a child protective service worker," he said. "We explain the mission of this organization, who we help and this either resonates with somebody or it doesn't."
In the company's three-year experience with Dairy Queen, Williams said the company hasn't put "a single extra dollar" into store operations, and hasn't found itself in a cash flow-negative situation in either of its first two stores.
Owned by Warren Buffett's Omaha, Nebraska-based Berkshire Hathaway, but headquartered in Minneapolis, Dairy Queen has been led by CEO John Gainor since 2008. Under his leadership, the brand has accelerated its international expansion, expanded beyond its Midwestern home turf in the U.S., and focused its marketing and R&D budget on breaking its reliance on the ice cream treats that have defined the brand during its nearly 80-year history.
In recent months, the brand has continued its aggressive domestic expansion, including a significant roster of new stores in California.
Looking ahead to his future with the brand on the other side of the country, Williams said there's "no reason for us to stop developing with Dairy Queen so long as there are available markets within an area that we can support." His franchise search continues, however, as he continues to vet prospective concepts with the idea that Dairy Queen will be the flagship of an eventual four- or five-brand conglomerate.
—Tom Kaiser
---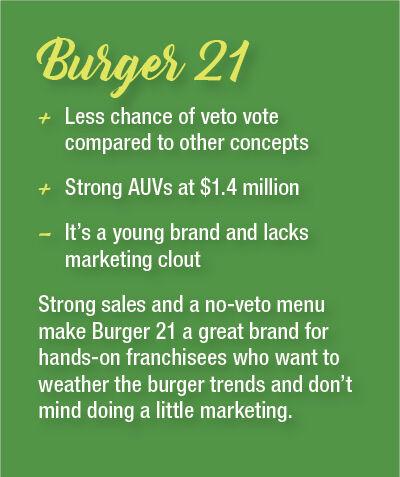 Winner: Burger 21
Finalists: Smashburger, BurgerFi, MOOYAH Burgers, Fries & Shakes
Better burgers are still a hot commodity despite so, so many players. It's an easy place to look for a new franchise because no matter what, consumers will crave a burger from time to time.
Given those many players, it is pretty difficult to narrow the segment down to any one better-burger concept. They all have similar metrics, fairly similar menus and fairly similar returns on investment.
So that means choosing the concept that has the best chance of drawing market share from other burger brands—that means innovation. And until someone somehow figures out a new way to make burgers taste even tastier or make burgers healthy, the menu must be innovative.
"What drew us to Burger 21 was the variety of food options, the ability to take away from a consumer standpoint a lot of veto votes," said Bruce Anderson, a Burger 21 franchisee in Latham, N.Y. While it might sound odd to look beyond burgers to find a great concept, Burger 21 has done it well. Apart from the 10 beef burgers, the menu has two options for veggie burgers, four chicken sandwich options, two seafood options, two turkey burger options, six salad options and a kid's menu.
All those food choices makes it a lot easier to get people in during both lunch and dinner by giving the whole family a bevy of choice beyond the typical hyper-focused better-burger menu.
"When I'm in the dining room, I see the families, full families, three generations," said Anderson. "And some days we even skew more female than male. I think a lot of the other burger concepts are just the opposite."
Anderson said they still mostly serve their 21 beef burgers, but the mix is low for a better-burger concept.
"I would say in our store, we're probably 50 to 60 percent beef burgers, and then the rest of the mix are salads, chicken tenders and other burgers combined," said Anderson.
The large menu does add complexity to the menu, but by using common ingredients across several menu items, it's nothing someone with restaurant experience couldn't handle, he added.
Menu options are nice, but franchisees also need to make money too, and Burger 21 delivers a $1.4 million average unit volume—that's fairly high for better-burger concepts that disclose financials in an Item 19. They generally fall between $750,000 and $1.1 million.
Fees include the standard 5 percent royalty rate, 1 percent advertising fund requirement and a 3 percent local advertising requirement. It's all pretty standard, and shows that the founding franchisors under the same umbrella as Melting Pot didn't want to rock the boat when it came to fee structures.
Other burger brands push that royalty rate to 6 percent and bump the advertising fund. And it's something new franchisees should look out for. While a 1 percent increase in royalty and 1 percent on marketing doesn't look like much, at an AUV of $1 million, that's an additional $20,000 a year off the topline or 10 percent off the bottom line assuming a 20 percent EBITDA or gross earnings—that's real money for an operating franchisee.
Total startup costs come in between $432,000 and $1.14 million depending on rent, build-out costs and landlord contributions, again, fairly standard for a better-burger concept. Also critical for franchisees is the support infrastructure. Much of the team is made up from experienced former Melting Pot staff that was a part of the brand before it was spun off.
Anderson said the support team was "small but mighty."
"It's a small support staff, but a very personable support staff. I can pick up the phone, shoot an email over virtually anytime and get a response relatively quickly," said Anderson.
He said the team was very helpful early on in his discovery process.
"They do a good job of getting new franchisees in touch with a good cross section of franchises, good cross section of sales volumes and good cross section of locations and be able to get the feedback from all those types of people," said Anderson.
Like every brand, Burger 21 has a few things that might not mesh with prospective franchisees. The expansive menu certainly adds complexity and training considerations that require some restaurant experience. The complexity also means it's not exactly the hands-off franchise some growing operators are looking for.
"It's not a concept I'd let someone operate while I cruise around the Caribbean," said Anderson. "I think it's a concept that befits the owner who doesn't necessarily operate on a day-to day but is in the know and is able to functionally run the shift."
The biggest concern, however, is the size. At just 23 locations, it's one of the smaller brands within the better-burger segment.
"You don't have the marketing ability because it's still such a small concept," said Anderson. "We're not shooting any Super Bowl commercials, so it really becomes your local marketing effort."
He said Burger 21's popular philanthropy program helps a lot, and fosters community bonds, but it's still seen as a local player in many markets, for better or worse.
—Nicholas Upton
---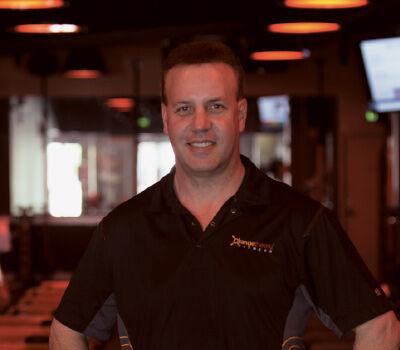 Winner: Orangetheory Fitness
Finalists: 9Round Fitness, Amazing Lash Studio, V's Barbershop
For all the competition and variety of concepts, the fitness category remains a turbocharged sector within franchising. For prospective franchisees, that diversity includes deciding between small- and large-format brands, as well as the myriad choices in exercise programs that can flame out faster than the Zone Diet.
In Ft. Lauderdale, Florida, Doug Birer got into Orangetheory Fitness literally at the ground floor just as the concept first gained notoriety in the fitness world. He and his wife owned a retail store in the same shopping centers as the very first Orangetheory location, and his wife attended the concept's first studio and quickly became a believer. She enticed her husband to join the program, too, and he was pleasantly surprised by the timely results.
"My wife is an athlete, I'm more of the couch potato variety, but it worked," he said of becoming one of Orangetheory's first customers. "Owning my own small business, I looked at this as a business that has no inventory, no spoilage, you basically write…eight checks a month, so it's a very simple business to operate—we took the leap of faith and bought our first franchise in Parkland, Florida, that opened in January of 2012."
It wasn't just his personal fitness that benefitted. After getting into the brand with their first units, the couple moved quickly and now owns 20 Orangetheory locations in five states, with the furthest located in California in partnership with his brother. Doug expects to open as many as 10 more over the next two years, largely by expanding within his current stable of states.
Because the Birers signed up with Orangetheory so early in its history, Doug stressed the brand's FDD included very limited financial information, so part of his investigation required guesses and estimates of expenses and revenue.
At this point, his biggest challenge is securing A-level real estate locations, but he added that finding quality employees remains as big a challenge with 200 employees as it was when he staffed up his first location.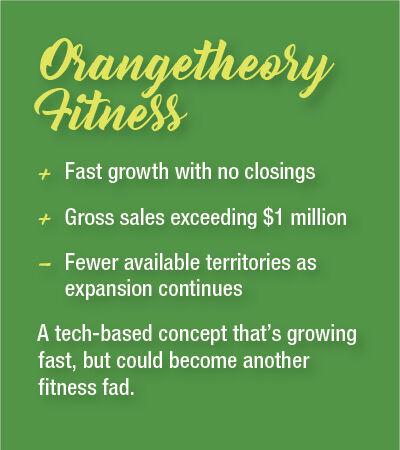 While he acknowledges taking a gamble jumping into a then-new brand with more questions than answers, he said the company's managerial experience with Massage Envy and European Wax Center gave him confidence in their abilities in the fitness realm.
"The franchisor's been great to us, they've given us the opportunity to expand," Birer said. "Are they perfect? Of course not, but they try hard and they've enabled my family to live in a different way than we lived before."
Miami-based franchisee Mike Singer, sings a similar song about the brand. A 25-year veteran of the fitness industry, Singer credits his success with his four Orangetheory units to getting into the system at its inception, as well as its integration of technology into the exercise and customer service aspects of the brand.
Familiar with founder Ellen Latham's reputation, he decided he'd rather become part of the Orangetheory system, rather than compete against it.
"I was very hesitant to get involved in a franchise and it took me a long time for them to get me to sign that first franchisee agreement," Singer said. "I couldn't be happier with the results, and thank god I broke down and eventually signed that first franchise agreement."
Due to his proximity to the Orangetheory headquarters, which was originally in Ft. Lauderdale, Singer's first store was used as a testing facility for trying out new software, among other trial balloons. While some of that testing was painful, he said, the end result bettered his own locations along with the rest of the system.
"What is so amazing about Orangetheory corporate…is that they have continually been striving to improve every aspect of their business from branding to marketing to technology," he said. "I knew I would work hard, I just didn't know what they were going to do and so far they've outperformed my wildest expectations."
Reflecting on his own success, Singer keeps a close watch on his portfolio by visiting each store every day, interacting with staff, chatting and working out with customers and grabbing a broom whenever necessary.
"The more involved an owner is it seems the more successful a studio becomes," he said. "There was a long period of time where some of the members thought I was the maintenance man."
As the winner in the "personal wellness" category, Orangetheory stood out during our own research for its 280 studio openings from 2013-15, during which time there were no closings. Even more, the brand's FDD states that average franchise gross sales exceed $1 million—solid numbers bolstered by both a strong FDD and Item 19 that gives prospective franchisees plenty of research ammunition.
— Tom Kaiser
---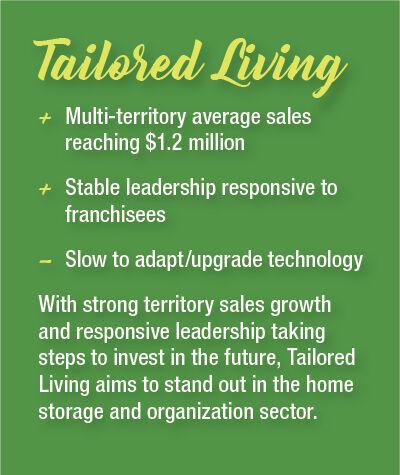 Winner: Tailored Living
Finalists: Re-Bath, ShelfGenie, Archadeck
Asked to share a piece of advice for potential franchisees considering a home organization or renovation concept, it didn't take long for Tim Woollen to respond.
"I probably wouldn't have started at the beginning of a recession," said Woollen, only half joking. "But," he continued, "it probably made me a better businessperson. I had to learn how to run a business on the least amount of money just to survive. I saw a lot of people throw in the towel, but I'm pretty pig-headed."
Woollen signed on as a Tailored Living franchisee in 2007, bringing the closet, garage and organization system company to the Madison, Wisconsin, area just months before the housing market crashed and the recession took hold. Company leadership didn't waiver, however, and neither did the commitment to franchisees, something Woollen said gave him confidence to stick with the system.
"When I started it was pretty tough, they were really in their infancy and it was the start of the recession—and that's when they really proved themselves to me," said Woollen.
A winner in the Zor Awards "fixer upper" category, Tailored Living set itself apart with strong franchise territory growth, particularly in 2014 and 2015 when it had 60 total openings alongside just 12 closings. Our financial researchers also noted Tailored Living's comprehensive FDD, including 12 subcategories for its Item 19, a rare level of detail covering areas such as general franchisee business background, the average number of employees per franchise and the average price of each sale.
The initial investment for one territory (each franchise territory is a grouping of contiguous ZIP codes with a minimum of 75,000 households) ranges from $131,130 to $269,495.
Average sales for franchisees with one territory were $440,120 in 2015; for 'zees owning an average of five territories, that number was $1.2 million.
Achieving those numbers comes only through hard work, franchisees noted, and a dedication to building brand recognition in your territory.
"At the beginning you have to do everything," said Todd Carter. "You're gonna be working your butt off. You have to be able to get up and get your hands dirty."
Like Woollen, Todd and wife Juliana opened their Tailored Living in Herndon, Virginia, only months before the recession hit. He said he learned quickly not to carry too much overhead and to beware the "spiral of discounting."
"You need to believe in the value of what you're doing and keep your prices where they are in line with the quality of what you're providing," said Todd. Creating relationships with top custom homebuilders and interior designers in their northern Virginia territory has also proved invaluable.
That networking has been Woollen's key to building a successful business, as he recognized early on the Tailored Living name wasn't as well known in his area. "You really have to work hard at branding yourself and getting yourself out there, get involved in home shows, get in front of people," he said. "When I started, advertising didn't do a lot of good. What did work was getting out there, working the shows. Be visible."
Woollen recently bought out the owner of a neighboring territory and has plans to acquire additional territories. That growth has brought some headaches, particularly as Tailored Living's corporate office has at times struggled to evolve with technology and make improvements such as mobile customization and modern websites available to its franchisees.
Todd Carter also pointed out that while Tailored Living's trademark D'Vinci design software is a "fantastic tool," the technical infrastructure is weak in some areas, though he added efforts to improve are being made.
The Carters and Woollen each found Tailored Living through a franchise broker, and their respective discovery day experiences reinforced what each was already thinking.
"You could say I drank the Kool-Aid; I bathed in it. There was no question in my mind, I was ready to sign the papers," said Woollen. "They (the leadership) believed in what they were doing. They had a great model."
"There's something to be said about the culture of the organization," said Juliana Carter, who noted the original leadership, including President Dan Tafoya and VP John Tighe, are still with the company. Longtime CFO Shirin Behzadi became CEO of Tailored Living and its parent company, Home Franchise Concepts, in 2015. "They've always been there to support us and it's genuine. They bring integrity and authenticity."
In 2015, Home Franchise Concepts received a majority investment from private equity firm Trilantic Capital Partners to support HFC's next phase of growth. Since then HFC, which owns Budget Blinds and Concrete Craft in addition to Tailored Living, has introduced new marketing efforts to generate brand awareness and engagement, and enhanced franchise support with a new, 12-month professional coaching program.
—Laura Michaels
---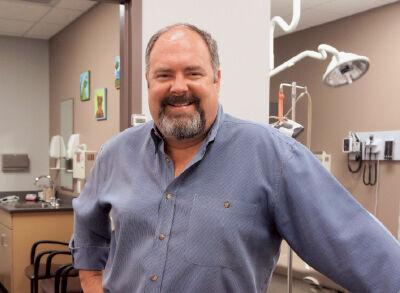 Winner: American Family Care
Finalists: The Joint, Any Lab Test Now, ARCpoint Labs
As a corporate executive for 25 years with companies like Stanley Black & Decker and Smith & Wesson, Tom Kelly's schedule was so full that he almost never had time to visit a doctor.
"Doctor's offices hours were set to their convenience, not to my convenience," Kelly said.
After spending some time mulling a career change, Kelly had a revelation as he was sitting with one of his children in an urgent care center.
"A light went off. I can just walk in here? You don't need an appointment, there's a doctor back there, they've got X-ray, they've got a lab, they take insurance, they're open late, and they're open on weekends," Kelly said. "This has got to be the future of health care."
As part of the fast-growing "new wave medical" category, American Family Care is one of several franchised brands grabbing a piece of the massive U.S. health care business.
With several brands that are too new to have an established track record, we expect franchised medical to become a much larger part of the franchise industry in the years ahead.
With no medical background and a desire to keep his family in Connecticut after years of moving around with his executive career, Kelly decided to buy into the model for American Family Care in 2010, then an up-and-coming urgent care franchise. More than six years later, the company has zoomed past the 150-unit mark, while offering each unit a $2.76-million AUV.  
Kelly has grown his business alongside AFC; he now owns four units in the Connecticut area with two more units under development.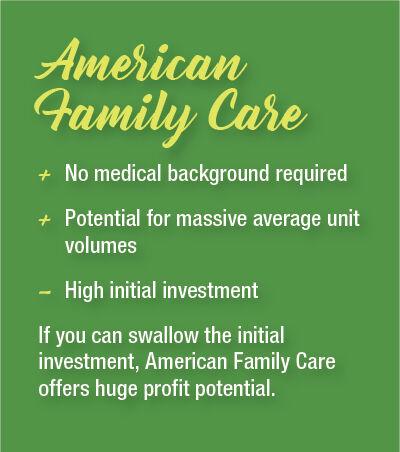 After pouring most of his life savings into the initial investment, Kelly experienced the fear of the unknown at the beginning, especially since he had four young children to care for.
To get a sense of what he was getting into, Kelly spent two weeks as a front desk worker at another franchisee's center. He then became the front desk person and center administrator for the first nine months of his operations, while working to develop an effective marketing plan.
Now, after he says his business is at the point where it's self-funding, he's developed a more hands-off approach. This entails visiting his clinics three days a week, and his office two days a week.
"It gets to the point where it requires your mind more than your presence," Kelly said. "Presence is important in the centers so that you can maintain the energy and the touch points. But it's not like you need to put on scrubs or be working in your clinics every day."
Kelly says while most emergency rooms force patients to wait up to five hours to get service with their serious maladies, American Family Care has a goal of keeping patient visit times under an hour. They also take insurance and are about 10-20 percent of the cost of most ER copays, according to Kelly.
Even with a potential repeal of the Affordable Care Act in the upcoming year, Kelly believes that his and other American Family Care businesses won't suffer. While ACA plans have shown up in his business, he believes those clients will likely go back to Medicaid, or back to being uninsured. Kelly also stresses that AFC has competitive self-pay rates for people who don't have insurance.
The barrier to entry for AFC is high compared to the rest of our "new wave medical" category, as the investment range for most American Family Care units is upwards of $1 million. But Kelly says that for people like him with executive experience and enough capital, becoming an American Family Care franchisee is a good option.
Kelly credits his franchisor in helping him escape the "machine" of the corporate world into something he feels great about. He remembers one story where, two weeks after opening his business, a man came in with a dislocated shoulder.
"He was in agony. He was like, 'I don't have my wallet, I don't have my ID, I don't have anything. I just don't know what to do,'" Kelly recalled.
Though they weren't sure he'd ever return, Kelly and his staff helped the man get medical attention. He returned at 8:05 the next morning with his insurance card and ID, raving about the services he experienced the previous day to anyone who would listen.
"I can't tell you the number of experiences I've had that are not exactly like that but similar to that," Kelly said. "Healthcare, taking care of people is so rewarding. It has its challenges, it has its rumble strips and potholes. But by and large it is an extremely rewarding experience."
— Alex Van Abbema