At its fourth annual Franchising Gives Back celebration on September 4, the International Franchise Association  will continue its recognition of franchise companies' charitable programs and the impact they have on their communities. One winner in each of five categories (Spirit of Franchising, Newcomer, Enduring Impact, Support Our Veterans, Innovation and Impact) will receive the Gold distinction from the stage prior to the IFA's Franchise Action Network initiative, where members visit their congressional leaders. Franchises will also bring home silver awards in each category. Franchise Times, the program's media partner, has profiled the winners selected by the IFA Educational Foundation here.
---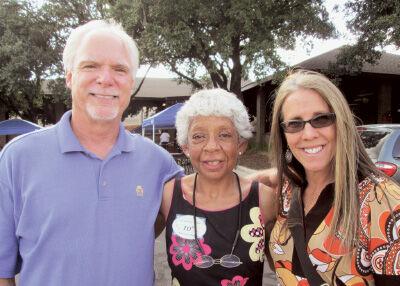 Spirit of Franchising Award
Auntie Anne's 'zee fights stereotypes of mental illness
A story in the local newspaper caught Lisa Fullerton's attention. As she read about a San Antonio-area pastor who was arrested because he was advocating for a homeless man, the Auntie Anne's and Cinnabon franchisee felt compelled to take action.
Learning that the pastor wanted to expand his feeding ministry, Fullerton began donating unsold product from her stores to the church, also the meeting place of mental illness support organization San Antonio Clubhouse. Then just a start-up, the Clubhouse was seeking business partners willing to give their members an opportunity to rejoin the workforce.
Having someone in her family with a mental illness gave Fullerton even more of a reason to step up.
"Most homeless people have some sort of mental health disorder," says Fullerton, owner of A Novel Idea, which has five Auntie Anne's and two Cinnabons in San Antonio and is this year's Spirit of Franchising Award winner. "It's so stigmatized," and because of that finding meaningful work is often difficult.
One of the first transitional employers to work with the Clubhouse, Fullerton has employed about 35 members since 2003 and said oftentimes those workers have been the most reliable.
"They're very loyal when they find the right fit," she says, noting one member who's worked in her stores for more than three years. "These are people society may say, 'We don't have a place for you,' but we've seen the process work." Members are able to develop interpersonal skills that build confidence in a safe environment with others who understand the stereotype of mental health.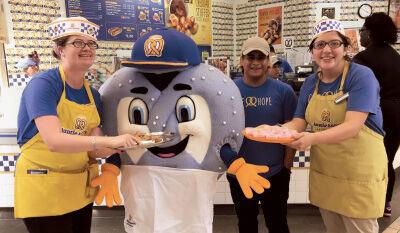 "I have discovered over the years that the population we serve is feared and shunned by many in our society," says Mark Stoetlje, the Clubhouse's executive director. "Lisa from day one has always been comfortable with our members, and has always treated them with dignity and respect. I, and the Clubhouse, are grateful to call Lisa a friend. Her compassion, her work ethic, and her leadership ability have been an inspiration, and I know they will continue to be."
Fullerton, a past board member and the Clubhouse's longest-serving corporate partner, also started a grant program and has raised more than $100,000 for the organization, in addition to raising awareness about its efforts in the local business community.
"It's important to me that, while we might be representing two national brands, that people know we are absolutely local community members," says Fullerton, also among the Auntie Anne's system's' biggest fundraisers for Alex's Lemonade Stand Foundation, having raised more than $70,000 for childhood cancer research. And remember those unsold pretzels? Auntie Anne's has since established a partnership with Food Donation Connection, a national organization that helps Auntie Anne's fight hunger and reduce food waste by donating surplus pretzel products.
"I know all about cause marketing," adds Fullerton, in reference to businesses supporting nonprofits for mutual benefit. "But I believe in cause living."
Silver Winner
Crimson Enterprises—Captain D's Castin' 'N Catchin'
A fitting effort for a seafood franchise, Captain D's Castin' 'N Catchin' fishing tournament benefits Children's of Alabama, with all proceeds donated to its Pediatric and Congenital Heart Center to fund cardiac research for children. The event, held at Goose Pond Colony Resort in Scottsboro, draws more than 400 anglers from across the South. In three years, Castin' 'N Catchin' has raised $343,168, money that has funded a full-time research assistant, research on renal care for cardiac patients and a camp to teach patients with cardiac issues about caring for their condition. The organizing committee has a goal of raising $1 million for Children's of Alabama's Heart Center.
— Laura Michaels
---
---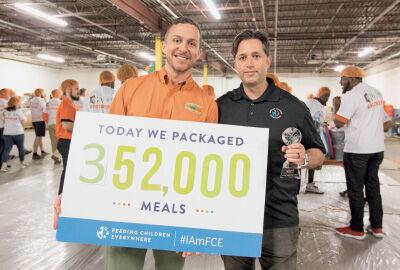 The Newcomer Award
College Hunks joins hands against childhood hunger
A franchise advisory council meeting in 2016 brought up this provocative point: College Hunks Hauling Junk performed many charitable activities on a local, store-by-store level, but nothing on a national scale. For Nick Friedman, co-founder and president of the Tampa, Florida-based franchise, it was a welcome and ultimately gratifying moment.
"We started down the path of discovering a national partnership, and something that we could make synonymous with our company," he says, culminating in a commitment to Feeding Children Everywhere and its regional Hunger Projects, for which College Hunks captured The Newcomer Award from Franchising Gives Back.
The amount donated by College Hunks in the past year is 400,000-plus meals, equaling more than $200,000, plus 300 volunteer hours donated involving some 200 people.
"The goal is to give a million meals within the first three years of the program," Friedman says.
Identifying a worthy partner for a nationwide push took plenty of due diligence. Working with a small task force made up of a couple of franchise operators, Friedman and the company's co-founder, Omar Soliman, plus members of the management team, College Hunks started with a survey of franchisees, corporate team members and clients to identify which category of causes was most important to them. "And childhood hunger was at the top of everyone's list," Friedman says.
Next came identification of charities addressing childhood hunger, "and we came across several and interviewed many," he says, eventually zeroing in on Feeding Children Everywhere based in Orlando. "It was a very entrepreneurial organization, and we started a dialogue with their CEO," Dave Green, he says. The nonprofit is tech-savvy, too, an appealing element to the young founders of College Hunks, for example rolling out a phone app that allows people in food deserts, that is, neighborhoods without access to fresh produce, to have healthy food delivered to their homes.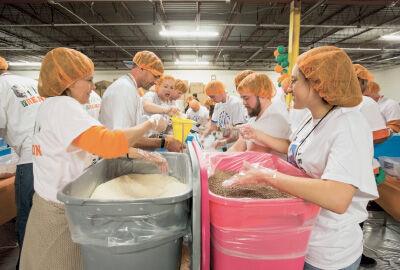 The College Hunks stores donate two meals for every hauling job they perform, and also they participate in Hunger Projects that companies can host. For example, they hosted a project at their new headquarters in Tampa and packed more than 2,500 meals, and then hosted a similar event at their national franchise conference.
"It was an experiential element. We got to participate in it," says Friedman, something that appeals to people more viscerally than just writing a check.
Friedman acknowledges a commitment to a national charity is a big undertaking for a relatively young and small franchise. "Ultimately this is something that you're aligning your brand with for a long time," he says, and he has some advice for others thinking of doing the same.
"My advice would be, do it for the right reasons. In other words, do it because you truly believe in making a difference, not just because you're trying to be a marketable differentiator," he says. "And if you do really care, make sure that you take the time to evaluate what is going to align with your company's purpose and your core values."
And finally, "take your time, don't rush it, and don't over-commit financially, because once you open the doors of charitable giving it can become a never-ending path if you don't have a budget and a specific discipline in mind."
The ultimate reward? Being able to do some good in the world, on a larger scale than imagined before. "It's gratifying to be recognized for something so meaningful," he says.
Silver Winner
Baskin-Robbins' Island Creamery Inc.—Puerto Rico Renace
Puerto Rico Renace, or Rebirth, was born to help Puerto Ricans after the devastating Hurricane Maria wiped out the island in 2017 by providing fuel, food and water to several thousand crew members and citizens stranded without these essentials. The franchisee team also dedicated a hotline to link distressed victims with help and promoted the messaging on Baskin-Robbins' websites.
More than 150,000 water bottles, 28,000 meals and 55,000 gallons of diesel fuel have gone to Puerto Ricans. The team has taken old generators from its Baskin-Robbins stores and donated them to local charities and elderly homes. And, a series of caravans filled with food, water and toys were delivered to areas in the center of the island that were destroyed by the hurricane.
— Beth Ewen
---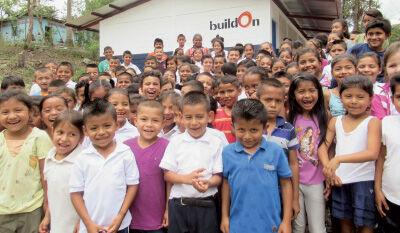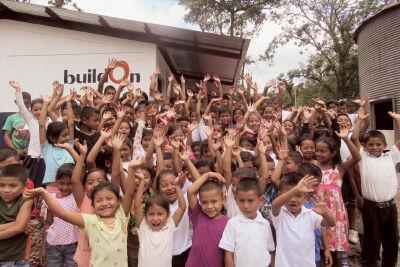 Innovation and Impact Award
Uptown Cheapskate builds schools one full bag at a time
Uptown Cheapskate rejects approximately 70 percent of items that come into its stores, but the reseller of lightly used clothing has turned its barely-rejected items into a twice-annual Charity Fill-a-Bag event that raises money to build schools in needy places all over the world.
Uptown Cheapskate and child-focused sister brand Kid to Kid are recognized as the Franchising Gives Back Innovation and Impact Award winner. The two franchises have worked together since 2014 with buildOn, an international nonprofit organization that builds schools in developing countries.
Organizing the twice-annual sales is no small effort, as each sale typically requires 100 to 200 bins of specially marked inventory that's donated by customers. In addition, numerous volunteers and extra employees are required, and some store owners work with their building landlords to do at least part of the sale outside the stores. The massive amount of labor and effort that goes into each Fill-a-Bag charity sale is a reflection of the big purpose of improving access to education in the far-flung places that need it most.
"The role of our store owners is to act as the ringmaster and marshal all of the different forces together to make it happen," says Uptown Cheapskate President and founder Chelsea Sloan Carroll. "We actually ask our customers if they want to come help us and volunteer their time, and we give them a free Charity Fill-a-Bag that they can fill themselves to take home. But mostly they're there because they're supporting the cause."
Since joining with buildOn four years ago, Kid to Kid and Uptown Cheapskate have raised more than $360,000, and somewhere between 30 to 40 percent of each brand's stores participate in the event.
"Our stores will have somewhere between nine and 15 employees and we don't have the capacity to get all of that done," Sloan Carroll says. "We know that, especially for millennials, people in our age demographic are willing to serve, they're looking for ways to help their community and they just need to be pointed in the right direction."
While participating stores typically get six to 10 volunteers for each sale, successful marketing brings in hundreds of customers to donate and shop the sale, so the collective impact is much larger.
Sloan Carroll says some franchisees have suggested changing their focus to something with a local impact, but she and her brother and co-founder Scott Sloan have stuck with the program because there are so few charities focused on international education facilities—especially compared with mega-charities like Susan G. Komen.
She and her brother's research showed that, compared with many different nonprofit organizations, buildOn dedicates all of the money raised in the sales to the actual construction of new schools, rather than administrative costs.
"Their mission is so unique—they go into areas that don't have sufficient primary education facilities, especially for girls," Sloan Carroll says. "What that leads to in these impoverished rural areas is a really high illiteracy rate, a really low education rate and a cycle of poverty that's hard to break."
Silver Winner
1Huddle—Newark Works
Franchised training platform 1Huddle moved its company headquarters to Newark, New Jersey, and quickly found a way to pitch in through the city's Newark Works workforce readiness initiative. Overseen by Newark's Workforce Development Board, the program's goal is helping to place residents in sustainable jobs paying a livable wage. After learning about Newark Works, company leaders felt the brand could help with the city's efforts to combat its employment challenges, given its similar focus.
1Huddle donated its technology that turns job training into a game. "Since introducing residents to the 1Huddle platform, the city has reported that individuals who used our program to prepare for the standardized test are 50 percent more likely to pass it than those who don't," the company said in a release. "To date, more than 800 residents throughout the community have utilized our donated program as a resource to better their chance at gaining employment status.
— Tom Kaiser
---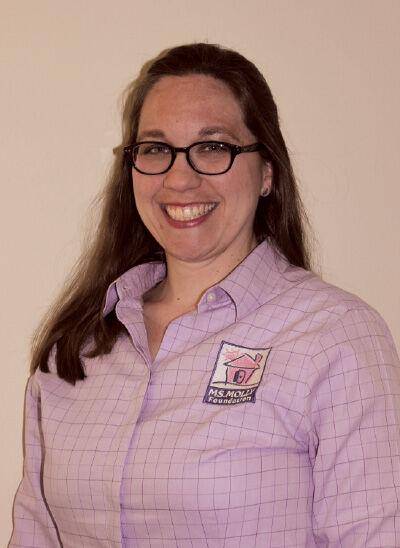 Enduring Impact Award
Molly Maid makes a difference for domestic violence
According to the National Coalition Against Domestic Violence, 20 people per minute experience physical abuse by a partner in the United States.
That sobering stat is what drives almost the entire Molly Maid system to fund-raise, volunteer, donate goods and get the word out to support the Ms. Molly Foundation.
Molly Maid founder David McKinnon created the foundation in 1995. He had been pondering ways for the company to give back to the community for years, and it clicked for him while he was recovering from pneumonia and watching the O.J. Simpson trial. At the same time, one of his employees said she had to leave an abusive environment.
Both the trial and that employee made it clear to McKinnon that this problem was close to home.
"We employ 90 percent women and one in four women have experienced domestic violence. So you can imagine there is a lot of cross over," says Michelle Robles, foundation president and Molly Maid operations project and training manager.
She says while a lot of the public efforts take place during Domestic Violence Awareness Month in October, the foundation is far from an annual feel-good project. The ubiquity of the issue means they're working to help year-round.
"I think that's why the foundation has really just become such an integral part of Molly Maid, because everyone knows someone who has experienced that or has themselves," says Robles. "I think a lot of the people who get more involved have had some personal experience in their life. When an employee comes to them and says I can't come to work tomorrow because they tripped and fell, and then the real story comes out it pulls the heartstrings and gets them motivated to help."
Robles, who has been with the company for 17 years and has served as the foundation president for six years, notes the foundation helps in three main ways. During October, service professionals wear purple shirts to raise awareness of the issue and collect donations from giving customers. Many franchisees help by volunteering to clean local domestic violence shelters and donate personal care items to local shelters as well.
But the dominant form of help is what Robles calls the "Diamond Level" of foundation support, where franchisees donate a portion of every cleaning sale to the foundation.
The donation ranges from one cent to about 50 cents, but it adds up fast through the year and goes right back to the community, something important to the franchisees and a bit of a novelty for a foundation.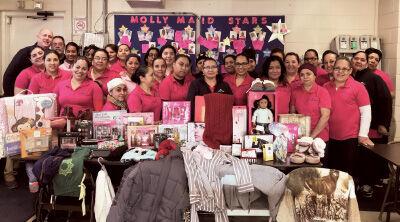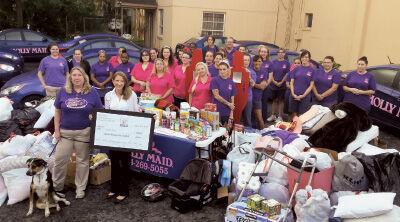 "One hundred percent of what they raise locally, from their customers or any business in their community, goes back to the local shelter," says Robles, who is one of just four staffers who work on the foundation at least part of the year. "That really sets us apart from most organizations like this. Most have a CEO that gets a salary—sometimes a big salary—I don't get any salary."
To date, the foundation has delivered $2.8 million to local domestic violence shelters and much more in time and effort—volunteering for some 28,000 hours as well. Last year alone, they sent out more than 133 checks to local shelters across the country.
Silver Winner
Hooters of America—Give A Hoot
When most people think of Hooters restaurants, they think of one thing. And the company has played on that to raise awareness and funds to fight breast cancer. The company started the Give A Hoot program in 2005 to donate to the V Foundation for Cancer Research. All the funds are designated for breast cancer research and clinical trials in honor of Kelly Jo Dowd, a general manager who succumbed to the disease. To raise funds, Hooters sells its popular Hooters Calendars, invites customers to add a donation to their bill and sells pink bracelets and pink drinks. Since its inception, the program has donated more than $4.7 million to the V Foundation.
— Nicholas Upton
---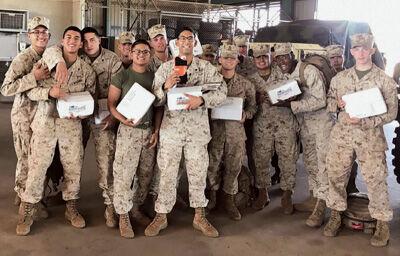 Support our Veterans Award
Veterans, military members get care from Jersey Mike's
For the entire month of March, sub sandwich chain Jersey Mike's runs a nationwide fundraiser at all 1,300-plus locations, which includes support of Operation Gratitude, a military-focused foundation, by its Southern California team. With the money raised, Operation Gratitude puts together care packages for veterans and active military members overseas with hygiene products, paracord survival bracelets, and items that may remind them of home such as comic books or Beanie Babies.
"Operation Gratitude was just the right fit for us," says Krystin DeVita, Los Angeles regional marketing director for Jersey Mike's Subs. The chain's Month of Giving initiative has been going on for eight years, and the partnership with Operation Gratitude for four.
An additional aspect to the Month of Giving is Day of Giving wherein, on the last Wednesday of March each year, 100 percent of Jersey Mike's sales in participating Southern California stores go to Operation Gratitude for shipping and care package costs.
"A lot of our crew members and owners have family involved in the military in many ways," DeVita says, explaining why Jersey Mike's chose to partner with an organization like Operation Gratitude. "We know our customers pretty well and know they also have family or friends in the military or are veterans."
Over the past four years of this partnership, Jersey Mike's has raised nearly $2.5 million for Operation Gratitude. While Jersey Mike's also works with more than 170 different charities year-round at the local level, Month of Giving is its "biggest fundraiser," DeVita says.
This year, the sub chain raised more than $6 million for various groups nationwide, with $877,000 raised just in Los Angeles, where Jersey Mike's has 178 stores.
DeVita also points out the growth of Operation Gratitude since it partnered with Jersey Mike's. "In the past two to three years, they've really grown with us," she says, adding that they've gained notoriety nationwide. "There's a really wonderful relationship between them and our brand."
As she and others at Jersey Mike's prepare and manage Month of Giving, DeVita says Chris Clark, Operation Gratitude's chief development officer, is always wonderful to work with.
One of the touches Jersey Mike's adds to its Month of Giving is placing examples of care packages in franchised locations, so customers can get a firsthand look at what their money is being used for.
"It's been a great conversation piece for crew members and customers, and helps customers understand how the money is being used," DeVita says.  
Silver Winner
Ben's Soft Pretzels—Pretzels for Heroes
On National Pretzel Day (April 26) each year, Ben's Soft Pretzels gives away free pretzels in exchange for donations to the Intrepid Fallen Heroes Fund, which supports veterans suffering from traumatic brain injury and post-traumatic stress. In addition, during National Pretzel Month in October, customers can donate to the Intrepid Fallen Heroes Fund and receive a placard on which to write the name of their favorite veteran. Franchisees then hang the jet fighter or battleship placard in their stores. Since 2015, more than $126,000 has been raised for the Intrepid Fallen Heroes Fund, and an estimated $450,000 worth of free pretzels has been given away.
— Laura Beier