From the classic diner design to the comfort food inside, Freddy's Frozen Custard & Steakburgers radiates post-war optimism.
That feeling is a little piece of the now 90-year-old Freddy Simon, the ever-smiling father of co-founders Randy and Bill Simon. The family and Scott Redler  started the namesake company in 2002.
As the restaurant and franchising veterans conceptualized their new endeavor, they were grappling with a name for the quick-serve burger and custard concept.
So the legend goes, Freddy's was in the mix with several other possible names. When they couldn't come to an agreement, they all decided to ponder the names and write down their favorite while inspecting a prospective site for the first location. When they arrived, they had all written "Freddy's" and their direction was clear.
But Freddy Simon's presence doesn't stop at the sign.
"He's a walking, living brand," said Randy Simon. "The name and what Dad stands for and the history he brings really provides us with a setting that we're looking for and that all our guests seem to feel comfortable with."
Everything from his various "Freddyisms" about hard work and caring on the website to family photos adorning the restaurants and the service pins for longtime employees evoke the charming Kansas native.  Photos featuring the decorated veteran in uniform also adorn the restaurants. Indeed, his service and patriotism are a central piece of the look and feel of the restaurants.  
His wisdom even affects the concept's straightforward approach to pricing.
"While we don't get into the discounting value meal concept, I think our value is in our food and in our experience," said Simon. "And those are certainly lessons that we learned from our dad in his business dealings."
Heck, even the franchise disclosure documents have Freddy's fingerprints on it.
"We knew a lot of things we didn't like about being franchisees," said Bill Simon. "When we were becoming franchisors we tried to be conscious of those and even today we try to be conscious of those in the culture of our company and treat franchisees like we wanted to be treated as franchisees."
The food, of course, is a slice of history for the Simon family, because Freddy Simon's father owned Angus beef cows.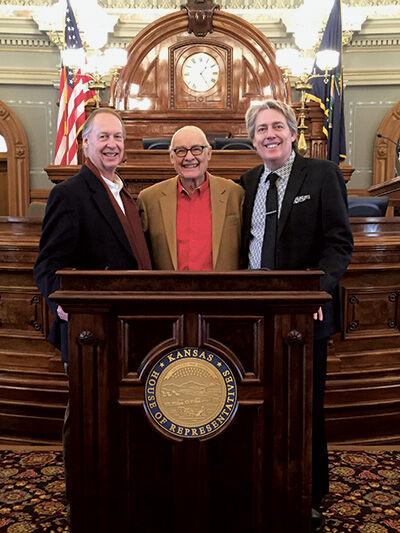 When the cows were butchered, they didn't make burgers, they smashed steak trimmings on the pan to create one of Freddy's signature items: the steakburger.
"That was quite a big thing around our home, to have steakburgers on Saturday evening," said Freddy Simon. Today, they're still among his favorite items, up there with the patty melt and the custard. Randy Simon said the menu started with those classic meals they had back at the homestead, though he's glad he doesn't have to make the ice cream anymore.
"When the concept first developed, part of the DNA came from food that we ate growing up that Dad prepared for us," said Simon. "And the homemade ice cream that Dad used to make us crank is probably the closest thing to frozen custard today."
Customers at the chain's 178 restaurants across 26 states seem to treat Freddy like a celebrity.  
"I'd say resident rock star is a good description," said Simon. "I was with him on Veteran's Day at our first location. He had no identification on and people just began coming up to the table and telling him how much they enjoyed the restaurant. Then three kids came up and sang a song that they had written about Freddy."
He said everywhere Freddy goes, customers follow.
"He always gets request for pictures and autographs," said Simon. "Every one of our franchisees would love to have him in their market for about a week. There's just not enough of him to go around."
As he smiles his way into his autumn years, Freddy doesn't get out to all the new restaurants. But he's still at one of the original Wichita, Kansas, locations a few times a week making new friends among the customers. It's the same way the self-described "farm boy from Kansas" rose to the top of the wholesale liquor distributor company where he worked for 56 years, working hard through every position from accounting to sales to president of the company.
He said meeting with the diners and all that star treatment has reinvigorated him after a well-deserved retirement.
"It's added years to my life," said Freddy Simon. "I love people."
For all his years of success and the mountain of accomplishments, he said the namesake restaurant is one of the highest honors.
"I feel like I'm the luckiest guy in the world to have a restaurant named after me," said Freddy Simon.