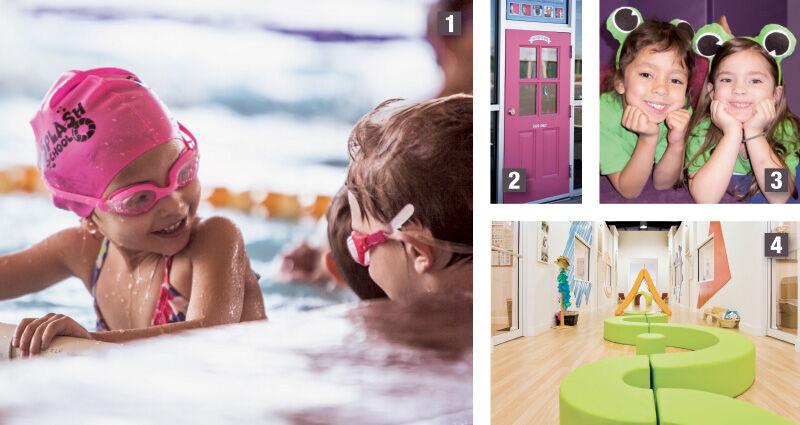 1. SafeSplash Swim School
The lesson plan: While researching his industry a few years ago, Matt Lane discovered an eye-popping statistic: While only three out of 10 parents say it's important to teach kids how to dance, eight out of 10 say it is important to teach them how to swim. The void induced Matt and Lara Lane, with partners Paul and Tami Gerrard, to start SafeSplash Swim School in 2003. The Denver-based franchise has provided more than 4 million lessons over 10 years.
The stats: It costs from $45,000 for a hosted pool (those in partnerships at places like 24 Hour Fitness or LA Fitness) and up to $1.5 million at stand-alone facilities. Swim classes run from $60-$110 per month. As of March, SafeSplash had 86 locations, about 75 percent franchisee owned, in the United States. SafeSplash recently teamed with Sports World to open 32 swim schools in Mexico City in 2016, its first international expansion.
The rivals: Rivals include Swimtastic Swim Schools, Aqua Tots Swim Schools, British Swim Schools and Goldfish Swim Schools. SafeSplash acquired Swimtastic Swim Schools in late 2015. The duo plan to continue M&A activity to grow.
The test: In two words, operational efficiency. Leveraging their experience with shared service organizations (they were with Hewlett Packard), Lane and Gerrard built a customer service center for franchisees. It includes integrated call center services, proprietary software technology and customer registration services. They claim the industry-exclusive model enhances customer service and boosts operational efficiency for the franchise system.
---
2. Kid to Kid
The lesson plan: As the mother of six children, Kid to Kid founder Shauna Sloan felt there was a need for parents—especially busy professional moms—to conveniently buy and sell the clothing kids were no longer using. Her answer was Kid to Kid, a resale franchise that offers gently used kid's clothing, maternity clothes, toys, baby gear and accessory items.
The stats: Kid to Kid units are about 3,500 square feet. It runs from $255,980 to $358,480 to open a store. Some stores are over 10,000 square feet, but franchisees can open bigger or smaller stores based on their budget and real estate costs. Created by Shauna and Brent Sloan in 1992, Salt Lake City-based Kid to Kid had 85 locations in the United States as of March, with 84 owned by franchisees. The brand opened its first store in Canada last year and has 23 locations in Portugal. Both Kid to Kid and its sister company, Uptown Cheapskate, are owned by Basecamp Franchising.
The rivals: The brand's biggest competitors are Once Upon a Child and Craigslist. To differentiate itself, Kid to Kid offers a fun, convenient and upscale shopping experience—more like The Gap than Goodwill. Its stores feature wide aisles, and a little pink kid door for kids to enter the store.
The test: Government regulation is a burden. In 2009, the Consumer Product Safety Improvement Act threatened to shut down the children's resale industry to protect kids from unsafe products. According to Sloan, although many children's resale stores closed and others discontinued large categories of products, Kid to Kid has been able to meet regulators' demands through careful screening
---
3. Leap4Fun
The lesson plan: CEO Dee Gilbert caught the entrepreneurial bug at age 12 when she started a gymnastics business out of a local high school. After attending college, teaching high school gymnastics and moving to Las Vegas, she noticed many working people had no time to take kids to a gym or studio. She and her late business partner, Carol Baker, had a revelation. They started the franchise in 1985 as a mobile gymnastics and dance business. It now offers those activities plus cheerleading mainly at preschools, private and public grade schools.  
The stats: The Henderson, Nevada-based brand began franchising in 2014, and had four U.S. franchise locations as of March. Plans are to open two more franchises in the Phoenix area this year. It costs about $22,000 to open a franchise. The rate is lower than some others because franchisees have no fixed costs like rent and the gymnastics apparatus and other supplies come with the franchise fee. Franchisees sometimes are required to make charitable contribution to use a facility.
The rivals: Any number of activity-based franchises are competitors to Leap4Fun, not to mention school activities, sports, family and community events. Franchisees charge $40 to $60 per class for each student from ages 2 ½ to 12.
The test: Busy parents and busy children can be difficult to attract as customers. Gilbert claims the only obstacle is that some parents don't realize her business offers its classes in schools. "Parents are always in such a rush and sometimes don't have the time to stop and read," she says, or presumably stop and sign up their kids for a class.
---
4. KLA Schools
The lesson plan: Aiming to distinguish the franchise from other early childhood education brands, KLA Schools uses the Reggio Emilia philosophy. This approach emphasizes hands-on discovery learning. For instance, age-appropriate supplies are arranged for children ages 8 weeks to 6 years old. "Our educators view each child as a competent, powerful, curious and creative individual and acknowledge that the play children engage in has value," says Roberto Ortega, president of KLA Schools.
The stats: Total investment is $90,000, including a $70,000 franchise fee and $20,000 for site selection. Tuition for kids is based on location and runs from $500 to $1,500 monthly. The franchisor opened four corporate-owned schools in South Florida since 2008. The brand began franchising in 2010. Since then, KLA Schools has awarded more than 15 franchises across the country.
The rivals: Larger brands like Primrose, The Learning Experience, Goddard Systems and other early childhood education providers dwarf KLA Schools, says Gillian Gavurin, assistant director of marketing. But she claims KLA Schools has a niche: Unlike daycares or drop-off programs, the brand offers an upscale educational environment created with children's interest at the core. Also, the brand relies on its unique spaces, look and feel to recruit and retain franchisees.
The test: The franchise's approach to education is innovative, making it difficult for many to grasp the concept that children can learn while having fun.