Michael Elliot knows the medicinal value of regularly scheduled pedicures, which is why he was willing to sit in a vibrating faux leather chair in a canary-yellow salon surrounded by chattering women and the unpleasant sounds of toenails being clipped.
On one such visit, he just happened to sit next to the only other man in the salon, and customers and staff alike started treating them as a couple. "The married guy (with kids) got really offended," Elliot says. "At that moment I thought, I wish there was a place for men" to get a manicure and pedicure without being judged.
As a Hollywood screenwriter, Elliot was used to researching to see where an idea would take him. Google didn't reveal any male-only nail salons, so he went to some "well-heeled friends" for start-up capital. They all answered with a resounding "no." "All my friends thought I was crazy," he says. "The majority of guys don't do that. Even agents and lawyers wouldn't set foot in a nail salon. They're too female-centric."
Not dissuaded, Elliot invested his own money to open a salon on Melrose Avenue in Beverly Hills. He named it Hammer & Nails, because tools are associated with guys—and because screen writers like clever names. The first furnishing for the concept was a 17-foot faded sign with the word "auto" printed on it. Antique hammers in shadow boxes hang over the overstuffed leather chains with arms so wide a nail technician can use them as a platform for manicures, eliminating the need for manicure stations with harsh light. Each customer has his own television set—and remote—plus a headset that blocks out the sounds of grooming. "Guys want to relax," Elliot says. "It's not uncommon to see our customers asleep."
When the store was built out, Elliot only had $8,500 left for his marketing budget. He hired a PR firm who invited the local media to experience the salon. The next day he spotted a headline in the L.A. Times, "A Manicure in a Manly Manner." The day he opened, he discovered Facebook was buzzing about his business. TV news show, "Good Morning America," had aired a story on Hammer & Nails that was picked up by local news  stations around the country.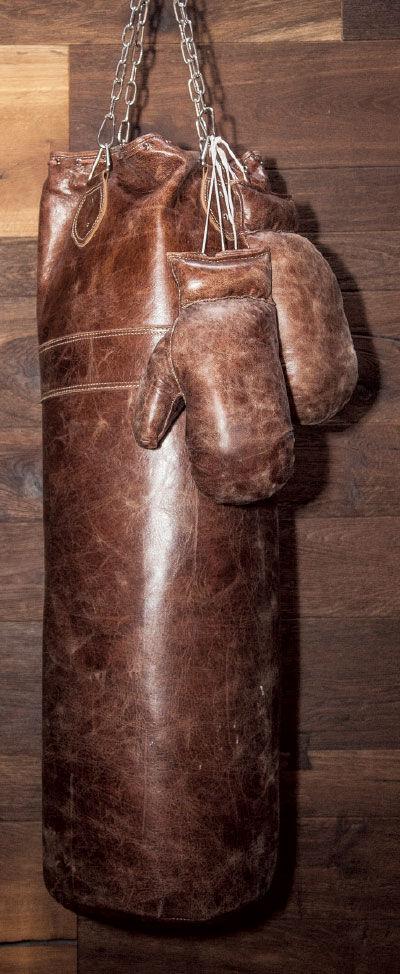 "The day the L.A. Times ran the story, I had people calling me for our FDD," he says. Five weeks later, the producers of "Shark Tank," a reality TV show where entrepreneurs pitch their business plans to a panel of investors, called.
He didn't get a deal, but he did raise $200,000 from viewers of the episode who disagreed with the sharks.
"If everyone thought it was a market, it would have been done," he says.
The bill for Elliot's flagship store was around $250,000, he says, but he doesn't expect franchisees to spend that much. To launch the concept he wanted real estate on one of the three most expensive streets in Los Angeles. The franchise fee is $20,000 and royalty is 4 percent. Those lower fees may be reserved for the first ones to join the system, he says.
Hammer & Nails is still in its infancy, the ink is barely dry on its franchise docs, but it may be that Cinderella concept that's in the right place at the right time. According to The Wall Street Journal, National Basketball Association players consider pedicures a cost of doing business—even though they're actually playing. "It's basic hygiene," a player was quoted as saying in the Journal. Baseball pitchers, on the other hand, are interested in avoiding hangnails and other finger issues.
Only 4 percent of U.S. men are nail salon customers, according to an industry survey by Nails magazine. But current customers is not the market Elliot is going after. He wants to attract the men who would never set foot in a woman's salon, but know their feet need attention. And with NBA players as role models, that may not be an unreasonable contention.
Elliot knows he's walking on a fine line. Franchising requires as much diligence and tenacity as, well, screen writing. When he showed a friend one of his first scripts, he was told to scratch it and start over. He believed in it, however, and four years later he was standing in line to buy tickets to see his 20th Century Fox-produced film, "Brown Sugar."
Can he nail success a second time?