Flynn Restaurant Group landed this year's Franchise Times Deal of the Year when CEO Greg Flynn, above left, bypassed the middleman and attracted the Ontario Teachers Pension Fund as an investor. Heidi Ganahl of Camp Bow Wow, middle, and Chuck Runyon of Anytime Fitness, right, landed big deals of their own, along with seven more savvy operators. What lessons can they share about the art of the deal? Read on.
---
New source of patient money causes Flynn's empire to 'grow up'
"We joked before that we used to have quarterly board meetings twice a year, and now we have quarterly meetings quarterly," says Greg Flynn, CEO of Flynn Restaurant Group, who landed the Franchise Times Deal of the Year when he attracted the Ontario Teachers Pension Fund as one of the investors in a $1.1 billion equity and debt recapitalization.
Along with the institutional investor comes exacting oversight, he adds. "Our whole governance program has become more professional, and honestly that's probably good for us, to grow up as a company and get serious about our governance practice."
More than a decade ago, Flynn was among the first franchisees to use private equity funds as a source of capital, which helped start a wave of investment that led to the creation of super-sized franchisees. His new source of capital, a pension fund, bypasses the private equity groups, hedge funds and the like that usually do the investing for the institutions.
He also can ignore the roughly five-year time horizon that most private equity investors have between buying and selling. "We had a great relationship with Goldman Sachs, but they're a structural challenge," Flynn says about private equity firms in general. Goldman Sachs sold its stake to Ontario Teachers and to Flynn Restaurant Group management in this deal.
"Private equity funds are limited in size. They're limited in time, because they all have fund lives, and that's in particular the danger that our industry faces because it's a cyclical business. The timing of a fund may or may not coincide with what we need to do as operators," he says.  
"Pension fund managers can be as patient as appropriate for the business without regard to the capital source," he adds, but only a subset of multi-unit franchisees will be large enough to target similar investment. Flynn Restaurant Group operates more than 470 Applebee's and 186 Taco Bells, and generates $1.5 billion in annual sales.
They'll also have to be willing to endure more due diligence than they've ever experienced, Flynn says. "I call it a forensic level of diligence," way beyond past rounds. "I don't think at the end of the day there was anything about us that Teachers didn't know, and they probably knew more than we ourselves."
Flynn isn't using his new backing for acquisitions; in fact, he's sitting out right now while the market overcooks. "We've never been particularly capital-constrained, so having a deep-pocketed partner doesn't really change our ability to execute a deal. It's a little bit frothy out there," he says.
"We've made a career of buying low and keeping it, rather than buying high, so if anything we're sitting out," although he says that could change at any moment if the right deal comes along.
He also sees larger implications from his deal. "This may herald an awareness in the institutional community of the great attractiveness of the best franchised restaurant businesses," he says. "They really are wonderful businesses, when operated well, that can make a really attractive investment."
---
At Ampex Brands, free spirit meets buttoned-down exec, and it works
"I'm busier than a one-legged man in a butt-kicking contest," says Ken Hignett, CFO of Ampex Brands when reached in February. Such is his life since preparing Morgan's Foods, the 68-restaurant Cleveland-based KFC franchisee, then publicly held, for sale to Tabassum Mumtaz last May.
Mumtaz is CEO of Ampex Brands, formerly called Apex but changed to incorporate the 'm' in Morgan's, who plays the role of free-wheeling entrepreneur to Hignett's buttoned-down chief financial officer. Ampex started as a Long John Silver's franchisee in 2005, adding 54 KFCs in 2010 and 35 in 2011, when Mumtaz also formed LJS Partners to purchase the LJS brands from Yum in 2011.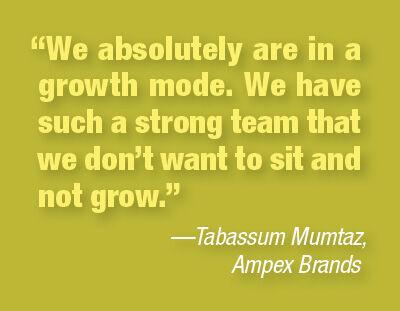 Mumtaz says he's just getting started with acquisitions, in part because he's maxed out in his brands in Texas and Oklahoma, his home turf. In January he and Hignett closed a 12-store acquisition in West Virginia, and they've got three more in the pipeline he expects to "definitely" happen this year.
"We absolutely are in a growth mode. We have such a strong team that we don't want to sit and not grow. The goal is to become a billion-dollar company," Mumtaz says, but doesn't specify his revenue number now. "It might take us two years or three years, but with Ken's help we'll absolutely keep growing."
Mumtaz operates in Dallas, Hignett is based in Cleveland and the company's back office operations are in India, where labor costs are far lower than in the United States. Hignett was set to travel there in early March to train staff members on new reporting protocols he's instituted.
That's where his background operating a publicly held company comes into play, Hignett says. Morgan's started as a meatpacking company in the 1920s that got into restaurants in the 1960s. The meatpacking operation was sold, but the new owner did not want the restaurants, and supporting a publicly held company with only 68 restaurants was costly.
"We get the benefits of those good internal controls and mechanized reporting systems, coupled with a management philosophy that is, how shall we say, not bureaucratic," Hignett says.
"It is much more entrepreneurial, but you have to change your mindset in order to keep up with it," Hignett says about working with Mumtaz. "It's like at this very minute I have a couple of different sets of books I'm working on entries for, the acquisition is not complete that was just closed on January 30, and there are some other projects that are going on all simultaneously.
"It is not as though every day is the same and you have the reporting schedule and it's kind of bureaucratic. Your to-do list keeps changing," Hignett says.
"That's fun, and that's something that we weren't able to do as a stand-alone public company," he adds about Ampex's acquisition mode.
Mumtaz says when he talks with potential sellers to buy their restaurants, he likes to say: "Chick-fil-A's motto is 'Eat more chicken.' Mine is, 'make more money,'" and he says he'll rely on Hignett to continue to grow smartly. "I don't want to stretch ourselves in an unnecessary way where the bottom line gets risky."
---
Puppy love for Camp Bow Wow founder extends to boardroom
A half-dozen dogs bombard Heidi Ganahl with licks and smooches, and the CEO of Camp Bow couldn't look happier. "Ohhh, don't goose me," she says with a giggle, re-directing a client at one of her dog daycares near Golden, Colorado, a few miles from company headquarters. "Put your best side toward the camera," she urges another, beaming, and Gisele complies, posing like the supermodel who's her namesake.
Ganahl is feeling the love at Camp Bow Wow these days, and not only on the occasions when she has time to visit the dogs. She sold the franchise last August to a strategic buyer, VCA Inc., a chain of more than 600 veterinary hospitals with a market capitalization north of $3.3 billion, founded by two brothers from Brooklyn and now located in Santa Monica, California.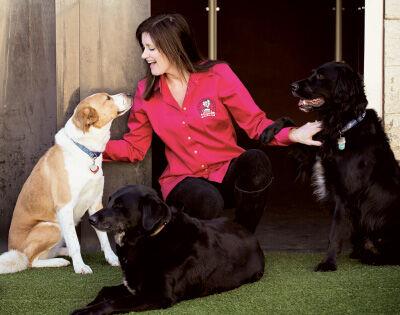 She's heard all the stories about "founder's syndrome," when entrepreneurs sell their company, stay on to operate it and then everything goes terribly wrong. And although the ink on the deal has been dry for only half a year, she feels nothing but relief.
"You can't bootstrap it forever," Ganahl says, about the company she started in 2000 and began franchising in 2003 when a client who worked for Mrs. Fields cookies urged her to give it a try. "It feels so much better to wake up every day and say I have someone to be with, a partner with resources."
Much better, too, is planning a new initiative to build more than 20 corporate stores, backed by VCA, and sell more franchises, now numbering above 160. Gone are the dark days starting in 2008 when the market crashed. "We went from selling five to six a month, and you'd have 300 to 400 leads a month. Now it's half that," she recalls about 2008.
She was close to selling a third of the company to investors earlier that year, but they were spooked by market intelligence that turned out to be prophetic—something was amiss in the capital markets—and walked away before the crash that fall.
But the years that followed were merely "painful," Ganahl says, not tragic like her company's beginnings.
She and her first husband, Bion, were in their 20s when they first drew up plans for their dog daycare. They had two dogs "that we loved and adored," but they traveled a lot and didn't like the chain-link fences and dog runs at typical kennels at the time.
"Meanwhile, one of the first doggy day camps opened next to my Dad's business," Ganahl says, and they liked it so much they created their version. "We wrote the business plan.
We wanted to make it like a camp with cabins," but they didn't have much money so the idea sat on a shelf.
Six months later a friend who was flying airshows offered to take Bion up in a stunt airplane, for his 25th birthday. "They did the stunts and they were doing a fly by, and the plane crashed right in front of my parents. The pilot and Bion were killed," she recalls, and they sent her younger brother to break the news. "My life completely fell apart for a while."
She received a settlement for $1 million. "I had never seen that much money. We were middle class," she says. "It was almost paralyzing and I felt guilty about getting it." She married again "on the rebound," and a year later had a daughter and then became embroiled in a five-year custody battle with her mother-in-law that cost $500,000. She started a consulting firm for people who received sudden wealth, but it fizzled. "I lost a lot of money loaning to family and friends," she adds.
Finally, she was down to $83,000. "My brother said, you're lost. Why not start that business plan?" I thought, oh sure, I'll just blow the rest of it on doggy daycare." She started the first camp in December 2000, and it took off. "It was so fun. The dogs kept coming and coming." She opened her second camp, and then by 2003 plunged into franchising.
Ganahl , now 48, is laying plans for Camp Bow Wow's next phase of growth. She spent the years between 2008 and 2013 improving the unit economics of her franchise, and now average unit volumes are above $650,000, and 12 of the camps generate annual revenue of $1 million. "Oh geez, it's going to be exciting," she says about the next five years.
Camp Bow Wow has 600 territories in the U.S. to sell. They're negotiating in the United Kingdom and Australia. She's embarking on the plan to build corporate stores, starting in Colorado and then in L.A., which will be run as a separate division and used as a testing ground to prove the model to the multi-unit franchisees she wants to attract. "The pet industry has grown by leaps and bounds. It's a diversification strategy for restaurant operators," she believes. "It's a fun place to be."
She didn't start looking at strategic partners until 2013, as a way to "get around the franchise finance problem." The world of M&A was new to her. "You start talking to people, and I put the word out" with her attorney, Brian Schnell at Faegre Baker Daniels in Minneapolis. That led to a meeting with Vann Russell, with Arlington Capital Advisors with offices in Birmingham, Alabama, and Atlanta, and he started to talk about valuation.
"Oh boy, that was a new world," she says. "Investment banking is so intense. The due diligence is so intense. It's a full-time job."
Through Russell she met Bob Antin, co-founder of VCA, who visited headquarters in Colorado. "We started talking and talked much longer than we'd planned," she says. They didn't know anything about franchising, so education was needed. "Even starting from, 'this is an FDD,'" Ganahl says, about explaining the franchise disclosure document that is all-important in franchising. "We spent a lot of time on the phone, six or seven months, between the time we first met and then it was a go. In April or May of 2014 we had a deal, and it closed in August 2014,"  in 90 days, a fast clip.
The typical private equity buyers, she says, didn't understand the attraction of the pet business, whereas VCA certainly did, and they liked investing in a different niche than animal hospitals. "Bob calls us their smile brand," Ganahl says. "They deal with the side of veterinary care" that's not so fun.
She believes the good times will continue, despite those warnings many founders share. Is she worried about things going wrong? "I am, but it's so fun because I have resources now," Ganahl says, ticking off many initiatives she had put on the back burner because they didn't have the money. She likes the backing she gets from her new boss, Antin. "He says, put it in front of me and let's roll," she says.
---
From 100 to16,000 points of sale, after Doc Popcorn's change
In every merger, the word "synergy" comes up often. "We'd spoken about this concept of synergy, and I think everyone does when there are these types of transactions," says Rob Israel, co-founder of Doc Popcorn. "In some cases it's real and in some cases it's dreamt, but I think in our case it's starting to happen."
His case is the sale last July of Doc Popcorn, the snack franchisor he and his wife, Renee, started 11 years ago and built to 100 stores. The buyer is Fischer Enterprises, operated by father-and-son team Scott and Mark Fischer, also the owner of Dippin' Dots and Crumbs Bake Shop.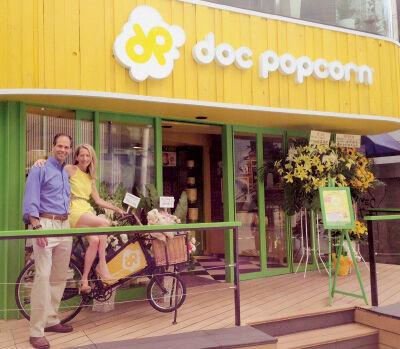 The Fischers' goal is to become a formidable player in snack-and-treats franchise concepts, and the Israels are staying on to grow their leg of the operation. Renee cites the opening of Doc Popcorn's first co-branded unit, in Missouri, where a franchisee owns a Dippin' Dots next to a Doc Popcorn.
"That's a very different type of model for us, because it's a walk-in location," she says. "It offers an additional opportunity to create an experience." She's enjoying the ability to dig back into marketing and branding for Doc Popcorn, after being pulled away from her specialty in the past few years.
She's also applying her marketing chops to other Fischer-owned brands, which has come as a bit of a surprise to an entrepreneur—contributing to a larger corporation can be fun. "They're treating us as founder status, but we're also part of a larger management team," she says, and points out that works both ways. For example, Dippin' Dots has an experienced real estate executive who is now elevating Doc Popcorn's site selection process.
Doc Popcorn is the first system developed by Franchise Sherpas, the Denver-based incubator of franchises that helped the Israels develop their brand. "We were actually their first Sherpa company, so they wanted a liquidity event. They incubate, grow and sell," Renee says.
The Israels themselves wanted a strategic buyer, not a sale to just anybody and then a rapid farewell. "We're pretty passionate about our brand and our franchise owners," Renee says.  Plus, "we liked their bigger picture vision. They talked about their vision to acquire additional like-minded brands," in the snack-and-treat space, "not just any old type of concept."
And the clincher, that speaks to the possibility for more synergy to come? "They have 16,000 points of distribution," Rob says, referring to all the locations that sell Dippin' Dots ice cream. "We have 100."
---
Full circle, back to Riverside, for The Dwyer Group's next growth stage
Last year at the International Franchise Association convention, Mike Bidwell, CEO of The Dwyer Group, ran into a former colleague at Riverside, the company that had taken Dwyer private back in 2003.
"He asked how the business was going, and I shared some of our economic results," Bidwell recalls. "He was quite impressed."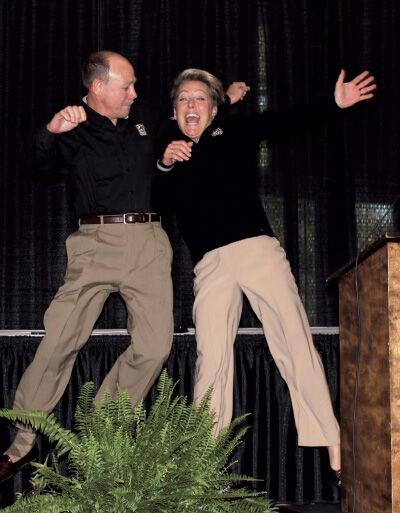 A week later the phone rang. "It was Riverside, who wanted to know if we'd consider a private process, if they could make a pre-emptive offer" to buy Dwyer again. This time the seller was TZP Capital Partners, which had bought the franchisor in 2010. "We were able to come up with a number."
He won't name the number—one of the privileges of being privately held—but he allows The Dwyer Group continues to gain value. The Waco, Texas-based holding company, started by the late Don Dwyer and chaired by his daughter, Dina Dwyer-Owens, now owns eight service brands after its most recent purchase of Five Star Painting.
"Our system-wide sales are over $1 billion now, whereas before, in 2010, they were about $734 million. We've had double-digit same-store sales growth across all our brands.
We've been doing that for a couple of years in a row," he says. "We're in a good place right now."
Bidwell has been with Dwyer through all those changes—from publicly held to several private owners. He agrees there are plenty of bad outcomes. "I've talked to a lot of other CEOs and what you say is correct. I've seen all things," he says.
The key to choosing correctly is research. For each potential partner he calls multiple references, companies that had sold to Riverside (the first time around) or TZP (the second) that were no longer with the firm.
"We made a lot of phone calls and asked a lot of questions, but it primarily came down to one question: Would you choose them again, and without exception they said yes."
In the sale to TZP, Bidwell found success in offering brand presidents the opportunity to buy shares, and in sharing  a portion of the proceeds—set in stone as part of the deal—with all other staff members.
This time around they expanded that effort to a broader management group. "Every single brand president and department head took advantage of the opportunity and they wrote a check, so they had an equity stake," Bidwell says. "The engagement is terrific. It's a very important investment for all of them, and it truly is their business."
For all other staff members, $1 million was set aside as part of the deal and distributed upon closing based on a formula. The results provided an egalitarian boost to the whole team. "People were just ecstatic. We just wanted to share with the broad teams that were responsible" for Dwyer's growth.
---
T.G.I. Friday's buy caps record year for Faegre Baker Daniels attorneys
The sale of T.G.I. Friday's to Sentinel Capital Partners last July was one of the year's mega-deals, and it came with mega-paperwork. "We prepare a summary memo" for every deal, "and I think our summary memo was 140 pages" for Friday's, says Kevin Hein, the Faegre Baker Daniels attorney in Denver who led that charge for the law firm. "That's far longer than most, probably double the Checkers deal."
Faegre had a record year in transactions in 2014, working on more than 12 deals and the biggest year in aggregate M&A deal volume the franchise and distribution group has seen to date. Part of the reason is Sentinel Capital Partners, the private equity firm and Faegre client that acquired T.G.I. Friday's, Checkers Drive-in Restaurants and Newk's Eatery last year.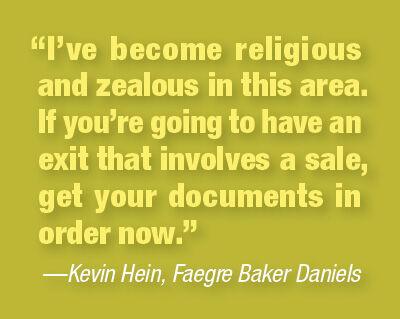 "Sentinel is fresh from the bank with its cool $1.3 billion burning a hole in its pocket," Hein says, referring to Sentinel's fifth acquisition fund closed at the end of 2013. Other private equity players, too, are on their third, fourth or fifth fund and on the hunt. "They have a real sense of urgency, and then the rationality comes back into the system," Hein says.
Too, franchisees are competing hard for acquisitions. "If you talk to the big multi-unit guys, they are just frothing at the mouth themselves to acquire restaurants," he says. He expects a bit of a cool-down this year, and as of late February had yet to land an M&A deal in 2015.
For T.G.I. Friday's, Faegre was retained to handle only the real estate and franchised aspects of the transaction. Kirkland & Ellis was the lead law firm, which organized and populated the data room "with just gazillions of documents," as Hein describes it, and Faegre's team combed through their share. "I would say the company didn't have a lot of issues, but had a lot to cover," Hein says about Friday's.
Hein advises any owner thinking of an exit to get their house in order. "I've become religious and zealous in this area. If you're going to have an exit that involves a sale, get your documents in order now. Make sure you have signed franchise agreements and amendments and correspondence, because if you're going to sell, someone's going to look at that.
"If nothing else it's a black eye on the seller if things aren't in order. It may ultimately impact your purchase price," he says.
As for lesson two, "if you think you're going to keep it secret, it's not going to stay secret," Hein says. "No matter how much you think you're going to keep this away from your franchisees, this industry is too small." It's better to decide when and how to communicate the message yourself as the franchisor, than hope for a cone of silence. "I'm a big believer, you want to control the message as much as you can."
---
Patient investors now backing GPS Hospitality's march to 300 stores
Tom Garrett, the former Arby's CEO who started buying Burger Kings in 2012, funded his first two acquisitions with his own capital.
In October that year, his new company, GPS Hospitality in Atlanta, bought 42 restaurants from corporate and worked hard to get systems and people in place, and embark on the required ambitious remodeling schedule. Next came 15 restaurants in West Virginia and eastern Ohio, from a second-generation owner who wanted to divest some holdings.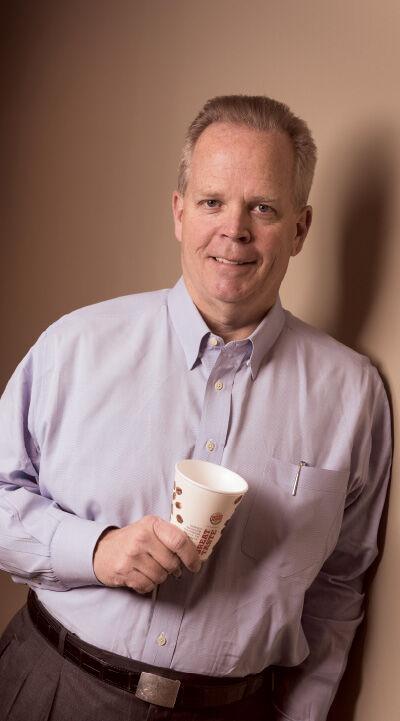 But for acquisitions that followed he has attracted a backer with deep pockets, Nonami Investments, the family office of Thomas Cousins, a major real estate developer in Atlanta and beyond. Nonami in turn brought in The Cynosure Group, anchored by the Eccles family of Salt Lake City.
Garrett's ambition to reach 300 restaurants by 2018 just got a lot more likely, and it's the rare franchisee that attracts this type of investment.
"They looked at all of our backgrounds, and we have an outstanding team that are used to running very large businesses," Garrett says about striking a relationship with Cousins.
"They bought fully into the strategy.
"They just have a longer view," Garrett says about family offices, "than a private equity investment due to mature. We've all heard about things getting sold prematurely, and the investor is not able to capture the full value of their investment. That frustrates people."
GPS Hospitality has 100 restaurants now, the majority bought in the past 13 months. He concentrates on building a system heavy on tangible rewards at the store level, a mindset he learned from his former boss and mentor, Russ Umphenour, the founder of RTM Restaurant Group.
"I started working for Russ the week I graduated from high school as an assistant manager in Alabama. I stayed with RTM for 25 years, and it's just a part of what we did. It was part of the secret sauce," he says. "If you share those results with people, they'll give you everything they've got."
Garrett, 53, believes in the Burger King system and for now plans to stick with the brand. He dismisses the chatter about a very young management team put in place at the brand in recent months. "I know the management team at Burger King very well. I've got a lot of confidence in them," he says. "Some people say they're young and inexperienced. I say they're smart and creative."
He's finding a reputation that stretches back for years on one hand, and on the other just to 2012 when he started his buying binge, serves him well. "We don't have to squeeze every dollar out of the deal. It's OK to leave something on the table, and it creates a win-win," he says. "As you develop that reputation, people want to work for you, they want to lend to you, and they want to sell their stores to you."
---
Paris Ackerman's work snowballs with multi-unit franchise operators  
"There's no air. I can't come up for air. We've been slaughtered," says David Paris, a partner with Paris Ackerman Schmierer law firm in Roseland, New Jersey, but it's a good problem to have.
His firm's work with multi-unit franchisees started to pick up markedly a couple of years ago, when they executed a 1033 asset exchange for Dunkin' Donut franchisee Tim Cloe, who swapped his stores in the Northeast for Florida.
In the past 18 months, the client list ballooned to more than a dozen separate transactions for fast-growing operators, always complex deals that require all of Paris's and his partner Michael Ackerman's skills.
"These multi-unit operators that we represent, one of them can feed a law firm. One of them is constantly developing, building sites, engaging financial transactions, and we've got a whole stable of these people. They're constantly go, go, go."
One standout deal is a recapitalization for a 31-store Papa John's operator in Miami, Ricky Warman. Warman owned 20 percent of the company, and he bought out the 80 percent majority owners. "It's a massive deal, and just to see the level of operational success he's had," is nice to see, Paris says, referring to Warman.
Reached by phone, Warman says he's enjoying owning it all. "It allows me to make decisions for the future of the company," and build something for his family. He used senior debt and mezzanine capital to leverage the deal.
At Paris Ackerman Schmierer, all the name partners in the firm went to high school together, and Paris and Ackerman went to law school together, too. Paris says he and Ackerman tag team all the deals, with Paris handling negotiations and agreement drafting, and Ackerman managing financial analysis and closing the deals.
The work dates back about seven years, when Paris Ackerman handled litigation for Dunkin' Donuts franchisees, many of whom decided to sell their stores and settle. They've found a lucrative niche in franchise transactions, with relatively few franchise attorneys specializing in work for multi-unit operators.
"You know franchisees are a very demanding lot. They're all type A, and they want their work done now," Paris acknowledges, but he wouldn't have it any other way. "It's the best part of the job," to see clients succeed.
---
Roark Capital, alone, clears high bar for Anytime Fitness founder
Like most proud founders, Chuck Runyon had no intention of selling Anytime Fitness, his flagship chain set to hit 3,000 units worldwide this year, to just any private equity firm.
"I don't want to talk bad about private equity, but you don't want to end up in the wrong agreement," he says.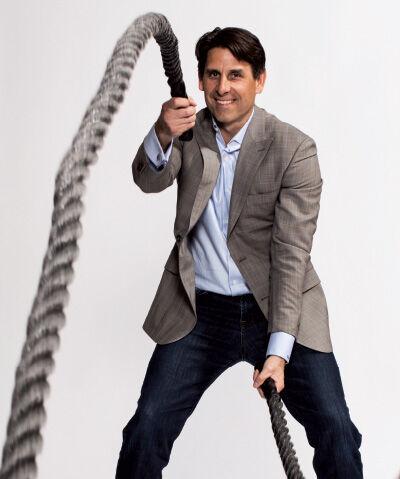 So he and co-founder Dave Mortensen wrote a lengthy treatise he calls an investor manifesto, which, among other things, torpedoes the idea that the only worthy measure of an investment is internal rate of return.
"I know investors look at IRR, but I don't. I do return on emotional investment," he says. "If you want to wring every single penny out of this investment, then we're not the right partner for you. We're not going to take every penny out of our franchisees," or every last breath out of employees, or even every minute of his or his co-founder's time.
He wanted to say to potential suitors: "Read this, and if you identify with it, let's continue to talk. If you don't, there's nothing wrong with either of us but let's not waste our time." Roark Capital, the Atlanta-based private equity firm headed by Neal Aronson and a 2013 Franchise Times Dealmakers award winner, liked it a lot. "They said they'd never, in all their deals," seen such a clear statement, and they wished other founders had done it.
"Since then I've shared this with others," Runyon says. "I say if nothing else, it clarifies" a founder's point of view."
Roark Capital purchased a stake in Anytime Fitness last year, or to be precise, in Self Esteem Brands, the holding company name that also includes Wax in the City, a Runyon acquisition two years ago.
 "I don't want to gush about them," Runyon says about Roark, but then he does so. "They are the best group of people, and they have this operator empathy that other p/e firms don't. They're highly collaborative. They're empathetic. They showed the ability to compromise."
Still, it's a challenge for a founder to march to someone else's orders. "Look, it's different. I'm not going to lie," he says, but some changes were necessary.
"There's a discipline and rigor around new reporting structures and boards. We were maturing, but we still had boot-strapping elements in our company. But you have to change your ways."
He believes the new backing can help him reach the next level: owning three to five brands, over the next five years, in the personal care space. "We would look to acquisitions first to gain faster scale. We're kind of kicking the tires right now," on potential purchases. "If not, we will try to do something organically."
---
Back from brink for Sailormen, with a  double assist from Capital Insight
Four years ago, Sailormen Inc. was in trouble, the largest franchisee of Popeyes Louisiana Kitchen.
"We found ourselves looking at a mid-2012 termination of our existing credit agreements and the need to refinance over $100 million of debt in what I would call one of the worst capital markets in decades," writes CEO Bob Berg, in a letter to participate in the Franchise Times Dealmakers project.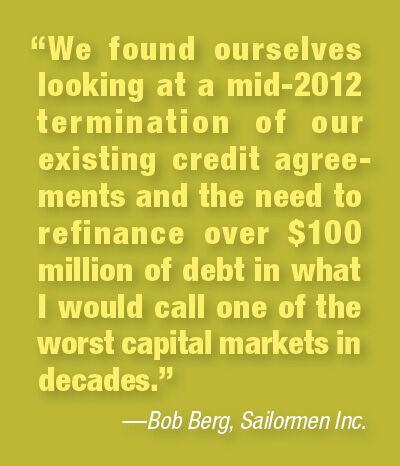 Berg turned to Brett Bishov and Greg Landry, partners at Capital Insight in Scottsdale, Arizona, for a lifeline, and over three years they completed a two-part recapitalization, for $106 million the first time around and $74.5 million the second.
Capital Insight's first job was to analyze Sailormen's operation to see if it was still a viable business, says Bishov, who had financed Sailormen back when they had 18 stores in the late 1980s. (Now they have more than 140 stores.)
"The problem was the downturn put the cash flow and the enterprise in an over-leveraged situation. So then the question is, is it in the best interest of the creditors to keep the business running. Or is it in the best interests to sell the business," Bishov says. "It was clear, and ultimately the creditors agreed, that the best team to operate it is there, and it's a going concern. Once you determine that, we looked at it practically," Bishov says, and set out convincing seven senior lenders to accept reality.
"We proved what we were saying mathematically. We said, 'forget the emotional side. I know you want two dollars, but there's one dollar'" to work with, Bishov says, speaking figuratively. "How can we mutually agree where can we go with that one dollar."
Three years of complex work followed, including a number of sale/leasebacks of land parcels; placement of mortgage financing; and completion of a syndicated senior-secured term loan and line of credit with three institutions; which of course in summary sounds far more simple than it actually was.
And the result? "I would argue they are strong or stronger than they've ever been," Bishov says about Sailormen. Berg agrees, praising both Capital Insight and his own management team and employees. By working together, Sailormen "has achieved a 20+ percent increase in its earnings and cash flow in each of the past three years," Berg writes.
Coming out the other side of a crisis is its own reward. "The great recession will hopefully continue to fade into memory for everyone in our industry," Berg writes. "I look back now and fully see how our management through rough waters has all come to fruition."
---
About this project
Franchise Times Dealmakers is an editorial project and awards event designed to highlight excellence by management teams, investors, lenders and advisers in buying and selling franchise companies to drive sustainable growth.
Franchise Times called for nominations during the fourth quarter, seeking details and lessons learned from transactions closing from July the prior year through last December.
Editorial staff narrowed the nominations to a subset of finalists, which were presented to a panel of judges. Ten were selected to receive awards at a special event April 21, at the Franchise Finance & Growth Conference in Las Vegas, and they are covered here.
Online nominations open October 1 for next year's Franchise Times Dealmakers project. For questions or to nominate your deal before that date, email Beth Ewen, managing editor, bewen@franchisetimes.com.
---
About the judges
Franchise Times invited 12 experts in franchise finance to serve on the selection committee, to augment the judgment of our three Franchise Times staff members: John Hamburger, president; Mary Jo Larson, publisher; and Beth Ewen, managing editor. We thank these thoughtful, efficient and savvy judges who gave their time to the project. They are:
John Berg, Monroe Moxness Berg
Amy Cheng, Cheng Cohen
Shriram Chokshi, Auspex Capital
Suzie Doran, Singer Lewak
Jim Ellis, Capital Spring
Jason Fennessy, McGladrey
Brian Frank, TD Bank
Rich Greenstein, DLA Piper
Robert Hersch, Mastodon Ventures
Fred LeFranc, Results Through Strategy
Eric Renaud, Direct Capital
Rick Thompson, BMO Harris Bank