Dr. Stephen Gubernick operates a busy location of The Joint in Scottsdale, Arizona, but found himself referring his chiropractic patients elsewhere for acupuncture, something his franchise doesn't offer. He even had a clever name for the new acupuncture clinic he wanted to open: It would be called The Point, referring to the ancient Chinese practice of pricking patients' skin with 4-inch needles to gain health benefits, so The Joint and The Point would be side by side.
But then he took his idea to Matt Hale and Chad Everts, two former executives of The Joint, which the two had put on a fast growth track when they were working for John Leonesio. Leonesio is a legend in the Arizona valley and beyond, as the founder of the epically successful Massage Envy who subsequently put his touch on more than a half-dozen franchises to get them growing on an entirely new level. Leonesio also influenced a small army of executives whom he hired and coached and would go on to start or grow everything from Orangetheory, Amazing Lash, Hammer & Nails and more.
When Hale and Everts joined The Joint in 2010 at the invitation of Leonesio, who had signed on to get it growing, it had eight units. When the two left in August 2016, The Joint had 346 units open, after a push to go public by new Wall Street backers angered franchisees and began a disruptive churn of CEOs in fast succession. Hale is credited with putting the processes together to build a franchise machine; Everts is the sales guru with the gift of gab who moved the units.
The business partners, who displayed an easy and joking manner with each other at a visit to their headquarters in February, were looking for new concepts in the health field, including laser and other practices. Then Gubernick got in touch, telling them he was planning to open an acupuncture clinic. "We said, No you aren't, you're going to open thousands of them," recalls Hale, who is CEO of Modern Acupuncture. Research suggested acupuncture was ready to roll out to the Western masses, even securing the approval of the American Medical Association. "The AMA came out saying it's approved for migraines, and the AMA never supports non-Western medicine. We just looked up and said, the stars are aligned," Hale said. "It validated our decision to leave The Joint and start something new."
To date Hale, Everts, Gubernick and one additional executive and equity partner, IT wiz Mike Nesteby, have no cause for regret. Since September 2016 when they launched, they've awarded some 480 regional developer licenses, which are master licenses for a large area in which the RD then sells franchises and splits royalties with the franchisor. So far those regional developers have awarded 132 franchise licenses with 22 clinics open through June, and are on track to have more than 50 clinics open by year's end.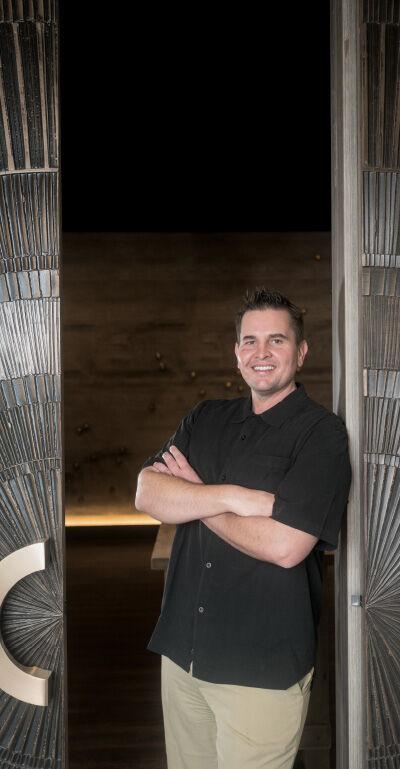 Hale is keenly aware of the possible pitfalls of growth at breakneck speed and he's determined to avoid them. "You learn more from mistakes than anything. Knowing all that was so helpful," he says, referring to his experiences at The Joint, especially its initial difficulties in the complicated world of healthcare franchising, with its layers of state-by-state regulation and its often prickly and proud practitioners.
"I made a long list of things—here's what we're going to do differently" at Modern Acupuncture, Hale said. "Our learnings from The Joint were good and bad. We said, What are we going to do to turn this into a rocketship?" More to the point, what are they going to do to keep it from crashing to earth?
The coaching tree
The growth machine that John Leonesio started in the Arizona valley is unique in franchising. "It's like the Belichick coaching tree," says Hale, referring to the legendary New England Patriots coach Bill Belichick, himself a protégé of Bill Parcells, who took their talents to the Giants, the Browns, the Jets and the Patriots. The parlor game of following other coaches from that system for their successes and failures is a favorite pastime among football fans.
Everts describes the Leonesio method this way. "John came in and started Massage Envy with the membership model," which was common in gyms at the time but not in other sectors. His method was to "apply it to any service-related business, and to be disruptive." At Massage Envy, "It just blew up," says Everts, and everyone in franchising knows that story—from zero in 2003 to well north of 1,100 units now. An outside spokesperson for another Leonesio-backed brand, Amazing Lash, said Leonesio himself is now retired and not giving interviews, but lends his name to a consulting firm, The Leonesio Group, which is developing such brands as Sirius Day Spa.
"The people who worked with him said, this business model is unreal. Where else can we apply it?" Everts said. One of the originators of The Joint approached Leonesio for his help. The Joint was 10 years old, so the three men went to Austin and checked everything out, then began putting in the systems to get the growth growing.
Says Hale: "What we learned from John is filling in the void in the marketplace. He was very good at giving a vision and letting the team execute the vision. It's one thing to have an idea. It's another to execute it."
Everts describes a loose style. "John said, 'Hey, you're good at this,' and then he left. John gave us everything literally on a napkin," as far as plans for The Joint. "He took Massage Envy's model and scratched it out on the napkin. He had ideas and passed them off and we'd put the spreadsheets together."
Hale's goal was to make Modern Acupuncture look like an established franchise, not a start-up. "We were trying to push things out as fast as possible. We said, we want to look like we've been around a long time."
That's where the regional developer model, also known as area developer and another hallmark of Leonesio-backed concepts, came into play. The franchisor gets 100 percent of the regional developer fees on the spot when those deals are signed, which range from $60,000 to $450,000 depending on the size of the territory, and mean instant cash for the franchisor.
An example of the plus side is obvious. Anne and David Glover, who are The Joint regional developers in Texas, also bought a $400,000 territory of Modern Acupuncture in the state and in their first 90 days they were sold out of 35 units. As those units get open they begin to generate royalties, at 7 percent of revenue, which will be split 40/60 percent between the RDs and the franchisor, respectively.
The potential downside is, franchise systems are not sustainable if they rely on initial franchise fees alone, rather than on ongoing royalty streams. Of the 500 RD licenses Modern Acupuncture has signed, only about 55 will be open and operating by the end of 2018—a respectable number, but also heavily dependent on top-notch RDs. Both Hale and Everts say they are signing such people in spades, with many regional developers coming from other concepts that grew from the Leonesio machine.
Everts, who handles franchise development, ticks off the pluses: "We don't have to have an infrastructure to support people all over the country. The RD model keeps the organization very lean," he says, adding "the interests of the franchisee and corporate are the same, to the penny."
There are just as many people in franchising, however, who would say the opposite—that the franchisor should own corporate stores in order to "eat their own cooking," that is, demonstrate they can operate units profitably along with the franchisees. And anyone can point to at least the temporary end to the party at The Joint, after the company went public, burned cash from $16.8 million to $6.1 million in just six months and made its 250 franchisees plenty mad. In June 2017, CEO Peter Holt said in a public talk he was working to re-build the brand. "If you can stomach this you have an incredible opportunity to build your company's culture from the ground up—if you can survive," he said at the time, and has since been making progress to that end.
At The Joint, Everts says, there was a "kink in the circle" when the company went public in order to fund corporate stores and franchisees felt their interests were being ignored.
---
 Stephen Gubernick, left, is a franchisee of The Joint who brought his idea for an acupuncture clinic to CEO Matt Hale.
---
"That's where all the tension at The Joint came from," agreed Gubernick, a franchisee of The Joint who is now also chief clinical officer and an equity partner in Modern Acupuncture. "At the beginning it was a lot more support. Our relationships were strong."
Hale points out one undeniably positive aspect of the RD model. "We had cash coming in immediately," from RD licenses. Unlike his mentor, Leonesio, Hale believes in setting specific objectives and tying investments to those goals. He hands out a one-page Modern Acupuncture "2017 business plan in a box," which has four pillars and action items under each of the four. Development, marketing, operations and technology are the four pillars, with the action items already achieved in black and those still to come in blue—the items in black far outnumber those in blue.
"I'm big on setting goals, and our goal for 2017 was to award 250 RD licenses and 90 franchise licenses," goals that were exceeded. "From a budgetary perspective, if we hit those goals we can hire," Hale says. "We've gambled a little bit, and said we're going to hire people early on. We're going to really invest in this concept. I want it to appear that we've existed for more than five years," so when prospective franchisees come to visit, "they're blown away. What does that do? It propels growth because they say, they have their act together."
It's up to the RDs
Lance O'Pry has a taste for what a Leonesio-styled concept can do. He is one of Modern Acupuncture's regional developers and a poster child for the type of top-notch people executives say are signing on.
"My father, Freddy O'Pry, was the first RD to take Massage Envy outside of Arizona. Prior to 2003, no one outside of the valley had heard of Massage Envy. He bought the master franchise rights for half the state of Texas. As they say, the rest is history."
He cites a parallel between Massage Envy and Modern Acupuncture. "Acupuncture is thousands and thousands of years old and there's no national branded concept that's rolled this out in a manner that is accessible, affordable and convenient, like we're doing." In the same way, he believes, no one had branded massage and made it convenient and affordable until Massage Envy did so.
He and his father had 63 Massage Envy units between Houston and Dallas/Fort Worth. O'Pry is committed to 30 Modern Acupuncture clinics in New York and 21 in New Jersey over 10 years, and the fact those states are an entirely new market for him isn't a worry. "It's really replicating what we've done before with another concept, and rolling it out in a new market. It's replicating what we know how to do." Initial investment for a Modern Acupuncture unit ranges from $274,000 to $625,000.
Dr. Charles Anderson is a physician, entrepreneur and investor in New England who started Exaltare Capital Partners and invested in Planet Fitness in 2011. "We were the first private equity dollars in Planet Fitness," opening 15 locations of the big-box, low-cost gym in Connecticut, then expanding into three more states and building out a chunk of western Canada.
He invested in Modern Acupuncture on his own, not through the firm, because it's too small and early for private equity. Anderson has a unique story. "My father immigrated here from Jamaica. He had a big drug rehab practice, had his own lab with imaging, pharmacy. I sort of grew up in the healthcare entrepreneurial way," he said.
"Basically I'm a little bit of a crazy guy. I went to Princeton at 15. Landed at Johns Hopkins at 19," Anderson said, later becoming a vice president for corporate development for "what was the second largest healthcare system in New England," buying hospitals and surgical centers.
Anderson has pivoted from that life. "I said healthcare is changing. I don't want to buy hospitals anymore. I want to go from disease management to health promotion," which prompted the move to Planet Fitness and now to Modern Acupuncture.
Convenience is key, he believes. "To take two hours out of your day to work on health promotion is more difficult than in and out in a half hour. That's a big part of it." Anderson's agreement is for 30 units in Massachusetts, Rhode Island and Connecticut, but first he plans to build a few units on his own. "When a franchisee is looking at a new concept, for them to get comfortable with it they've got to see it," he believes.
'Holy crap this is hard'
For Modern Acupuncture's management team, the biggest and most valuable lesson from The Joint was how to grow a system in the very tricky healthcare space—a difficult proposition and one reason why franchising in healthcare is not growing as quickly as, say, in restaurants or gyms.
Everts said when he and Hale got to The Joint, they encountered resistance from chiropractors, widely varying regulations from state to state and different payer systems that worked heavily against developing a nationwide brand.
"We got in there and said, 'holy crap this is hard.' We were in over our head," Everts said. "We probably spent more than a million dollars on the medical component" for The Joint.
The positive result today? "We consider ourselves the No. 1 authority in medical franchising," he said, which serves as a barrier both to entry of other franchises and also to rapid growth, a point that Everts believes will be in Modern Acupuncture's favor since they're first to market. (But they're not alone. Structural Elements is now franchising, founded in 2006 by Dr. Douglas Bertram and combining acupuncture/dry needling, manual soft tissue manipulation and joint mobilization. See story page 32.)
In the gym space and spa space, Everts says for example, "all of them are getting knocked off. Massage Envy, there are lots of knockoffs. Orangetheory, there are lots of knockoffs." Franchisees of easily replicated models, Everts says, "their No. 1 worry is every time I turn around there's someone that will come in next door and cut the prices."
Hale says at The Joint, they learned that "chiropractors were dead set against The Joint at first," so at Modern Acupuncture they identified leaders in the field, notably Marilyn Allen, an educator and speaker on acupuncture and other alternative healthcare practices who serves as an adviser to the brand. "She was the only delegate for acupuncture to the World Health Organization during the Obama administration. When we brought it to her and told her what we are doing, she started crying," Hale says, because she was excited to see that acupuncture could get to the masses.
They also reached out to Robert Doane, who operates the largest privately owned Chinese medicine clinic in the United States and sees as many as 125 patients a day, to develop his style of acupuncture for Modern Acupuncture and to invite him onto their board and as an equity partner.
Shane Sender is the Modern Acupuncture regional developer for Arizona and Las Vegas, and as a Subway sandwich shop franchisee is very much out of the norm; most RDs are from concepts related to healthcare or personal care, such as European Wax Center or Massage Envy or The Joint. Sender was looking to diversify from sandwiches, since he had eight Subways.
He believes Modern Acupuncture is almost without competition, and although there are independent clinics, "There's no one in this industry that's doing what we're doing, that's providing it affordably and convenient and making it a brand name."
He adds, "our goal is to make acupuncture as common as going to Subway and getting a sandwich," which is the type of statement John Leonesio himself might make—and a call to arms for the man leading the charge to realize the goal.
"There's a lot of things we can deliver so my job is to figure out the priorities," said Hale.
---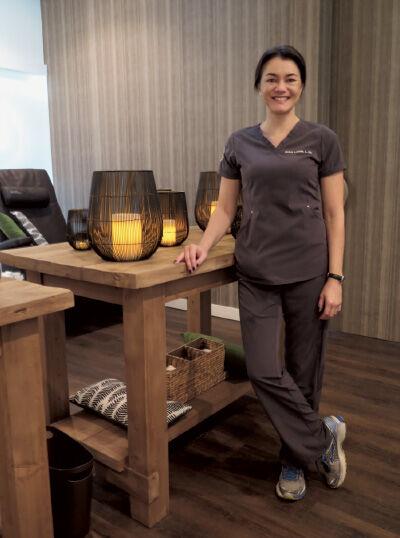 My turn in the Zen Den
It's the needles, stupid. That's my answer to the question, what could stop acupuncture from being embraced by the Western masses, as the founders of Modern Acupuncture fervently believe.
Steeling myself, I push through the handsome, carved wooden door with its heavy, gold-tone handle to enter the Zen Den, the calming centerpiece of a Modern Acupuncture franchise. The licensed and certified acupuncturist, Erica, greets me and settles me into a salon-style reclining chair, where I roll up my pants and sleeves but remain clothed.
This style of acupuncture is key to fast, convenient treatments that take under 25 minutes and allow a single therapist to treat several people at once, all of whom are partially screened from their neighbors with a sheer curtain.
Lanterns glow across a long, wooden table in the center of the Zen Den, soothing scents waft and large TV screens display stunning vistas meant to relax the clientele. The problem is the 4-inch-long needles, which Erica shows to me, an apprehensive first-timer to acupuncture, and explains she will "needle" me with about 12 of the sharp sticks in just a few minutes.
In they go, in my ear, the top of my head, the deep perma-wrinkle on my brow, my wrists and ankles and so on, and they don't hurt so much as sting and feel odd. I'm told to relax, maybe even fall asleep for 20 minutes or so, but I've got the bad habit of making to-do lists in my head so that's impossible for me.
I'm doing cosmetic acupuncture, which is meant to stimulate blood flow in the body and to the face, "delivering oxygen and nutrients that give you that natural glow," as the Modern Acupuncture brochure says. A package of 12 costs $699 and a package of 24 costs $1,099, with a "pathway plan" costing $89 a month and including two sessions per month plus $30 for additional sessions.
When the time is up Erica removes the needles and whisks me out for organic tea in the white and crisp-looking foyer. Alas, post-treatment my face looks kind of red and splotchy but otherwise I'm the same old me. That's because one session is definitely not enough, I'm told, and I'm referred to the recommended weeks-long regimen. That night, as promised, I sleep like a rock.