"Launch is not a trampoline park. Why? Because trampoline parks are dead," declared Brad Artery, COO of the Rhode Island-based family entertainment franchise that has undergone a complete transformation since its first park opened in 2012.
Since then they've added ropes courses, bowling, go-karts in some locations, virtual reality and more to the standard trampolines. "We're doing it all," said co-founder Ty Law, the former New England Patriots cornerback who became a Hall of Famer in February.
And they've seriously upgraded their food, adding a restaurant called Krave that allows customers to select their own pizza ingredients. "Our first pizza was very embarrassing," said co-founder Rod Arnold. "I don't think we'd serve the original pizza to my dog."
Law said he was looking into food franchising when he neared retirement, but Arnold, who had done construction work for Law, told him about a trampoline park and suggested Law check it out. At first Law was underwhelmed.
"I couldn't find it. It was in the middle of nowhere. It smelt like feet," said Law. "At the same time, when I was leaving—damn, the busloads of kids," he noticed pouring in, and he began to count them entering the park. "I started saying, there's $12, $12, $12," referring to the entrance fees. "I felt there was something to it."
A Launch park costs $2- to $2.8 million to open, with some larger parks up to 80,000 square feet and go-karts going as high as $4.5 million. "It's a more sophisticated investor," said Law. The Generation 2 parks are posting "just north of $3 million" in sales, Arnold said, although he concedes these are early days, with the first new style of park opened in March 2018.
Launch has 28 parks open in 13 states, with some 30 in the development pipeline, the company said.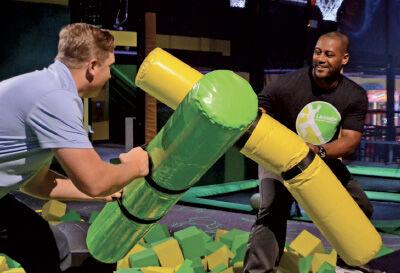 Launch is not the only family entertainment brand banking on more adrenaline and amenities to attract guests and get them to stay longer. Urban Air Adventure Parks based in Dallas, for example, offers ziplines, a Ninja Warriors-like obstacle course, ropes courses and more.
Since starting eight years ago, Urban Air has 267 open or under construction and boasts 48 million guests attending nationwide.
Meanwhile, if you see a middle-aged man with a bit of gray in his hair running around a wall or flipping and twisting at a trampoline park, it could be Case Lawrence, the founder and CEO of CircusTrix based in Utah.
It's called wallrunning or G-tramping, made famous by Cirque du Soleil and now a bona fide sport. "I'm an amateur G-tramper, at 46," Lawrence said with a laugh, as he admitted his kids far outshine him.
G-tramping is just one of the activities offered at a new franchise called Defy, now being launched under the CircusTrix umbrella and aimed at older teens and adults. A Defy park will have wallrunning, G-tramping, Ninja warrior courses, a high-wire slack line, a flying trapeze, aerial silks and much more. "It's a lot of activity and adrenaline," Lawrence said.
Circus Trix started as an owned-and-operated business, but in 2017 it bought Rockin'Jump and SkyZone, both franchised, and Lawrence now plans to rebrand more than 90 of its parks to Defy under a franchise model. It will cost $1.8- to $2.6 million to open a Defy park, and two are open already.
CircusTrix in March announced it will rebrand 34 disparate brands spanning more than 300 locations under one new brand umbrella, to help "reaffirm their position in an industry slated to grow to $3.23 billion over the next four years," the company said.
Lawrence put it this way: "This takes the lid off and allows us to experiment with all kinds of things."