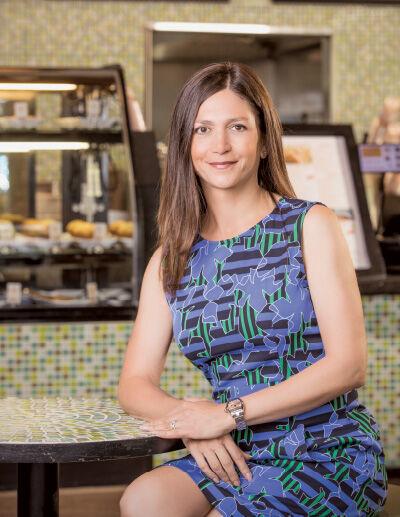 A 'wholesome' side to Vegas
Debbie Roxarzade, Rachel's Kitchen
By Laura Michaels
The Las Vegas Strip is in-your-face flamboyant, enticing visitors to indulge. Star-powered restaurants with decadent menus and the prices to match call out, their flashy food displayed in the lights.
Then there's the other side of Las Vegas, away from the glitz and blaring casino slots, were people live and work—and need to eat.
"When we came to Las Vegas, it was mostly casual chains and the only place that had fresh juice was Whole Foods," says Debbie Roxarzade, describing the dining scene away from Las Vegas Boulevard and its inspiring lack of options. Inspiring because in the absence of café-style, fresh-to-order food, Roxarzade saw an opportunity to continue the restaurant career she'd built for herself in Los Angeles but with a new concept.
Named for her daughter, Roxarzade opened her first Rachel's Kitchen in the Summerlin area of Las Vegas in 2006, bringing what she calls "fresh bistro fare" to a community hungry for something beyond wings and beer. Preferring the term "wholesome" to being pegged purely as a health-food concept, Roxarzade drew on her decade-plus career developing restaurants in Los Angeles to create the menu for Rachel's Kitchen.
"A good 50 percent of menu items at Rachel's are ones I had 10 years back," says Roxarzade, who created and eventually sold seven L.A. eateries including Debbie's Bistro, recognized as one of the city's Big 10 Best New Restaurants by Los Angeles magazine.
"I feel like we're a place for everyone," she continues of the Rachel's concept that itself has been named to multiple "best of" lists in Vegas. "We have the opportunity for people to eat healthy and we also have pastas that are delicious, we have fries. So it's a place for everyone to find something."
It took some work to introduce Rachel's to unfamiliar customers and Roxarzade admits at first her restaurant got mixed reviews. "Some loved it right away and then there were others who were like, 'Why are you putting goat cheese on a sandwich? Just give me American cheese and a burger,'" she recalls. Menu tweaks were made—Rachel's now has five burger selections—and restaurants serve breakfast, lunch and dinner. The brand began franchising in 2008 and has eight Vegas-area locations, with Salt Lake City the next target for expansion.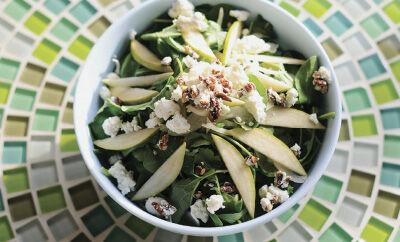 From the opening of her first coffeehouse, Debbie's Café, some 20 years ago, Roxarzade has always loved the creativity involved in coming up with new recipes but she didn't grow up in a foodie household—far from it, in fact.
"My mom was a terrible cook, or it was just that she didn't cook," remembers Roxarzade. "Stouffer's out of a box was her idea of a home-cooked meal."
Self-taught in the kitchen, Roxarzade loves food's ability to bring people together and says she's especially glad she opted for a fast-casual concept this time around versus the white tablecloth-style restaurants of her L.A. days.
"I think I'm much more laid-back and fast casual just fits better," she says, adding the concept is flexible enough to incorporate food trends "that really resonate with us" such as adding vegan and gluten-free items.
Describing herself as a "very giving person," Roxarzade also uses Rachel's Kitchen to support charitable efforts in the communities the restaurants serve and she's a board member of Court Appointed Special Advocates, or CASA, which assists abused and neglected children in foster care.
"The more opportunities I've had as a business owner, the more I've wanted to do," she says. "It makes a difference with our employees to see that and our guests see that as well." Like her restaurants away from the Strip, Roxarzade prefers life outside the limelight, even commenting during the photo shoot that she hates being in front of the camera. The food deserves the focus, she believes.
"There's nothing more satisfying than hearing someone say they love Rachel's," says Roxarzade. "When you're feeding people, they're happy."
---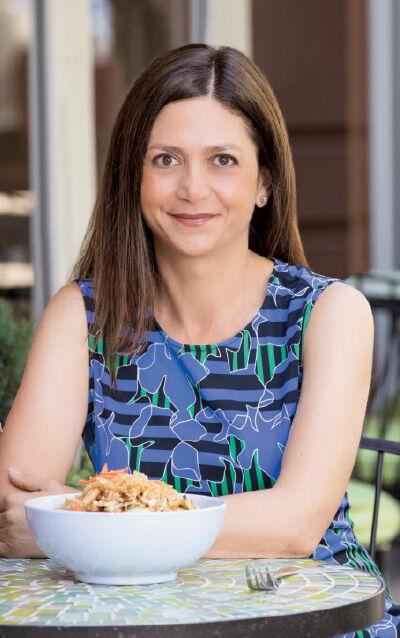 Culinary Q&A with Debbie Roxarzade
What's your first food memory?  
I remember loving rice, kabob and grilled tomatoes at a very early age, which has carried on with me to this day.
What's the last thing you cooked at home?
I made a simple dinner with grilled salmon and a salad last night.
What's your guilty pleasure food?
Pizza and French fries.
If you could only eat or drink three things the rest of your life, what would they be?
Red wine, coffee and bread.
Who is a chef or restaurateur you admire and why?
Nancy Silverton. I grew up in Los Angeles and remember her first location of La Brea Bakery. She went on to open several other amazing cafes and restaurants and always seemed to take really good care of her team members. I had a few that worked with me at my time in L.A. and they had fantastic things to share about her.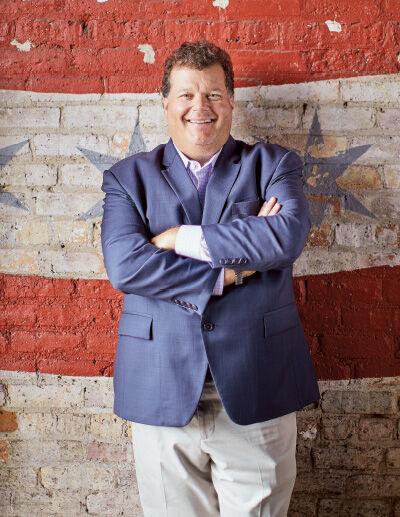 Beef, buns and a balancing act
Michael Kornick, DMK Burger Bar
By Nicholas Upton
Michael Kornick thinks a lot about buns. The lauded fine dining chef and co-founder of DMK Burger Bar devised a recipe that starts with the dough for a 4-inch bun and stretches it to 5 inches so the final product is light and airy. That thoughtful step takes the bun from merely a piece of bread you have to eat to get to the good stuff to the perfect platform for a premium burger.
"It feels like the vessel for the sandwich, not like you're eating a ton of bread to get to the burger," says Kornick.
Kornick has spent a lot of time thinking about food—and cooking it—in some of the most notable restaurants in the country. He cut his teeth at Boston's Four Seasons hotel, and then developed more than a dozen high-end restaurants in and around Chicago to national acclaim and a handful of James Beard nods.
He also happened to be good friends with Julia Child and countless other celebrity chefs.
So when he helped created Chicago-based DMK Burger Bar, he wanted to maintain that premium heritage, but it's taken some rethinking to right-size the ambitious burgers to the franchise market.  
"We wanted a chef-driven burger place. That came naturally to me, I love burgers, I love the idea of doing a creative burger that had balance and integrity and people could really understand what the profile was based on the ingredients," says Kornick. "As you grow, the franchise market wants something that is bulletproof" and simple to reproduce.
That's the constant balance for Kornick. Take truffle aioli, the decadent and delicious spread that's a staple in fine-dining kitchens across the country. He learned to beat the delicate mixture by hand at Stars, a San Francisco restaurant that was known in the '80s and '90s as the cradle of new American cuisine and for creating the very concept of a celebrity chef. A place like that will stick with you, as will its methods.
"Aioli being made by hand has a completely different texture than in a food processor and that stuck with me," says Kornick. "When we started DMK we'd have a guy take a bowl and 30 egg yolks and make truffle aioli by hand."
---

---
Anyone who's made an aioli by hand knows the sauce can easily separate or "break," leaving the chef with a big bowl of unusable eggs and oil. Even the best chefs will struggle to find consistency in varying kitchen environments or fail from time to time. And without a trained chef, the chance of failure starts to outweigh the benefit of fresh, hand-beaten aioli. So one day, the management team was talking about operations and a franchisee brought up that tricky process.
"One of our chefs says, 'We have this Robot Coup. Can I just make aioli in the Robot Coup and see if that gives us better consistency?" recalls Kornick.
It was a suggestion that merited consideration. To Kornick, a bowl and a hearty supply of elbow grease just felt like the "right way to cook." He's still learning the right way to cook in a franchise kitchen. Today, the aioli still gets high marks and it doesn't require nearly as much elbow grease.
That balance means a deep pondering of ingredients, too. Kornick had to have sustainably raised beef and he found some indoor-grown tomatoes—still sliced daily—for year-round quality. He acquiesced to pre-diced onions for hot dogs, but you won't see other pre-cut veggies in the kitchen. He says while the burger industry is still focused on the sub-$5 burger, he sees that trending toward the premium DMK Burger Bar model in the future.
"We ask our customers, and it doesn't matter what age group, when you ask them what they love, they don't say sustainability or environmentally conscious beef. They said that it is important, but is it delicious?" says Kornick. "We know we're early on in the demand that's exploding and that we think is going to take place in the next decade when it comes to sustainability for the planet. But we also recognize that things need to be really great to warrant the price point, too."
He'll keep striking that balance for his restaurants and the franchised locations. He says it's been difficult for an old dog chef who is "crazy about quality" to embrace these new tricks, but he's certainly not done learning.
---
Culinary Q&A with Michael Kornick
What is your first food memory?
I was really young. My grandmother and mother were what I called glorified holiday cooks and during the weekday there was a lot of fend-for-yourself meals. At 7 or 8 I was cooking with my grandmother. By the time I was 11 or 12 my parents liked to go out, my parents liked chefs and we'd watch Julia Child.
Then I'd have my dad take me where I could get those ingredients. I remember my father taking me to the grocery store, we'd go to the butcher. I didn't know, my father didn't know what these ingredients were but he'd bring me around.
What's the last thing you cooked at home?
I have two African children, they're Rwandan nationals, so my daughter is home for a couple weeks and she wanted to cook African last night. So she did a Purslane stew of dried fish and smoked goat beans, and she made a sauce with spices that I had never heard of. So I was her sous chef grinding and blending.
What's your guilty pleasure food?
I recently started taking care of myself, diet-wise, better than I had. So last night we all jumped in the car and got some Italian ice. In the summer, it's Italian ice. I also love dim sum, and I love pho and I love cheese.
If you could only eat or drink three things the rest of your life, what would they be?
Parmesan, Grand Cru red burgundy, and the third thing I would say, if I put the three together, it'd be great bread. But when you think about versatility and you think about surviving on something for a long time, eggs would be a good place to start.
Who was your favorite dinner guest?
The great thing that happened in my life, I was able to meet Julia Child and become friends with her, and I got to cook with her. We did a radio program together once. It was a birthday celebration for her that was ahead of the party in my restaurant. It was 10 a.m. and we're all drinking champagne. She had three glasses of champagne at 10 a.m. Then she was still rocking at 9 p.m. at 80—it was her 80th birthday party.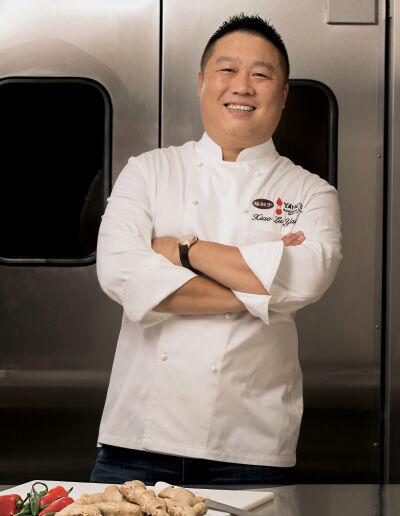 China's one-dish wonder
Xiao Lu Yang, Yang's Braised Chicken
By Tom Kaiser
If your experience with Chinese food is like most Americans, you've been substituting greasy chow mein and soggy moo goo for the countless flavors and ancestral recipes sourced from the world's most populous country and one of the most ancient living cultures.
Xiao Lu Yang is out to change that with a deliciously simple recipe his grandma used to cook. If he has anything to say about it, truly authentic Chinese will be the next big ethnic craze with the first stateside locations of his Yang's Braised Chicken Rice—a franchised concept that opened its first location in Ji Nan, Shandong Province in 2011 and has exploded to more than 6,000 locations in China, Australia, Japan and Singapore.
A one-dish concept based on slow-cooked Huang Men chicken with a sauce that is the restaurant's signature, Yang's Braised Chicken Rice has a kick but isn't spicy, is tender but not unfamiliar, hearty and served over rice, but with a taste rooted in Chinese family cooking. Its fast expansion on the eastern side of the globe is reminiscent of other singularly focused franchises such as Chick-fil-A, Wingstop and Auntie Anne's.
After opening its first U.S. location last year in Tustin, California, the brand is rolling out its next wave of California locations and talking with prospective franchisees across the country on a trajectory that looks to mimic the rocket-fueled growth of previously foreign-exclusive foods like ramen, poké and bubble tea.
Behind it all and the face of the brand, Lu Yang says his family remains surprised at his personal success, as well as the speed with which he's taken his grandma's recipe and turned it into a global restaurant empire with more locations than Little Caesars, Papa John's or Tim Hortons.
"Everything we do is to perfect this brand as well as making sure that our dishes stay consistent and they're always on top of the game," says Lu Yang through a translator. He stresses that the brand's simplicity and mainstream-friendly taste are the key traits that make it the perfect concept to franchised in the world's most competitive franchise market.
---
---
Although his work has meant much less time for his own home cooking, seven years on he still spends most of his time trying to perfect the recipe, while also laying the foundation for future growth.
"Chinese cuisine itself has a lot of different cuisines, so it's very hard to say that a particular cuisine will be the next big hit," he says. "Everyone's tastes are different, but a definite trend we can see is something simple and something that's easy to translate and multiply."
During his team's investigation of the U.S. market, they determined the dish required no significant changes—it is being offered in regular, authentic and spicy variants.
Bowing to local preferences, bone-in chicken was swapped out for boneless thighs. More importantly, using smaller, younger chickens means the meat for his family's signature recipe will always be tender and juicy.
The sauce "is everything," he says, and future cooks and owners receive extensive training to master the recipe and nail the crucial consistency. Once trained, cooking it right every time is the easy part.
"That's the beauty of this concept, it's simple and it's very easy to operate," he says. "We basically have every formula to success that's already in a bottle for you—all you have to do is finish it off."
California is an obvious starting point for a China-based brand, but Lu Yang says Tustin was chosen strategically as a test market to gauge the habits of its first American consumers. In the last year, they've learned that the customer demographics are widely mixed—majorities have no Asian roots—and many are coming in to eat several times in the same week.
Lu Yang paraphrases a traditional Chinese saying: "if it's good enough, everyone will find it." That mantra has influenced the brand's real estate strategy that focuses on urban areas, with a goal of being the next hit that justifies traveling just slightly off the beaten path.
---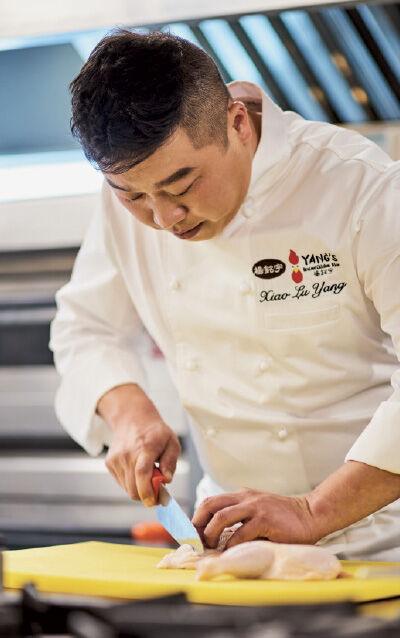 Culinary Q&A with Xiao Lu Yang
What's your first food memory?
Tomato—I love to eat tomatoes.
What's the last thing you cooked at home?
Tomatoes again—tomato and beef stew.
What's your guilty pleasure food?
Pig kidneys. It's a good way of testing a chef and I often use this dish to judge one's cooking skill.
If you could only eat or drink three things the rest of your life, what would they be?
Ramen, braised chicken and rice, with a Coca Cola.
What's the most underrated cuisine in your opinion?
Chinese food.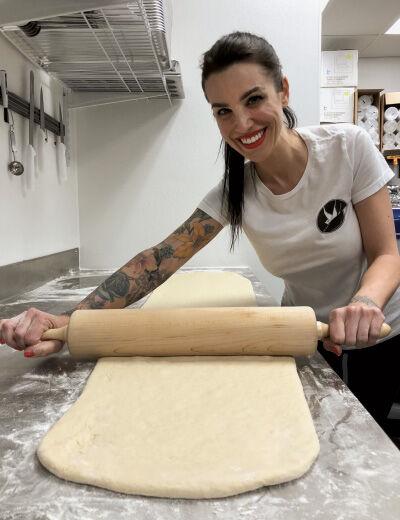 From 'disaster' to vegan bliss
Shannon Radke, Cinnaholic
By Beth Ewen
"I was just a hobby baker at home," recalls Shannon Radke, co-founder of Cinnaholic whose vegan cinnamon rolls have customers lining up around the block whenever a new store opens. "My ex-boyfriend, he used to come home and always go into his man cave and play guitar, every night. I said, that might have been the best thing you've ever done because I'm like, I need a hobby."
Radke, now 37, was already a vegetarian when she met the man who would become her husband and company co-founder, Florian, a vegan, and she transitioned her diet to match his. She began experimenting with vegan rolls and bringing them to weekend bake sales that instantly became a hit.
By 2010 she opened a store in Berkeley, California, with Florian doing the marketing, branding and website while working full-time in the tech industry. That's after she spent a year experimenting at home in the kitchen, modifying recipes she found online, trying for perfection. "There were nights where I was covered in flour on the kitchen floor crying because I couldn't get it right," she recalls.
Today, however, the recipe is precision itself. It's a cross between a pizza dough and a traditional cinnamon roll, and the ingredients are "pretty basic": water, sugar, flour. "It's really about the technique that's a little bit different," she says. "I've noticed when I hire professional bakers, or those who have gone to culinary school, they're the hardest ones to train because they know better."
Proofing, for example, the final rise of shaped bread dough before baking, typically happens overnight with specific containers for the dough at certain temperatures. At Cinnaholic, however, "We proof it for 10 minutes at room temperature," she says, which changes the chewiness of the roll and "how sour-tasting it is."
There's much more to the process that can't be explained in an interview, but Radke today is in charge of training for the franchise, which has 136 stores in development, including a 60-store deal just signed in Canada.
'Then everything blew up'
One day in 2014, she and Florian were at the gym, working out side by side on the treadmills, watching "Shark Tank," the popular show where entrepreneurs present their business idea and try to attract investment from a judge. "He said I am going to get us on that show," and eventually he did. "Then everything blew up," she says, both in a good way and a bad. The pair took the deal offered by "Shark Tank" judges, based on an agreement to focus on online orders only, and baking rolls in a central location then mailing them to customers. Between the time the show was filmed and the time it aired, about eight months, the business plan was in tatters.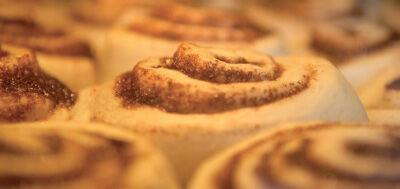 "We ended up losing a ton of money. It was in a huge warehouse where they were baking a ton of other things. The rolls, we sent out thousands of them. They were showing up moldy, and they had ants when they arrived," she recalls. "It was a disaster. We lost a ton of money, pissed a ton of people off, and refunded a ton of money."
'Let's do this'
Flory said, "let's try one more option," franchising, and he reached out to the man who would become their partner, Daryl Dollinger, who had experience in Moe's Southwest Grill. "He was kind of like, huh, you're this tiny little vegan bakery in Berkeley. We said, hear us out; our story is about to go out on 'Shark Tank.' We sat and waited for 'Shark Tank,' and he saw, this is getting a huge response. Let's do this." Within the first year, Radke and her team opened 12 Cinnaholic bakeries and the franchise was launched.
Radke lives in Pleasantville, near Berkeley, and has weekly meetings over the phone with corporate back in Atlanta. She also goes out with her team to train, including on the finer points of baking.
What are the keys to being a great baker? "I think a lot of it has to do with personality," she says. "Having patience. Most people that like to zone out and find it therapeutic, they tend to be more on the introverted side. It's kind of quiet back there, and less stimulating than the front world. That's what it is for me. I have some high energy people that work back there but they get antsy."
She believes the quality of the product is higher when attention is paid to each step, such as in the sealing, which if not done properly means everything's going to fall out of the roll. "It's being attentive to it and being in the moment and paying attention. It's a science," she points out. "When it comes down to it, it is chemistry."
She'll never be that larger-than-life founder, out front being the face of her brand, but in the back, in the bakery, she's all in. "I enjoy what I do. I love baking. I love being able to teach people," she says, and even the heady times with stores opening and press raving aren't the most satisfying for her.
"I've had a lot of people ask me, what's the most fulfilling part of doing your job? Are you so excited to be rich one day? Seeing all the stores open? It's cool, but I always have a moment during training where there's a room full of 20 employees, all in the Cinnaholic uniforms, and I think how \cool that is that I've been able to employ that many people and give them paychecks."
For this home baker-turned-vegan-sensation, that's plenty satisfying. "I developed a recipe and I got lucky that other people liked it, and now people have jobs because of that," she says. "And I think how awesome is that."
---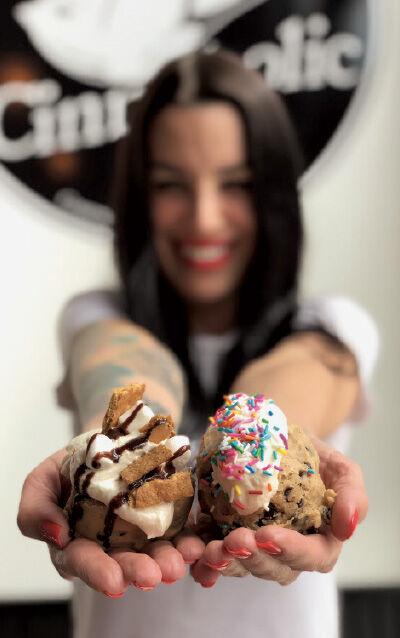 Culinary Q&A with Shannon Radke
What is your first food memory?
Probably baking. I live in the house that I grew up in, five generations, so great-grandma, grandma, my cousins, my aunts, my mom and now my daughter. I remember in our kitchen, I have pictures of me climbing the cabinets in my diapers. Christmas we would all make this recipe of a pineapple cookie. It was a whole effort to make the cookies.
Every year I still make that cookie.
What is the last thing you cooked at home?
Oh, that's embarrassing. I'm going through a raw thing. Dinner last night, I made these lettuce wraps with a bunch of chopped vegetables. I think my husband had something else.
What is your guilty pleasure food?
Anything chocolate, especially chocolate peanut butter. It's not cinnamon rolls. We just introduced our peanut butter cup topping and it's amazing.
If you could only eat or drink three things for the rest of your life, what would they be?
Sushi is definitely No. 1. Vegan sushi is amazing.
My friend Leslie [Durso] is a well-known vegan chef. Did you ever watch 'Bill Nye the Science Guy'? She was Leslie the Lab Girl. She taught me how to make a homemade pasta in Italy so I'd have her pasta.
And then it's a tie between pizza and burritos.
What's your favorite food city?
That's starting to change. There are definitely a ton of places in Portland, Oregon, that are amazing. But L.A. is blowing up right now.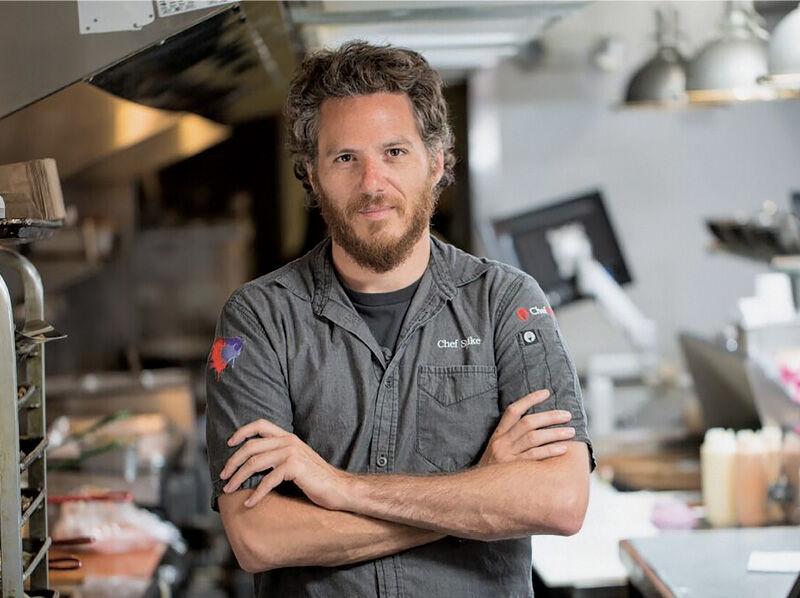 Spike Mendelsohn puts his celebrity chef status to work at Good Stuff Eatery.
---
A restaurant runaway, returned
Spike Mendelsohn, Good Stuff Eatery
By Laura Michaels
Spike Mendelsohn likes to tell people he was "born on the prep table." It's a fitting anecdote from someone whose restaurant heritage stretches three generations, back to Mendelsohn's grandfather's restaurant in Montreal, where as a boy Mendelsohn got his start in the kitchen washing dishes and "learnt every position from the dish up."
Though today the chef and restaurateur is tackling the franchise expansion of his fast-casual Good Stuff Eatery burger and shake concept, there was a time when Mendelsohn wanted nothing to do with running restaurants.
"I tried to run away as far as I could from the business because I saw my parents working so hard, and not just so hard but long hours, away from home," he says. "Holidays were based on how many bookings we had."
Mendelsohn studied marine biology for a while and flirted with the idea of film school before, "on a whim," deciding to enroll in culinary school.
"And that's when I had my 'a ha' moment," he says of his first months at the Culinary Institute of America, where he began to see the benefits of his own long hours in the kitchen. "I already had a step up, but I didn't know that until I went to culinary school."
An internship at acclaimed chef Gerard Boyer's Les Crayeres in Reims, France, followed, as did stints working with Thomas Keller and at the famed Le Cirque in New York.
"I was living the New York City chef life," recalls Mendelsohn, "which was taxing, you know, overworked, underpaid, that whole thing."
He was 23 and didn't know that the next opportunity would be the one to propel him to "stardom and opportunities."
A spot on season four of Bravo's "Top Chef" not only brought with it a fifth-place finish but also national exposure, name recognition and a marketing platform on which Mendelsohn capitalized.
"It was my sister who actually recognized the marketing value in 'Top Chef' and brought the family together to do Good Stuff Eatery in D.C.," explains Mendelsohn of working with sister Micheline and parents Catherine and Harvey to open that first location on Capitol Hill in Washington, D.C., in 2008.
"We were in the burger business in Spain"—Mendelsohn was 13 when his family moved to Seville, residing there for three-and-a-half years—"and knew we didn't want to do another fine dining restaurant," he says. There was also the recession, prompting Mendelsohn to create a menu of premium burgers under $10. "People needed to dine on a budget more than ever before."
The brand is up to six locations, including master franchised restaurants in Riyadh, Saudi Arabia, and Cairo, Egypt, with another development agreement recently signed for Clearwater, Florida.
"We were one of the first fast-casual brands to attach some real celebrity and marketing" to the business, says Mendelsohn. "Now, every chef wants to have a fast-casual restaurant.
"What chefs are starting to realize is this model allows you to be creative and do super tasty food, and it also affords you a quality of life," continues Mendelsohn. His family's Sunnyside Restaurant Group also runs non-franchised We, The Pizza and Santa Rosa Taqueria.
Now 10 years removed from his first "Top Chef" appearance—Mendelsohn later appeared on "Top Chef: All-Stars" and Food Network's "Iron Chef America"—he says he doesn't lean much on his celebrity chef persona when opening restaurants. Instead he's using that platform for another purpose: food policy.
"I've never been the guy to be into the fad of celebrity chefs—I have family and friends to remind me that I'm not a celebrity," he says with a laugh. "But advocating for good food policy, I'm leveraging my celebrity status that way."
Being based in D.C., Mendelsohn often found himself in conversations with people in his restaurants who were fighting for their various initiatives, "and that got me thinking, what am I doing," he says.
He went through the James Beard Foundation's Chefs Boot Camp for Policy and Change and is now a chef advocate with the Chef Action Network, working with policymakers on issues such as food sustainability. He's also an ambassador and lobbyist for Food Policy Action, is chairman of the DC Food Policy Council and this summer launched a food-issues focused podcast, "Plate of the Union."
"My hope is to inspire other chefs to speak out in their cities," he says.
---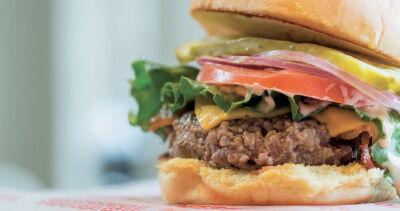 Culinary Q&A with Spike Mendelsohn
What's your first food memory?
Making Greek bread with my grandmother. She used to have me roll up my sleeves and punch the dough. Everything had this lightly sweet smell.
What's the last thing you cooked at home?
Clams vongole. You've got garlic, some shallots, sautéed with clams and bay leaf, with a little vino and tossed with fresh pasta. Before that? A peanut butter and jelly sandwich and crackers.
What's your guilty pleasure food?
Donuts, especially the crème brulee donut at District Doughnut. There's one just down the street from our Georgetown restaurant.
If you could only eat or drink three things the rest of your life, what would they be?
Lemonade, Orangina and pizza—pizza's on the food pyramid now, right?
Who's one chef you'd love to cook with?
Massimo Bottura, he's the No. 1 chef in the world. I had an opportunity to cook with him a few years ago in Italy and it just didn't work out with schedules and the logistics. I hope I get the chance again. [Bottura's Osteria Francescana is at the top of this year's World's 50 Best Restaurants list.]