In 2012, the owners of Kono Pizza's American arm set out to change the way Americans eat pizza—out of a cone-shaped crust. Their game plan centered on smaller footprints than traditional quick-service brands. At the time, it had 18 U.S. locations, with intentions of greatly scaling up through the sale of three-, five- and 10-pack store deals, most of which were to be located in traditional brick-and-mortar stores.
Five years later, as growth failed to hit their early projections, the New Jersey-based portable pizza brand is shifting its focus to smaller, more portable locations that better align with Kono's unit-level economics.  
"We started with brick and mortar and then we moved our concept to more mobile and kiosk," Kono USA co-founder Carlo Ruggiero said. "We always say simple and small are beautiful words in the food and beverage world."
Rather than larger-format stores, Kono's future will revolve around mobile carts and concession trailers that allow the brand's franchisees to go to the type of high-traffic events that best suit the cone-shaped, portable pizzas—festivals, big events, state fairs and the like, where a trailer can be rolled in, flipped open and open for business with a captive audience.
"Depending on what the franchisee chooses and what they're comfortable doing is what model we go into," Ruggiero said. "We became a chameleon, and can really fit in a lot of different areas."
Now that the brand claims it will reach 25 locations by the end of the year—up from its current count of 13—the co-founders who brought the European concept to the United States maintain their effort to educate the American public about the unique brand has paid off, with millions of online views and participation with its social media presence.
As they began to reevaluate their real estate strategy, Ragosa and Ruggiero conducted a brand study that focused on Kono's mall presence, which showed the high rents some malls charge aren't in line with the traffic seen at its in-mall locations.
"Kono needs to be in a high foot-traffic location—let's be honest," Ruggiero said. "When one of our franchisees wants a fixed location, we are battling with malls to decrease rents because they're so high and there's no way the model will work with such high rents."
In further detail, their study suggested that selecting the best mall in a given region wasn't as critical as choosing the best location within a mall, even if it wasn't the best-performing shopping center in town.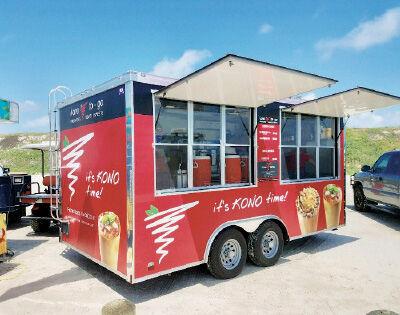 Both acknowledged the brand has made some miscalculations during its American roll-out, but Ragosa said the goal is not "telling our franchisees what they want to hear, but what they need to hear." Ruggiero added the primary lesson they've learned in five years of American franchising is to be cautious about the operators chosen to join the system, with site selection a close second.
As it once again looks to add units, the brand has recently signed franchise agreements to bring new locations to Arizona, Texas, Virginia, Massachusetts and California—70 percent of which will be mobile locations. Total startup costs for new locations will range from $50,000 concession trailers up to $125,000 for more complex food truck operations.
On the food side of the equation, it has added sweeter offerings, with new cones containing Ghirardelli chocolates and peanut butter and jelly, along with a mac and cheese cone aimed at younger customers.  
As it pulls the trigger on a significant refocus, Ruggiero asserted that Kono is not in financial distress and has the financial capability "not for a year or two, but for years to support our franchisees."
Beyond real estate, the franchisor is working to lower food costs in concert with its vendors, along with continued investment in branding to spread the word about its uncommon pizzas.
"It's not just about the revenue, it's about the quality, what kind of brand we are offering," Ruggiero said. "The ROI has to make sense for investors—we wanted Kono to be a quality, fun brand, and … we want to be in the top 10 percent of our field."