Turning a legacy brand around is a multi-faceted and lengthily process. There's no silver bullet for brands like Bennigan's, Steak & Ale, Beef 'O' Brady's or A&W, but one common tactic binds them all together: a focus on connecting in smaller markets.
Paul Mangiamele, who bought Bennigan's and Steak and Ale from its former private equity owner in 2015 and founded Legendary Restaurant Brands, said these smaller markets contain a lot of pent-up demand for quality offerings.
"A lot of brands, in their effort to grow, bypass these small markets that still have a need for casual dining," said Mangiamele. "Typically, when you go into a small market, the competition isn't as huge and the fight for market share isn't as fierce."
In a town such as Steubenville, Ohio, where the company added a location in 2018, it quickly became a top restaurant in a landscape of mom and pops. Today, it's the No. 2 "Top restaurant" on Yelp, between the classic Italian diner and local smoothie shop.
With more than 18,000 people, Steubenville is not exactly a gas station and a highway offramp, but that population is just a fraction of the overall trade area for the town an hour west of Pittsburgh. Folks closer to the city might drive into Pittsburgh for a night out, but for miles around, Steubenville is the major market.
"The defining piece of this is all trade area reach. What I found is that we don't have a half-mile or mile. We have a 10-, 20-, 30- and sometimes 50-mile area where people make Bennigan's the destination. I'm not fighting for the best area or the best parking," said Mangiamele. "We have to pay attention to the traditional ingress, egress and all that makes a good site, but I see people coming from 50 miles to Bennigan's for that experience."
Of course, there was plenty of work to be done on that experience. While legacy brands have a soft spot in a lot of people's hearts, memories of bygone days won't get diners to drive 50 miles, at least not more than once.
A new look and feel for the brand made it attractive, and Bennigan's shrank the footprint down to the basics. That kept the dining room feel active and energetic.
"We're doing twice the sales in half the size," said Mangiamele. "We did the same in Steak and Ale. We went to 6,000 feet because we're going to keep the salad bar again and a carving station. It has to be this compelling place that creates value."
Bennigan's did plenty of menu innovation, too, but retained items such as a longtime brand favorite, the Monte Cristo sandwich, and tweaked the scratch menu.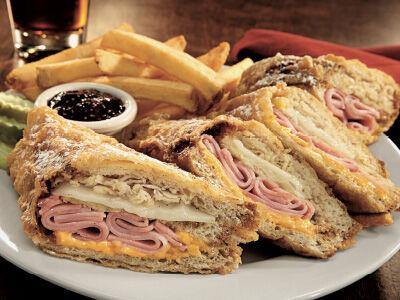 AUVs rising at Beef 'O' Brady's
Adjusting the menu was a chief task when Chris Elliot took over as CEO at Beef 'O' Brady's in 2010 with a goal to increase average unit volumes, earnings and generally revitalize the brand. Since he joined, earnings are up 250 percent and average unit volumes are up to just shy of $1.2 million, a jump from $850,000 in 2010.
Comparable sales also continue to rise, with a majority of the growth in the past two years coming from traffic, not rising check prices.
Elliot said while there were a handful of projects vying for attention, he wanted to focus on food first because he, too, saw a large trade area in his smaller markets. But without a better food draw, those people went elsewhere for their nights out.
"It started with food quality. The first thing I noticed was the food needed to be, and could be better, we just went out and got better ingredients," said Elliot. "From the bun to the burger to the bacon, we upgraded it all. The second thing was we went after menu innovation. We didn't have a lunch menu; people want to spend less and eat less at lunch. Then we put in more shareable apps."
The changes expanded the daypart beyond just indulgent dinners and drove tickets up with those add-ons. He also introduced value occasions for every day of the week, like burger Monday or taco Tuesday to draw traffic through the week instead of just busy weekend nights.
Marketing had to be tweaked as well to resonate with the small communities.
"Beef 'O' Brady's has always done best in small towns and communities. The way the brand started in the early days, there was no marketing department, so each owner would embrace the community and get very involved," said Elliot. "They had been buying billboards and advertising in stadiums. I call that local community support, and it doesn't really drive traffic. So, we managed our money over a million little things and concentrated on things we could control."
He said direct mail and radio advertising of those daily value occasions has been successful.
'Hip nostalgia' helps A&W efforts
At A&W, CEO Kevin Bazner has been orchestrating a turnaround after returning to the brand in 2011. He first oversaw the brand when it was held by Yum between 2001 and 2003. Same-store sales are up by 39 percent, average unit volumes are increasing and franchisees are investing in upgrades and new locations.
Among the various tweaks, Bazner said social media has been an especially important messaging vehicle in A&W's smaller markets.
"Our ability to use social media is actually more effective than in our urban markets. There's a little bit less local noise because of the size of the communities. And our operators get their customers, who are people who live in the town, friends and neighbors to join their pages—we find that to be very powerful," said Bazner.
And instead of limiting the social marketing reach to two or three miles, franchisees boost their message to five or 10 miles to get the whole population.
"Small towns mean less competition, lower real estate costs, and potentially greater access to labor. More importantly, owner-operators in smaller towns are very well embedded in their local communities, and have been for generations," said Bazner. "QSR brands in larger markets are typically viewed as places to grab a fast meal. In smaller ones, A&Ws are true community gathering places."
He said that local diner feel was at the core of the turnaround strategy, something he sought to enhance and lean on the "hip nostalgia" of the 101-year-old brand. One of the big changes was a return to a fresh-made root beer that the brand had moved away from. But bringing it back elevated that sense of heritage while returning to the modern desire for fresh, scratch food even in a QSR brand.
"Root beer was a part of a brand strategy that hinged on returning to our roots with quality food," said Bazner. "Fresh root beer is also more profitable for the operator, so it's a win-win."
---
COVID-19 forces pause on turnaround efforts
Smaller towns were somewhat insulated early on in the COVID-19 pandemic, but as more states shut down almost altogether and consumers began practicing social distancing in earnest, sales in these markets slowed just as drastically as major metros. Legacy brands are trying to cope.  
Pivot to delivery options
"I've not been a big fan of delivery for this brand, but that doesn't mean we weren't aware or working on it, and we had online" ordering "more than a year ago through Chow Now," said A&W CEO Kevin Bazner. "We made that available and have been able to push that out because we had a program ready and pushed that out to our franchisees en masse."
The company also pushed that online ordering and delivery to the drive-thru window. Given the modest traffic, he said it's as easy as saying, "I have a pickup order for Nick," and an employee hands it out the window.
Sales crater, but communities rally for engaged operators
"Beef 'O' Brady's, in our core markets with our best and engaged owner-operators, their sales are only down like 50 percent. They're really doing a great job with delivery and carryout. But outside those trade areas and where the owners and operators are not engaged, it's down 70 percent," said Beef 'O' Brady's CEO Chris Elliot.
Elliot said people have come out in droves for pickup and delivery to support their friend and neighbor that operates the restaurant.
Turnarounds pause, but opportunities may emerge
"It's more of a pause than delay. Thousands of other restaurants may not reopen, but with the stimulus monies made available and the increased capacity to develop, there will be more opportunities to add velocity to the growth of Bennigan's and Steak and Ale," said Legendary Restaurant Brands CEO Paul Mangiamele.
He said some of those on-the-edge restaurants in small communities could just throw in the towel, giving hungry growth brands more market share or open up real estate in new small towns.