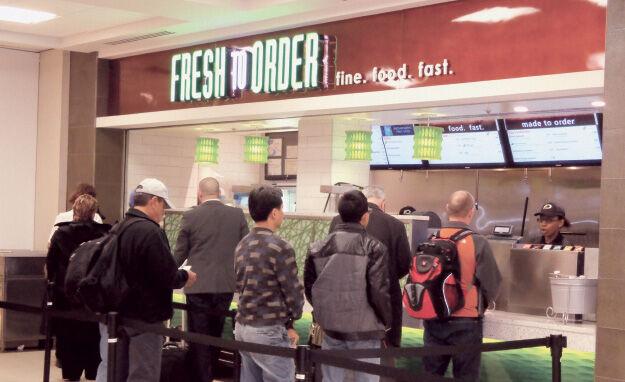 Airport restaurants, like this Fresh to Order in Atlanta, present unique challenges.
'How do you let them know where they are?' is the new question airports are trying to answer for travelers. But once you're in the airport, expect a major stage that can make or break your expansion plans.
Remember when every airport had a McDonald's, a Starbucks and a Chili's, in city after city after city? No more, as airports seek to create unique public spaces that serve as a gateway to the region.
"In our industry there's a lot of talk about a sense of place. How do you let them know where they are?" says Anthony Joseph, president of Concessions International in Atlanta. 
His firm handles all aspects of feeding the traveling masses: developing relationships with the restaurant concept, proposing concepts to the airport and then operating the restaurant for the franchisor or other owner if the bid is successful.
He's seeing more opportunities for new, smaller concepts to gain space in airports to fill the desire to go local. And he notes the master contracts of old, in which one company controlled all the leases in an airport for years on end, are giving way to individual leases, sometimes with new leases up for bid each year.
Denver and Dallas-Fort Worth are two progressive examples where they bid each store separately. "What that means is you don't have to be a billion-dollar operator to do it. It also means if you have something unique you can get in," Joseph said
Fresh to Order is a young franchise that just gained space at Hartsfield-Jackson airport in Atlanta, in a store operated by Concessions International for the franchisor. Pierre Panos, CEO, believes the store has to be perfect.
"If you're in an airport like Atlanta that so many people go through and you mess up," he says, "you've pretty much killed that concept before you've started. It can literally mess up your expansion plans nationwide."
Airport locations are tough to run, he notes. "One is the very high volume; it wears the staff out. There's lots of regulations, lots of unions sometimes. There are a lot of things you don't have on the street" yet it's still imperative to execute a "perfect product," Panos believes. 
Fresh to Order will have 16 franchised units by the end of this year. They're riding the trend toward healthier food options, especially desired by a rising number of women business travelers—although many people say they want healthier food in airports, but they don't always follow that up by buying it.
Panos and his executive chef worked with the crew at Concessions International, which bid for the space, won, and now operates the restaurant, first to tweak the menu offerings to make them easy to eat on the go and ready to be prepared in under three minutes.  
Clayton Turnbull agrees it's difficult to operate in an airport, and his early experience was a trial by fire. Turnbull owns Dunkin' Donuts franchises outside and inside of Logan International in Boston, where he began in 2000. In only a year the entire airline business infamously changed after 9/11, nowhere more than Logan and the boarding site of the boxcutter-armed criminals. 
"It was definitely a very eerie day, and then post that, it was never the same," he recalls. "Obviously on day one we went to zero" business as flights nationwide were grounded, "and our concern was employees. And then we were closed for two days totally. When we opened back up, our business was off 78 percent or something" for a long period.
He recommends operating locations inside and outside of airports, and building up a successful operation outside first. "You really don't want to learn this business in an airport environment" because that's not the typical business. 
"First you should understand what the long-term model is of the business in traditional stores, because then you can go into a very non-traditional store and you can make adjustments," he says.
Although some franchisees told Franchise Times it's nearly impossible to get into airports and they sweat out the experience each time the opportunity arises, Turnbull says there's no drama. "I don't think it's easy getting in the airport; I don't think it's a nightmare. What's most important is the match for the airport," he explains. 
Not all airports are opening up their doors to multiple brands. Chicago O'Hare and New York City airports are two notable cities where the old way of doing business reigns. 
Contracts go out for bid only once every 10 years or more, so trying to get in is a high-stakes game. And old-school patronage still applies, where government bodies don't wish to give up their hold over lucrative contracts and the political clout that goes with it.
Starbucks is one brand in its own category, as well; the uber-popular coffee shop is only operated in airports by one company that has exclusive rights. "And that's unfortunately not us," says Joseph of Concessions International. 
McDonald's is another—woe to the airport that decides to kick McDonald's out, as Minneapolis-St. Paul did in late 2011 when Delta Airlines wanted to revamp its G concourse for local offerings only. Customers howled, and McDonald's is now back at MSP, but on a different concourse.
But elsewhere the changes are notable. In Denver, for example, Concessions International operates two themed-bar concepts they designed, built and operate, both teamed with New Belgium Brewing Co. based out of Fort Collins, Colorado—the brewers of the popular Fat Tire beer. 
"It's successful because people are very smart, and they're very attuned to what's authentic and what's not authentic. If we had said we're gong to create a Colorado brew pub, people would know there's no depth to that," Joseph says.
When restaurants offer a sense of place, "it just means you have an experience that's more than being in an airport bar. You take something that might be forgettable, and make it memorable."
Turnbull, the Dunkin' Donut franchisee, believes operating in an airport requires his A game. "We have a lot invested. So you need to have a good run."