Despite Time magazine's recent cover story proclaiming all parents have a favorite child—whether they admit it or not—I love all three of my children equally. But that doesn't mean I can't have a favorite among Lane Kofoed's brood.
All five of his kids, ranging from 3 to 14, are extraordinary, but Sam, 5, won my heart when he told me I was "his favorite magazine editor that he'd ever met." Later, he admitted I was the only magazine editor he'd ever met, but I'm confident that even if he did get to know a couple of other magazine editors, including Anna Wintour of Vogue, he'd still like me best.
Sometimes you meet people and you instantly feel like part of the family. I grew up in a nuclear family—that refers to the structure, not our family dynamics. As an only child—besides my sister—I'm often lonely, so I developed a bad habit of inserting myself into other people's lives—especially if I like their families.
I was introduced to Lane Kofoed, the new CEO of Assisting Hands and the subject of this month's cover story, right after he held his first franchisee meeting at his ranch near Boise, Idaho. Once I heard about the horse rides, white-water rafting and roasting marshmallows over an open fire, I campaigned to get invited to his ranch. Fortunately, Lane and his wife Tammy are not only used to entertaining people, they actually seek it out. Prospective franchisees visit the ranch and are entertained by his family as part of Assisting Hands' discovery day. I may be pushy, but I'm not a totally clueless guest. Even though Sam told me I could sleep in their guest room, I declined. I reassured him I was happy at the Hampton Inn, where I had a free breakfast, free Internet and a TV that wasn't tuned to baseball like the one at home.
Sam is one of those funny, fearless kids you can admire because you're not responsible for their welfare.
At 5, he ropes goats, rides a horse like a pro and has the natural instincts of a seasoned cowboy. He's also honest. When 3-year-old Jacob told me he could beat his older brother David in a foot race, I pretended to be impressed, even though I had seen David play football the day before and knew this wasn't the case. Sam slipped off his stool at the kitchen counter and came over to me and stage-whispered: "That's because we let him win or he cries."
One of the funnier stories his parents tell about him is the time he watched his mother dump a bag of goldfish in the horses' water trough to help keep down the algae. A little while later, Tammy says, she noticed the horses standing around staring at the water and backing up. She approached the trough to see if the fish were spooking the horses just as Sam, who had donned swimsuit and goggles for the occasion, surfaced. He wanted to swim with the fishes, he told them.
It rained most of the day I was at the ranch and Lane and Sam worried we wouldn't be able to ride horses, after all. Lane knew how much I was looking forward to riding—and Sam knew how much he was looking forward to it. We also weren't able to float down the river in tubes, another suggested activity, but since that would have involved wearing a bathing suit, something I never do at work, I was secretly relieved. When Lane had mentioned the river in our previous conversations, I imagined floating along in some sort of boat—preferably a yacht.
It was really the horses I was interested in. I have this thing with horses. When I was 10 and a Girl Scout, I barrel-raced on a horse at camp and I remember being pretty good at it. (I also remember getting a hole-in-one in college, which my boyfriend at the time denied, but I think that's just because I broke up with him shortly after that—or did he break up with me?)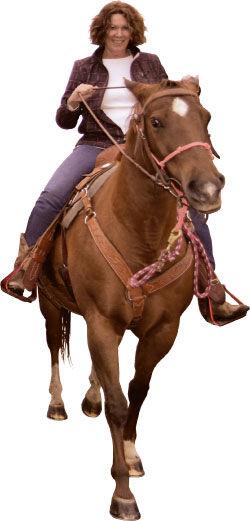 When I lived in Denver, I signed up for horseback riding lessons. I bought paddock boots and jeans I could tuck into them and never showed up for the two lessons because it snowed both days. Years later I bought a Groupon for lessons in Hudson, Wisconsin, but got cold feet—too bad I had long ago given away those unworn paddock boots.
In between raindrops, Lane saddled Tammy's horse Dolly for me. Two of the seven horses had gotten new shoes that day, but poor Dolly was shortchanged in the shoe and the rider department.
I should probably disclose that I know nothing about horses. I just know I like the idea of riding them. Dolly sensed she had a rookie when I allowed her to eat grass after being warned not to. Dolly didn't give me a choice, she surprised me by yanking her head down and pulling up giant weeds. I just assumed Lane was a little cheap with the horse feed; I didn't know letting a horse have her head made her think she was in charge. And I'm totally blaming her that I inadvertently rode on the neighbor's lawn instead of on the well-worn path at the back of the property.
Lane explained the way to ride was to go up when the horse goes up and down when the horse goes down. My body did the opposite. I think Dolly enjoyed feeling me slam into her back over and over again, because she trotted even when she didn't need to (notice the smirk on her face). At the river, Lane and Sam crossed to chase a calf that was separated from the herd. Dolly refused to walk through the deep water. "She doesn't like to get her feet wet," Tammy called out, from the 4x4. Geez, I thought, it's not like she just got new shoes or anything. Dolly sighed with relief when I dismounted. As did I.
After I boarded the plane to fly home the next day, I realized the best part of my job is trying on other people's lifestyles for a short period—and then returning to mine.