For Dave Anderson, the barbecue pitmaster and franchisor formerly known as Famous Dave, a second chance came wrapped in a heartbreaking wrapper. After seeing the namesake company he founded in 1994 and took public two years later grow to approximately 200 units at its peak, he recently severed ties and now has nothing to do with the restaurant still bearing his name.
As Famous Dave's continues to shed stores, its flagship location burned to the ground last fall and Anderson formally walked away from the business. He is back in the barbecue game with a new quick-service barbecue concept he plans to grow bigger than Famous Dave's.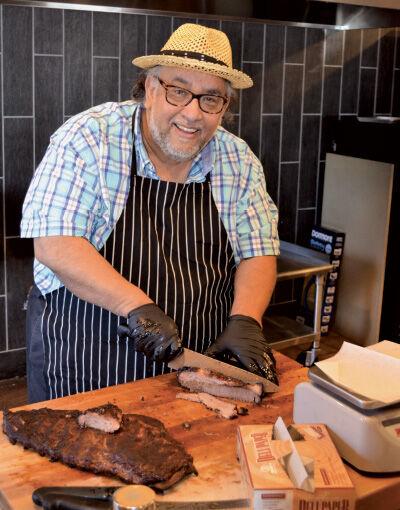 It's called Jimmie's Old Southern BBQ Smokehouse, an homage to his late father, and one of its raisons d'être is avoiding the errors of Famous Dave's, whose IPO Anderson calls the worst mistake he ever made.
Located in Hayward, Wisconsin, a small tourist town that's the original birthplace of Famous Dave's, this Jimmie's is the first of what he intends to grow into a 1,000-unit international concept.
"I think we have something really exciting here—you can feel the energy, and we're just in a town of 2,000 people," Anderson said. "If you can prove yourself in a small town, I think the concept really has legs to travel."
Small-batch ambiance
Whereas Famous Dave's is a casual sit-down restaurant, Jimmie's is more casual with a quick-service format (think Chipotle) that Anderson likens to a picnic where everybody lines up to fill their plates.
He also compares the 60-seat, 2,500-square-foot restaurant to an old-fashioned barbecue storefront, the kind his dad used to patronize on the south side of Chicago, which inspired interior decor that's defined by handmade tables, rough-cut pine paneling, no commercial signs and chalk artwork by local artists.
The stack of cut maple wood by the front door, such as you'd find in basements and outbuildings throughout Wisconsin's northwoods area, is used as its smoking wood, rather than the go-to hickory.
"We think the maple is what differentiates us from all other barbecue joints," Anderson explained, after asking about the unique taste of the brisket. "I've found that sweet maple wood gives a very distinct flavor."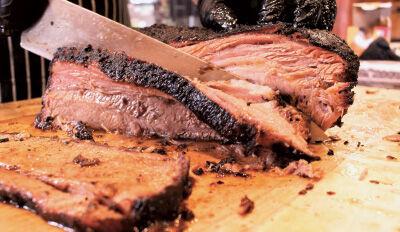 Proteins include pulled pork, chicken, Texas-style brisket, smoked sausage supplied by a shop in Chicago and smoked ribs that use the whole spare, rather than smaller St. Louis cuts. Anderson says it makes the ribs juicier.
Sides are made in small batches throughout the day— barbecue beans, rice, mac and cheese, sweet potatoes, mashed potatoes, three types of slaw and cornbread muffin tops.
Keeping the sides coming without delay has been a challenge while ramping up the first location, said Dave Von Rueden, a former Famous Dave franchisee, now part of the Jimmie's corporate team, who is focused on food and beverage operations.
"We didn't know what we were doing the first time —I didn't, at least," he said. "We want to make it successful across the country and do what we should have done with Famous Dave's."
While discussing what's different between the two chains he's started, Anderson strongly brushed off any direct comparisons.
"I wouldn't say this is a changed version of Famous Dave's, there are a lot of things that are very different," he said, with a trace of umbrage. "My barbecue sauce is gluten free and no high fructose corn syrup. All of my product is traceable sourcing. I've visited every farm and know personally where my pigs are coming from."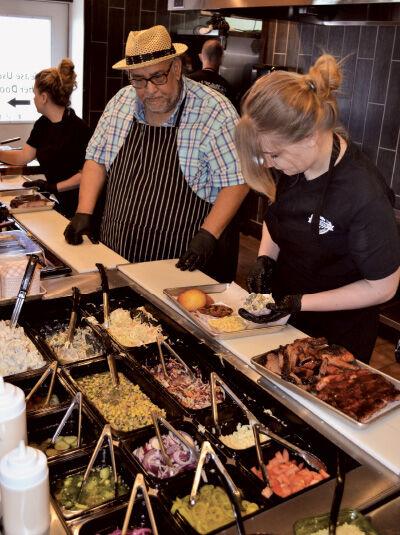 As the line extended out the door on the Friday of Memorial Day weekend, Anderson said those in the queue were locals, not the tourists who would arrive later in the afternoon. He expected to sell out of several items before the 9 p.m. closing time.
Lean meats
Charting a different course than with Famous Dave's, Anderson hopes to avoid Jimmie's feeling like a chain. His approach means no corporate office this time around. His four HQ staffers, including Von Rueden, work out of their homes and use Skype and cloud-based accounting to stay in touch.
"Our plan is to be lean and mean," he said. "We're all home based, working out of briefcases. That way we can put all the energy back out into the restaurants, not sitting in some corporate office."
When he's not in the store or working on recipes, Anderson does his own site selection for future locations. The second is planned for Rice Lake, 50 miles south of Hayward, opening later this summer.
He feels small towns are an underserved market, and is searching for communities with a big-box home improvement store, hospital and some type of higher education—signs of disposable income. Favorable unit economics allow Jimmie's to be successful in rural environments, he added, with the caveat that he's also interested in the Minneapolis and Chicago markets.
The first Jimmie's is on track to do approximately $1.5 million in sales during its first full year. He envisions franchisee entry costs between $300,000 and $350,000.
Famous Dave no more
As we sampled the menu, a stream of customers came up to congratulate Anderson on his new venture. "I'm really happy for you," said one after dropping his tray off near the trash. "We used to go to your other place on the lake — keep 'er going, it was excellent."
Anderson cut off chunks of meat and dipped them in one puddle or another, explaining the nuances between Dixie Red and Chicago Blue barbecue sauces.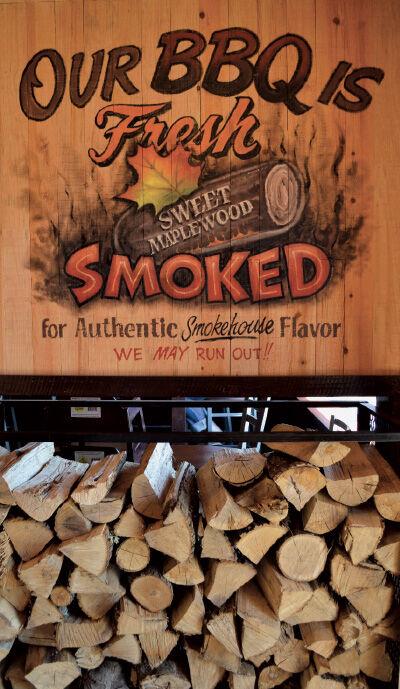 "Do I have a winner?" he asked with a smile, noting my approval.
I took this as my window to dig into the tough stuff—leaving his namesake company and the late-fall fire that burned down the original Famous Dave's store, a hand-hewn log building that was one of northern Wisconsin's most well-known destinations.
"There's no way that you could ever replace that building," he said, although he's brainstorming ideas to rebuild on the land that he still owns. "I never thought that the original Famous Dave's would be lost to a fire—there were so many antiques in that building."
He laments losing control of recipes through his "divorce" with Famous Dave's corporate, and of a business he hoped to, at least in part, pass on to his children.
"I realized that the Wall Street people were running the brand, not the people who were passionate about barbecue," he said. "At that point, I said 'if Wall Street wants to run Famous Dave's, let them, I've got to do my thing and be true to who I am and what I believe makes good barbecue.'"
Famous Dave's corporate declined to comment for this article.
Anderson stepped down as CEO in 2004, when he was sworn in as assistant secretary of the Bureau of Indian Affairs. He remained on the Famous Dave's board as chairman emeritus, the non-management role he officially walked away from in 2014, incensed with the company's poor performance and, as he puts it, an over-reliance on Wall Street managers.   
Embracing change
Anderson claims business, not barbecue, people are now running Famous Dave's, and the street has been unimpressed. After closing above $34 per share in late February, its share price has since fallen approximately 40 percent into the high teens, a 52-week low.
Following Q1 2015, Famous Dave's announced it closed four company-owned restaurants and saw declines in revenue and same-store sales. Former CEO Ed Rensi, the latest short-lived CEO who departed the post in late June, cited an ongoing discounting strategy, "unusual weather patterns" and a later start to Lent compared with 2014.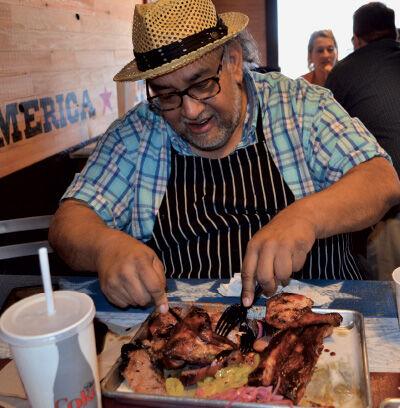 Activist investor Adam Wright, who joined the board in 2013, is serving as the interim CEO while the company looks for a permanent replacement.
Mark Smith, a senior analyst with Minneapolis-based Feltl & Company, has followed Famous Dave's for more than 10 years. His firm recently downgraded the stock to "sell" from "hold," and he said it hasn't delivered back-to-back, same-store sales increases any time during his time watching the company.
"They're working on a turnaround and I think they're making some good decisions, but I think they have a long road ahead of them, a lot of work to do and a concept that I think is tired," he said.
Listing the company's primary stumbles, he cited infrequent menu updates, high average ticket prices, poor relations with its franchisees and a general lack of evolution.
"The speed and language early on may have turned a lot of franchisees off and turned them against the new management team early on," he said, referencing Rensi's arrival in early 2014, a former chief executive at McDonald's.
Referencing a previous test of a Famous Dave's-branded fast-casual concept, Smith said morphing into fast-casual could cure some of  its ills, especially related to pricing.
"Looking at the success of Dickey's seems to show that you could do something trimmed down, easier and faster with lower price points that could make sense," he said. "It will be interesting to watch what Dave does."
Acknowledging that his legacy will forever be tied to the chain still bearing his name, Anderson said the successful launch of Jimmie's means he is officially ready to move on and focus on a concept that's designed to be very different from his first franchised venture.
"I'll never lose the deep pride that I have that I founded Famous Dave's, and I think that I'll always be able to say that I was the founder," he said. "With that being said, I've moved on. We all come to a realization that life is about change, and in order for me to grow I had to move on."