U.S. Army veteran Jerry Flanagan is fiercely committed to his brothers and sisters in arms—so much so that he awards J-Dog Junk Removal franchises only to military veterans and their families. Now he's gearing up to add additional concepts but vows to never waver from his pledge, even if it limits growth.
As he expands the 4-year-old, 16-unit franchise based in Berwyn, Pennsylvania, Flanagan is leveraging military-trained skills to help returning service members generate income and equity in a business, while building a brand that's about far more than junk removal.
He envisions J-Dog becoming the go-to franchise for military personnel getting out of the service, and expects to add up to 10 new brands in the next few years while affecting approximately 10,000 military people along the way.  
"We are the only franchise concept ever to sell strictly to military vets and military family members," Flanagan said. "I built the company based on respect, integrity and trust."
Possible future J-Dog brands include driveway sealcoating, cyber security, painting, electrical services and commercial trucking, among others—with the first new concept slated to debut before the end of 2015.
Flanagan originally had no plans to franchise the business he started in 2011, but recanted six months later as the benefits of building a franchise system outweighed the expense and effort of adding multiple locations on his own.
Several enthusiastic parties without military experience have attempted to loosen Flanagan's veteran-only requirement, but he has no intentions of changing his mind and sees no shortage of eager veterans.
"I just can't do it—I'm not doing it for the money," he said, about broadening his base of prospects.
There's a $25,000 franchise fee, and the requirement that franchisees own a truck capable of pulling a 2,000-pound trailer. Common J-Dog vehicles include mid- and full-size trucks and SUVs, including Jeeps, Hummers and Toyota FJ Cruisers.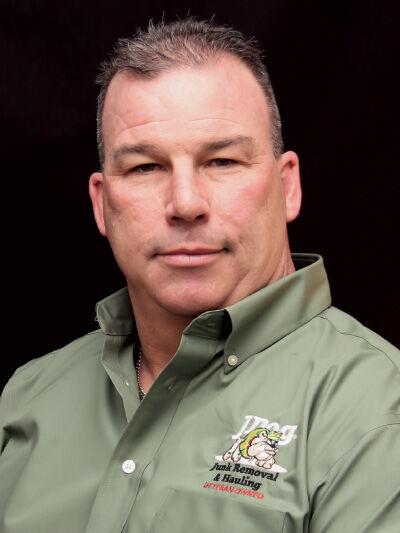 Once up and running, with a rig wrapped in the trademark J-Dog bulldog wearing fatigues, Flanagan said his franchisees typically make 80 percent margins from diverse revenue streams resulting from re-selling, recycling and/or reusing items that clog up commercial offices and private residences alike.
"We try to repurpose everything that we get our hands on," he said, adding very few items removed by its crews ever make it into landfills.
In three years in the junk biz, he said his most unusual haul was a 100-year-old anchor embedded in someone's backyard that was once a waterway. It weighed 500 pounds and took two days of brainstorming and true sweat equity to remove.
Thomas "TR" Hoffman is a recent franchisee who opened up his first J-Dog franchise in Columbia, South Carolina, this April. With 23 years in the Army and Army National Guard, and a brief, less-than-enjoyable stint in the private sector, Hoffman said the business is an easy transition for military personnel looking to build a business.
"It's a good launching point for a lot of these guys—you learn how to work with customers and how to work with the civilian world again, and maybe have the opportunity to calm down," he said. "A good sweat always helps wash away the stress of military life."
With hopes of opening a second J-Dog location in Asheville, North Carolina, Hoffman was enticed by the scalable nature of the business, which allowed him to start with one truck and, later, build the business as large as he wishes.
He said the military-only angle is a double-edged sword. He is uncomfortable using his military experience as a marketing tool, and said the franchisee requirement could be restrictive if he later wanted to sell his Columbia franchise.
"I've always been the guy in the airport, when somebody comes up to me and says 'Thank you for your service,' I'm a little bit embarrassed," he said. "To me, it's been a job and a great career."
With J-Dog's plans to move into new, unrelated categories, Hoffman is open to considering new product lines for his fledgling franchise in the coming years.
No matter the industry, Flanagan says J-Dog will remain military only. With 1,600 franchise leads in the company database, he doesn't see the need to change his business model.
"I would be able to sell a lot more franchises (with a different model), but I think it matters, because these guys need some help getting back into business and controlling their own destiny," he said.