"We're really good at what we do," says Mike Knapick, who with his brother, Andy, earned their franchising chops developing top-performing Jimmy John's locations and today own 10 Dunkin', three Bar Louie and three CoreLife Eatery locations. They sold their Jimmy John's restaurants last year and were on the lookout for another concept when Pedal Pub began franchising in April 2018. They'd been keeping an eye on the Minnesota-based brand ever since Mike saw the people-powered party bikes rolling through the streets of Austin, Texas, and recently inked a multi-unit agreement to launch the franchise in 10 Florida markets, including Miami, Fort Lauderdale and Hollywood, and from Boca Raton to South Miami.
"Jimmy John's created a fantastic base for us to teach us how to become really strong operators," says Mike of the 14 stores they owned. "The franchise world gives us the ability to show up at the game and execute and not create the game."
The Knapicks found in Pedal Pub an attractive investment for its lower entry cost—start-up costs for one market are estimated at $76,959 to $266,999—compared to their restaurants, fewer labor hassles and, with their markets in Florida, "the ability to make money 12 months of the year," says Mike. "It's really the simplicity of the model."
The Knapicks' other franchises are spread throughout Indiana, Michigan and Ohio, and longtime operating partner Bill Adams is relocating to manage the newly formed Miami Pedal Machine, LLC. Andy notes they've joined several area chambers of commerce to help introduce the concept and are also working through local ordinances regulating their operation.
On the marketing front, the Knapicks plan to expand beyond the usual bar-hopping tours to target a range of customers. In the Wynwood neighborhood of Miami, notes Andy, "you could have a bookstore tour out there on Tuesday at 10 a.m." or do progressive dinner or dessert tours. "There's a bunch of different ways you can get really creative with it."
---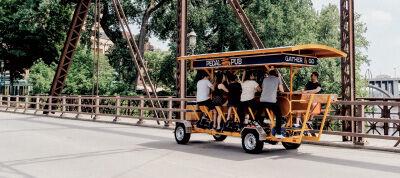 Quick Hits
Glory Days Grill signed an eight-unit development agreement with Carolina Performance Food Group, which will open locations of the sports-themed casual dining restaurant in Raleigh, Durham, Chapel Hill and Fayetteville, North Carolina. CPFG is co-owned by multi-unit IHOP franchisee Robert R. Stafford and King Hospitality Inc.
Blink Fitness inked a deal for 20 gyms in the greater Sacramento metro area with Yadav Enterprises, which is also a franchisee of Jack in the Box, Denny's, El Pollo Loco and others. Blink also signed a 10-unit agreement for the Boston metro area with Boston-based investment group BBI Fitness Holdings.
Massage Heights signed a franchise agreement with Mike Sammam and Dr. Hatem Hatem to develop two new retreats in the Detroit, Michigan market.
Newk's Eatery signed an 18-unit deal with Matthew Biggers and Cuyler Esposito, co-owners of Fully Belly Holdings. Ten Dallas-area locations are planned, along with eight Oklahoma locations.
Coolgreens, a healthy lifestyle eatery, signed a development agreement to expand into Omaha, Nebraska. The deal with Joshua Vollertsen and Sanus Fieri, LLC will bring three Coolgreens restaurants to the area, with the first slated to open by the end of 2019.
TheCoderSchool continues to expand in Georgia, opening a second location with franchisees Jerry and Kim Massey, who plan to open 10 more schools throughout the greater Atlanta metro in the next several years.
Big Blue Swim School is coming to South Florida, Orlando and South Carolina thanks to a five-unit deal signing with franchisees Adryenne Hearne-Alvarez and Derek Hearne. This is the third brand for the brother-and-sister duo; they also own an Amazing Lash Studio and seven Orangetheory Fitness locations.
Deal Tracker is the place to find news of multi-unit development agreements, brought to you by Editor Laura Michaels. Want more? Sign up for the semi-monthly e-newsletter at franchisetimes.com/e-newsletter. To share your brand's multi-unit deals, email details to lmichaels@franchisetimes.com