The best way for a franchise to get lending for its system is to make sure lenders know about the brand—and that means talking with bankers. This year's upcoming Franchise Finance & Growth Conference will give franchises that opportunity.
This year's event, to be held March 26 and 27 at The Venetian Las Vegas, and co-sponsored by the online lending site BoeFly, will bring together both lenders and franchise brands in a new format. 
This format will give numerous franchise brands the opportunity to get in front of lenders, who frequently hold the key for those brands' growth potential.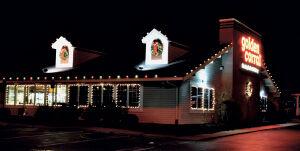 The conference, now in its 16th year and presented by Franchise Times, will also feature the  Dealmakers Awards, our annual recognition of the year's biggest deals and the people who make them happen. 
Franchises will make 15-minute presentations in front of a group of financiers eager to lend money. Lending has eased in the years since the end of the recession. More lenders have entered the franchise market, and that growth has intensified competition and made them hungrier to make loans.
Franchise systems will also get the opportunity to host Q&A sessions with lenders and others interested in financing franchises.
Several well-regarded franchise brands have already signed up to make presentations at the conference, including CKE Restaurants, owner of Hardee's and Carl's Jr., Dairy Queen, Jersey Mike's, Zaxby's, TGI Friday's, Checkers, Captain D's, Toppers, Del Taco, Bojangles, Corner Bakery and InterContinental Hotel Group. As many as 35 brands will be making presentations over the two-day event. 
For more information, visit our website, www.franchisetimes.com.
It pays to be festive, Golden Corral learns, and effect lasts past holidays
Golden Corral performed an unusual test in 2012: It put Christmas lights on six restaurants around the country and measured the sales numbers. The results of that test were enlightening—a 5 percent sales increase compared with the chain's restaurants that had no Christmas lights. Most of that increase came in the form of higher traffic.
That's a big difference at a time when sales growth of any kind is tough to come by. "We were tickled with it," said Bob McDevitt, senior vice president of franchise operations for the North Carolina-based chain. "That's pretty darn good for this industry." He said more franchisees followed suit this season, with 30 to 40 hanging lights, "and we're still counting." 
"This is the time of year when you can raise your street level presence aggressively," McDevitt said. "It's the one time of year when you can brighten up your building and everybody loves you for it."
Consumers love Christmas, and they love Christmas decorations. So it only makes sense that a well-decorated restaurant would lure more business from customers simply looking for a more festive experience. But that's not the only reason: The decorations draw attention to the restaurant, like extra signage. And the sales boost lasts beyond the time when the lights come down, McDevitt said.
Taco Bell takes up the breakfast challenge, a risky proposition
At Yum Brands analyst day in December, executives acknowledged plans to add breakfast at Taco Bell, citing strong early tests and an apparent pipeline of products that could keep bringing customers in well after the daypart's launch.
It makes sense, in theory. Breakfast is a big, growing daypart. The market research firm Packaged Facts said in a report breakfast sales at restaurants will total $47.4 billion this year, up 5 percent from last year. That growth is expected to continue in subsequent years, and if it does will easily outpace overall industry sales improvement numbers.
But adding breakfast isn't easy. Indeed, the path to QSR success is littered with failed breakfast ideas. Wendy's, for instance,  tried for years to effectively add the morning meal, and failed every time before finally giving up. You still can't get eggs at most Wendy's locations.
According to the restaurant consulting firm Technomic, just 20 percent of consumers said in a survey they plan to increase their breakfast consumption at restaurants in the new year.
That Technomic study noted 63 percent of consumers feel it's unhealthy to skip breakfast, but that still means more than a third of consumers feel it's OK to take a pass. And many clearly do. Others who don't are usually home when they begin their day, and there are many easy ways to consume breakfast in a hurry. In short: It's a thinner market.
It's also more competitive, and that will be a relatively new experience for The Bell. One of the chain's strengths is that it has no real direct, national competitor, and only a couple of good-sized regional competitors. That won't be the case at breakfast. There, it will compete not only with McDonald's, which fully dominates the quick-service restaurant breakfast market, but it will aso go up against Starbucks and Dunkin' and Panera Bread, all of which have much more experience at this sort of thing. They also have really good coffee. And, according to Technomic, coffee is key: 64 percent of consumers drink coffee at breakfast.
None of this is to say that Taco Bell will fail once it starts opening earlier. And we admit that our inner 20-year-old male is intrigued by the Waffle Taco—which is exactly the sort of product Taco Bell should be offering. 
But it's a big risk. While breakfast does add incremental sales, it still costs money to serve. And a failure can follow a chain for some time. Some Wendy's operators still blame breakfast failure for the years-long sales weakness from which the chain emerged only recently.
Supreme Court to mull cases dear to Domino's founder, over birth control
One of franchising's notables, Domino's Pizza founder Thomas Monaghan, is likely keenly interested in the announcement from the U.S. Supreme Court in December. The court will take up two cases in which privately owned companies object to covering contraceptives for employees, as mandated in the Affordable Care Act, because doing so violates their religious rights.
The justices will consider two appellate court rulings that reached opposite conclusions, in challenges from Hobby Lobby Stores and Conestoga Wood Specialties. Monaghan's real estate company, Domino's Farms Corp., filed a similar challenge in late 2012. "This is a case about religious freedom," the lawsuit stated.
Domino's emphasizes that Monaghan sold the franchised pizza-delivery company in 1998 and has no active affiliation with the brand today. Last spring the company nonetheless had to state that distinction on Facebook when the blogosphere lit up with commentary on Monaghan's (and in many eyes, Domino's) stand on the controversial issue. In an article in April, Domino's told Franchise Times: "We are not a political company; we are not a religious company. We are a pizza company, plain and simple."
The cases have the potential to expand First Amendment rights for corporations, a concept established in the court's Citizens United opinion. That 2010 decision found that corporations have free speech rights just as individuals do. A decision is expected in June 2014.