In no-man's land no longer, CKA Management has infrastructure to keep growing
Three partners who put the C, K and A in CKA Management found themselves in a common dilemma—they didn't have enough stores to support the systems and people needed to grow beyond 20 or so restaurants.
"When I started we had seven restaurants with my partner John, and we had a discussion—stay small with seven, and be hands-on every day, or you're going to have to get larger and have an infrastructure to support it," said Keith Kas, who with John Antonaccio and Joe Cugine today operate 54 Wendy's and 14 Taco Bells on the East Coast.
CKA's first significant purchase was a handful of stores based in Syracuse, New York, near the Canadian border, whereas their current stores were in New Jersey. "I knew other franchisees would say, how are you going to manage people so far away?" said Kas. He instituted a bonus program, so district managers feel like they have ownership. The partners don't buy everything they see. "We had an opportunity two years ago to buy 44 restaurants at one clip, and we said we don't have the infrastructure. It takes time to gear up for that," Kas said.
His advice for other operators: "You've got to make sure not to buy stores just to buy stores. It's got to be the right deal for you. You have to sit back and think, how can I manage these restaurants? You have to have people."
Auspex Capital, based in La Palma, California, was the advisory firm on the series of transactions for CKA Management (already in 2018 they have added more stores to the mix.)
Over the 18 months from July 2016 to December 2017, CKA completed a total of 10 buy-side transactions that added 38 Wendy's restaurants to their portfolio. The majority of the equity required to fund the deals came from four sell-side transactions involving eight Taco Bell units. The total dollar value of the 14 deals was nearly $50 million.
Chris Kelleher, managing director at Auspex, said many operators find themselves too small to support a growth spurt. "That's one of the themes that we push in our practices—you can't be in that no-man's land, which we define as five to 25 stores," he said. "The guys in that five-to-25 range, they need a full complement of overhead, but they don't have the store base to spread it around. That's why you're seeing those guys leaving the scene. Once you get to 35, 40, 50 restaurants, you can bring in a real CFO, a real director of operations, a real human resources manager, and then you can drive the business."
Auspex developed "a machine" that could process all components of the deals quickly, said Kelleher. Added Naveen Goyal, who led the deal for Auspex, "At any point in time you were negotiating with several sellers. Rather than getting into a food fight, we said, 'Share your numbers with us on a confidential basis.' I think the sellers appreciated" the process.
Kas at CKA Management said he looks for operating efficiencies they can realize in any restaurant they purchase. "If I run 27 percent cost to sales and if theirs is 29 percent, well, that's something I can improve upon," he said. "If you improve your food costs by 2 percent and your labor by a point and a half, that's the way to grow."
He keeps a sharp eye on general and administrative costs. "As you add stores you want to control your G&A costs. I've seen G&A costs eat up other groups." In his latest acquisition, he's finally got the team in place he needs. "As I added on seven restaurants, I didn't add on any G&A expenses," a nice spot to be for an acquisitive operator.
---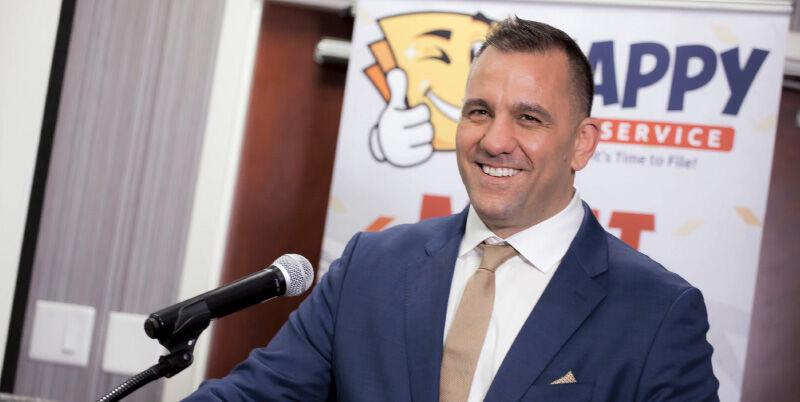 Mario Costanz, CEO of Happy Tax, went "from GED to garbageman to grad school."
---
Happy Tax CEO buys Opportunity Tax as pathway to the future
Mario Costanz, CEO of Happy Tax, has a provocative tagline on his email signature: "From GED to Garbageman to Graduate School." So before we talked about his acquisition of Opportunity Tax, we needed to dissect that story.
"As a teenager I was a smart kid and went to one of the best schools in New York City, but I was also a knucklehead," he said. "My sophomore year, my teachers started failing me for not showing up."
He dropped out of high school, went right to college and dropped out of college, too, and became an entrepreneur. "Then I was a business failure, and lost some loved ones. I took a job as a New York City garbageman and then I quit that to grow my businesses. Two years ago I was invited to Stanford Graduate School for an entrepreneurship and innovation fellowship, and that's where the graduate school came from," Costanz said.
Today Costanz is 42 and the founder of Happy Tax, a virtual tax preparation franchise that he's operated for two years. That's after being a Liberty Tax franchisee, growing from one unit to 99 and then selling them back to corporate. He's a vocal critic of the traditional tax preparation franchises, including H&R Block, Liberty Tax and Jackson Hewitt, the leaders, and enjoys taking shots at them through provocative open letters and frequent updates to reporters about what he sees as the big three's missteps.
"One thing I do differently than most CEOs is I keep up with all of my competitors, or at least the ones that will still talk to me, that don't hate me yet," he says with a laugh. A former colleague at Liberty left that firm to start Opportunity Tax along with a tax software company. A couple of years in they had grown to about 10 franchisees, and in 2017 Costanz got a call to look at an acquisition.
"I was against it initially," said Costanz, "because we're a technology company. We're the future of the tax business. The bricks and mortar tax business is in the past," yet Opportunity Tax was a straight-up traditional tax prep company. But he realized independent, traditional operators could benefit from joining up with Happy Tax.
He's not sure how big the opportunity is as these are early days, but he's happy with the addition of Opportunity Tax to his holdings. "Happy Tax is the future but many people aren't in the future yet. They're still living in the present," he said. "We realized, this could be a bridge for the independents."
---

---
Hari Group leads pack of buyers for 67 Dunkin' units, corralled by Paris, JCM
December 15 in Chicago. Minus 15 outside. A ballroom at the Ritz-Carlton. That was the setting as buyers' attorneys, sellers' attorneys, execs from corporate and several different buyer groups worked until the wee morning hours to pull off the biggest deal in Dunkin' Donuts history.
"It was so cold once we got to the hotel. I think we were there for 14 hours and we came to an agreement, and we said we were going to sign it tonight," recalls Dan Connelly, managing director at JCM Franchise Development, who pulled together seven different buyers, whittled down from the original 10, to sell 67 stores in Chicagoland for their client, North Shore Management Group, in one fell swoop.
"We try to keep a strong understanding of who wants to grow, who wants to shrink and how to do it," Connelly said. "Not that many people can take over 67 stores." So he talked with key CPA firms and law firms on the conference circuit, as he always does, and turned once again to David Paris, of Paris Ackerman law firm, whom JCM had worked with in the past to help Dunkin' franchisees in the Northeast, Dunkin's stronghold, move to Florida.
The key to the Chicago deal turned out to be Bud and Raj Patel, the father-and-son duo who rallied their fellow franchisees around town who wanted to buy some of the stores.
Raj Patel said he and his father know most of the operators around Chicago, and hustled to get them together. "Everyone paid the same price and we just went with the deal. At the end of the day, everyone wanted the deal done, so there wasn't a lot of bickering," he said. "There's really not much else" available in the Chicago area with Dunkin. "There's no way you can grow your network this quickly and this aggressively. This was a nice little spot for people to stay in the state."
The Hari Group, the Patels' company name, now has Dunkin's in Indiana, Illinois and Iowa, for 51 or 52 total Dunkin's. Raj is 30 and Bud is 57, so unlike many franchisees the Hari Group has the perfect succession plan. "That's another benefit for us. We don't build to sell. There's a lot of operators who want to get out in five years. We've never operated like that."
Raj says he likes to stick with the same advisers and bankers whenever possible, so they used local banks out of Chicago and then a bank out of Boston for the Dunkin' deal because it was too big for the locals. His advice: "Having the right people around you—attorneys, accountants bankers. There's only so much I can do. I can agree on a price with the seller and then the attorneys and bankers are taking it from there. We're very loyal to our people and they know that."
David Paris, the attorney for all the buyers' groups, describes a number of chaotic scenes of his own, once the overall agreement was done in that Ritz-Carlton ballroom. Then his firm's job was to gather all the facts on every store and properly sequence the purchases by seven individual groups.
At one point, they closed three deals in one day, "and that was an experience to say the least. Three different buyer groups, three different sets of assets and three different banks, and there were literally papers flying through the air. We got it done and it took the whole town to get it done."
Paris is a man who clearly relishes the game. "It was complicated and scary and fun all at the same time."
---
Katten's finance architect enjoys the art of the deal, and racks up big numbers
If there's a complex financing deal involving debt in the restaurant space—in other words, nearly all of them— chances are Katten Muchin Rosenman's commercial finance practice played a role of some sort.
To be specific, chances are Derek Ladgenski, partner in the practice, could have advised the deal. Known as a franchise financing architect, as the nomination form described him, he counsels large banks and private lenders in sophisticated leveraged loans to finance buyouts by private equity firms, and the growth and working capital needs of restaurant concepts franchisors and franchisees, the form said.
He advised on more than 75 deals in 2017 in the franchise and restaurant space, with loan sizes ranging from $25 million to more than $800 million. As the judges who selected the Dealmakers winners said, just about everybody knows about Katten.
Ladgenski won't name names when talking about deals, citing client confidentiality, but he will talk about some trends he sees in restaurant M&A.
One is why so many franchisors are combining brands. "Scale is king for a lot of businesses. Where you're out there and need to be purchasing widgets, and those widgets can be food or product, obviously a bigger player in the market is going to be able to buy it for lesser dollars."
Another is C-level talent: "As the retail and franchise industry matures we have seen a progression and a development of C-suite level executives who really know their stuff," he said. "You've seen a better pedigree of C-suite level executives that are valuable out there. At the same time if I can combine two of the companies that makes a lot of sense for me."
He's another attorney who enjoys the chase. "I have a relatively short attention span, so the deals only take four to six weeks. It is fun because we're not stuck on long cases that last years where there are no winners. We facilitate the growth of businesses."
---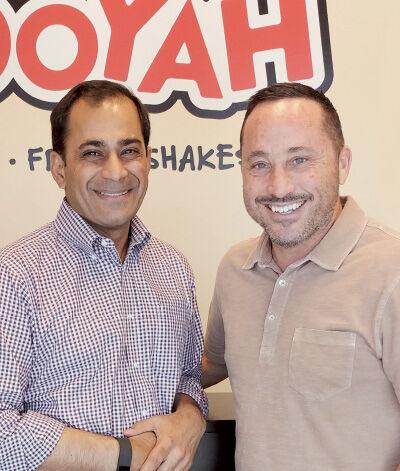 Gala chooses Mooyah as first buy targeting 'adolescent' franchises
A few years ago Anand Gala, long-time multi-unit franchisee in Jack in the Box, Applebee's, Famous Dave's and more, began thinking about selling his restaurants and deciding what's next. Would he continue as a franchisee? Would he sell everything and get into real estate?
"I really gave a lot of thought as to, where do I think I have distinct knowledge that I can utilize?" said the Orange County, California-based Gala, who joined his mother's 10-restaurant Jack in the Box operation when he was 24. He decided his "personal purpose" was to "really help as many people improve their lives" as possible.
"I specifically started to reflect on what got me here. Well, franchising got me here," so he decided to cross the aisle, and like Aziz Hashim of NRD Capital and Richard Eisenberg of Rightway Brands, to name a couple of franchisees-turned-franchisor, purchase franchise brands with an eye to improving their economics and thus growing their unit count.
"There are a lot of adolescent franchisors, meaning they are past proof of concept, they're probably 20 units or larger, and our preference is 50 units or larger, and they don't know what they don't know," Gala said. "They've grown it, and they really have done their best to take care of their franchisees, but they can't seem to figure out a way to turn the corner."
He figures a multi-unit franchisee has the best perspective. "I've been a franchisee for 35 years across multiple brands. I know when they say X they mean Y," he says about franchisors. Plus, he figures companies he buys will get a big benefit. "We have something these people get for free, which is 35 years of experience" in restaurants.
Gala has made his first purchase, Mooyah Burgers, Fries & Shakes, taking care to keep the management team but allow the founders to exit. "It came with a very, very good management team that was simply cash-starved," he said.
The leader of the charge at Mooyah is Michael Mabry, president and COO. He calls the deal "a management-led buyout without my money," and said it was time for him and his team to up their game. "We're a 10-year-old brand, and for the first 10 years of our existence, we were a founder-run organization, with both of those founders being consummate entrepreneurs and both great guys." Over time, "it became clear to the leadership that we felt we needed some outside influence and outside eyes on our brand.
"Anand and I had a relationship through conferences, and I approached him and pitched the deal," Mabry said. "I believe Mooyah would be considered the alpha test, let's see what this thing looks like," for Gala—a sentiment that Gala confirmed—Gala would plan more acquisitions down the road if this first one works well.
Gala also brought in Balmoral Capital, owned by an old friend, on this deal, and it is the first restaurant and first franchise deal for Balmoral—so Gala wants to be sure it's a hit. "People are looking for what I would call kinder, gentler private equity. Typically private equity is very smart, but they tend to not have a lot of restaurant experience," Gala said.
---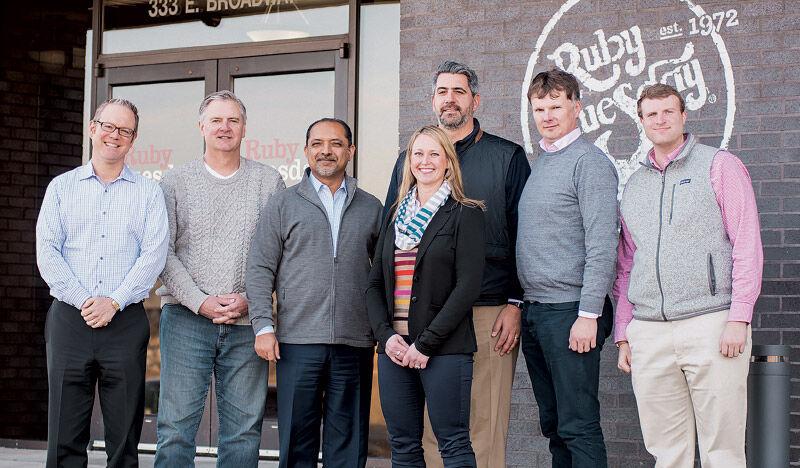 NRD Capital's CEO Aziz Hashim, third from left, and COO Susan Beth, with colleagues.
---
Ruby Tuesday purchase shows ascendance of the  operator, NRD boss says
NRD Capital made its biggest splash yet last year, purchasing Ruby Tuesday for $335 million and taking the storied but flailing restaurant company private. Aziz Hashim, founder of NRD Capital of Atlanta, said his firm will put its operational chops to good use in trying to turn around the brand.
"This deal is indicative of a shifting trend in restaurants to operator-based management strategy," he said. "The age of financial engineering as a primary business strategy has run its course."
NRD looks for two types of deals, he added: those that have compelling unit-level economics that his team can improve upon, for one. "But we also look at revitalization deals, iconic restaurant companies that have not had the best of luck recently, and we feel that we have the operational expertise to improve," and he felt Ruby Tuesday fit the bill.
"Most of the people I talked to have had a very positive experience with this brand. We felt this was one we could jump in and jump-start it."
Taking a publicly held company private is an enormous challenge, one that Amy Cheng of Cheng Cohen, NRD's outside transactional attorney, knows in full and laborious detail. Citrin Cooperman was due diligence adviser and Arlington Capital was financial adviser.
One hurdle: "There were a lot of shareholders that bought into the company for a higher price," Hashim points out. Also, public companies will not announce the deal until it is all done. "You have to spend the time and money ahead of time, without knowing if you'll get it. We were not the only bidders. Once you announce, you are bound, so if you don't perform, you're going to pay a lot of money."
Susan Beth, NRD's chief operating officer, adds she and her colleagues approach the new businesses they bring in with an "operator-centric" focus. "We just come with a practical business sense, and not just do it because you can do it. Do it because it's the right thing to do."
She praises Hashim for the team he's assembled, including herself a few years ago. "When I look at the team Aziz has assembled here … it's the most balanced imbalance you'll ever find. We're a little bit goofy and a little bit odd, but somehow it works. Everybody has a little bit different core competency. We're small but mighty at NRD."
Hashim believes the push to refranchise, or sell corporate stores to franchisees, at Ruby Tuesday is months down the line. "I just don't believe you refranchise before you've sorted things out. I don't think you refranchise the brand until the brand is satisfied that we're on the right track."
He thinks the key is to dig into the brand strategy. "You have to know who you are. One of the issues in casual dining is there's been a sort of genericism has set in. You hear all these jokes about, you could put the four names on the menu and no one could tell the difference," Hashim said. "Now that we're private we have the luxury of being able to sit back and say, what do we want to be known for and how are we going to get there?" It will take a lot of heavy lifting to get Ruby Tuesday to that place.
---

---
Trinity leads OCAT'S boss to sale of 57 Taco Bells—but don't call him retired
Dave Olson of OCAT LLC has a story that may be familiar to many baby boomer restaurant operators. "I'm 60 now, and I started working in the restaurant industry when I was 13," he said. "It's not the years, it's the miles, and in the restaurant business that's a lot of miles."
When he realized he is healthy and the market for acquisitions is the best in a decade, he decided to pounce before the cycle goes the other way—after all, he didn't want to wait until he's 70. He retained Trinity Capital, led by Kevin Burke, to put together a deal to sell all 57 Taco Bell restaurants to a familiar face, Tom Cook of Pacific Bells, another Taco Bell franchisee with more than 200 stores.
Most important to Olson was for a buyer to keep his top management team, something that six months after the deal is happening. "The team I've had here, I've had for awhile," he said. "They really made my life easy. They're so good at what they do." He ticks off some names. "My VP of ops, we've been together for 34 years." His CFO "is amazing, great at what she does, really a good person to bounce things off of." And his HR manager is the best of the best.
"We had looked at a couple of different buyers. We couldn't get to the finish line with those folks. Tom stepped up and we chatted, and I've known Tom for a long time and had a lot of respect for him," Olson said.
The deal closed last September, but not before plenty of heavy lifting on Trinity Capital's part. One of the main hurdles is that Pacific Bells, the buyer, is backed by institutional capital.
Partners Group, a Switzerland money manger and pension fund adviser that also has a private equity arm, invested in Pacific Bells in 2015. And not all franchisors, says Trinity's Burke, will accept institutional buyers, although Taco Bell is one that will. Among the objections: "When you sell to an institution the franchisor is generally not able to get an institution to sign a franchise agreement, and so then the question becomes, what will they sign?" he explained. "The things that franchisors look for from an institutional investor, is one, they want confidentiality. They just don't want marketing information or anything else they're doing leaking to another shareholder of that institution.
"The second thing is, they don't want any competing investments," Burke continues. "They don't want somebody investing in a rival, so if you are an institutional investor and you're backing a Wendy's guy, you don't want them investing in Burger King."
A third hurdle, he said, is "they don't want the institution to sell stock to anybody without going back to the franchisor. They don't want them selling stock to a competitor or Osama Bin Laden, or things like that. They don't want them selling stock to an activist investor who might cause trouble."
On the other hand, Burke said, those franchisees backed by institutional capital tend to have faster new development rates than the norm. "If you get a good operator and he's backed by institutional capital, you're typically going to have a board of directors, which means a little better transparency, and five-year plans, and accountability, and typically you're going to have a little better organization, a little better setting and meeting goals."
Tom Cook's organization has all that and more, Burke said, adding that Olson is no slouch himself.
"Out of the 300 or so people in the history of operating Taco Bells, he's been a top five, six, seven operator for most of the time in the system. He built an outstanding organization, and I think it will fit like a glove with Pacific Bells."
Olson has had to adjust to not being the boss, especially difficult because he has an office in the company he sold. "At first I was driving myself crazy. I still have my office and I come in and I still own the building. They're still asking me questions," he said about his management team. "I finally said I've got to stop going there, because it's like I never left." Just don't ask Olson how he likes retirement—"I'm just slowing down," he said, adding drily, "It's been a long run. I've enjoyed almost all of it."
---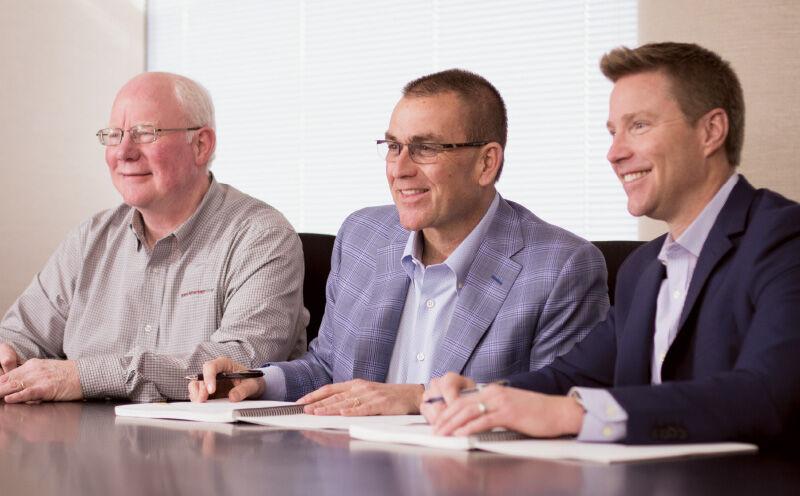 Tom Lyngdal, left, and Dave Daoust of Brand Advantage, with Safeguard's Scott Sutton.
---
Brand Advantage deal stands out as example of Safeguard program to fund new OPERATORS
Since 2010, Safeguard Business Systems has been using its own corporate funds to buy business-services companies and then in turn sell them to operators who couldn't otherwise afford it, extending them credit at competitive rates to buy over time.
"We've acquired a business, cashed out the seller, and divested that business under terms to people who were key leaders in that industry," said Scott Sutton, who leads the program, called BAM, for Safeguard. "A lot of these folks felt they would never have an opportunity to own a business," he added, and it's a way for Safeguard, too, to add franchisees in a highly fragmented industry niche.
Since 2010, the Deluxe Corp. subsidiary has completed 150 such transactions, and one that closed in March 2017 stands out as a shining example of why Safeguard was selected by our judges for a Dealmakers of the Year award.
Dave Daoust and Tom Lyngdal were employees of Safeguard, operating the Brand Advantage Group as a company-operated division. Last year Safeguard sold the business for $26 million to a new company entity created by the two men, who will now lead the Brand Advantage Group by Safeguard enterprise as an independently operated franchisee. Daoust, who serves as the new company's CEO, and Lyngdal, its CFO, have worked together within the industry for more than two decades.
Sutton said the BAM program has a rock-solid track record. "We have no bad loans out there. We have not had a loan default, we have not had a closure." So far, so very good for the Safeguard strategy and those people who can get into business through using it.
---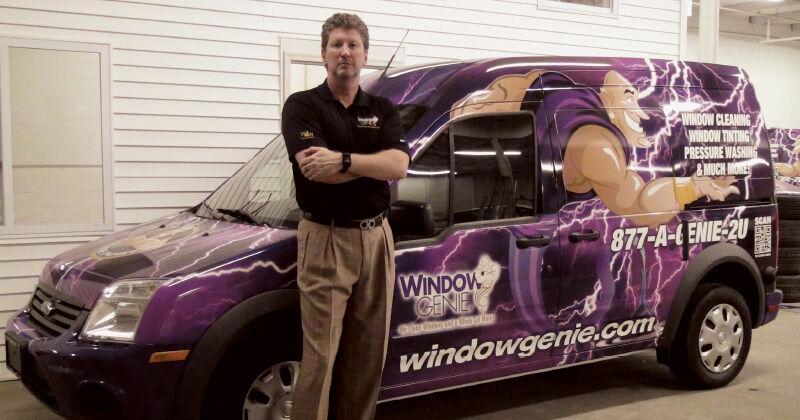 Rik Nonelle, founder of Window Genie, sold to Dwyer Group and stayed on.
---
Not ready to sell, founder of Window Genie figures Dwyer Group is right buyer AFTER ALL
R ik Nonelle, like many founders of successful franchise brands, approaching 100 units at his window-cleaning company, wasn't keen on bringing in new capital. "I'm an unmotivated seller. I have what I have and I think it's a good thing," said the 53-year-old founder. He received many phone calls in the last several years, calls he usually avoided.
But then Mike Bidwell, the CEO of The Dwyer Group in Waco, Texas, with a stable of successful home services brands, put in a call, ostensibly to engage Nonelle as a consultant.
"They were creative about getting me on the phone," Nonelle says with a laugh.
As talks continued about Dwyer and its financial backer, The Riverside Co., it all began to make sense. As a mentor told him, "If you believe the No. 1 company in the space is interested in your business, you really have to have a good reason to say no," Nonelle said, and he started to work to get to yes.
"As you approach that 100 mark, and you try to move on to 200 and beyond, I thought, 'How do you move the business forward? I had right in front of me, clearly, a good option to move the business forward. There's a lot of really smart people down there," in Waco, "to help move the business forward."
Nonelle says he did it with the franchisees in mind—if Window Genie was part of Dwyer's newly created Neighborly umbrella of brands, in which different home services brands actively cross-promote landscape, home cleaning and other services, franchisees would benefit. "The value of our owners' businesses today is greater than it was a year ago," he believes, and ultimately the value will grow if the promise of Neighborly kicks in.
Nonelle insisted that his headquarters and management team stay in place in Cincinnati, which Dwyer honored. He also spent loads of time talking with Mary Thompson, Dwyer's COO, Bidwell and Dina Dwyer-Owens, chair of Dwyer and daughter of the late founder.
"When you visit a franchisor, I could love the model but I have to make sure the culture fits. I think we have a good culture fit with the owners, there was a reason they selected us," Nonelle said. Dwyer-Owens, he notes, has written a book on corporate culture so famous "she speaks to Congress." "Ours wasn't as defined as theirs," he said about Dwyer's culture, "but there's an exact overlay. The big, best pleasant surprise is we operate the way Dwyer operates."
Still, there's one thing this life-long entrepreneur is getting used to—reporting to someone, right down to having to request paid time off in advance like any regular employee.   
"Are you all right with some guardrails, for the first time in my life since I was 29 years old?" he asked himself before the sale, and he believes fellow founders should think about the same question. "My wife still kids, she can't believe her husband has to take PTO, because before if I had to take six months of vacation, I could."