Franchisors say tying their fortunes to popular spectator sports, such as NASCAR, spurs sales, and even better, customer loyalty
Billboards speeding by at nearly 200 mph might not sound like a wise advertising move, but, then again, NASCAR is no ordinary sport.
Sponsorship opportunities usually don't extend to a sport's players and their equipment, but NASCAR teams long ago embraced their sponsors. Cars and trucks that race in the series sell advertising space on the hood, side panels, rear deck and bumper, inside the car and all over the drivers' uniforms. Name a spot on a car or a driver uniform, and there's probably an advertising opportunity there.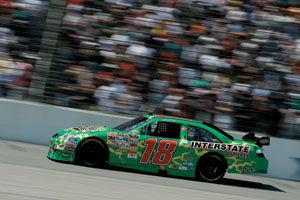 And when a driver has success on the track, the driver, car number,
sponsor and team owner become synonymous among the sport's estimated 75 million fans, 40 percent of whom are women.
The sport attracts sponsorship from many Fortune 500 companies, but smaller companies and franchise organizations also have the chance to put themselves before the National Association for Stock Car Auto Racing's rabid fan base, who are three times as likely as non-fans to purchase products and services from NASCAR sponsors.
Dallas-based Interstate Batteries has been in a sponsorship relationship with Joe Gibbs Racing since before the legendary coach of the NFL's Washington Redskins formed his Sprint Cup race team in the early '90s. Charlie Brim, manager of advertising and sponsorships for the privately held company, says Interstate Battery's relationship with the race team is the longest-running sponsorship in NASCAR.
The company stepped back from its primary sponsorship this year, sponsoring the car in eight of 36 races in NASCAR's top division to focus more on network and cable TV advertising. But the No. 18 car currently driven by Kyle Busch, teammates Tony Stewart and Denny Hamlin and Gibbs himself are important facets of Interstate's advertising and brand awareness efforts, Brim says.
A national consumer survey conducted after Interstate ran a humorous 30-second TV spot between early December and the end of February showed a five-point spike to 65 percent in awareness of the company's products among adult battery purchasers. "We think that translates to sales," Brim says. "If people have heard of the brand, they're more likely to accept a recommendation for our products."
Interstate's automotive, marine, truck and motorcycle batteries are sold at more than 200,000 dealerships, and the company's continued push into franchised battery stores is being helped by the association with Joe Gibbs Racing, adds Justin Darland, director of franchise development for Interstate All Battery Centers.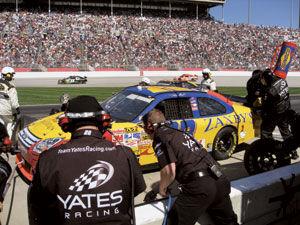 The growing franchise offers 13,000 types of batteries and currently has 95 franchises in 33 states, Puerto Rico and Canada. The franchise added 32 stores last year and will add a comparable number this year, Darland says.
"When we decided to enter the franchise market, it was natural to leverage our relationship with Joe Gibbs Racing," Darland says. "Gibbs is a spokesman for our franchise offer, and when a potential franchisee submits an inquiry, the packet includes a three- to four-minute testimonial about the concept."
If the Sprint Cup is the major league of motorsports, the Nationwide Series is the minor league, with a mix of mainly young drivers cutting their teeth before a national audience and Sprint Cup veterans who can't get enough of racing.
Great Clips Inc. has sponsored a car in this series since 2001 and currently has its logo on the No. 38 Braun Racing car driven by Jason Leffler, who in early May was in the top 10 in points. Before moving to the Nationwide Series, Great Clips sponsored a car in the Automobile Racing Club of America (ARCA) RE/MAX Series, a non-NASCAR series that also has an attractive following.
"From a franchisee perspective, the brand is getting media exposure and being associated with other top brands," says Ann Latendresse, director of brand communications for the Minneapolis-based salon franchise. "It's also a nice, long sport, and when your driver is doing well, you get lots of exposure."
According to Joyce Julius & Associates, which tracks media exposure, Great Clips receives a benefit that's four times what the company pays for its sponsorship. Additionally, Great Clips receives media passes to all events that can be given to franchisees, and Leffler appears at the company's annual convention and its annual charity golf tournament in the Twin Cities area.
A primary sponsor of a car or truck in NASCAR's top three series can spend from $1 million to $25 million or more, depending on the series and the competitiveness of the team, says Todd Moore, owner of MCG Sports,
Davidson, North Carolina. Moore's company works with race teams such as Petty Racing, Joe Gibbs Racing and Hendrick Motorsports to secure corporate sponsorships.
"Team sponsorship starts with the driver, his notoriety and popularity," Moore says. "Based on the level of investment, a company can leverage the car and driver in ads, promotions, internal programs and external appearances to increase brand awareness, improve employee morale and build a sense of team within an organization."
Depending on the location of that week's race, 100,000 to more than 250,000 people will be in the stands to cheer on their favorite drivers. A concerted marketing effort can steer many of those people from the grandstands to your store, Moore says.
Zaxby's began its relationship with NASCAR's Craftsman Truck Series last year to get the word out about speed of service improvements in the dining room and drive-thrus, says Tony Townley, co-founder and CFO of the fast casual chicken restaurant chain based in Athens, Georgia.
"Boy, did it work!" exclaimed Townley. "It's been a great, great effort."
Because all orders are freshly prepared, customers had been asked to wait 10 to 15 minutes for their food. That time has been sliced to three to four minutes, with no impact on food quality.
An important side benefit has been national media exposure to a brand that has 429 restaurants in 12 mainly southeastern states. Zaxby's expects to open another 40-50 restaurants through the first quarter of 2009.
The company spends upwards of $2.5 million a year to sponsor the No. 09 Zaxby's truck in the Roush Fenway Racing stable and another $1.5 million to sponsor a car in the ARCA RE/MAX Series. The Julius Report says Zaxby's is getting a 2.5-to-1 return on its sponsorships.
"Our motorsports relationship is very important to building the Zaxby's brand because it touches a large percentage of the population," Townley says. "It's money well-spent because people recognize the brand and follow the brand."