It's been noted in various trade pubs that the trim, athletic Jon Luther doesn't look like the leader of a pack of doughnut and ice cream franchisees. Sweets aren't part of his daily ritual—"My daughter is a fitness guru," he explains—but that doesn't mean the rest of the country should follow suit. Pass the doughnuts, and pour the coffee. We've got a ritual going here.
Jon Luther may not be ingesting doughnuts on a regular basis, but Dunkin' Donuts isn't really a doughnut shop—it's a coffee chain disguised as a doughnut shop, he claims. Beverages accounted for nearly 60 percent of Dunkin's 2008 U.S. sales.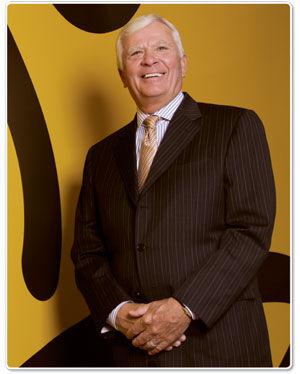 Luther also doesn't look or act like a CEO ready to pass the baton. He turned 65 in October, however, and he says he told the Dunkin' Brands board he needed to find his replacement.
The next few years will be telling in this economy, he says. "I asked the board, 'do you want a 70 year old (at the helm) at the end of  those five years?'" he says. "We need to add fire power to this five-year plan."
Nigel Travis, 58, was appointed CEO in December, and Luther says they were careful to define their roles, since he will be staying on as executive chairman. "He'll protect my legacy, while he builds his own," Luther says.
It's not easy taking the back seat, after being in the driver's seat for so long, but Luther is trying to curb his enthusiasm.
"When you get to the chairman role, you get to reflect on life," he says, looking around his office at Dunkin' Brands headquarters in Canton, Massachusetts, a stronghold of the company, where there's a Dunkin' Donuts on every corner and a logo on every highway exit sign.
A visual history of the brand is downstairs in its spacious lobby where raspberry-colored walls intersect with bright blue and coffee-colored walls. A mural of a steaming cup of coffee extends from the ground level upstairs. Faded black-and-white pictures, as well as an antique doughnut cutter with a doughnut handle built-in to keep dunkers fingers dry are displayed in Plexiglas cubes.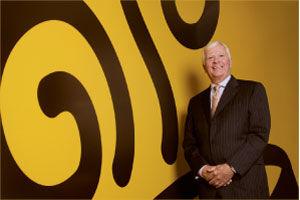 Behind the security desk a replica of the new Baskin-Robbins prototype is stocked with ice cream and treats for employees to help themselves to.
Luther's office has a touch of brand history, but it's mostly his personal history. The walls are lined with signed sports memorabilia and oversized photos. When asked which was his favorite, Luther muses then points to a large photo of rivals and golf greats Jack Nicklaus and Arnold Palmer walking together during a tournament to their next shot. "Look at the determination in their eyes," he says. "It's not about money." The picture has even more significance because his son bought it for him, and playing golf together has been one way he's been able to stay active in his grown child's life.
Family is important to Luther. While the signed jersey from Patriots Quarterback Tom Brady—he was the spokesman for Dunkin's espresso campaign— and a team-autographed photo of the 1980 Olympic hockey team hugging each other on the podium after winning the gold medal are worth real money, the small framed pictures to the right of his computer are priceless. These are the photos of his children, five grandchildren and wife.
The sports paraphernalia belongs to the company, he says, adding one day he'll move it out into the common areas of the office building so everyone can enjoy it.
But not the picture of the hockey team which was presented to him by Jim Craig, the team's goalie. The event is more than a sports moment, Luther says. "It was a pivotal time, it gave America a shot in the arm…beating the bully (Russia)."
Also staying is the baseball bat autographed by George Steinbrenner, owner of the NY Yankees. That's another treasure.
Looking back
Luther looks pensive as he starts to talk about his "odd journey, a cobbled life."
"I've been broke three times in life, but you can always come back," he says.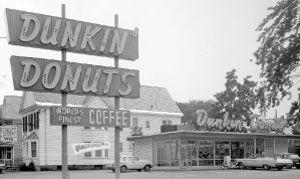 His father was an Eagle Scout who imparted "wonderful values" on his son. He was raised in Buffalo, New York, in a working-class family. His father had been accepted to Cornell, but couldn't attend because of the Depression. Because of that disappointment, he made sure both of his sons went to college.
Luther's first job out of college was running a cafeteria on a college campus. "I was way over my head," he says, laughing at the memory. A line cook noticed he was "a deer in the headlights," and said, "You don't know anything, do you?" When he nodded his agreement, she said, "Come on kid, I'll show you the way."
Sarah Henley coached him, and he learned not only how to run the kitchen, but about the restaurant business. Later, when he became president at a young age for Aramark, a food service giant that specializes in airports, stadiums and schools, he was written up in the local newspaper as  a "local boy does well" story.
Years later Aramark won the contract for the very same college Luther had started his career managing. Henley was still there, and  showed people the newspaper clipping on Luther's promotion and told the Aramark staff, "I taught him everything."
Luther laughs and then gets serious. "Your success can validate others' success," he says. "Never forget who has helped you along the way."
What's telling about Luther is what he left out of the story. At an Elliot Institute leadership event, Luther was telling the story, when his wife Sharon stood up in the audience and interjected that Luther was helping pay her nursing home bills, says Alice Elliot, founder of the institute and The Elliot Group, an executive search firm. "He is not a fair weather friend," Elliot contends. "He stays in touch with people."
Another friend he defends unconditionally is Julia Stewart, the CEO of DineEquity. Luther recently gave  Stewart an effusive and enthusiastic introduction at the Women's Foodservice Forum's annual meeting.
When asked if it bothered him to read negative comments about her in the press, he answered yes, because he believes in time, her decision to buy Applebee's will be proven to have been a wise one.
What people forget, he says, is that while several women have made it to the top of large restaurant companies, none have had the staying power of Stewart.
Defending his friends has made Luther a good mentor.
Among the many honors he has received over the course of his career, is the Elliot Institute's  Mentor of the Year for 2008.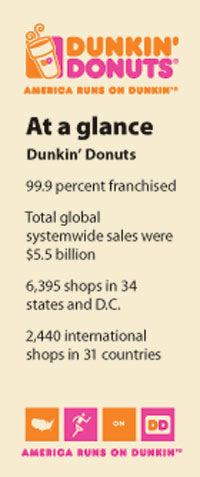 "It's easy to look at Jon and assume he's always been successful," Elliot says. "But way before he became well-known and accomplished as now, he's always had a deep sense of humanity and moral character."
Jim Allen, an 18-unit Dunkin' Donuts franchisee who is also the co-chair of the chain's Brand Advisory Council, says Luther is a "man of his word." "Nobody bats a thousand," he says, adding that even though there may have been some missed plays at first, franchisor and franchisee still are playing on the same team.
"He holds people accountable for their words and actions," he adds.
Luther has encouraged franchisees to "stay the course," and "stay on message." "Maybe they're catch phrases," Allen admits, "but it's nice to see them put into action.
"Jon was out in front long before the economists and politicians" called the economic crisis.
Karim Khoja, who has 28 Dunkin' stores, refers to Luther as a "great motivator…a people person."
Sure Luther has made some decisions that have been unpopular with the franchisees, he says. The biggest conflict has been the decision by corporate to sell its coffee by the pound in grocery stores. "The verdict is not out yet," he says. "Did it hurt us? Yes, but we're in this for the long run…Awareness is important."
One of the values in the strategy, Khoja says, is that by drinking Dunkin' coffee at home, consumers will begin to hone their taste to Dunkin' coffee and away from the "Folgers' taste profile."
Building that awareness is important as the brand starts to move from its East Coast mainstay into the rest of the country. Luther remarks on the irony that although Dunkin' is located in just 35 percent of the U.S.'s geography, it claims the No. 1 position for coffee sold by the cup and is tied with McDonald's for breakfast sandwich sales.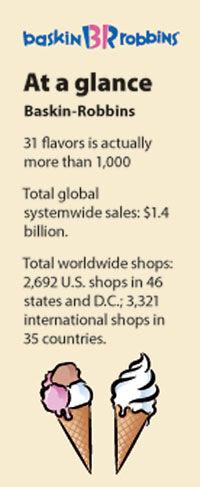 Luther used the same strategy at Dunkin' as he did when he was CEO of Popeyes—defining the brand's niche. With Popeyes it was "Cajun our way." The food combined the flavors from seven nations that make up the Southern Louisiana population.
For Dunkin' Donuts, the buzz was around "rituals that revive." People relied on Dunkin' for their morning caffeine and sugar rush. "There's a Dunkin' tribe," Luther says. "Blue collar (workers) are the soul of the brand…they love routine." And they want their coffee simple, with no frills.
"Our customers are on the go," he says. "They're not hanging out with laptops." Thus the new tagline: "America runs on Dunkin'."
At the Franchise Finance & Development Conference, Luther showed a map with the current Dunkin' Donuts locations as pink dots. The entire East Coast was a mass of pink, while the West and Midwest were pink-free zones.
He then showed the map of what they expect to look like in a few years. The audience did a combination gasp and chuckle. The U.S. map was almost completely pink. And while it may seem overly aggressive, the chain did add 3,000 units last year.
 It was Luther's values and leadership skills that attracted Lynette McKee to take the job of vice president, franchising, when she was content with the job she had just taken at another company.
She agreed to come to headquarters and talk about the company. "I said I'm not looking, and then I saw the map," she says, grinning. "Meeting with Jon sealed the deal."
During the interview, McKee says Luther asked her, "What's the thing that sets you apart?"
"I told him, I'm willing to say 'no' (to franchise prospects)," she says. Luther looked startled for a moment and then replied, "That's good." After spending more time with him, McKee says she knew his beliefs  and values were aligned with hers and she went to work selling.
While he's proud of where they've been, Luther says, "I'm humbled by how far we have to go. We couldn't have done it without great franchisees. I have deep respect for the entrepreneurial spirit. We'll never be great if we don't work with franchisees."
When he came to Dunkin' in 2003, Luther says the company had strained relationships with franchisees. He's worked hard to meet with franchisees and to let them know corporate is listening to them.
Kevin McCarthy, chairman of the Dunkin' Donut Independent  Franchise Owners association, says that while things did get better under Luther, they still have a ways to go. He says the owners are looking forward to seeing what Nigel Travis's coming to Dunkin' will produce. Travis, who was CEO of Papa John's before taking the job, "has a reputation for being collaborative and open with franchisees."
McCarthy claims the association's aim is not to fight the company, but to work together. "Litigation is always a losing business strategy," he says.
Icing on the cake
Dunkin's other venerable brand, Baskin-Robbins had become staid. It's core message was family, fun and the neighborhood's favorite ice cream store. Baskin's got a facelift and a menu boost. They added soft-serve ice cream, as well as hard-packed yogurt, milk shakes and ice cream cakes.
Overseas Baskin-Robbins has done extremely well, Luther says.
"The ice cream business internationally hasn't changed like here," he says. "There's less freezer space, which means going out for ice cream (more often)."
While the chain has added a variety of new items to update its offerings, Luther doesn't expect it to go toe-to-toe with the new soft-serve yogurt trend. "I think yogurt is a menu-addition, not a concept," he says. "I'm looking for someone to prove me wrong."
Corporate's goal is to return Baskin-Robbins to its glory days as the neighborhood gathering place for families. He believes their new prototype is getting them there.
Allowing the brands to stand on their own is one reason the combo-store strategy is going away, Luther says. At one time, the chain combined Baskin-Robbins, Dunkin' Donuts and a third concept it has since sold, Togos sandwiches, into one location. The brands' needs were different, and the one-stop branding was confusing to customers. "The strategy was flawed," Luther admits.
The future
Luther is bullish on Dunkin's growth under Travis. "Change is not an indictment of the past, it's just that the future will be different," he says.
The two executives took a lot of time getting to know each other, both their leadership styles and their temperaments."As chair, I'll be the brand advocate to the outside world," he says. In addition, with Travis handling the day-to-day matters, Luther will have more time for special projects, such as government affairs, informal meetings with franchisees and, of course, board relations. To that end, he's now in line for chairman of the International Franchise Association, the group Dunkin's founder Bill Rosenberg helped found.
"I can be more thoughtful about things," he adds.
Like the county, Luther runs on Dunkin'.