Bright sun and dank humidity hit our faces as New Orleans Saints quarterback Drew Brees and I emerged through a tiny door and walked down the stairs of his private jet. He was casual in his striped polo and jeans; I looked like a body man trailing behind with my sportcoat and more formal business attire. I adjusted my lapels and sunglasses for style, tossed my camera over my shoulder and trailed Louisiana's most famous resident to a black Escalade waiting for us off the edge of the runway.
At our destination in a scant 15 minutes, we stepped from the bayou-grade humidity of a 90-degree day into a sports bar that was about to get a whole lot hotter. While walking into a throng of screaming fans is NBD for the infamous No. 9, it was a new experience for this reporter, and the kitchen of cheering cooks, bussers and servers proved only an appetizer to what I was about to experience.
Shouts, cheers, clapping, honest-to-goodness screams—that's what greeted us in the expansive dining room of Walk-On's Bistreaux & Bar in Lafayette, Louisiana. There were serious looking bouncers, live radio and TV crews and very little standing room as Brees was given a microphone to address the crowd while I was ferried to a private table covered with an embarrassing array of entrees, appetizers and desserts—all just for me.
Drew Brees coming to town was a big deal in Lafayette. Brees pivoting from a franchisee to franchisor—with plans to become a big-time restaurateur in the coming years—is a big deal in franchising, and means this superstar will be a big part of the franchised restaurant scene long after he's thrown his last professional pass down the field.
Going from 'zee to 'zor
I met up with Brees and his right-hand man, manager and business partner Chris Stuart, at the Saints practice facility outside of New Orleans. Just as Editor-at-Large Nancy Weingartner predicted from her time spent with Brees in 2014, he rolled up in an unremarkable Chevy Tahoe, popped open the passenger door with a smile, told me to hop in and we were off.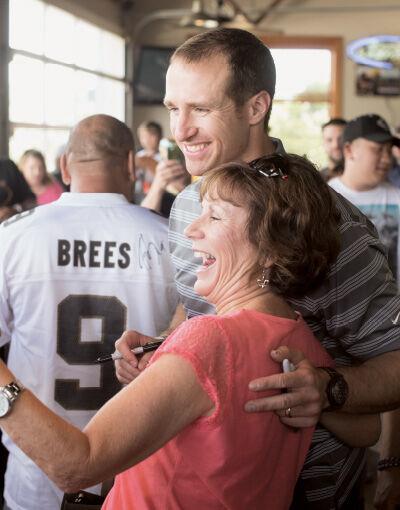 Weingartner's previous feature on Brees (June/July 2014) covered his first foray into franchising when he brought Jimmy John's to the New Orleans metro area. He loved the sandwiches that were a staple of his college days at Purdue, and got enormous satisfaction from creating jobs and a positive company culture. In person, his love for Jimmy John's is borderline freakish.
In the years since, he explained against a backdrop of 80's music on satellite radio, Brees fell in love with the business of running franchised restaurants. Better than anyone other than possibly Jimmy John himself, Brees talks a smooth game on the importance of consistency, following the franchisor's time-tested system and making his restaurants a fun place to eat and work.
After a few twists and turns, we popped into one of his Jimmy John's locations near the airport. The lunch rush had already wound down, so the dining room was quiet and there were no pending deliveries for us to take out—one of his favorite tasks—but the staff was happy to see the big guy. Their casual banter suggested that Brees wasn't exaggerating about how often he drops by his restaurants.
With eight locations already open in the metro area, his ninth Jimmy John's is under construction—and he's open to taking on additional territories in the future.
Back in the car, Brees spoke of his mindset two years ago when he began contemplating the next moves for his growing restaurant empire. It was around then that he discovered Walk-On's, a new sports bar by the Superdome in downtown New Orleans.
The 12-year-old local bar and restaurant concept, originally born in Baton Rouge, was started by CEO Brandon Landry and Jack Warner. Brees liked its family-friendly ambiance that wasn't like the typical bro bar or breastaurant, and also the large menu that included regional specialties like catfish Atchafalaya, duck and Andouille gumbo, catfish etouffee, and shrimp po boys—along with the expected Americana of burgers, salads, fries and wraps.
Brees repeatedly said he's particularly charmed by its food-to-alcohol ratio that's approximately 70-30, average unit volumes north of $5 million and the customer ratio of 50/50 men versus women—all much higher than typical sports bars.
"It's a nice place to go and enjoy good food or a good atmosphere, whether it's guys night out, girls night out, you're watching the game or celebrating something—that's why I love the Walk-On's brand," Brees said. "The first time I walked into Walk-On's was here in New Orleans. I walked in, felt the vibe, felt the culture, looked around and was like, 'If I was to open up a sports bar it would be just like this.'"
Drew Brees on line one
When Walk-On's CEO Brandon Landry first heard from "Drew's people," it was Stuart calling on his behalf. Being a big Saints fan, Landry was excited—assuming Brees was interested in reserving a private dining room at the New Orleans location—and nervous, having never spoken with the Gulf Coast's premier sports god.
Landry recalled that Brees praised the concept and its food, immediately expressing his interest in taking the brand national. Even during initial talks, Brees said he was interested in bringing some of what he learned from Jimmy John's—culture, consistency and processes—over to Walk-On's.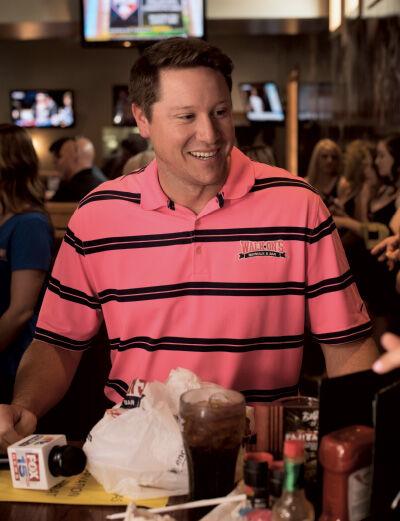 "We had just launched the documents saying we were going to franchise the concept," and Brees said, "I'm not Drew Brees asking for a handout here. I want to buy in and possibly help grow this thing," Landry said. "He's thinking about life after football, so at first I was like, yes, it's awesome and very flattering, but how much does he want to buy it for?"
Brees' initial call came at a pivotal moment for Walk-On's. As the company celebrated its 10th anniversary, ESPN had already named it the best sports bar in North America. In addition, differences in the company's growth strategy led to local businessman Rick Farrell buying out founding partner Jack Warner, Landry's former basketball teammate back when he was an actual walk-on player at Louisiana State University.
"The first thing you think about with athletes is what skeletons do they have in their closet, what do they want out of this deal and is it more of an ego thing," Landry said of his and Farrell's discussions about Brees buying a stake in the company. "That was the last thing I had to worry about with this guy. His character, his family values, it's unbelievable, so honestly it was what are the negatives? It was almost too good to be true."
Walk-On's was already ramping up to push outside its home turf with new units in Texas and neighboring Gulf Coast states. The company started building a headquarters staff, including bringing on Scott Taylor as president and COO, as well as a director of training, vice president of culinary training and vice president of development.
While considering his offer, Landry and Farrell settled on an arrangement where Brees would buy half of Farrell's 50 percent stake in the company. That left he and Brees (along with Stuart) each with a quarter of the company, while Landry retained his original half.
The deal was official in May of 2015. On paper, the new investor was just like any other, but Brees' addition to the roster was the start of an entirely different chapter for Walk-On's in terms of branding and visibility.
After getting a front-row seat to Brees' intense enthusiasm for the restaurant business, I asked Stuart what motivates somebody so famous and busy to get into an industry that's known for draining entrepreneurs of both their time and money.
"None of this is for show," Stuart countered. "This is 100 percent what he is like all of the time, and he is intimately involved in all of these restaurants." He added Brees even loves to hop in his truck and drive around looking for new sites whenever his schedule allows.
I posed the same question directly to Brees: "Why restaurants?"
"From a business standpoint, it's been a very good business model," he said. "It was the challenge of it, and also knowing that we could bring a great business here and build a great brand here, create a bunch of jobs and bring a great experience to people."
He expounded on the different layers of the restaurant biz that appeal to him, including creating good vibes in the dining room, the minutiae of how customers are greeted and treated, the appeal of franchising and the finer points of drafting employee practices.
"You now are the ones who are building the brand by which every franchisee that comes to you is going to try to replicate," he said. "They're going to replicate your brand and your corporate stores and your culture, so that was the real appealing thing," Brees said. "Being on the franchisee side, I was able to bring that type of value into the franchisor side of Walk-On's knowing that this is the type of support we're going to need to provide our franchisees."
More than a year into their partnership, Brees' name and face are top of fold on the Walk-On's website, and the brand has used in-store appearances to gain seemingly unlimited free PR from the community.
Following two hours of nonstop autograph signing, selfie posing and interviews with the local media, Brees and company pushed through the screaming, adoring throngs to head to their next events visiting a children's hospital and speaking with kids at a local school. Just another stop in the marathon life of one of the country's most famous sports stars.
Enjoying a post-insanity beer after the crowds subsided, Landry explained his theory of why Brees loads his plate with so much on a daily, weekly and yearly basis.
"He's not your normal person," he said. "I really think Drew understands the platform he has and that he was put on this Earth for a reason and he's got things he can accomplish other than just football."
With such an overextended business partner, Landry added the rest of the Walk-On's team understands he has much less time and attention during training and the football season. He said it was no problem, as none of them wanted to be responsible for any bad passes. Once the madness of the season ends, he said, the 6 a.m. emails about culture or P&Ls inevitably return as Brees trains his focus on his off-the-field portfolio.
Landry claims he has no inside intel, but estimates Brees, 37, has three more seasons left before hanging up the No. 9 jersey. After that, he'll have nothing but runway ahead as he builds his business both as a franchisee and a franchisor.
"He realizes he's got a couple years being the star quarterback—he's one of 32 people in the world right now," Landry said. "To be one of 32 starting quarterbacks in the world, which is the toughest position in any sport to play, he realizes that he's got that limited amount of time that he can do this—he's going to do everything he possibly can."
Back at the private hangar, we waited for Brees' Escalade to pull up—delayed because he wanted his second Jimmy John's No. 9 of the day, the Italian Night Club with salami, Italian pork, smoked ham and provolone.
Truly shocked that Brees and Stuart packed so much into a single day, I turned my recorder off, let them eat their subs in peace and shot the breeze as the plane rose and descended in a relatively quick 45 minutes.
With all the commitments in his life, it seemed crazy that he carved out another chunk of time for Jimmy John's before getting back on the plane that would reunite him with his wife, Brittany, and their four children.
Stepping off the tiny jet back in New Orleans, our goodbye was pleasant and short. There will be more time for selfies and autographs in the years to come, as this student of the franchise game suits up for his next full-time job.