Building an authentic brand that's true to their family story is of the utmost importance to Jennifer and Tim Strickland, even if it means sharing personal—and sometimes painful—details of what led to the formation of their candy franchise.
"We want to be the most authentic to our family story—we are a merged family brand," says Jennifer, who with her brother Tim and father Stan own River Street Sweets-Savannah's Candy Kitchen, the cobranded business that emerged after years of separation within the family.
When Stan and Pam Strickland divorced in 1991, they split the River Street Sweets business they'd started together in 1973 in Savannah, Georgia, along with the family. Pam got the original name and store, and while Jennifer and Tim joined their mom's candy business, Stan opened a competing one down the road he called Savannah's Candy Kitchen.
"We grew up in the family business, it was like a third child," says Jennifer. "When they got divorced, it was really painful for everyone." Their father, Stan "the Candy Man," was for years their direct competitor.
The two sides of the family stopped speaking but went on growing their respective businesses to multiple locations, making the pralines,  loggerheads and glazed pecans that had endeared them to customers around the country.  
Nearly two decades passed before a combination of factors sparked the reconciliation that ultimately led to the candy franchise that's moving its way through several southern and eastern states.
"One day Jennifer called me and just said, 'Hey, we are running out of time, we need to fix this,' and so we did," says Stan. "She had adopted a little boy, Willy, and wanted me to meet him."
Meanwhile, Jennifer and Tim were considering moving into a bigger manufacturing facility to accommodate the growing mail-order business for River Street Sweets. They started comparing notes with their dad, who already had more manufacturing capacity than he needed, and eventually decided to co-locate production. The two businesses officially united as one candy enterprise in 2006 and the Stricklands launched their franchise program 18 months ago.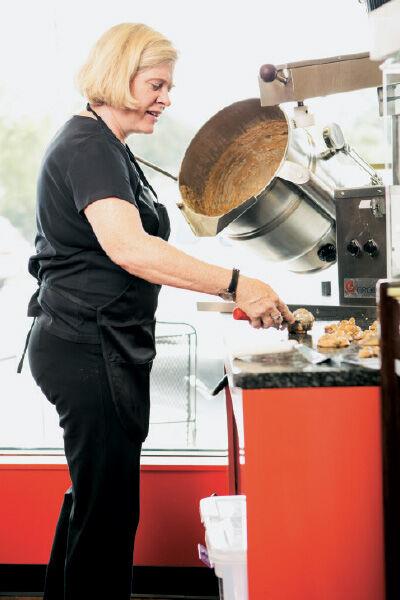 "Those initial conversations helped to heal some of those wounds and led us to where we are now," says Jennifer, who is co-CEO of River Street Sweets-Savannah's Candy Kitchen with Tim. Stan, who remarried and has a son, Rhett, with wife, Tonya, is a co-founder and serves as chairman of the board. Tonya and Rhett are both involved with the business.
Pam is retired, and while Tim says his mom was nervous about the intertwining of the brands at first, "she's grateful that things turned out the way they did."
"I liken us to 'Modern Family,'" continues Tim, referring to the ABC sitcom. "We're the southern 'Modern Family,' and our story makes a personal connection to people, to customers and staff—there are lots of blended families."
The initial investment for a single River Street Sweets-Savannah's Candy Kitchen location ranges from $396,800 to $771,000, including the $40,000 franchise fee.
Franchisees benefit from the Stricklands' decades of candy-making experience, says Jennifer, and the combined business is the best of both brands.
"We slowly tried things out over time to decide what works and what doesn't," she says. "We picked the best of both brands, everything from the color scheme and design of the kitchen, to packaging, to what's sold in stores."
A central manufacturing facility handles production, mail order fulfillment and sales for all locations, while some items, such as popcorn and ice cream, are made onsite at each retail store.
The Stricklands say franchisees also benefit from the determination and work ethic they've developed over the years. Her parents, says Jennifer, "never let us give up, even when things weren't perfect at home."
Separating family and business is a challenge, says Stan, and they're always working on their listening skills because "Stricklands tend to talk a lot."
"I keep a five-minute hour glass when we have meetings to remind us to give each other a time to talk," says Stan.
"You've got to be cognizant of everyone's opinions," agrees Tim. "Our rule of thumb is, if someone vetoes something, we don't do it."
Negotiations are in the works with potential franchisees across the country, says Jennifer, and the business and family are stronger than ever.
"Every family has times that are hard and there's estrangement, so being able to come together has been really rewarding."