Attorney Adam Siegelheim with Stark & Stark in New Jersey started out to be a Y2K lawyer. "My career ended rather quickly," he says, referring to the  turn-of-the-century crisis that never was. He turned to insurance defense, but found his heart wasn't in it—especially the part about advising clients on how to deny coverage. He joined Stark & Stark and found a home in franchise law. Because he's the father of small children (see one out of two pictured at left), he has no hobbies. But should he ever win the lottery, you'll find him sipping iced tea and polishing his screenplay.
Workstyle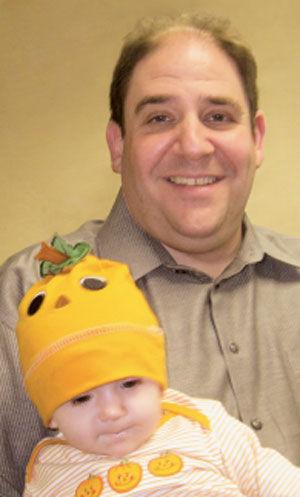 Dream job: Quarterback (Dallas Cowboys)
Your 15 minutes of fame: The day I score a name drop in Nancy's back-page column.
15 minutes of fame, part II: Playing guitar in a band at camp in the '80s called Borrowed Equipment (aptly named after the musical equipment they borrowed from other campers)
Advice you give: Proactively deal with issues before they become legal issues.
What do you do on your lunch break? Usually involves a mirror and a Tide-to-Go pen.
Invention you're known for: Adding both a pink Sweet'N Low and a blue Equal packet to iced tea It's my own proprietary combination, which I discovered one day when I ran out of pink packets, but there were blue ones...
When pressed, what you say about Cary Kvitka: "Of all the attorneys I've worked with over the years, he's one of them."
Lifestyle
Hometown: Pennington, New Jersey
Favorite reality show: Watching "American Idol" auditions
Which actor would play you in your film biography? Brad Pitt
Last book you read?  "Outliers: The Story of Success" by Malcolm Gladwell
What's on your iPod? An enormous '80s collection
Who—living or dead—would you most like to have dinner with? Paul Rocchio