Dana Oliver's decision to work a minimum-wage job in order to learn the childcare industry cost her some friends and some perks from her former career, but the benefits have proven to be worth the sacrifices.
When Dana Oliver walked away from her six-figure job to start Adventure Kids Playcare, she shed parts of her old life: her Porsche; her custom-built house in Houston, moving into one of her smaller rental properties in Dallas; her expensive suits, which were relegated to the back of the closet; and some friends. "They didn't like me working for minimum wage and going into child care," she said.
She also lost some of her hard-earned cash with a false start due to a less-than scrupulous consultant.
No one said being an entrepreneur is easy. The road is hell, paved with trade-offs, such as Top Ramen in lieu of top choice steaks, TV reruns instead of first-run movies and vacations in the backyard. And yet there's no shortage of dreamers who set off on the journey.
There were a couple of life-altering events that led up to Oliver's change of lifestyle.
The first was an accident. After moving to Houston from New York in 1999, Oliver's undersized SUV was hit in an intersection, causing the car to roll three times. Oliver walked away without a scratch; the car was totaled. When the insurance adjuster told her she was lucky she hadn't been killed, she began to reevaluate her life.
The second timely event concerned something she had thought about since she read a New York Times article on China's one-child-per-couple law, which endangered baby girls' lives, since most couples wanted a male child. So even though she was single, Oliver began the process to adopt a 1-year-old girl from China.
And then there was her job as a financial planner working closely with Enron. "I got disgusted with the industry," she said. "I saw people losing a lot of money. It was devastating to watch it from the sidelines."
Plus after she adopted Gracie, she was caught up in the mommy trap: she needed help with childcare on the weekends, but hated to leave her child after being gone all week. And as a single parent, she didn't have a spouse to help. "I called my sister in Austin who had four kids and said, 'I need to get my hair cut, what should, I do?'"
Her sister, a stay-at-home mom, told her to find a babysitter - and to stay away from those child-care, drop-off centers. Since teen-age babysitters were scarce in her neighborhood, Oliver started to research child-care centers. She discovered the drop-off model should be viable, but those in existence didn't have a good track record.
Her research revealed why some of them failed: The equipment was expensive and the kids quickly outgrew it, so what was fun as a 6 year old was boring at 8; security wasn't a high enough priority; and neither was cleanliness.
Before she took the plunge, Oliver worked in the industry for a year - moving from Houston to Dallas for a minimum-wage job.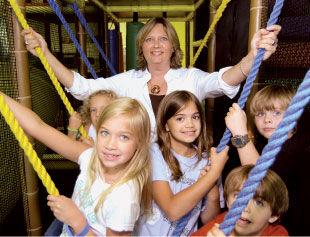 When the owners of the center weren't interested in implementing her ideas, she decided to open her own center. In order to beat the odds, Oliver designed her center to ensure she could sustain repeat business. "We have a calendar of events," she says, adding, "Sometimes kids will want to come in when parents don't have appointments (or errands to run)." The reception area has a locked gate, and her computer program stores pictures of the parents along with an individual password. Staff interacts with the children to play games or organize activities and to continually sanitize doorknobs, toys, hands and restrooms.
A common reason people start businesses is to have more time to spend with their families, and yet starting - and then franchising - a business takes an incredible amount of time and energy, not to mention money.
"Most (of our) franchisees have young children," Oliver says. "They want to spend more time with their kids and still make a living."
A benefit is franchisees - as well as the franchisor - can bring their children to work with less complaining than if they were going to a traditional, a.k.a. boring, office. "My daughter's 8 now and she still likes to go (to work)," Oliver says.
In the early days, Gracie curled up on a beanbag with a blanket while her mom checked in parents at the original center. She's passed out marketing brochures, attended meetings with the Web site designer and lawyers and seen endless puppet shows and craft projects.
The downside is that they have no routine. Mother and daughter have to roll with the demands of the franchise now that it's grown from one unit to six in the Dallas/Ft. Worth area. "That's a sacrifice we have to deal with," she said, adding that it's made her daughter flexible at an early age.
"You have to have the mindset that you'll do whatever it takes to make the business work," Oliver says - whether it's having to ask relatives and friends for money, live off your savings for eight months due to construction overruns, or talk a landlord of an "A" location into taking a chance on an unproven concept.
The payoff?
"I have a totally different lifestyle now," she says. "I don't have to answer to anyone."