The Oliphants and Josbergers were such close friends they could invite each other over to break bread and end up chopping wood in the backyard together. On one such occasion, Mark Oliphant and Stu Josberger took a break from their lumberjack activities and began throwing the hatchet at a tree already on its last root, a victim of Hurricane Sandy.
Their wives, Trish and Kelly, wanted to get in on the action and the two couples turned it into a game, similar to darts. They posted pictures on Facebook and within hours, friends wanted to get in on the action.
From that somewhat auspicious start, the couples decided to "take a leap of faith," and make hatchet throwing into a business. "It has home-grown roots in our back yard," Trish Oliphant says about Stumpy's Hatchet House in Eatontown, New Jersey. (The name, by the way, is not a nod to any of the founders' missing limbs or fingers, but a private joke at their yacht club.)
But before leaping, the couples did their internet homework. At the time, August 2015, there were no other hatchet-throwing businesses, which gave them a wide-open field. Rather than make it into a league-style business, the foursome decided to focus on the social aspect.  "We call it a social throwdown," Trish Oliphant says.
Here's how it works: For about $20 an hour, groups rent the pit, plus receive safety training and throwing lessons from an "axpert." Customers can bring their own beer and wine, and there are menus available for delivery from several nearby restaurants, from pizza to sushi. Non-throwers pay $15 to watch the fun.
Customers range from corporate team-building participants to divorcees, who aren't so much interested in burying the hatchet as throwing it mightily at a target that represents the nonrepentant spouse—or boyfriend or boss. There's also a fitness element to it. "It's a sneaky little exercise," Oliphant says.
Her husband, Mark, was already retired from his carpentry job when the couples decided to start their own business. He's responsible for the wooden targets and the hand-made looking furniture that gives the 5,000-square-foot warehouse facility in Eatontown its upscale lumberjack looks.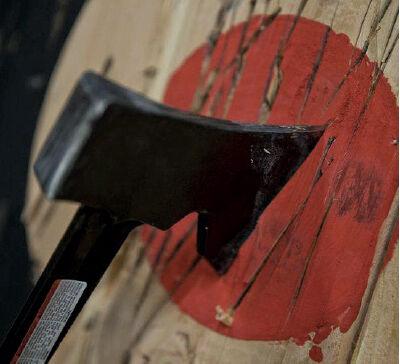 The couples, whose skillsets are eclectic, financed Stumpy's with their savings. Kelly Josberger, who was an elementary school principal, held onto her job until last summer, and Stu's experience in IT became valuable when POS software required customization. 
Oliphant was a brand ambassador for designer Ralph Lauren. It's not as much a stretch as one would imagine, she says, laughing,  "Ralph had a couple of Buffalo flannel plaids and ripped jeans" in his collection. Her eye for fashion, coupled with the team's sense of humor, produced T-shirts and sweatshirts with slogans, such as, "Ax me what I did last night."
They even have a proprietary Douglas-fir scented candle that they sell.
Stumpy's party atmosphere hit the spot with the Jersey Shore crowd.  "We became wildly popular right out of the gate," Oliphant says. "Saturday reservations are three-weeks out."
By the time Chris Conner, president of Franchise Marketing Systems, was brought on board to turn their flagship store into a franchise, they had more than 100 requests for franchise information.
What appealed to Conner was the simplicity of the concept. It had low labor costs and a low cost of goods, and was ringing up sales of $30,000 to $50,000 a month during the first year, "with figure-it-out marketing," he says.
The danger of a seemingly simplistic concept, of course, is imitation. Since their original search in 2015, Urban Axes in Philadelphia has opened up, and a Canadian concept, Bad Ax Throwing, added a unit in Chicago. But Oliphant isn't worried. For one thing, the other concepts are more focused on leagues than in the social experience, and two, there's more than one bowling alley out there making money.
Stumpy's has the "first-mover advantage," Conner says, plus they have a design package and layout that would be hard for an imitator to duplicate.
In addition, the franchisors have experience finding locations — Oliphant said they received a lot of no's before finding a landlord who would lease to them — plus insurance connections. While it's not unsafe (people throw hatchets in cordoned-off lanes), they had to go with a "Lloyd's of London-style of insurance," Conner says.
The franchise program is still being finessed. At the time we talked to Oliphant, they had nailed down a $30,000 franchise fee, but were still debating on the royalty. If they get stuck, they could always throw a hatchet at it. A bullseye represented five points, the clutch circle, seven.