Tom Ryan wasn't interested in being CEO of the Smashburger brand he co-founded in 2007, but as he rolls up in his BMW X6, impeccably dressed and with a full tank of confidence, it seems he was born ready for this role—and this interview.
Ryan's impressive resume precluded his arrival at the restaurant. With a Ph.D. in flavor and fragrance chemistry and the inventions of the McGriddle and Stuffed Crust Pizza under his belt, he looked more like a flashy executive than a food science savant that's the bedrock of his career.
We exchanged pleasantries and sat down in a bright red booth to dive into his plans to dramatically grow Smashburger and why he feels he'll one day declare victory in the better burger wars that have raged for more than a decade.
Our first stop was determining what brought this founder with other irons in the fire back in late 2016 as CEO of his 11-year-old fast-casual burger brand. His return wasn't just a homecoming. Ryan, 60, was metaphorically grabbing the steering wheel after Smashburger crushed its way through three CEOs in four years, while he was focusing on the Tom's Urban and Live Basil concepts he had since developed.
Ryan has energy and ambition to spare. He's fired up about his burgers, and the intricate science that makes them some of the best tasting outside of fine dining. He's pleased by internal metrics indicating his myriad corporate tweaks are moving the needle in franchisee-run restaurants. And he's over the moon that Jollibee Foods Corp. doubled down on Smashburger, pouring in a combined $200 million to give the Philippines-based QSR giant a majority stake in the company and a beachhead in the United States.
Smashburger is switching from gasoline to rocket fuel as its executives and investors move beyond the fast rotation of CEOs and the closure of more than 40 locations in recent years. From this point forward, its executive team is finalizing plans for unit growth at home and abroad, working to increase brand awareness and designing forthcoming flagship-style restaurants in North America's ritziest cities.
Regaining the magic
"As corporations get bigger, magic disappears and willingness to entertain magic disappears," Ryan said of the years before his turn at the CEO helm. "Magic is a surrogate for innovation in my language."
Magic comes in many forms at Smashburger—the gentle packing of the beef patties to maintain their juiciness, the top-secret seasoning mix and the undercover use of blue cheese to give its cheese slices more zing. On the softer side, that includes brand messaging and in-store ambiance that's constantly focused on 32-year-olds, which Ryan says is the perfect age—old enough to have some experience, money and good taste, but not old enough to be uncool.
"When I came in and took a look at the aggregate of our existing corporate objectives, precious few of them had a direct line of sight to what was going on within these four walls," he said. "Once we got our organization right-sized, I told every department I want three objectives—two that you get done in the quarter and one that sees impact in the next quarter. If you can't draw a straight line between these objectives and making a difference around customer satisfaction, executional prowess or enhanced profitability, then I don't want to see them."
The headquarters headcount was trimmed in some places and other departments were beefed up during Ryan's first months as CEO. In early 2017, Smashburger unveiled its Triple Double burger that attracted a copyright lawsuit from In-N-Out Burger. A few months later, Carl Bachmann was hired as COO from Bertucci's to boost accountability and guest experience metrics. Near the end of 2017, it rolled out its Smashpass burger subscription that was designed to spur sales during the winter months and reassure weary franchisees.
"We wanted to grow like an oak instead of a vine," Ryan said of the company's original real estate strategy. That translates to putting down big roots in a handful of key markets, and then adding additional units for marketing and distribution cost synergies.
He doesn't explicitly regret going into markets such as Boise, Idaho, or Omaha, Nebraska, but stressed it's hard to manage small, three-store markets from a franchisor's perspective given the challenges of efficiency and distance.
"We've concentrated our corporate growth into our core markets to get back to the original vision of oak-ing ourselves out, if you will," Ryan said.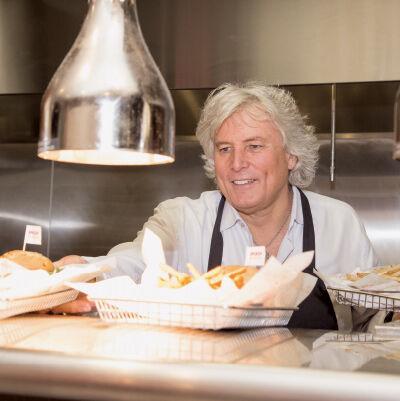 Jollibee's big move
There's a delightful episode of "Parts Unknown" (season 7, episode 1) where Anthony Bourdain hangs out in a Jollibee fast-food restaurant in Manila, the capital of the Philippines and one of the most densely populated cities in the world. He remarks on the unusually sunny menu, with items like spaghetti with hotdogs, "Chickenjoy" tenders and "Big Yum!" cheeseburgers.
"I sneer at fast food, revile it at every opportunity, but I am also a hypocrite because to me Philippine chain Jollibee is the wackiest, jolliest place on earth," Bourdain said, noting there are more than 900 Jollibees in this nation of more than 7,600 islands.   
It's also a $5.5-billion company with 1,200 total locations for its namesake brand—including a handful of U.S. units in Virginia, New Jersey, Chicago, Florida and Texas, and 17 along West Coast states with the highest numbers of Filipino immigrants. The parent company, Jollibee Foods Corp., has thousands of units in its other brands including Chowking, Greenwich Pizza, Red Ribbon, Mang Inasal, and 93 Burger Kings it operates.
After Jollibee purchased 40 percent of Smashburger in 2015, Ryan said he developed a fast affinity for the company, calling his new partners "high integrity professional restaurateurs" with a tremendous amount of operational knowledge and an impressive long-term focus.
Now with $200 million on the table, by far the biggest development in the ongoing American better burger wars in recent years, Jollibee has doubled down on Tom Ryan, Smashburger and the U.S. market at large.
As part of the announcement about the increased investment in February, bringing Jollibee's stake to 85 percent, Smashburger CFO Bradford Reynolds said part of the funding will be used for cross pollination by bringing Smashburger to Southeast Asia.
Ryan said the news is almost too good to be true, noting the best part of the partnership is Jollibee's desire to hold onto its Smashburger stake over the long term.
"It's founding restaurant people talking to founding restaurant people," he added. "There's a clarity and purity to that perspective that is much appreciated on both sides."
In Tom's kitchen
Anxious to try out this "meat candy" franchisees talked about, I prodded Ryan to step behind the line at the Burnsville, Minnesota, store in the name of getting active photos. In front of the grill, Ryan transformed from coolheaded CEO guy with a wild suit, neck pendant and Richard Gere's hair into a Red Bull-fueled scientist in a white apron and gloves.
The kitchen is his natural habitat.
With the grill warmed up and painted with the just-right amount of butter, we watched as Ryan launched into the importance of the little details: everything from how the buns are frozen, sliced and toasted, to the science of how one literally smashes loosely packed beef and fast-cooks it to form a hard shell that traps the juices, seasoning and flavors inside for the perfect taste and texture—this is the meat candy. His moves quickened and became instinctual, compared to the more buttoned up demeanor he projected mere feet away across the dining room.
Meat sizzled and mouths watered as he reached his palm out with a dusting of the top-secret burger seasoning that includes kosher salt, black pepper, garlic, "natural beef precursor" and a mystery ingredient that I couldn't place when asked.
"It's actually triple roasted chicken skin ground up," Ryan answered. "Remember when your mom used to make baked chicken on Sunday and there's that big layer of skin on top? That's what's in there."
He wanted me to try the meat fresh off the grill, saying that it's almost like a balloon as it cooks, and when it's popped the juices flow and you taste a "steak-y, salty, really juicy flavor—it bursts in your mouth." He took us through his thinking behind the exact mix of the cheese, the special-ordered super-concentrated shake mixers, the shape and weight of the actual burger smashing devices and how the laser cutting and compression toasting of the buns helps to keep the flavors and juices in the right place, without soggy veggies or bread.
I sensed a moment to ask about the competition, hoping he had a bit more spice to throw around. Noting that modern customers are very discriminating and looking for food with a story, he predicted a continued shift away from what he called "commoditized burgers" from fast food mega-brands and continued momentum for restaurants that make customers feel good about what they're eating.
"Apply your own thinking about these brands and you can self assess after I've said that," he quipped. Asked specifically about Five Guys, which came up a few times during our interview, he zeroed in on that brand's retro positioning.
"I'm a big believer in the constant evolution of being forever young, and if you don't have a relatively nimble and amorphous way to think about your concept, then you end up becoming a fixed point in time," he said. "Twenty-five- to 35-year-olds right now, they're not looking to go to a place and feel retro."
Best of the better
While there's never a bad time to receive $200 million, Ryan says Jollibee's latest move comes at the best possible moment given Smashburger's recent corporate changes, new product momentum and increased marketing efforts. Looking ahead, he sees this putting an increased focus on "unit based, four-walls-focused growth" that will become increasingly clear in the next year and a half.
"We're going to be a tour de force in the marketplace over the next 18 months to build the head of steam, and then we're going to rock and roll," he said.
Many details remain unsettled, but Smashburger will continue with its strategy of smaller, non-traditional locations in places like casinos, airports and universities. Its 600-square-foot restaurant within Caesars Palace in Las Vegas is the highest performing store in the 329-unit system. A few weeks before this issue went to press, it also opened a full-service unit with a full bar at Denver International Airport.
While Smashburger has generally avoided downtown locations, which Ryan said struggle to capture the ideal number of active dayparts in a given week, Jollibee believes in setting a new tone for Smashburger with the development of high-visibility marquee stores in flagship U.S. cities.
Its new parent has also stressed its desire to return to cutting edge food innovation—Ryan's specialty—improving the guest experience and making sure that Smashburger is always contemporary in its brand presentation and in-store ambiance.
"I know it sounds like platitudes, but I'm telling you the honest to God truth—this is a hugely exciting time," Ryan said. "For the first time in a long time we're going to be seeing organic growth, opening new stores, rekindling PR and all that fun stuff when we open high-visibility stores. It's going to be great, so we're all very excited and engaged."
A strong believer in karma, Ryan feels like his new partners are kindred spirits who've come at the right time to help Smashburger achieve the goals he and co-founder Rick Schaden dreamed up just after the turn of the century. He added occupying the CEO chair is part of Jollibee's long-term plans for its new American outpost.
"I'm committed to them, they're committed to me and we're going to make Smashburger the best global better burger brand in the world—that's where we're going," he said.  
The river of innovation
When Ryan was named CEO in December 2016, following the succession of Dave Prokupek, Scott Crane and Mike Nolan, Smashburger had more than 370 units systemwide, which exactly matches In-N-Out's unit count. Culver's and Five Guys are significantly larger, with 658 and approximately 1,500 locations, each. Smashburger's footprint has since shrunk to 329 locations, which includes the impact of the brand's nearly complete exit from the Chicago market.
Ryan blamed the brand's performance in Chicago on it being a "tough market for chains," high advertising costs and "really bad real estate decisions."
Philadelphia-based Dan O'Shaughnessy is Smashburger's largest franchisee with nine units open and a lease for a 10th unit freshly signed. With a background in investment banking and quantitative trading, he is part of a group that also owns Planet Fitness locations.
O'Shaughnessy fell in love with Smashburger after their Colliers broker brought them to a location in suburban Minneapolis during a search for new gym sites. Originally looking for a new concept that would outfox what he calls the "at-home economy" of Netflix, Amazon, Blue Apron and Domino's, he and his partners learned more and were impressed that Smashburger's financial mindset extends beyond restaurant operations.
"They brought a Wall Street or analytical perspective to how to run the business, which we found very attractive," he said. With six years now under his belt with the brand, O'Shaughnessy said the brand's hot status in the early years was likely a factor in the poaching of the franchisor's talent.
"Quite honestly there were days, weeks and months where you'd pick up the phone to call someone and you'd find they were no longer with the company, and that's a little disheartening," he said, adding that Jollibee's investments appear to be a stabilizing force. "We've gotten to the point in our process where we're not really reliant on corporate so much—whatever they can add, certainly, we'll take."
Comparing his group's holdings in Smashburger to better known brands like Shake Shack or In-N-Out Burger, O'Shaughnessy said there's significant opportunity to raise its awareness across the country—especially important as his group has signed up to build 24 to 26 units within the next five years.
"This has been a challenging market for a lot of QSR, and I feel like Smashburger is going to be one of the survivors, if you will, and the reason I feel that is it's product first," he said. "Our product stacks up very well with the competition, so I'm bullish with the brand and looking for stability."
Another large franchisee, Craig Tengler, opened his first Smashburger in 2016, but first met Tom Ryan in the early 2000s when Smashburger's founder was still working at McDonald's. From his perch working on an operational platform for McDonald's, Tengler realized Ryan was what he calls a "foodie genius," and that he didn't seem to fit in to the MCD culture.
"I mean that in a really positive way and not trying to disparage McDonald's," he said. "He's a very eclectic, interesting guy, obviously a quick thinker and really focused on the ever-changing tastes of people."
Tengler said being in business with Smashburger is like "being on a river of innovation," and said Ryan's return to the brand—even though he was never officially disengaged—was a major reassurance after some concern during the previous era. He's happy with the new products he's seen in the last year, he wants the company to "pump the market with new news" and increase its profile in the American restaurant scene.
He added that his Smashburger locations aren't performing to his expectations, but said they are "on the path" and that he remains bullish on his investment in the system.
"Smashburger is an under-recognized brand in the marketplace right now and I would stack our products up against Shake Shack or any of the ones that have unbelievable brand recognition that we actually deserve and, quite frankly, need," he said.
Far from beached
For a man who, in his words, has made a career out of romancing familiar things, foods and experiences, Ryan has a lot of newfangled places coming his way on his journey to trying to make Smashburger the best better burger player in the world.
Asked what prompted the change, Ryan said his move into the driver's seat was the result of "a very candid and cogent meeting" in Hong Kong with Jollibee and input from Smashburger's entire ownership team. Underscoring that it wasn't just Jollibee's direction, he said the new position fits well even if it is a big change from his past.
"I never in my entire life aspired to be a CEO, I wanted to be the creative guy. I wanted to be playing with food and marketing and designing concepts," he said. "I practiced that craft and refined it better than most, maybe better than almost all in my career, and then here comes this thing at age 60 to say maybe you should go do this—I will tell you in hindsight it's become a very refreshing experience for me."
With Jollibee looking for Smashburger to muscle its way into the conversation and join the ranks of the burger elite, Ryan says he has four key objectives to steer Smashburger where it needs to go: adding units in markets where it already has a presence, new flagship stores in key cities, continuing to expand in high-visibility non-traditional sites and, lastly, entering the Southeast Asian marketplace.
With more on his plate than ever, and Jollibee seeking his team's advice for its other brands, Ryan appears to be in his happy place and said he's isn't going anywhere as Smashburger moves into its second decade with a barrel of fun money in tow.
"I'm not interested in margaritas and beaching it any time soon," he said. "I have this nirvana of a situation: I can't wait to go to work in the morning, because things are exciting, and I can't wait to go home at night. My home life is great. My wife is my best friend, and we have a great time even if we're not doing anything, so to me, it's like why would I interrupt that?"