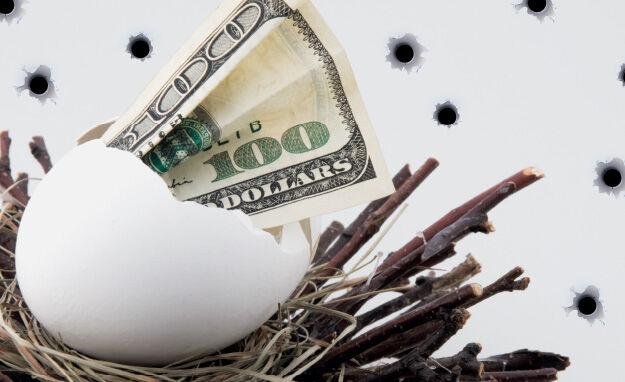 The Internal Revenue Service is targeting ROBS for more intense examination.
Using retirement funds to buy a franchise is a popular tool known as ROBS. But two tax cases show the IRS is taking a closer look, and potential franchisees should take note of the scrutiny.
Two recent tax court cases may be the opening volley of a federal assault on ROBS, or Rollovers for Business Startups. For over a decade, firms such as Benetrends, Guidant Financial Group and SDCooper Co. have promoted rollovers from retirement accounts as easy sources of funding for new franchisees.
Now skeptics of such rollovers point to two U.S. Tax Court cases, Peek v. Commissioner, filed last May, and Ellis v. Commissioner, filed in October, as "ticking time bombs," in the words of Steve Hamilton, a certified public accountant with Schmidt and Associates in Cincinnati, who has published articles about ROBS. "The lawsuits show that the Internal Revenue Service is looking deeply into these transactions," Hamilton says. "If it blows up, participants can be looking at millions in back taxes and penalties."
 The IRS began looking at ROBS in 2008 when it issued a memorandum, stating that while using retirement monies as tax-free sources of business funding may not be "non-compliant per se," they needed more scrutiny. After a year of study,' the IRS was still wary, calling them "questionable" in a 2010 report, and warning that any kind of prohibited transaction could result in "adverse tax consequences." 
 Since then, ROBS usage has boomed. Guidant's ROBS clients, about one-third of whom are startup franchisees, rolled over $232 million in financing in 2012, said CEO David Nilssen, "and our business grew by 20 percent in 2013."  
FranChoice franchise broker Diana Pleuss, of Concord, California, said 80 to 90 percent of her franchisee clients now use at least some of their retirement funds, from Individual Retirement Accounts or 401(k)s, to launch their new franchises. 
Scores of new players have entered the ROBS marketplace, too, citing the vehicle as the only game going in some cases. "We are now offering ROBS because there's almost no other source of funding for new franchises that cost less than $350,000," said Steve Mariani, president of Diamond Financial in Raleigh, North Carolina.
But Jeff Nabers, CEO of Nabers Financial in Denver, said he has avoided offering ROBS because, "I always felt the whole industry had a cloud looming over it. People who worked for years to amass a retirement account look at the money as all theirs. They forget they owe a big chunk of it to the government, for federal and state taxes."      
 ROBS providers charge about $5,000 to help a franchisee create a new C corporation with a new 401(k) plan. All or part of the franchisee's retirement funds are rolled into the plan, which then buys up all the stock of the new company. The franchisee moves that money into a checking account and spends it on his or her new business. Because the procedure is a retirement fund rollover, the franchisee does not have to pay taxes or an early withdrawal penalty on the money. 
 But for a ROBS to remain compliant, that new 401(k) must become a qualified retirement plan, subject to the same rules that govern all pension plans under the Employee Retirement Income Security Act, administered by the Department of Labor. The tax court cases show how easily a ROBS can step out of compliance. 
In the Peek case, Colorado, businessmen Lawrence Peek and Darrell Fleck pooled their retirement funds to buy an existing fire-and-safety business. They chose to pay off the seller over time, using their new 401(k) plan to guarantee the loan.  In the other case, Missouri resident Terry Ellis rolled his retirement money into a used-car business and used some of the funds to pay rent for the property and to pay himself a salary. 
The IRS claims guaranteeing a loan and paying rent and a salary to yourself are all prohibited transactions, thus making their plans noncompliant and subject to huge back taxes and penalties. Neither case involved a franchise, but both were "handpicked" by the IRS to demonstrate the risks involved in using ROBS, said Phoenix CPA Ed Zollars of Thomas, Zollars and Lynch, who has written about the Ellis case on the Arizona Society of CPAs blog. Of special concern to franchising, Zollars said, is the rule against taking a salary. "If you told someone he could get no money out of it, a ROBS might not sound very good."
Both Guidant CEO Nilssen and Steve Cooper, founder of SDCooper, said the Peek and Ellis cases do not pertain to what they do because, Nilssen said, both those companies were limited-liability corporations and not C corporations. Cooper said, "We are exempt from ERISA rules because we establish Employee Stock Ownership Plans, not retirement plans."  
Dallas Kerley, chief development officer for Benetrends, said, "We've done over 10,000 of these since 1983. Four percent of our plans have been audited, but we've never had one disqualified. I think the IRS is addressing some of the new players." 
Nevertheless, Nilssen said, "We always tell people not to pay themselves a salary until they are open for business and generating revenue," and to avoid other prohibited transactions that include paying a 'fiduciary' out of the plan, including plan providers like Guidant, not putting money back into the plan, not allowing your employees to participate, and not filing annual reports. 
The advantage of ROBS, say the providers, is franchisees who use their retirement money instead of debt can launch a franchise without worrying about paying back a loan. And a new 401(k) tied to a successful franchise can provide a substantial retirement later. 
Some endings 'ugly'
William Mitchell, of Charlotte, North Carolina, used his entire $200,000 401(k) to help pay for a Primrose School franchise he and his wife, Polly, opened in 2005. Mitchell set up a new 401(k) plan at his school that he and Polly, plus a couple of employees, contribute to.  
Mitchell, who worked with Benetrends, says the IRS did audit his ROBS about three years ago. "The guy who came out said he's seen a lot of people who abused this. He said we clearly have a business; for many of the people he audits, that is not the case."  The IRS eventually sent Mitchell a letter saying "all was fine," he said.
But Kelly Davis, manager of employee benefits plans for Phoenix-based accounting firm CliftonLarsonAllen and spokeswoman on ROBS for the American Institute of CPAs in Washington, D.C., said the ROBS audits she has been part of have had "ugly" endings. "ROBS providers are reaping a lot of commissions from setting up complex plans they may not understand completely and leaving their clients at huge risk.  I've had clients who had terminated their ROBS 401(k) plans after bankruptcy that were still audited by the IRS years later and assessed taxes and penalties they could not pay," she said. 
Davis said none of her ROBS clients had used Guidant, Benetrends or SDCooper, who all cover the costs when clients are audited and all claim none of the plans they set up have been disqualified by the IRS. 
That could change if the IRS or the Department of Labor decides to focus on ROBS plans, said Larry Davidson, an attorney specializing in employee benefits and executive compensation for Duane Morris. "In the meantime," Davidson said, "I'd tell anyone considering this to be very careful."
Nabers advises people to avoid provider fees and audit fears by taking a direct distribution from retirement funds, pay the taxes due and the 10 percent early withdrawal penalty and invest the rest of the proceeds. 
But many ROBS users said they needed all their retirement funds to start their franchises. David and Shelley Culp, of Danville, California, for example, said they took "every nickel out of our retirement funds," he said, "and invested it into a College Nannies and Tutors franchise. Today we employ 75 nannies and 22 tutors and still can't handle all requests. We could not have done this any other way."