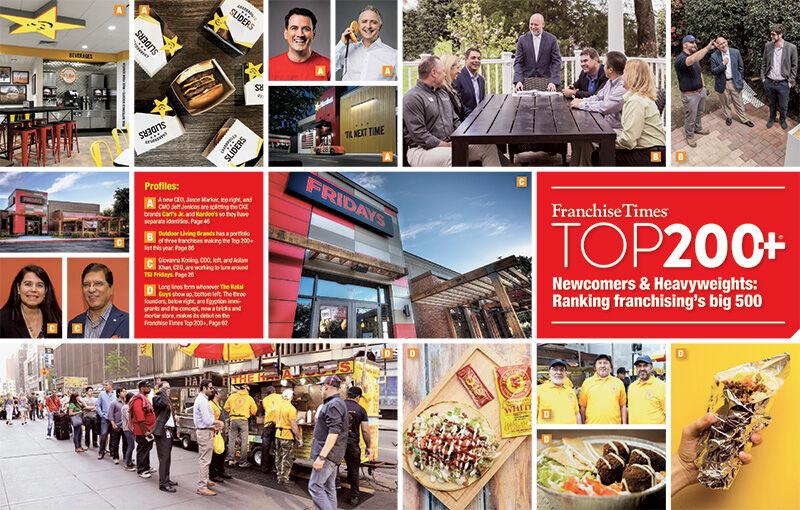 The largest brands in the Franchise Times Top 200+ keep getting larger, but there is plenty of growth across the exclusive ranking of franchised brands by systemwide sales.  
The top 10 added $14.3 billion in sales during 2017, a 5 percent surge. That's nearly double the cohort's sales growth last year of $7.8 billion. The top 10 now account for more than $300 billion in annual sales—that's almost half of the entire top 200, which recorded sales of $644.8 billion in 2017.
McDonald's retains the top spot. The company broke the $90 billion in sales mark for the first time as it added more than $5 billion or 7 percent to topline sales even while growing units by just 0.9 percent.
The rest of the top six held their lofty positions as well, adding significantly to sales.
Shakeup after No. 6
The No. 2 brand, 7-Eleven, added $2.5 billion. KFC added $1.2 billion to keep its No. 3 spot. Burger King added $1.8 billion (a 10.2 percent jump) to maintain No. 4. And even while shedding more than 2,000 restaurants, Subway grew sales by $300 million to stay just ahead of No. 6, Ace Hardware, which added $973 million in topline sales.
There was, however, quite a shakeup for the rest of the top 10.
At No. 7, Domino's officially surpassed Pizza Hut in the rankings. It even accelerated sales from the prior year, growing sales 12.4 percent—the strongest sales growth among the top 10—while growing its unit count by 7.6 percent. Those numbers make the company look more like a growth brand than a 58-year-old giant that rakes in more than $12.2 billion. In another tricky year for restaurants, the brand's convenient, digital-first strategy worked well in 2017.
Just behind at No. 8 was Pizza Hut, which saw flat sales at $12 billion. And rounding out the top 10 were Marriott at No. 9, up one spot, and RE/MAX at No. 10 at $11.5 billion and $10.9 billion in sales, respectively.
Strong across the board
Overall, the top 200 saw robust growth. The 200 largest brands grew sales by 4.6 percent or $28.5 billion to hit $644.8 billion. That was up from $616.2 billion and a growth rate of 3.4 percent the year before.
That growth came from all across the list and just two segments were in the red (casual dining subcategory and the  printing  and graphics subcategory). The ubiquitous boost is illustrated by the number of double-digit growers. In 2017, 42 companies grew sales by double digits. That's up from 33 companies in last year's rankings, suggesting things are going pretty well across the franchise economy.
At your service
The best-performing class of franchised brands was services, reflecting the ongoing macroeconomic shift away from brick and mortar retail. Within that class, personal services grew sales by 11.4 percent, topping $19 billion in sales. Just behind was healthcare and medical services, which grew by 9.3 percent to $6.7 billion in sales.
Business and cleaning service categories grew by 7.9 and 6.9 percent, respectively. But don't pronounce retail dead quite yet: The retail category ticked up some, growing 3.7 percent to $124.9 billion in sales.
The fastest-growing individual brand by far in the largest 200 companies was the fitness brand Orangetheory. The company saw 63.7 percent topline sales growth and 47.4 percent location growth. It's been quite a two-year performance for the brand, which was the strongest grower the year prior as well, with 111.3 percent sales growth and 73.2 percent unit growth.
The next strongest sales growth came from Hand & Stone Massage and Facial Spa, which grew topline sales by 32.7 percent while adding 17.6 percent to its unit count.
Some individual companies took big dips. Liberty Tax Service took the biggest step back in topline sales, dropping 11.9 percent. Aaron's and Minuteman Press both tumbled in the double digits as well, slipping 11 percent and 10.8 percent, respectively.
Back to franchising
Selling off corporate stores to franchisees is nothing new, but it came back in vogue in the last few years as large legacy brands sought to move toward an asset-light model with no or limited corporate locations.
There was a big move toward franchised locations in 2017. The top 200 is now 90.7 percent franchised, up 1 percent from last year and well ahead of the 84.7 percent franchise rate seen in 2015.
The percentage of franchised locations in the top 10 jumped 2 percent, driven largely by one massive McDonald's transaction. It unloaded more than 2,600 restaurants in China to a single franchise partner. The move is part of a plan to add more than 1,500 restaurants in the country via franchising. That took the brand from 85 percent franchised to 92 percent.
International booming
The top 200 added plenty of units in 2017, but it also closed a lot. Driven by Subway closures, the Top 200 actually shed 165 locations in the United States, but added 8,800 locations internationally.
Of the 515,727 total units across the top 200, 206,469 are now outside the U.S.—that's a 4.5 percent jump driven largely by the top 10 brands. The elite, mostly legacy concepts added 6,118 international locations as they looked for growth outside the U.S.
Refranchising was especially pronounced outside the U.S. The top 200 refranchised 3,431 international locations, pushing the total number of international franchises up by 12,231. That's a 27.7 percent dip in company-operated international locations and a 6.6 percent bump in franchised international locations.
---

---
How we rank the top 500 franchises
The Franchise Times Top 200+ is an annual ranking of the 500 largest franchise systems in the United States by global systemwide sales, based on the previous year's performance.
In a five-month research process and building upon a database that began in 1999, our research team uses a combination of companies' voluntary reports and publicly available data, including the franchises' most recent franchise disclosure documents and Securities and Exchange Commission filings.
To qualify, a company must be a legal U.S. franchise. Franchisees must own at least 15 percent of the company's total units. The company must also be based in the United States, or have at least 10 percent of its total units in the United States.

Systemwide sales is defined as the total sales for both franchise and company units. Those sales figures should represent sales to customers, and not corporate sales to franchisees or prospective franchisees, such as royalty revenue or franchise fees. Other revenue not directly related to franchising should not be included.
If two companies reported the same systemwide sales, the higher ranking is given to the company with the most units. Preference is also given to companies that voluntarily report their systemwide sales, rather than those companies for which we must estimate the sales figures.
Franchise Times' estimated revenue for hotels is based on a formula multiplying the chain's revenue per available room (RevPAR) by the number of rooms and the number of days in the year. RevPAR comes from the company, or from industry estimates.
We estimate real estate companies based on 2.5 percent of their reported sales volume. Real estate companies report sales based on total volume of homes sold. So if a home is sold for $200,000, it would be listed as $200,000 in revenue. Franchise Times' estimate would count $5,000 in revenue earned as a commission from the sale.
We estimate travel agencies based on 12.5 percent of their total sales volume. Like real estate companies, travel agencies report sales volume based on the value of the vacations sold, rather than their commissions.
Research begins for next year's project in late April. To submit your brand's numbers or for more information, contact Franchise Times Controller Matt Haskin, who leads the research effort for Top 200+, at mhaskin@franchisetimes.com.