A longtime friendship with Goldfish Swim School co-founder and fellow collegiate swimmer Jenny McCuiston gave Katie Lee an inside look at the concept early on and prompted the formation of BHB Group as the brand's first franchisee. Now with 13 swim schools in five states and three more in development, BHB Group signed another multi-unit agreement, this one for seven locations in Manhattan and the greater New York City market. Hope Bayer, another friend and swimmer, is a partner in the group, along with her husband, Brian, and Robert and Hank Wineman.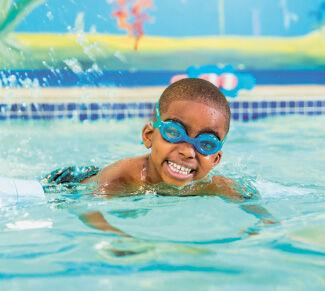 The need for swim lessons and water safety isn't going anywhere, noted Lee, and despite the challenges brought by the COVID-19 pandemic, BHB is in a position to grow and capitalize on markets where "we know there are kids who need to learn how to swim."
"We're a really conservative group, we hold on to a lot of cash … and we aggressively pay off schools," said Lee, BHB's operations owner. "We've been financially responsible for 10 years," ever since opening the first franchised Goldfish in Farmington Hills, Michigan. With a total investment of $1.3 million to $3.2 million necessary to open a Goldfish Swim School, the barrier to entry "is no joke," noted Lee, "and we reflect on that all the time." BHB is meeting its financial goals with its Goldfish operations, she said.
In its franchise disclosure document, Goldfish lists average gross revenue of $1.7 million for locations open at least one year.
"You've gotta be willing to risk a lot up front to get the rewards on the back end," Lee said.
After pandemic-related closures earlier this year, all 13 of Lee's schools are open and "we're about back to 50 percent of where we were pre-COVID," she said. Class sizes were modified and plexiglass barriers installed along pool ledges to provided separation during lessons, among other changes. Lee's been pleased with the support from a franchisor she said shares the same core values as BHB. "Do the right things, make the right decisions and treat everyone with integrity, compassion and trust," she said.
---
Quick Hits
Papa John's signed an agreement with HB Restaurant Group to open 49 new stores in Philadelphia and southern New Jersey between 2021 and 2028. An existing franchisee, HB Restaurant Group operates 43 Papa John's stores in the Mid-Atlantic area.
Hammer & Nails Grooming Shop for Guys inked a three-unit agreement with Ronn Day for locations in Pittsburgh. Day, a former sales and marketing executive, is scouting locations in Wexford, Sewickley, East Liberty, Fox Chapel and Cranberry Township.
Teriyaki Madness will enter Wisconsin through a unique partnership with franchisee FirstPathway Partners, a Milwaukee organization that helps foreign investors become United States citizens through the Department of Homeland Security Immigrant Investor (EB-5) program. FirstPathway signed to open five restaurants.
Green Home Solutions signed several multi-unit franchise agreements for a total of 19 units. Among them is a five-unit deal with Michael Douglass for locations of the disinfecting and in-home air solutions brand in northwest Georgia and Tennessee, and a four-unit deal with Jason Lilly and Justin Crawford for Wake County, North Carolina.
Dickey's Barbecue Pit will expand its presence in New Orleans through a new three-unit deal with existing franchisee Robert Dunning.
Phenix Salon Suites closed on a three-unit deal in New Jersey with Frank and Diana Kimick. The brand also signed a two-store agreement with salon owner Gabriel Abrams in New York.
The Wire is the place to find news of multi-unit development agreements, brought to you by Editor Laura Michaels. Want more? Sign up for the e-newsletter at franchisetimes.com/e-newsletter. To share your brand's multi-unit deals, email details to lmichaels@franchisetimes.com