For Hiag Avsharian, the decision to buy a franchise began with his desire for more control over his life. "I decided, I don't want to be an employee again, if I can help it," said Avsharian, who most recently was director of operations for a tech company and before that helped run his family's business, Shar Music, a supplier of violins and music accessories, for more than 20 years.
Working with a consultant, Avsharian discovered Chicago-based Big Blue Swim School and originally signed an agreement in late 2019 to open a single location in Ann Arbor, Michigan. But during orientation in March, Avsharian said he learned there was more interest in his surrounding market and so, despite the looming COVID-19 crisis, decided to sign an additional three-unit deal. "I knew I didn't want to look back and know I'd been short-sighted," said Avsharian.
"I'm thinking 10 to 15 years down the road," he continued. "What I see as a risk is being aging in the workforce and relying on someone else for a job."
Avsharian was drawn to Big Blue's focus on technology integration, particularly the LessonBuddy program that tracks swimmers' progress and lets parents easily manage lessons online. He's also confident in Big Blue's ownership group, which since 2017 has included Level 5 Capital Partners, a private equity firm that's also a large franchisee of Orangetheory and CorePower Yoga. But it was his own due diligence, including driving to Chicago to visit company locations and later calling franchisees, that really sealed the deal.
It was "invaluable" to speak to franchisees, Avsharian said, and those conversations validated what he already knew. "It's going to be a heavy lift for a year, two years, for each location, but a very engaged franchisee can really make a positive impact on the business," he said. "I'll be the GM of the first location; I want to make sure I know everything." While there's competition in his area from other swim schools such as Goldfish and Aqua-Tots, Avsharian thinks there's room for "something fresh and new and much more state-of-the-art," aka Big Blue.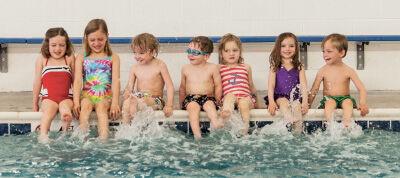 The cost to open a Big Blue Swim School ranges from $1.82 million to $3.68 million; the brand does offer multi-unit development discounts.
---
Quick Hits
Rise Southern Biscuits & Righteous Chicken signed a five-unit franchise deal with Dr. Parker Simon and his partner, Bradley Turney, for locations in Tulsa, Oklahoma. Dr. Simon, a neonatologist, and Turney also have an active real estate business flipping houses and have investments in rental properties.
Big Blue Swim School in March closed on four multi-unit deals for 15 locations across Michigan, New York, Pennsylvania and Connecticut. In Michigan, Hiag Avsharian plans to open four pools in the cities of Ann Arbor, Northville, Canton and Royal Oak over the next five years (look left to read more on his deal). In Pittsburgh, Chelsea and Mike Dukovich signed for three units, with plans to develop Big Blue in Cranberry Township and in Monroeville. In Connecticut, Chris Gray signed for three units in the Hartford area. Another deal was signed for five units in Connecticut and New York.
Celebree School, an early childhood education franchise, signed a franchise agreement with Jason Skidmore, who committed to operating several locations in Maryland. Skidmore is the owner/operator of Hart to Heart Transportation, a licensed medical transport service.
Dave's Hot Chicken inked a franchise agreement with David Futrell and Ernest Crawford to open 10 locations in the Dallas-Fort Worth area. The franchisees previously owned Schlotzsky's locations in Texas and New Mexico and are also operators of Fuddruckers units in the Dallas area.
Ziggi's Coffee signed a multi-unit deal to bring additional locations to Arizona. Paul and Stephanie Okonoski will open three Ziggi's stores in and around Peoria, a northwest suburb of Phoenix.
FirstLight Home Care signed a master franchise deal in Canada with Sam Riad, who is CEO of Comfort Senior Living and will operate as FirstLight Home Care of Canada. Plans are to open six FirstLight locations across Ontario, then expand to other provinces.  
The Wire is the place to find news of multi-unit development agreements, brought to you by Editor Laura Michaels. Want more? Sign up for the e-newsletter at franchisetimes.com/e-newsletter. To share your brand's multi-unit deals, email details to lmichaels@franchisetimes.com