Many franchise founders who've just sold their business like to take some time off before jumping into another concept, but for Jeff Dudan, fitness brand RockBox proved too enticing to wait. "I sold AdvantaClean on January 1 and quickly invested in RockBox," said Dudan, the founder and CEO of restoration services company AdvantaClean, which was acquired by Home Franchise Concepts in January 2019.
"The experience is very sticky and it had a low attrition rate with members," continued Dudan of RockBox. "It's a really buttoned up concept with strong unit economics." Those same attributes that attracted Dudan as an investor on the franchisor side ultimately prompted him to become a franchisee and he, along with his brother and former Carolina Panthers CFO Mike Dudan, signed a deal to open five RockBox Fitness studios in North and South Carolina. "I was a college football player but never got into group fitness. But I tried RockBox and really liked it," noted Dudan of the concept that combines boxing, kickboxing and functional training in its group workouts.
Based in Huntersville, North Carolina, RockBox has 20 units open; the Dudan brothers' first studio opened in Greensboro in November. In addition to being a "fantastic way to get in shape," Dudan said RockBox's variety of workouts helps differentiate the brand in an increasingly crowded studio fitness space. "We combat boredom—you're never gonna get the same workout twice," he said as he also noted the energetic atmosphere. "It's kind of like a fight club in a nightclub."
To attract members and stand out from competitors, Dudan said it comes down to "being a little bit better in all areas, the culture, the customer relationship. People will quit a gym, they won't quit a relationship."
From a franchisee perspective, Dudan liked that he didn't have to purchases lots of expensive equipment such as treadmills and rowers, as RockBox mainly uses kettlebells, battle ropes and weight sleds to go along with its boxing equipment. The investment range to open a RockBox Fitness franchise is $230,908 to $363,642.
---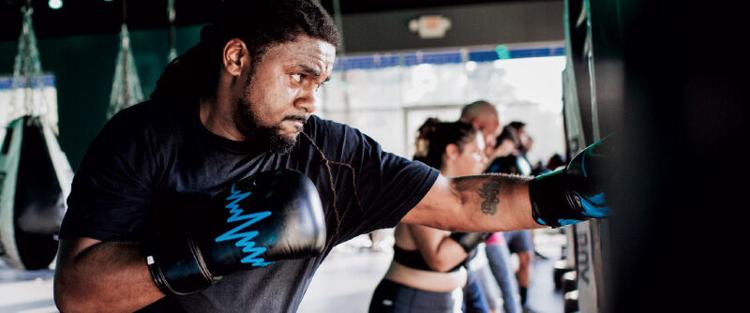 With its classes, RockBox is "like a fight club in a nightclub," says franchisee Jeff Dudan.
---
Quick Hits
IHOP signed a franchise development agreement with TravelCenters of America to open 94 restaurants over the next five years in TA- and Petro-branded travel center locations across the U.S.
Huey Magoo's Chicken Tenders inked a 20-unit agreement with franchisees Buddy Powell, Stacy Powell and Kristi Orr, who will open the restaurants throughout Mississippi.
Dunkin' signed an agreement with new franchisee Manchester Enterprises, led by COO Kirby Dolliole, to develop 18 units across the Houston area. The deal includes 10 multi-brand locations with Baskin-Robbins.
Mutts Canine Cantina is taking its dog park and restaurant combination outside Texas for the first time, signing a three-unit deal with Felice Halliday to develop locations in Denver.
Take 5 Oil Change inked a deal with Candice Winterringer and her newly formed Win T5 to open six units over four years in Oklahoma City. Winterringer, her husband, Brian, and brother-in-law John are also multi-unit franchisees of Sonic with 20 locations.
Blaze Pizza signed another development deal for Southern California, this one a three-unit agreement with husband-and-wife team Aubrey and Jordan Andrian.
KidStrong, a childhood learning franchise focused on brain, physical and character development, signed a seven-unit deal with Jana and Rob Pickett and Sheri and James McDonald in Texas.
I Heart Mac & Cheese inked a three-store deal with Full Circle Restaurant Group and Vu Tran to bring the concept to Colorado, in Boulder, Stapleton and Denver.
Gloria Jean's Coffees signed a multi-unit development agreement with Kishor Kaneria and his nephew, Parth, to bring at least five Gloria Jean's units to the Raleigh, North Carolina region.
The Wire is the place to find news of multi-unit development agreements, brought to you by Editor Laura Michaels. Want more? Sign up for the e-newsletter at franchisetimes.com/e-newsletter. To share your brand's multi-unit deals, email details to lmichaels@franchisetimes.com