Before Adam Zeitsiff left his post as chief information officer at Gold's Gym, departing in April 2018 to take that role at Smoothie King, he recalled telling other leaders and owner TRT Holdings, "We should really be focusing on franchising." At the time, Gold's had ballooned to operating upwards of 130 corporate clubs to go along with its franchise units.
Fast forward a year. Zeitsiff is back at Gold's Gym, this time as president and CEO, TRT decided to retain its ownership and reinvest in the brand after exploring a possible sale, and the brand's number of company-owned locations is just under 100 as it has refranchised a few dozen with more to go as it shrinks the corporate footprint in favor of franchise growth.
"In 2018, when they put the company up for sale, they were able to see where people who were looking at the business were valuing the business, and they were valuing it on the franchise side," said Zeitsiff.
Gold's recently refranchised 24 of its clubs in the Washington, D.C., area, selling them to a former operations VP at the company, as it works toward a strong "petri dish of clubs that we can operate really well and focus on supporting franchisees," said Zeitsiff.
"We are not great at operating a bunch of clubs that are far away from where we are," he added of plans to continue selling off company units until it has just 60-70, keeping those in central Texas and closer to the headquarters in Dallas.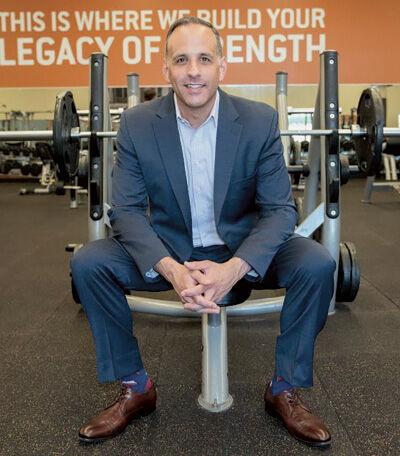 Gold's has 200 franchisee-owned clubs in the United States to go along with 98 corporate gyms, plus nearly 400 more international units, a footprint that's grown since bodybuilder Joe Gold founded the brand in 1965.
While still recognized for its large gyms with a cinder block aesthetic and abundance of weight lifting equipment—"We still have to fight a little against the perception of body building," said Zeitsiff, though he added women now account for 53 percent of members—Gold's is setting itself up to appeal to new consumers and to new franchisees. The company began embracing technology integration during Zeitsiff's first stint with the brand, when in 2017 he helped launch Gold's AMP, a personal training app with coach-led, music-driven workouts. It also offers studio fitness classes
"It was more of a pre-emptive strike," he said of AMP, aimed at helping Gold's compete with the rise of at-home fitness classes. And though the brand continues to focus on connecting digitally with its members, Zeitsiff doesn't expect home fitness to totally upset the gym business.
"The gym is all about community—you can't replace the gym experience in your house," he said. "Digital fitness at home is disruptive in its own right, but it's not Netflix disrupting Blockbuster."
To help accelerate development and appeal to a wider franchisee audience, Gold's rolled out what Zeitsiff called a "scalable footprint model" with options for 10,000- and 15,000-square-foot gyms, a sizeable difference compared to its standard 35,000-square-foot box that costs between $2 million and $5 million to open. The investment cost for the smaller model, by contrast, is $1.7 to $3 million.
"We take everything that we have in the big box, but condense it," said Zeitsiff. The downsized footprint doesn't have a pool, but those units still have cardio and strength equipment, personal training, group exercise, functional training, locker rooms and a childcare room.
Average gross revenue for company gyms was $2.01 million in 2018, while sales for franchise units were $1.67 million, the brand reported in its franchise disclosure document.
"As an iconic brand, we're going through an evolution," said Zeitsiff. "The resurgence of Gold's Gym has just begun."