When Rod Smith loaned a 17-year-old Peter Cancro $125,000 in 1971 to buy a single sub shop, he set in motion a long series of events that eventually made Jersey Mike's a sprawling, 1,700-store sandwich empire that sells more than $1 billion in subs a year.
Cancro said he's looking to offer the same kind of help through a new franchise financing plan dubbed the Coach Rod Smith Ownership Program, after his Pop Warner football coach. At a base level, it's the same entrée to entrepreneurship Cancro got when he started the company.
"Somebody gave me an opportunity, someone gave me a shot, Coach Rod," said Cancro. "This is me saying, I want to give you a shot."
The plan is starting slow with Holley Hood and Haydyn Straus, a couple Cancro encountered at a Jersey Mike's meeting and said he quickly knew they would be a good fit for the nascent program.
"The first one is going to be Holley and Haydyn; they were in Denver and I met them at a town hall meeting. When I meet people, I know in a couple minutes' time whether they've got what it takes or not. I was talking to them and they said they were moving to Wisconsin. I said, 'What are you doing?' They said they'll try to find a job. I said, 'Let's find a store,'" recalled Cancro.
The pair has plenty of experience with the brand, growing through the ranks to become managers. And that's the plan for other awardees within the program: turn star leaders at the store level into managers.
Being selected is something Straus said was a welcome surprise given they didn't have the typical money required to start a franchise.
 "Holley and I always loved working at Jersey Mike's, but never thought we would have been given the opportunity to open up a store. We are so appreciative of the opportunity," said Straus.
That's the way a lot of franchisees got their start, but the ownership program dramatically speeds the process along for the right candidates, making that career path viable in an era where the economics of starting a location are much more complex.
"You can't just sign it like years ago. We're willing to sign the lease, put up all the money and you pay it back," said Cancro. "Times are definitely different, and the banking environment has changed, everything has changed."
As the program develops, it'll be important to get buy-in from owners who might see it as losing their key people. Instead of trying to keep stars in a location, Cancro wants owners to sponsor those future franchisees.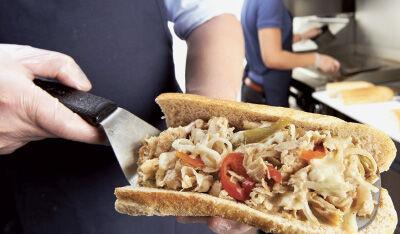 "It's their people. We don't want to be accused of taking their people, and we won't. It's a slow process, but most people want to give their team, if possible, an opportunity to grow. They're coaches themselves and they want them to grow," said Cancro. "If they lose an assistant manager, we're going to give a percentage of royalties" from that manager's new store "back to the owner so they're involved, too, and they can continue to coach and mentor. I think they would regardless, but it's a goodwill gesture."
While the details are being hashed out, Cancro said deals with those owners would likely be for a small percentage of gross sales, something like 3 percent. For three years at an average location, that works out to about $100,000—enough to make the arduous task of finding and polishing another leadership gem and mentoring at the same time more palatable. And those existing owners are essential, Cancro said.
Managers "need mentoring from their owner to help them through opening the store, getting the right attorney, the right architect," said Cancro. "The whole thing about being an owner is a whole different mindset."
That's something Straus said was a key part of what he's learning right now.
"We are working regionally to gain more experience on the big picture of running a store. We help train the staff and support them through new store openings, which is getting us really excited about our future opening," he said. "I am excited to just be a business owner."
Further detailing the plan, Cancro said financing will be on a sliding scale. The first group is getting 100 percent financing to cover the full investment of $178,500 to $756,000 outlined in the Jersey Mike's franchise disclosure document. But if future awardees have access to financing, the company would ask for some more skin in the game. More important than what they have in the bank, however, is how they work. Cancro said he's looking for true leaders with grit and the willingness to push their business forward—and they have to make a quality sub fast.
"The final test is you have to come to the training center and make subs with me," said Cancro.
If they pass that final test, the funding would be paid back aggressively over five years, which Cancro said new locations "can cashflow no problem." It's what he did himself back in 1975, sandwich by sandwich.
That payback is also a key part of the program. Instead of getting just a piece of equity or some of the profits, those in the Coach Rod Smith Ownership Program will be full owners after the initial financing is paid off. It's something that was especially important to Cancro when he first started the company. He said back then, someone offered to put up all the financing but wanted 50 percent of the company. Even at 17, he said no, preferring full ownership or nothing.
As the company, in partnership with Hood and Straus, find a location outside Green Bay, Wisconsin, the two are helping with store openings and getting some extra experience with new store operations, training and hiring. The program will help them with all financing, but Cancro said the official plan is adjustable for future awardees.
If all goes right, the program will help the company reach the big 2,000-location milestone, followed by the bigger $2 billion sales milestone. The company is on track to hit that in 2021. He said after the company tests the waters, the program will open up to new applicants.
"We are starting it up with this first group in Wisconsin, and we think we may get as many as 15 or 20 deals a year," said Cancro. "As soon as they see it's real and it's happening, I think we'll get inundated."