Vicki Dunn-Marshall and daughter Carissa Marshall were in California on their way to the Dog Haus headquarters in Pasadena when they spotted a restaurant of another concept they were considering. "They were neck-and-neck," recalled Vicki of deliberations between the two brands. But after stopping to try the food of the other contender, "we were not impressed," she said, and once they met with Dog Haus execs and toured some restaurants, both mother and daughter agreed the concept serving gourmet hot dogs, sausages, burgers and beer was the right fit.
The two will bring Dog Haus to West Virginia, signing a three-unit development agreement and "hopefully expanding beyond the initial three," said Vicki, who as president and CEO of The VDM Management Group also owns 27 Little Caesars locations in West Virginia, Kentucky and Ohio. Carissa, who's worked in her family's restaurants since she was 15, will help lead development. "I know the ins and outs of working in the restaurants," Carissa added. "And luckily I have the best mentor possible to fall back on."
They're targeting their home base of Huntington for the first Dog Haus but are being selective with the location.
"In West Virginia we don't have a lot of new shopping centers so we have to carefully evaluate," said Vicki. "We don't want to settle."
While the food is what turned them away from that other concept, Vicki and Carissa touted the Dog Haus menu and its quality food as a key reason for signing the deal. They also visited locations in Tennessee and Texas, and Vicki said she talked to several franchisees who validated her research. Carissa, meanwhile, sought compatibility with Dog Haus' leadership team. "Everyone involved, there's so much enthusiasm and passion for the brand," she said.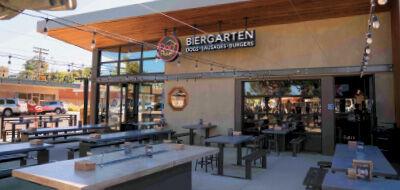 The duo signed to open locations of Dog Haus Biergartens, larger restaurants than the brand's fast-casual model, at 1,800 to 2,200 square feet and with at least 24 beers on tap.
Average gross sales for the biergartens are $1.18 million, according to the brand's FDD, and with a total investment range of $591,500 to $1.02 million.
---
Capriotti's inked deals for a total of 40 new units, including eight in Phoenix, three in San Diego and three in Sacramento.
Fit20 signed its first U.S. development deal with Cathy Battreall in Jacksonville, Florida. Battreall is also an InXpress Shipping & Logistics multi-unit franchisee.
Huey Magoo's signed a deal with Ravi Basnet for three restaurants in Alachua County, Florida, with a concentration on Gainesville. The company also inked a four-unit deal with Collie and Dametris Lightsey for the St. Petersburg, Clearwater, Largo, Pinellas Park and Seminole regions of Florida.
Aloha Poké Co. inked a multi-unit agreement with longtime restaurant operator Baryalay Razi, who will develop three locations in Maryland's Washington, D.C. suburbs.
Blaze Pizza will grow its footprint in the Chicagoland and Northwest Indiana regions, signing a 16-unit development agreement with Elie Damouni.
Tierra Encantada, a Minneapolis-based Spanish language immersion daycare, will expand to Chicago, signing a four-unit deal with Karin Morgan.
PrimoHoagies signed a development agreement to bring nine new restaurants to Bergen and Middlesex counties in New Jersey. The deal is with Anthony Falange and PrimoAFFG-Management LLC.
Slim Chickens inked a deal with Colt Harmon to develop five units in southeast Oklahoma and northern Texas.
Rush Bowls will expand its footprint in Florida, with Sean and Michelle Byers for three restaurants in the greater Jacksonville area.
Scenthound, a dog grooming and wellness concept, signed a deal with Christina McGinnis for three locations in Palm Beach Gardens, Florida.
Big Blue Swim School is coming to Texas, signing an agreement with Neel and Rohit Patel for three locations in the Austin area.
The Wire is the place to find news of multi-unit development agreements, brought to you by Editor Laura Michaels. Want more? Sign up for the monthly e-newsletter at franchisetimes.com/e-newsletter. To share your brand's multi-unit deals, email details to lmichaels@franchisetimes.com