As Mark Miller put it, "I cut my teeth in grocery," so when he decided to look at franchise brands more than a decade ago, fast food wasn't much of a stretch. "I've always been around food," said Miller, who owned grocery, food manufacturing and real estate businesses in Oregon. "And I thought fast food, even though it gets a bad rap, it holds a unique and interesting place for consumers in terms of value."
Miller, who's CEO of Portland-based 3 Brothers Restaurants, acquired two Del Taco stores in Boise, Idaho, back in 2009 and has since grown his portfolio to 25 locations of the Mexican concept in five states. He recently signed a 10-unit development deal, with plans for six stores in the Yakima and Spokane, Washington, markets and four across his current geographic operating area.
"I've fallen in love with the freshness, and how even in fast food they could deliver freshness," said Miller of the decision to keep growing with Del Taco through a combination of acquisitions and new builds.
Miller's Northwest markets benefit from an influx of people moving there from California, he said, and they're bringing Del Taco demand with them. An intense focus on local store marketing, including via a food truck and charity events, has helped build brand awareness, Miller noted.
"We've experienced positive comps pretty much every year," he said, and they've been able to turn around some lower-performing locations by executing on four points. "Quality people, service, food and restaurants, we're consistently addressing those four points," Miller said.
At the corporate level, Miller noted because Del Taco owns more than 300 of its 580 restaurants, the company understands unit-level operations and the importance of providing franchisees with data to better understand what consumers want. That in turn helps inform local marketing. "They are a franchisee, and they mean that," he said.
Del Taco's leaders, including CEO John Cappasola and COO Chad Gretzema, have pushed the brand's "QSR-plus" positioning, added Miller, and restaurants benefit from that focus on quality, fresh ingredients.
---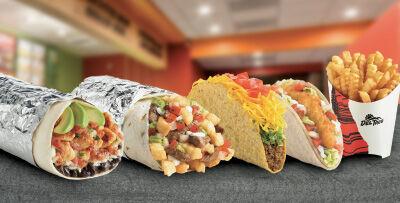 Jabz Boxing inked a multi-unit deal with Helen and Larry O'Keefe, who will develop five locations of the fitness franchise in the Mid-Atlantic and Northeast regions.
Captain D's continues its growth in the Southeast with existing franchisee Harborside Holdings Corp. With one location open in Belle Glade, Florida, the group signed a second development deal to open three more locations in the region. The group also operates 10 Popeyes units in South Florida.
Dog Haus inked an area development agreement with mother-daughter duo Vicki Dunn-Marshall and Carissa Marshall, who will open three locations in West Virginia. An industry veteran, Dunn-Marshall also owns 24 Little Caesars units.
Big Blue Swim School will open in northern New Jersey as part of a three-unit deal signed by husband-and-wife franchisees Chris Burden and Penelope Clark.
Bojangles' signed a national franchise development agreement with Love's Travel Stops & Country Stores, which will open 40 Bojangles' restaurants inside its gas station and travel centers in Illinois, Oklahoma, Arkansas and Mississippi.
Dog grooming brand Scenthound signed a deal with Christina McGinnis to open three locations in Palm Beach Gardens, Florida.
Maui Wowi signed a franchise agreement with business partners Scott Bronson and Ken Ordosh to open three coffee- and fruit smoothie-serving tiki carts in the Tucson, Arizona, market.
Rush Bowls inked an agreement with franchisees Sean and Michelle Byers to develop three restaurants in the greater Jacksonville area, the brand's first in north Florida.
Blaze Pizza signed a multi-unit deal with Tony and Marina Petro to develop the Dallas market, particularly North and East Dallas. Marina most recently served in marketing and communications with Yum Brands.
The Wire is the place to find news of multi-unit development agreements, brought to you by Editor Laura Michaels. Want more? Sign up for the monthly e-newsletter at franchisetimes.com/e-newsletter. To share your brand's multi-unit deals, email details to lmichaels@franchisetimes.com