Joseph Berger, president of You've Got Maids, points out the home cleaning franchise has always focused on a culture of improvement. "It's a never-ending evolution, we're constantly trying to be better to serve our franchisees and our customers," he says. The latest step in that evolution is an extensive set of updates to professional development and what Berger calls the franchise's "interior education system."
While You've Got Maids already had online training components in place, management has updated all content over the past two years to make lesson modules more interactive with videos and quizzes that test material learned.
Videos and online classes cover a range of topics, from dusting to wowing customers to managing personal finances. "We have many first-generation Americans who work with us who might not trust the banking system. So, this class walks them through the basics, including how to set up a banking account," says Berger.
Providing rigorous training about topics that nurture staff is a strategy that also makes business sense. After all, the franchising industry is facing a labor shortage so franchisors are keen on using every tool they can to keep employees engaged and happy.
"It's a tough labor market out there. From a business standpoint, too, we need to make sure that You've Got Maids is a really good place to work and this is part of that. They're not just going out and cleaning houses, they're improving with opportunities for advancement," Berger says. These opportunities include advancement to team leaders and managers.
Associates also become franchisees, Berger says.
Installing online training portals also helps franchisors derive insights from analytics that in turn help them redirect resources to what's actually needed. "If a franchisee is using the new employee training system over and over again, that tells us that they're having a lot of employee turnover," says Josh Skolnick, CEO of Monster Tree Service. This in turn can alert the director of talent acquisition to help the franchisee with additional support in that area.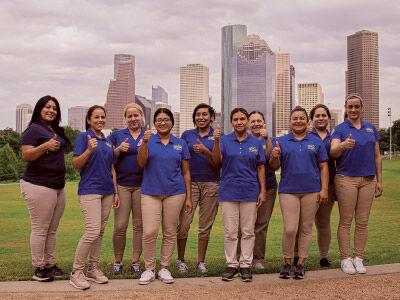 New infrastructure roadmap
Ken Hutcheson, president of U.S. Lawns, says the commercial landscape management services franchise has also used technology to streamline its infrastructure, especially its roadmap for franchisee growth. Over the 30 years since the franchise has been in business, the operational tools had become unwieldy and not always relevant.
The franchise updated its infrastructure to create a strategic roadmap based on the number of trucks a franchisee has. "When you're running one truck you need to focus on sales, financial management and operations," Hutcheson says, adding that franchisees who have larger fleets can focus on wealth building and projecting finances three years out.
Tech comes to field service ops
U.S. Lawns is also using technology to build a modular field operations system, connecting independent tools all in one dashboard so both the franchisee and customer have greater visibility into processes.
You've Got Maids has also used technology to improve field operations, Berger adds. For example, software on mobile tablets allows team associates to view work orders onsite and also bill customers right in their homes. "This puts us ahead of the curve and that helps smoother operations across the board," Berger says.
Franchisees welcome these developments as they help deliver better customer service. They choose to incorporate these strategies at a comfortable pace, Berger adds, making the integrations that much more seamless.
Monster Tree Service, which is a full-service tree care company that now also does turf care, started out 2019 with a chief operating officer but let him go later during the year after discovering that an infrastructure boost could be better fulfilled by scaling operations help down to the unit level. Monster Tree Service relies on operations partners who have extensive experience in all aspects of the tree care business to act as ground support for franchisees. "Our director of operations manages that team across the country so our franchisees are getting what they need on a daily basis," Skolnick says.
Franchisees who don't have strong marketing skills might receive additional support in the art of direct mail campaigns, for example. "We are really adapting and monitoring to see which areas are weaknesses for franchisees so we can put a stronger emphasis on those areas and fill in the gaps," Skolnick says.
Looking to the future
Expect technology to make franchisees' lives easier in many ways. Monster Tree Service is looking to use artificial intelligence algorithms to analyze a number of sales and service delivery patterns and fine-tune processes accordingly.
Online operations and data gathering will be able to reveal patterns about when clients tend to say yes to proposals. In order to increase the conversion rate, emails can be targeted to go out during those specific windows, Skolnick says. Markets with trees infected by a certain disease (again observed by analyzing trends) can receive tailored mailings.
The growth of advanced sensors powered by the so-called internet of things can also play a role in improving the infrastructure game for franchisors, says Hutcheson. The franchise is working with smart water systems that can gauge moisture levels before watering lawns so as to save water. Such moves, too, are driven by customer requests. "More of our customers are demanding a focus on environmentalism and sustainability and water conservation is one big way in which we can deliver" with technology, Hutcheson says.
Now and in the future, expect technology and infrastructure to work hand-in-hand to drive efficiencies for the franchisee—and customer service for the end client.