Heather Elrod wears them in a customized hybrid style of Featherweight Volume and 6D Volume.
"I choose this style because I prefer my lashes to look long and full with added depth but I also need my lash extensions to be lightweight on my natural lash," explains Elrod, CEO of semi-permanent eyelash extension franchise Amazing Lash Studio.
Elrod was getting a lash refill—the replacement of missing extensions and addition of extensions to new lash growth—when I arrived at the brand's corporate headquarters in Scottsdale, Arizona. Like its studios, the offices are awash in bright white with pops of vibrant "vivid rose" red, illustrative of a brand that's "glitz and glamour," as Jordan Austin Levine puts it.
Levine, the new vice president of operations hired in January, is one of the few men working on the corporate side of a beauty brand that from 2015 to 2018 has grown systemwide sales more than 1,000 percent and increased its unit count fourfold. He grins when I ask if he's tried the service, and says he actually had a lash lift—"it's like a perm for your eyelashes, it gives them curl"—so he could relate to the guest experience and enhance his understanding of the stylist role.
"He's such a good sport," laughs Elrod when I mention Levine's lash lift, and while she doesn't expect men to start booking appointments at Amazing Lash, new services such as the lash lift, introduced in fall 2018, are integral to expanding the brand's appeal and ultimately boosting topline sales and franchisee profitability.  
First, the acquisition
"It's been a year of growth and transition for the company," says Elrod in reference to private equity firm KSL Capital's purchase of Amazing Lash from founders Edward and Jessica Le and the integration of the brand into its Denver, Colorado-based WellBiz Brands portfolio that also includes franchises Elements Massage and Fitness Together.
Human resources, finance and accounting, legal, development, strategic marketing; Elrod ticks off the list of shared services now being put to work behind Amazing Lash and says the introduction of a business intelligence platform has been especially transformative.

Franchisees "can see other studios' performance in their same cohort—are they an average performer, a top performer or do they need to improve," says Elrod of insights gleaned that then lead to coaching. Amazing Lash collects P&Ls from its franchisees which are analyzed via the business intelligence platform to present a "clearer understanding of operational levers" to pull.
The platform and resulting analytics also revealed another area needing attention: stylist turnover.
"We didn't have a clear understanding of our stylist turnover," says Elrod, "and through analysis we've seen that it's higher than we want." In response to that realization—and acutely aware of the labor challenge major massage franchises are facing as they scramble to hire therapists for thousands of units—Amazing Lash focused on creating a career path for stylists up to a "master stylist" level.
"Master stylists can earn $90,000 a year," notes Elrod. Amazing Lash is also connecting with esthetician schools to collaborate on stylist education and even offer tuition reimbursement for students who come work at Amazing Lash.
"We're very focused on recruitment and retention so we don't hit that brick wall that the massage industry ran into," says Elrod.
For WellBiz, which plans to continue bolstering its portfolio of brands under one umbrella, the key is adding companies that share core features attractive to existing franchisees of other brands. "Franchisees are always looking to grow their portfolios. So for us what's important, when you're able to bring on a brand that has the core aspects of the other brands, the franchisees relate to it," said Joe Luongo, WellBiz Executive Chairman, earlier this year.
And, as Elrod pointed out, leveraging the shared services model benefits the entire group. "You don't have to double the G&A every time you bring on a new brand," said Luongo, in reference to general and administrative expenses.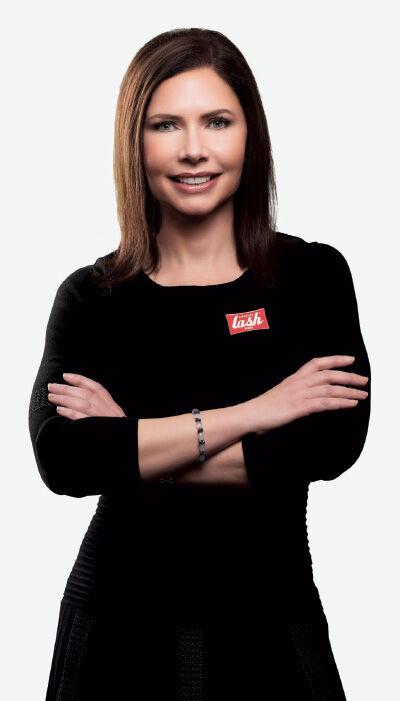 Then, category leader to 'category killer'
"We're in the enviable position of being the category leader," says Elrod, who in 2016 joined the brand when it had 75 units open. Amazing Lash closed 2018 with 213 units and revenue of $126 million, a 40 percent sales increase from 2017 and a massive 1,160 percent jump from 2015 when sales were just $10 million from 53 studios.
"The focus for me from day one was not just awarding studios but getting them open," she continues. Amazing Lash opened 33 franchise locations last year. Its sold but not open number is 99, a figure that's been wrestled down after it ballooned quickly as the brand embraced a regional development model that resulted in numerous territories being sold but the development schedules ultimately weren't followed. Last year the company began buying back those undeveloped territories and has "moved away from RDs," says Elrod.
"Now that we corporately own most of the regions, our sales department is managing that process versus regional developers doing the selling," she says. Amazing Lash also acquired seven Phoenix-area studios in September 2018 and established Amazing Lash Corporate Ventures to purchase, operate and build corporate units.
"You just have such a better understanding of the business and of the support franchisees need," says Elrod of operating company units. Those locations are also an ideal test market for Amazing Lash as it amps up innovation to continue rolling out new products and services—and stay ahead of competitors such as Deka Lash and The Lash Lounge.
"Being the category killer, that means to own the space entirely," says Elrod. "So that's new products, leading with training—that training is a critical part of our brand because most stylists come to us without any lash training."
Last fall, along with the lash lift, Amazing Lash introduced it premium Featherweight Volume Lashes, which brought "a significant lift in customer transaction amount," notes Elrod. It's also "hugely indicative" of opportunities to offer other new services, and the brand is now testing brow services, both tinting and shaping.
"Brows are the No. 1 request by customers," she says, and because more than 80 percent of sales are to Amazing Lash members, retaining those members by offering what they want is paramount. The brand recently completed an extensive research analysis of its membership with plans to soon offer customizable membership packages and "make us a company that's very easy to do business with," says Elrod.
To help Amazing Lash in its mission to, as Elrod puts it, "own the eyes," the brand hired Sheila Ullery, senior vice president of marketing and innovation, before the transaction with KSL was even complete. Originally approached by KSL to assist with due diligence before the acquisition, Ullery, whose career includes top positions with storied beauty brands L'oreal and Aveda, says the potential at Amazing Lash is what attracted her to the role.
"It's on the cusp of an emerging segment in beauty," says Ullery. "Only 9 percent of our target market has tried lashes. So think about that white space—91 percent."
While lash extensions are indeed a hot beauty trend, thanks to popularization in celebrity circles and on Instagram, the long-term staying power and demand for the treatments remain to be seen. Ullery, though, believes lash extensions are the No. 1 new beauty category because there's "such an emotional impact on the women" who get them.
"I have confidence, I feel strong, I feel empowered," are the comments Ullery says she hears from customers. "And it takes 10 years off" your eyes, she continues. "It's the next generation of Botox."   
Research from Nielsen's indicates she's not wrong, with sales of lashes up 31 percent to nearly $270 million from 2017 to 2018. "In fact," notes Nielsen Retail Measurement Services, "within the eye cosmetics subcategory, eyelash treatments and eyebrow products are seeing the fastest growth, up by an impressive 32 percent and 24 percent in dollar growth, respectively."
The opportunity to drive sales is inherent in Ullery's approach to new products. "I want people walking in the door," she says. "So I'm always trying to think, is this going to be a product that is driving people in" and, ultimately, be "an easy sell."
As she and Elrod continue to drive innovation around Amazing Lash's core products and "bring complete and total newness to the category" at the same time, Ullery keeps in mind the connection the brand has to its existing customers and the perception it's cultivating with future lash wearers: "I want us to be a brand that women aspire to go to."