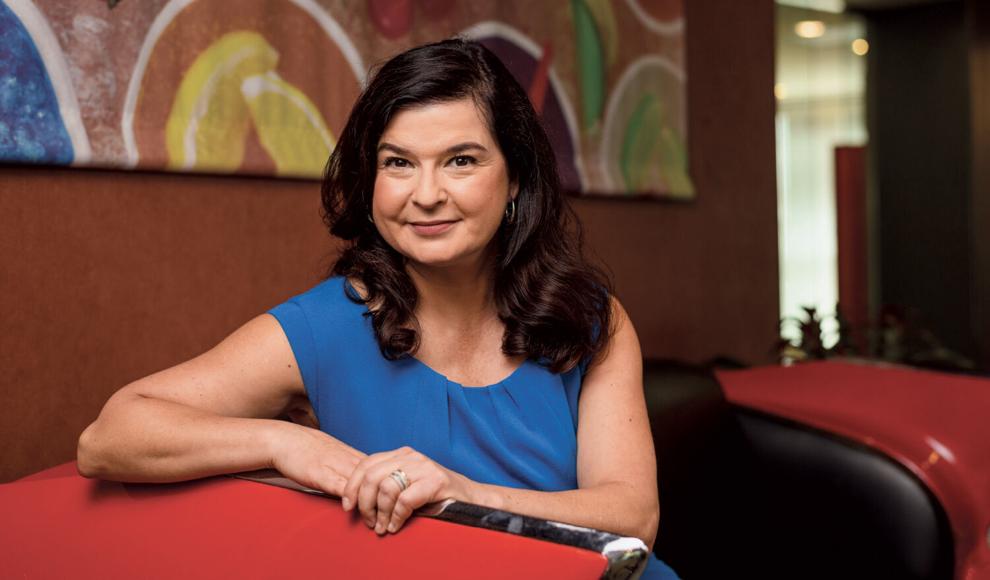 "Sonic holds a very distinctive place in an incredibly competitive environment."
—Claudia San Pedro, president, Sonic Drive-In
---
Forget about French fries and tater tots. These days, battered and deep-fried slabs of cheese are the biggest game in town.
"If you look at today's generation, it's mozzarella sticks. And they'll use mozzarella sticks as a snack, they'll use mozzarella sticks as a meal," said Claudia San Pedro, president of Sonic Drive-In. "We see this with our sales … My daughter, who's 16 years old, it is her generation. When she goes, she uses it as a meal, she uses it as a snack, she'll use it as a side item at times. That is her go-to. It's no longer French fries and tater tots."
Snacks have become a larger part of Sonic's menu mix over the past 20 years, said San Pedro, as the brand balances staying true to its identity as a hamburger- and hot dog-focused drive-in while evolving in step with consumer behavior. "If we think about eating trends and behavior patterns, certainly it's evolved from the standard three meals a day to, if you look at our lifestyles, it may be, I want smaller portions but more frequently throughout the day," she said.
The ability to adapt has been nothing short of nonnegotiable over the past two years. While not immune to the wide-ranging impacts of the COVID-19 pandemic, Sonic was uniquely positioned to succeed during a time when vehicles became dining rooms and "curbside" secured its place in restaurant industry lingo, likely forever.
While it didn't duplicate its remarkable 2020 performance, when systemwide sales rose 21.2 percent—nearly a billion dollars—to $5.68 billion, Sonic grew sales another 2.7 percent last year, to $5.8 billion from 3,503 locations. It's the fourth largest QSR burger chain on the Franchise Times Top 500, behind McDonald's ($112.5 billion), Burger King ($23.5 billion) and Wendy's ($12.5 billion), which all had double-digit percentage sales growth.
The QSR burger segment as a whole made an impressive comeback from 2020, when sales declined 5.3 percent to $148.4 billion. Sales in 2021 topped $176 billion overall, an 18.3 percent increase. Krystal was the only company to see a slight dip, down 0.1 percent, as the group outdid its 2019 output of $157.2 billion.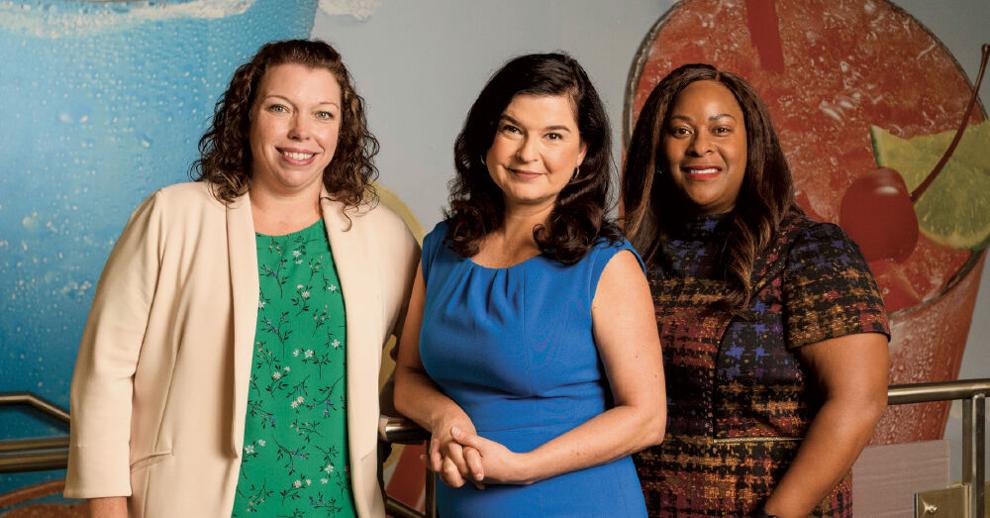 Menu and marketing evolution
Overlooking the Bricktown Canal in Oklahoma City, Sonic's headquarters pay homage to the brand's nearly 70 years of history at every turn. Photographs and memorabilia recall Sonic's origins as Top Hat Drive-In, launched by Troy Smith Sr. in Shawnee, Oklahoma, in 1953 and changed to Sonic Drive-In in 1959. Giant slushie figurines smile from their posts on every floor, their bright colors evoking cherry and limeade flavors that remain standard on an ever-evolving platform of drinks that San Pedro said has become core to the brand's identity.
"As you think about the niche we have, we're considered a hamburger QSR. Really 60 percent of what we sell are drinks, ice cream and snacks. Drinks are an important component of that. Twenty-four percent of our sales are drink-only, so we do have a special space for that," she said. Sonic's marketing and culinary teams maintain a rigorous promotions calendar, with new food and beverage items on the market for 30 to 60 days.
"If you think about 2021, we had the bursting bubbles that played upon that boba tea trend really nicely. That was incredibly successful," said San Pedro, who also called out a Shark Week drink of blue coconut-flavored slushie mix topped with a layer of strawberries and finished with shark-shaped gummy candies. And the seasonal Fritos chili cheese wrap "has grown in both fanfare and sales every year."
Worldwide supply chain disruptions over the past two years challenged the fast pace of Sonic's promotions and necessitated staggered LTO windows and long-range planning to secure product. Under Inspire Brands since 2018, when the Roark Capital-backed company bought Sonic for $2.3 billion, San Pedro said the multi-brand platform's purchasing power was a key advantage.
"While there continue to be supply chain disruptions, there's no doubt it would have been a lot worse had we been a standalone brand and not been part of a larger purchasing initiative," she said. And Inspire's media buying ability "came into play quite a bit in 2021," as it leveraged the scale of sibling brands such as Dunkin' and Arby's.
Sonic's challenge, she noted, is to retain its brand identity and show up in unique ways to consumers, something it tackled in a major way in 2020 when it swapped the longtime pitchmen from its "Two Guys" commercials for a new advertising campaign.
"Sonic holds a very distinctive place in an incredibly competitive environment," said San Pedro, and the "This is how we Sonic" campaign highlights everyday moments, all set in customers' cars.
"The guys," improv actors T.J. Jagodowski and Peter Grosz, appeared in Sonic commercials for nearly two decades, but as the brand sought ways to tell deeper stories about the food and talk about its digital ordering, "the guys just didn't have the same range and flexibility," said Chief Marketing Officer Lori Abou Habib.
"'This is how we Sonic' moves from the guys telling people how to Sonic, to celebrating the way people already are using the brand," she continued, while also speaking to different consumer sets via the car scenarios. Since its launch, the new brand voice "has allowed us to outshout our actual media spend."
Major technology lift
Sonic introduced mobile ordering in August 2018 and ended 2019 with about 4.5 percent of sales coming through the app. By the end of 2021, it was up to 15 percent, which San Pedro called "pretty phenomenal." The brand's digital transformation, however, began years before and necessitated a "monumental" change in technology.
"It's been quite a journey," said San Pedro as she recalled where Sonic was in 2014. Restaurants had chip-based point-of-sale hardware, "and every franchisee had customized their POS to meet their business needs." The company undertook the transition to a single, cloud-based system that lasted about four years.
"That was a big shift in thinking for our franchisees and the truth is, like any technology transformation, there were a lot of mistakes made, we went over budget at times. But along the way continuously learning," she said.
At the same time, franchisees were trying to execute on an "overwhelming" number of new flavor and product introductions with operational complexities. That combination eventually led to a dip in systemwide sales in 2017, to $4.4 billion. Between those execution struggles and introduction of new technology, franchisees had to have "the trust and the faith," said San Pedro, to ride out a difficult period.
"By the time we got into 2018 and '19, the team had done a great job of simplifying the menu and the promotional calendar to extend windows, minimize SKUs and stick to that discipline," she said. The technology upgrades, meanwhile, "enabled us to have the digital menu boards at the stall and to develop the order-ahead technology."
To James Junkin, the technology has "paid for itself, no doubt." Junkin is president and chief operating officer at D.L. Rogers Corp., a 262-unit Sonic franchisee with a history in the system dating back to 1967.
"Our food costs dropped because we were able to manage it better," he said, while the app is generating higher tickets and "you can execute even better because you can get the order ahead. It allows us to deliver better service."
The POS change "was a big move," he acknowledged, but "it's allowed us to do things we've never dreamed of. It is a lot easier to run a drive-in today than it was three or four years ago."
"Sonic is always looking at what's the next thing we can be innovators in," he added. For San Pedro, that includes thinking about a future where consumers and their cars are even more entwined.
"Before we know it, every car is going to be connected in some way, shape or form. And that is an internal screen that will be in everybody's car. So how do we connect with that experience to deliver on a very unique carside delivery experience where consumers can access us when they want, through their own cars," she said. "I think that's the future and that's the exciting part."