Spencer Rubin was just a kid with "the most tricked-out lemonade stand you could possibly think of," back in Montclair, New Jersey. He and his best friend liked to go fishing in the river nearby.
Soon they had a brilliant idea, and even made a two-sided card to promote both ends of their business. "We're going to sell lemonade and fresh fish," he recalls today, with a cooler full of malodorous fish next to the juice. "I think we tried twice, but we learned there wasn't a market for fresh fish and lemonade."
Live and learn, as the saying goes, and also fast forward to today, when Rubin, age 33, is founder and CEO of emerging fast casual concept Melt Shop, with 21 units open after 18 months of franchising and five in development, under the umbrella company called Aurify Brands.
Although his ideas for product combos have improved, the trial and error he employs with each step of his business is the same. Take, for example, the way he culled more than a hundred ideas for menu items down to those that would ultimately make the grade.
After creating and tasting 30-plus variations for each sandwich "idea," he and his fellow tasters would ask, "What are the things missing texturally? What are the things missing from a sweet/savory component, and we'd try that recipe and variations of it. We did that over and over and over and over again," he said. "Over time we were able to whittle down to what we thought the core menu should be."
On this day in May, on a visit to Aurify headquarters and a busy Melt Shop store near Union Square in Manhattan, Rubin says three new limited-time sandwiches especially are "crushing it," including a smoked brisket with homemade pickled red onions and garlic mayo, and a honey melt with pimento cheese and pepper jack.
Rubin and COO Josh Morgan, plus Aurify's co-founders John Rigos and Andy Stern, are clowning around at the behest of the photographer, who is seemingly risking his life standing in the street while the buses roar by. Stern blithely throws Melt Shop Tots into Rigos' open mouth, trying to rack up the catches.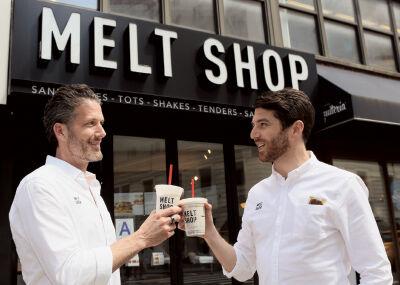 Rubin isn't chef-trained, he says later in an interview, but his grandparents and mother were great cooks. His parents "helped me by letting me cook family dinners every night," he said. Instead of getting home from school and watching sitcoms, "I watched Emeril and Mario. I learned a lot from Food Network. The amount it taught you is crazy."
His uncle suggested he go to the famed hospitality school at Cornell. "I went to hotel school and that was kind of it. I wanted to open my new place by the time I was 25, and we opened Melt Shop on my 25th birthday," he said.
Several blocks away from that Union Square store is Aurify headquarters, up a staircase to a chaotic, open warehouse-style space where a couple dozen employees work in pods, each wearing their separate restaurant-branded garb. Here is a new employee with a red baseball cap who spent the day in a Five Guys store. There is the chef of The Little Beet tapping on a laptop.
Stern and Rigos, former technology company founders who decided to become franchisees to learn the restaurant business, launched Aurify in 2011 in order to find promising entrepreneurs and back their concepts.
In 2006 they acquired the rights to develop up to 30 Five Guys burger locations in Manhattan, and those restaurants, now numbering 15, are today providing the engine and the capital to back and develop new brands. They also attracted a large institutional investor, Eldridge Industries, providing patient capital.
Along with Melt Shop, the first brand they backed, Aurify owns and is developing The Little Beet, The Little Beet Table, Fields Good Chicken and Make Sandwich, and the two partners are constantly on the lookout for more.
The two Aurify founders decided to back Rubin and his Melt Shop concept when Rubin was working for a restaurant development company and Stern and Rigos were clients. Rubin especially impressed the pair when the contractor put in the wrong ductwork in a Five Guys restaurant on a Friday. "I literally slept at the place," Rubin recalls, taking the wrong ducts out and installing the new over the weekend, and was ready to open on time.
"He's a problem-solver," Rigos said. Rubin returns the compliment. "John and Andy are scale guys. They're dreamers," Rubin said.
Stern said the idea today is to turn Aurify into a restaurant company with multiple brands under its umbrella and in particular multiple entrepreneurs turned CEOs at the helm of each one, working independently on their own brands but with Aurify to turn to for advice. "We spend our days talking to people," said Stern as he explained, "this is a self-empowered place and if you need more management, it's not for you."
Rigos said they've changed their leadership style: no more micro-managing.
"It released the entrepreneurial spirit." He notes with pride the dozens and dozens of management positions created at Aurify restaurants. "We're changing people's trajectory from where they started to where they end up."
Stern puts Aurify's mission this way: "Empowering great people to build great companies. It sounds simple. That's all we're focused on now," he said.
The roots of the company start in 2003, when Rigos and Stern bought a Subway sandwich shop in the small town of Walton, New York. "He said how hard can this be and we realized it was hard," Stern recalls. They added Subway stores, then Dunkin' stores and finally Five Guys, "and we spent our time learning," Rigos said.
Finally, when they "weren't having fun anymore," it was time to "cut the shackles," they said. Although they enjoyed being franchisees, "the problem was both of us have such an entrepreneurial spirit," Stern said. "To be a really successful franchisee, you have to not think about how am I going to change this franchisor's business. Your focus is, how are you going to operate the playbook that was handed to me?"
They decided to "take what we had learned from the franchise world and apply it to the world we like to do, which is start things," he said.
The early days at the company were rough, after they decided to sell their Dunkin' portfolio to take the leap. "John and I agreed personally to put all our chips in, to keep the team here, for not drawing a salary for years, which with a new wife and a new couple kids at home for both of us almost at the same time was not the best timing. It made us really focused. We had zero income and we were funding our company."
Stern's main advice to aspiring entrepreneurs is to figure out "how to cut right down the middle of the highs and lows," he said. "It's definitely an up and down world of being on your own." He advises "trying to not get overly excited about your wins and certainly not overly upset or distraught by the tough times, because you're going to have a lot of both."
For Rubin and Morgan, who met at Cornell, those words ring clear. The lows: Rubin initially leaned heavily on the Electrolux panini press to make his grilled sandwiches. Like his usual process, "I spent months. I tested it. I went through 50, 60 orders and it seemed to work." But ultimately it wasn't able to keep up. "It became a train wreck. I was 26 at the time. And I scrapped $35,000 worth of griddles, and they didn't bat an eye," he said, referring to Rigos and Stern. "They said go for it."
Adds Morgan: "Spencer is maniacal about process. We tried to shave three to four seconds" off each order.
Rubin is far from done with his iterations, but now his and Morgan's task is to replicate Melt Shop's initial success with multiple franchisees, something that is coming along but slowly, with only eight franchise units open so far. The cost of investment ranges from $368,000 to $698,000.
"Simplification is the key. You test something a thousand times, test it, make it better," Rubin said, and by now he doesn't have to add how many times he'll keep doing it in his search for perfection: over and over and over again.